These are intensely lemon-flavored bars with strawberry chunks and a finger-licking berry glaze. An amazing combination that will have everyone coming back for more! A sibling to the popular lemon blondies, this recipe uses simple ingredients, keeps well for several days and can be frozen.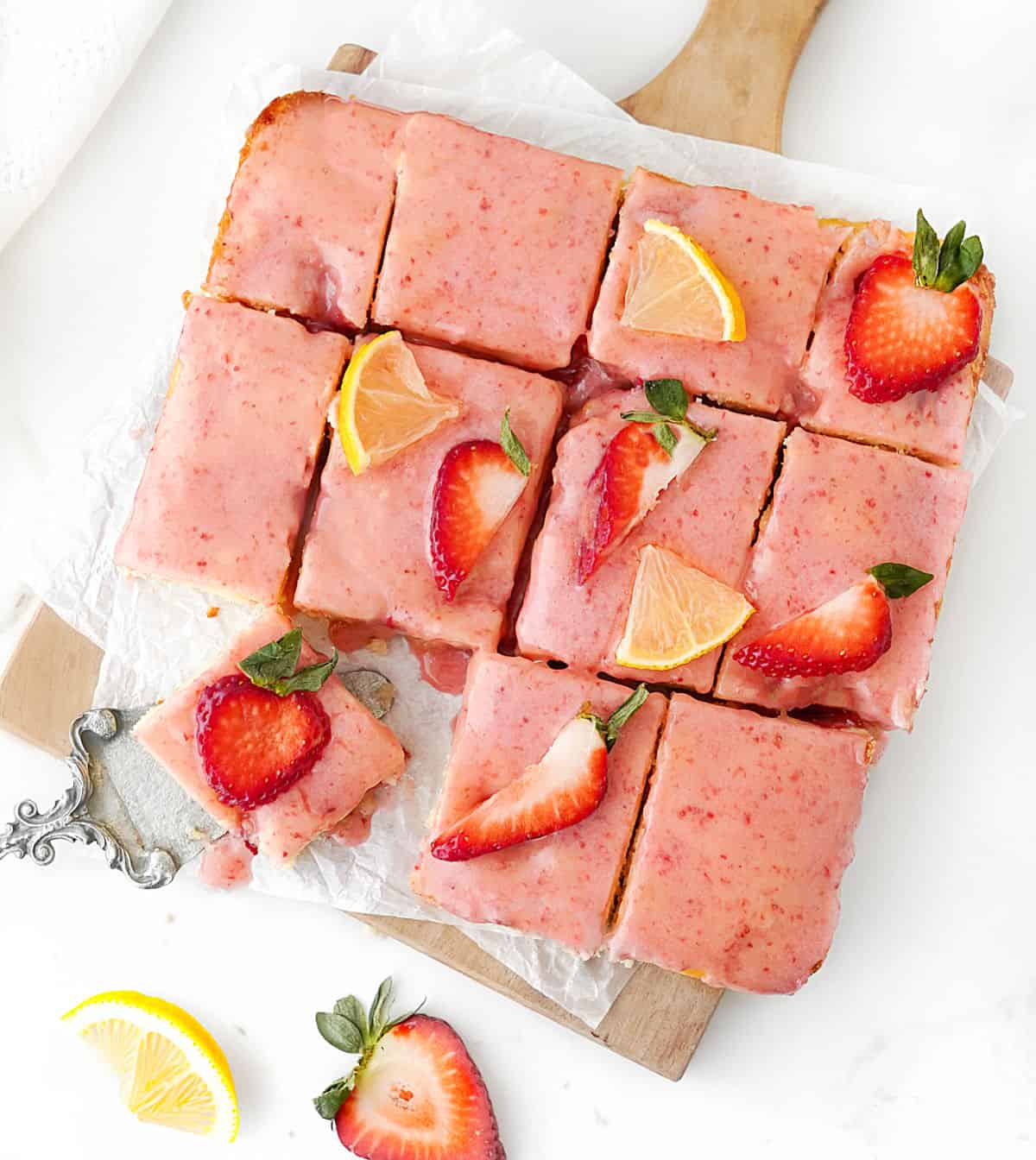 I present you with easy lemon squares with a tangy burst of lemon flavor, bits of juicy strawberries and a pretty pink glaze that brings raves among my friends whenever I make them!
They're the modern sibling of our beloved blonde lemon brownies.
The name gives you an image of what they are: dense, fudgy, and irresistible. A perfect summer treat for those with a sweet tooth.
I encourage you to bake these wonderful dessert bars and see for yourself. And taste. The flavor is unique and different from a traditional blondie.
If you like the combination of strawberries and lemon, you'll want to keep this easy recipe close and make them often. They keep well and can be frozen.
Ingredient list
Lemons: lemon juice and zest are used for the batter and the glaze.
Strawberries: use fresh berries if possible. If using frozen berries, let them thaw and drain before adding to the lemon batter. They will be softer and stain the mixture more.
Unsalted butter.
White granulated sugar.
All-purpose flour.
Salt: I like using kosher salt or fine sea salt when baking. But regular table salt works just fine.
Eggs: fresh, large.
Vanilla: I use pure vanilla extract or pure vanilla paste when available, but a good vanilla essence (artificially flavored) also works and is infinitely cheaper.
Powdered sugar: also called confectioners or icing sugar, you can easily buy it online. Domino powdered sugar is a very popular one.
See the recipe card at the end of this post for quantities.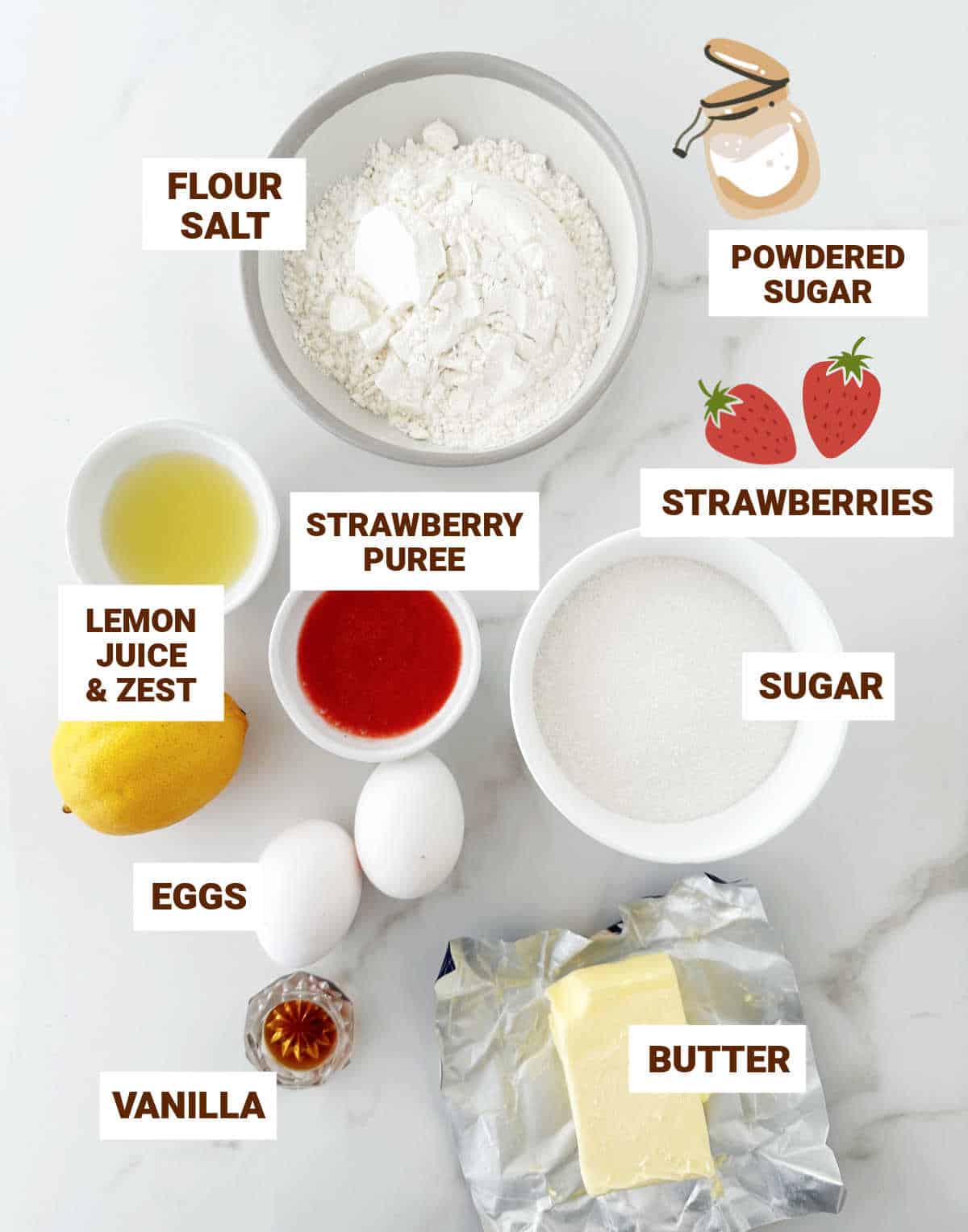 Variations & substitutions
Brown sugar: it adds a caramel undertone to these bars.
Another citrus: use lime or a mix of lemon and lime.
Boozy: add a tablespoon of your favorite liqueur to the batter and the glaze to make a more adult version of these bars, similar to the margarita lime pie.
Kitchen notes
Organization: read the recipe first and ensure you have ingredients at the correct temperature, equipment, and enough workspace. This will make the process so much easier.
Baking time: consider that all ovens and pans are different, even if they look similar. The baking time in my recipes is as accurate as it can be, but it might take you more or less time. You can use a thermometer(like the OXO oven thermometer) to check that your oven is at the right temperature. I recommend you keep track of how your oven works and what tiny details you might need to adjust.
Eat these lemon strawberry bars at room temperature. It will bring out the flavors, and the crumb will be fudgier, in my experience. I recommend eating them within the first few days of baking.
Storing: it's best to keep them in the refrigerator (for up to a week) as the glaze is softer and doesn't harden completely. I use the same pan where I baked them and cover it with plastic wrap, or an airtight container. But remember that they lose some moisture each day as the fridge dries things up.
Longer storage: leftover blondies can be frozen. Use a freezer-safe container and place them in a single row. If you need to stack them, use wax paper to separate the squares.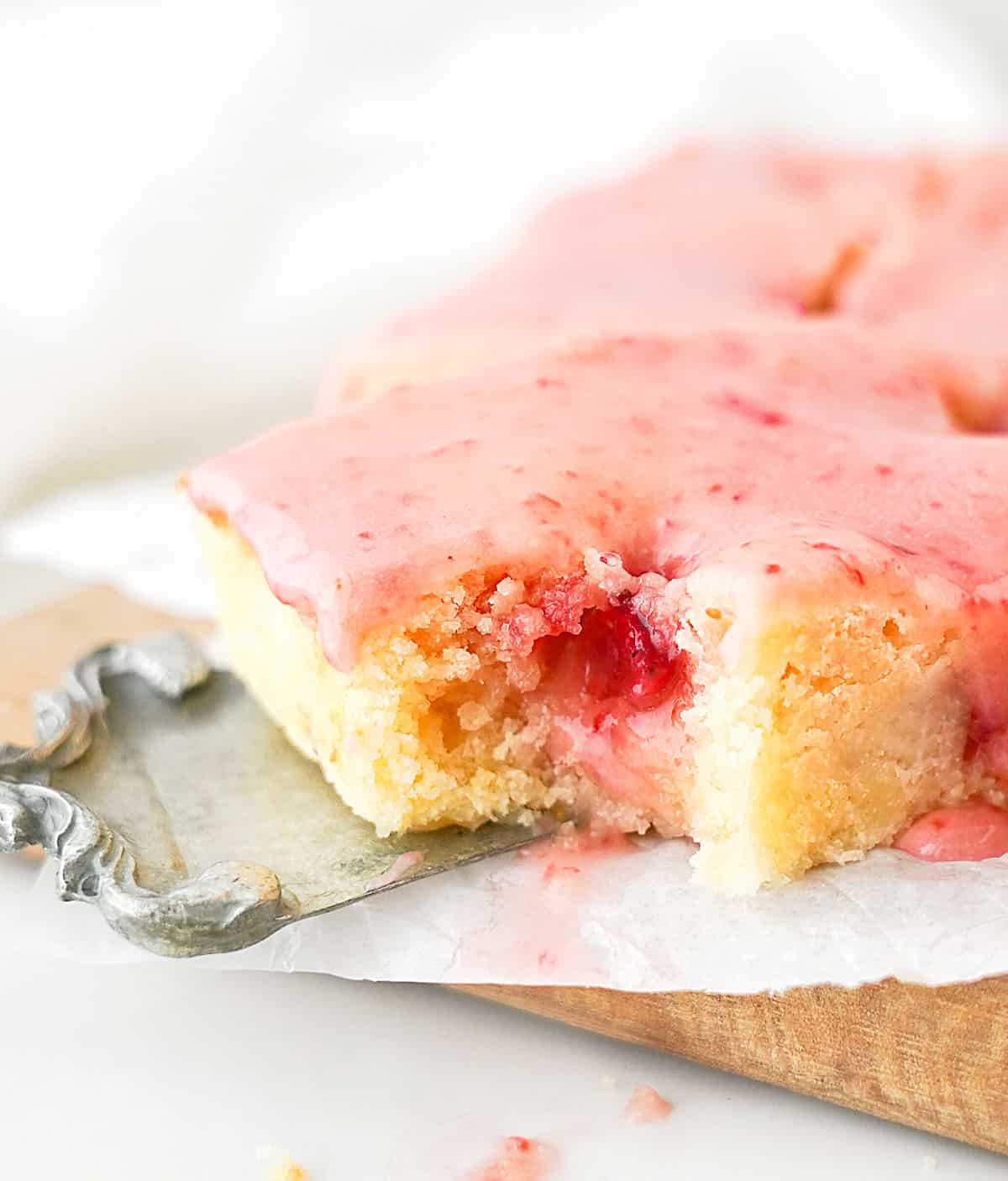 How to make lemon blondies
Mixing: a large bowl and a whisk are all you need. But you can use an electric mixer for the first part if it's easier. After adding the flour, switch to a whisk or silicone spatula.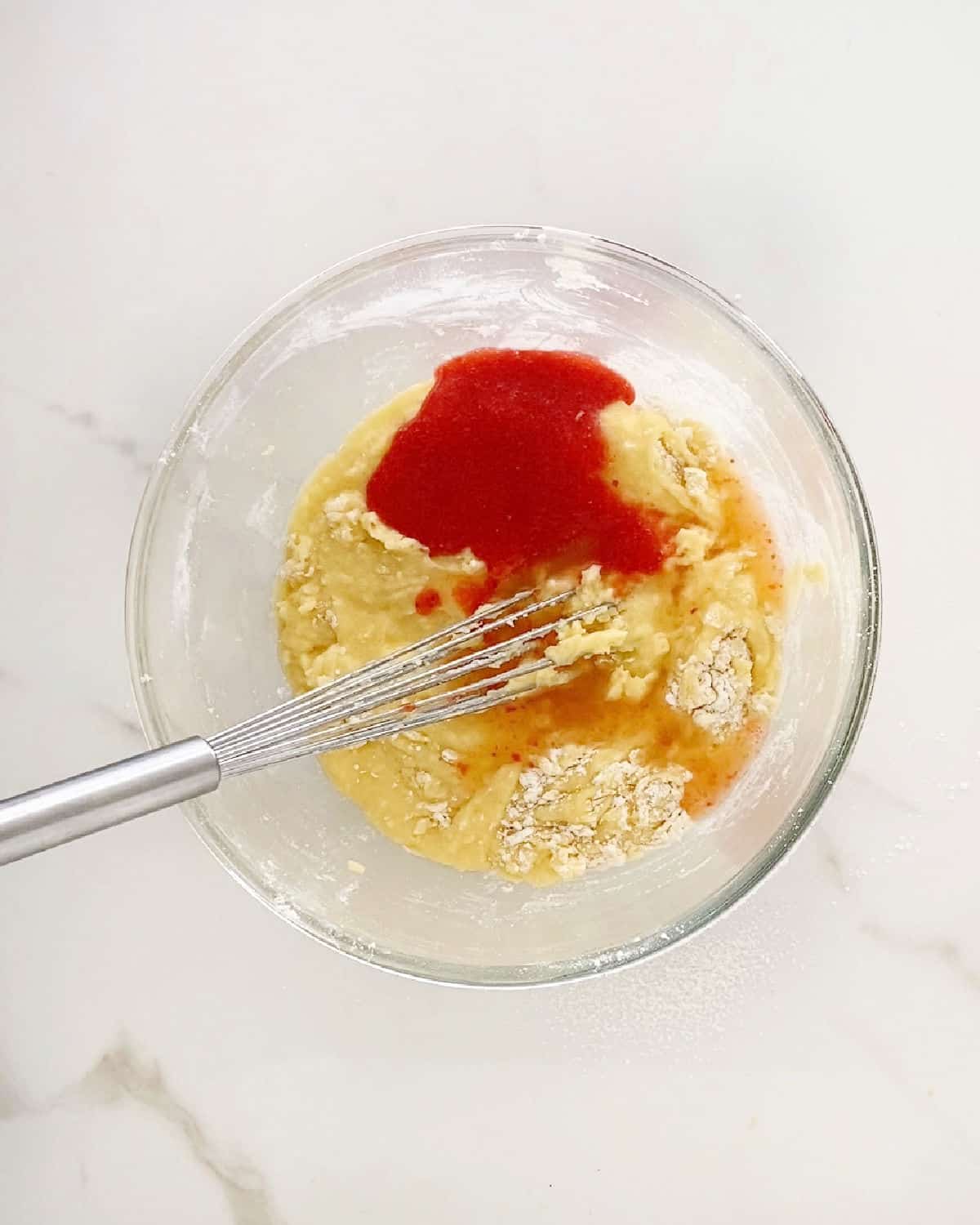 The batter has berry puree for added real strawberry flavor. Mix it well before adding the strawberry pieces.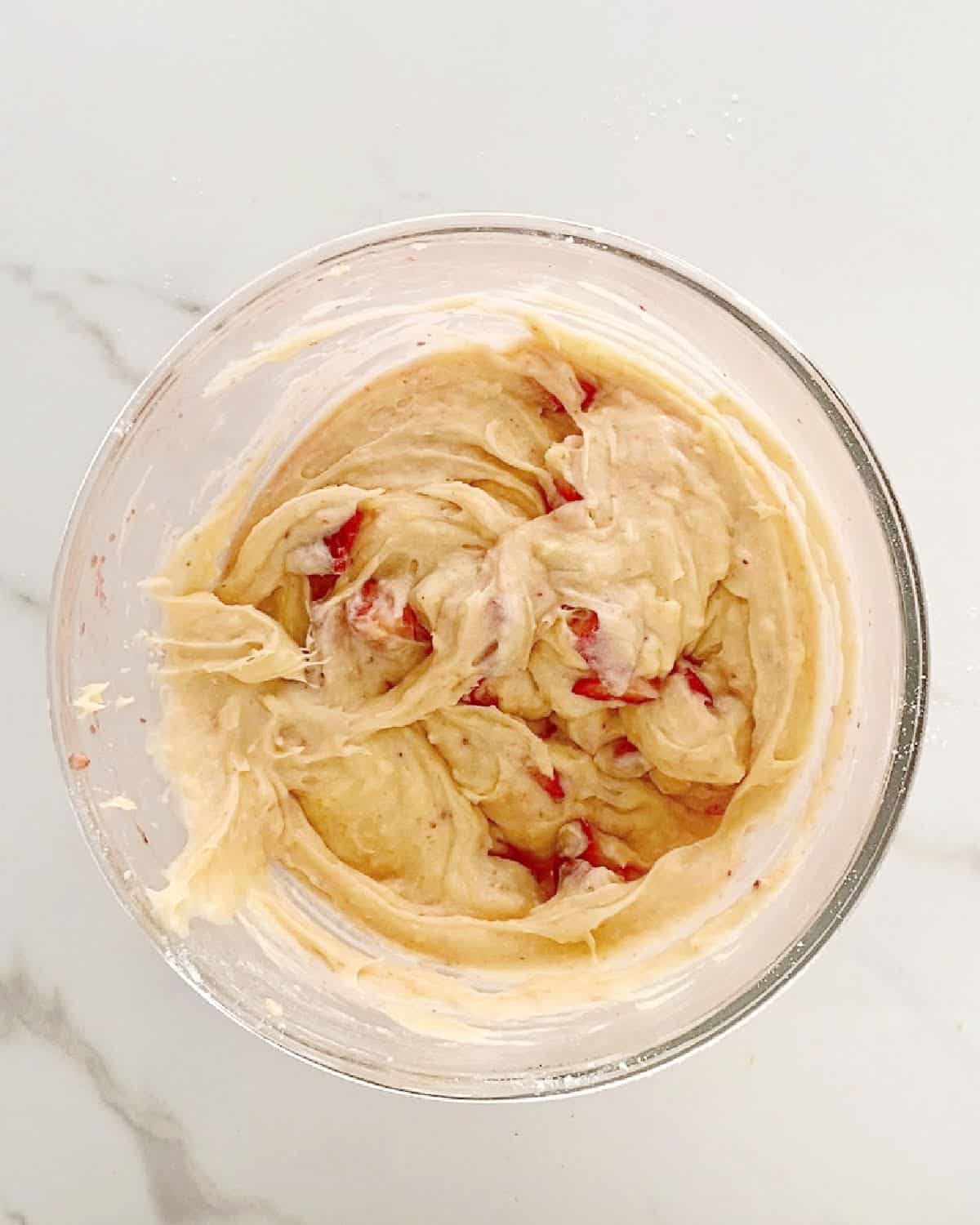 Add the strawberry chunks and mix lightly. Don't overbeat.
Baking and glazing
Don't overbake them! This is crucial to achieving a fudgy texture and soft crumb.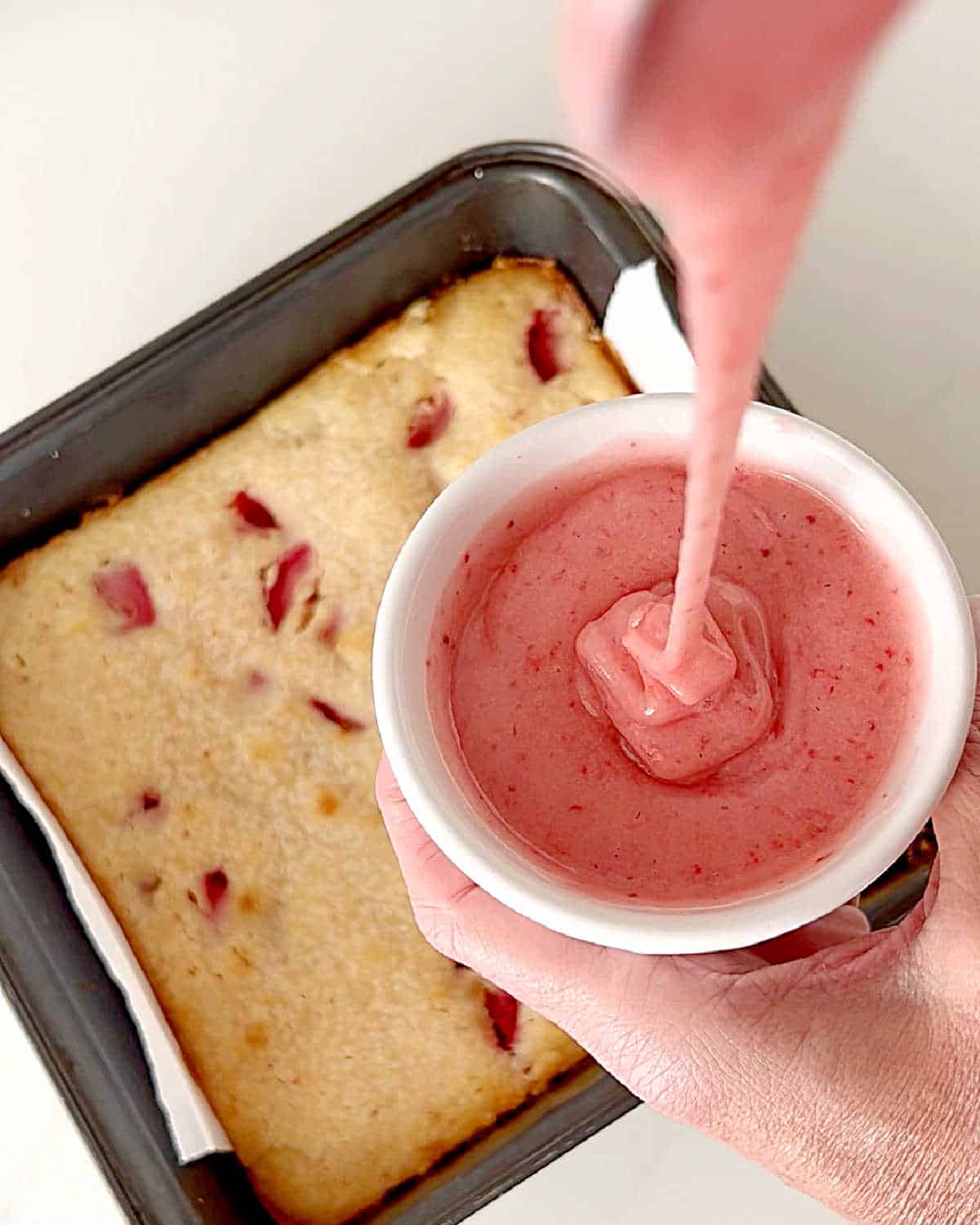 The strawberry glaze is made with strawberry puree. It doesn't harden as much as the regular powdered sugar glaze. It can be made ahead and kept refrigerated, covered.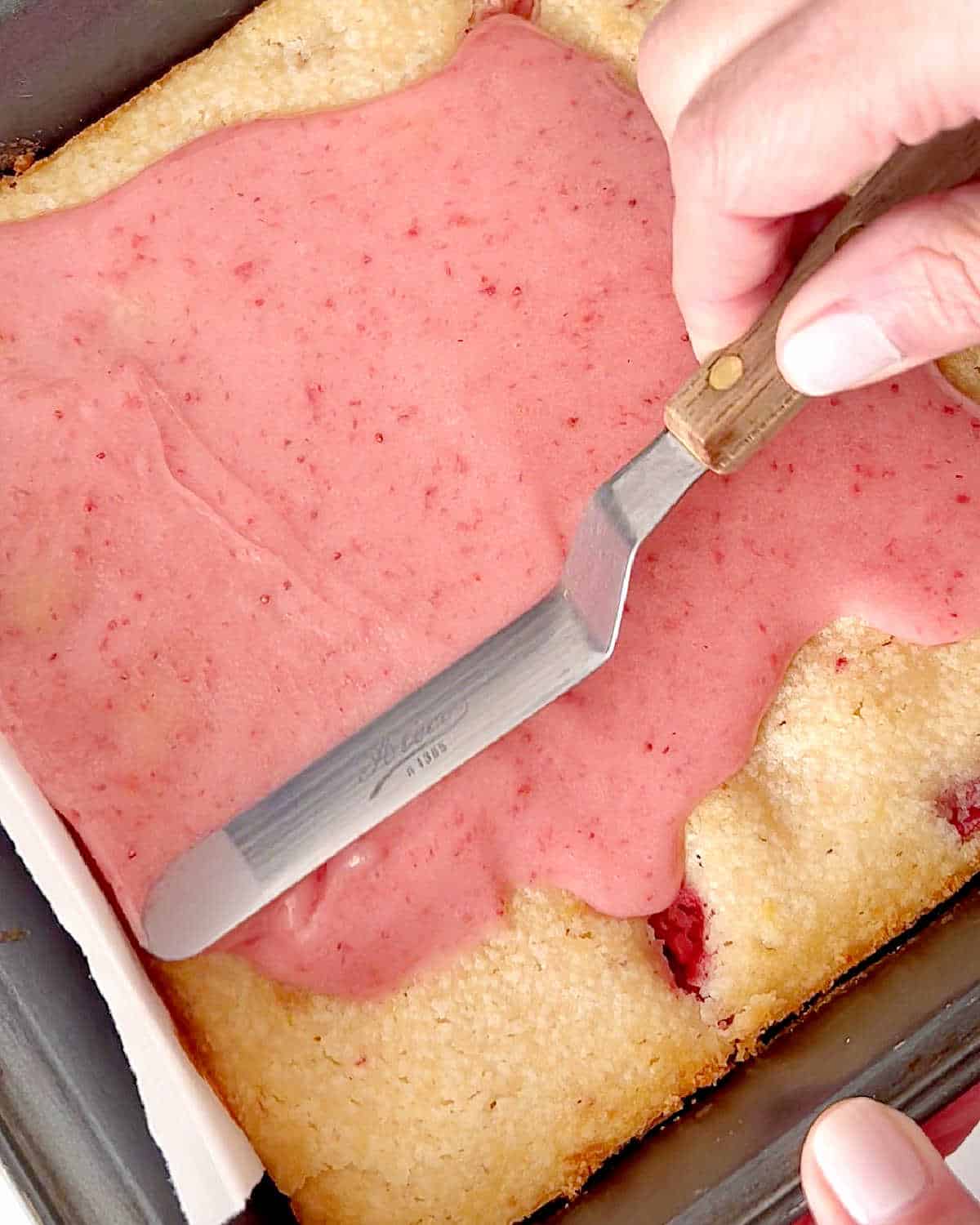 The glaze is applied on the cooled blondies and then refrigerated or left at room temperature until dried enough to cut. An offset spatula is a great utensil for this.
Vintage Kitchen tip: to remove the blondies, run a smooth-bladed knife around the edges of the pan and then use the paper to lift the whole block of lemon brownies and transfer them to the cutting board.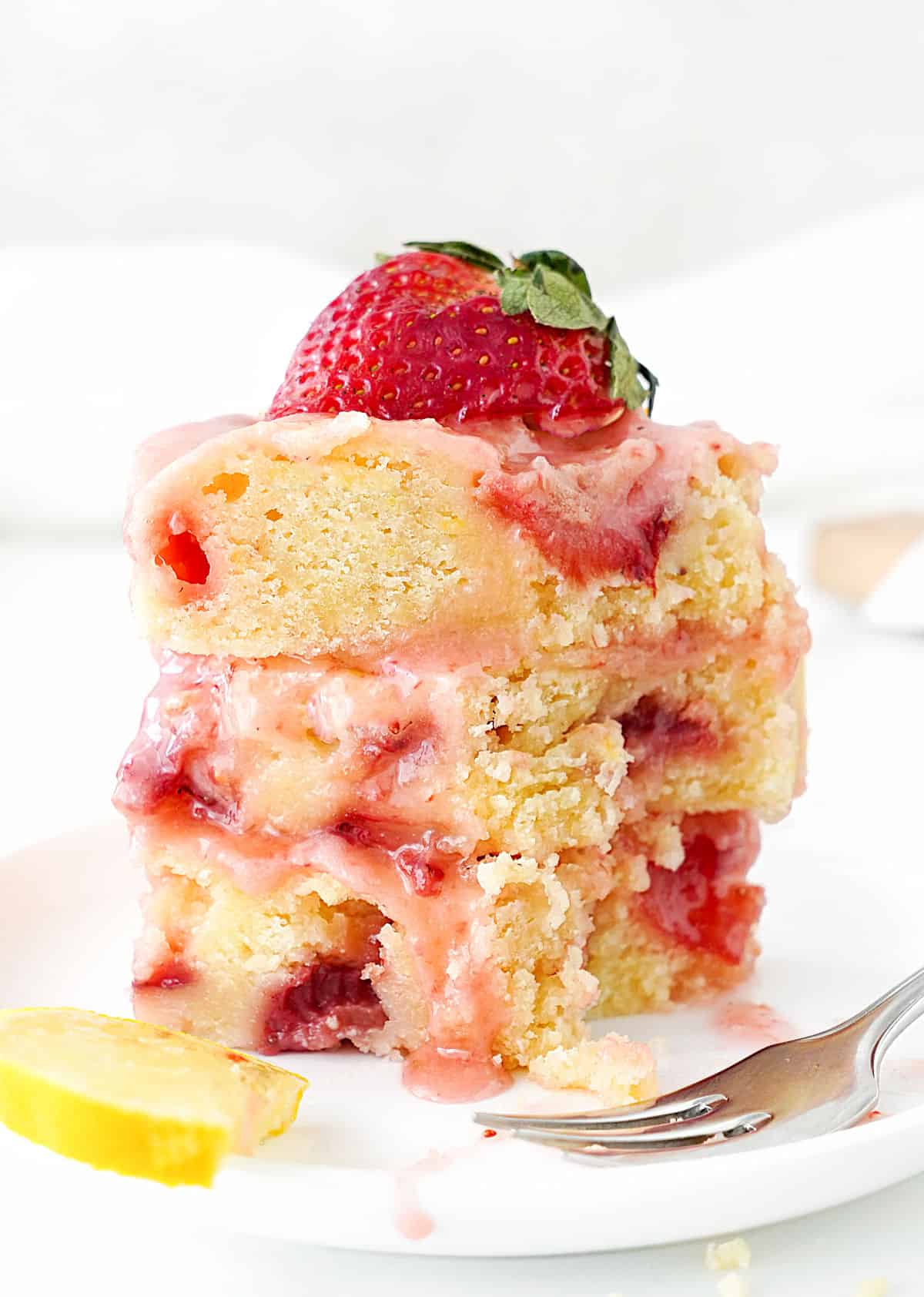 ---
Related recipes you might like:
---
Let me know in the comments below if you made this recipe and loved it and if you had issues so we can troubleshoot together. I love to hear what you think, always. Thanks for being here. It's much appreciated.
You might also consider subscribing to our FREE email series to Boost your Home Baking Skills! And our regular newsletter.
And let's connect via Facebook, Instagram, and Pinterest.
As an Amazon Associate, I earn from qualifying purchases. Please read my disclosure policy.
Print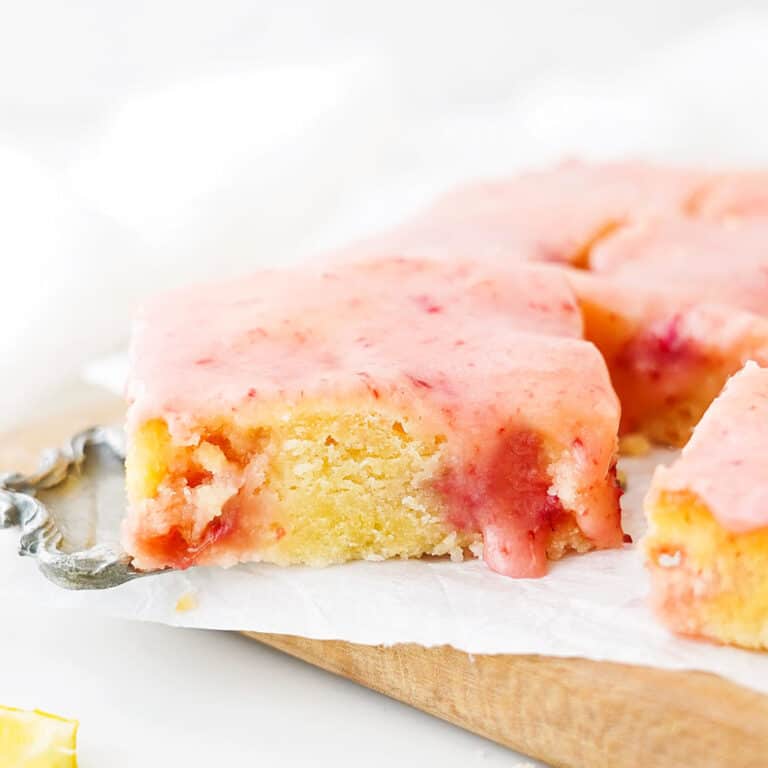 Strawberry Lemon Blondies (easy recipe)
These are luscious bars, lemon-flavored, with diced strawberries and a finger-licking berry glaze. An irresistible recipe that will have everyone coming back for more! A sibling to the popular lemon blondies, they keep for several days and can be frozen.
Total Time:

35 minutes

Yield:

9 squares