Buttery shortbread base and the gooiest nut and fruit filling make up these fabulous Loaded Butterscotch Bars. Mind blowing and such a crowd pleaser!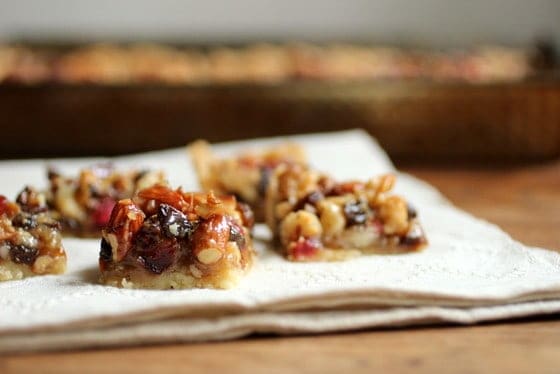 Just like there's no wrong time to eat ice cream, there's no right or wrong time to go on a picnic either.  
Even if it's that time of the year when the trees have already lost most of their leaves, a pain since I'm the one that has to pick them up from my terrace, the weather is cold enough for a scarf and layers of clothing and the winter fog is already creeping into many mornings, it's still always a good moment to have a picnic.  Or a picnic state of mind.
And I know a blanket, a sunny day and a park or beach are probably popping in your mind right now, but let's simply talk about picnic food. This is a food blog after all and these loaded butterscotch bars are fit for year round eating.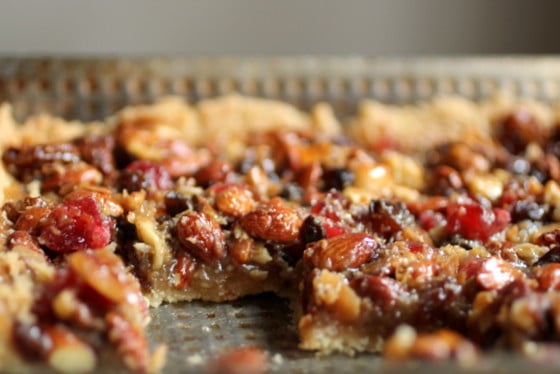 A sweet, gooey, nut bar is a much-needed picnic ingredient, just as are good sandwiches.
There is that moment, after you ate your savory stuff and spent a few hours playing with the kids, the dog, walking, making sand castles, something else, or all of the above, when the sweet hunger pang strikes. Not to mention if instead of some ordinary activity as described above, you decided that a good book followed by a nap would be your activity for the next hours.
You go and open the cooler and you find these little loaded butterscotch squares, take one, or two and all is good again. No need to use a fork, no messy creams, no wondering how they are doing after too many hours, just a great three-bite
perfect sweet snack.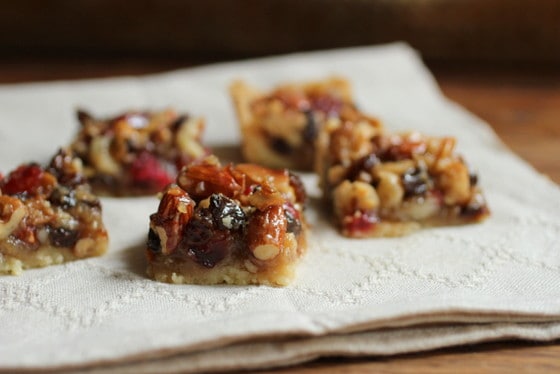 The base is a shortbread. A very standard one (using cups as the volume unit) with 4 parts flour, 2 parts butter, 1 part sugar and a pinch of salt. Works every time for lemon bars and stuff like that.
And the topping, oh the topping. It's my favorite, the one that also works time and time again. And I've made these bars too many times. I even sold them at the cafe at some point, and people went crazy for them. Seriously. So the recipe is in my files for good.
And the best part? You can use whatever combination of dried fruit and nuts (or just nuts like the original recipe) and even substitute the cream for coconut cream, like I did today. Just because I had some. I usually use the good and faithful double fatty cream. It's butterscotch after all.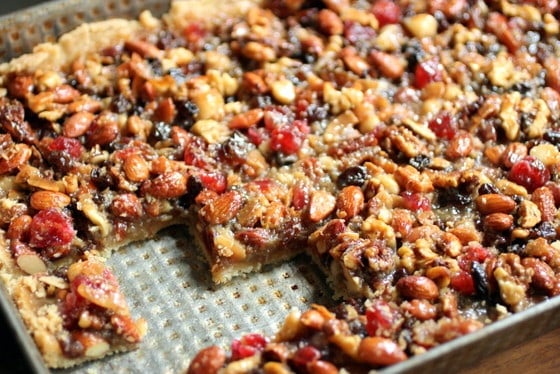 Print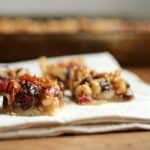 ---
Scale
Ingredients
For the crust:
1 cup

225g unsalted butter, softened

½ cup

100g sugar

2 cup

s flour
Large pinch of salt
For the topping:
8 oz

. 225 unsalted butter

½ cup

honey

1 cup

200g light brown sugar, firmly packed

¼ cup

50g sugar

¼ cup

coconut cream (or double cream)
Zest of

1

orange
Zest of

1

lemon

5 cup

s nuts and dried fruits (any combination (I used

1 ½ cup

s whole almonds,

1 ½ cup

walnuts,  about

½ cup

each dried pears, dried cherries, raisins and macadamia nuts))
---
Instructions
For the crust:
In a bowl mix butter and sugar with a wooden spoon or handheld electric mixer. Add flour and salt in two or three additions, mixing well. It will all come together in a shabby ball. Be sure the flour is well mixed and no dry patches remain.
You can line a 13×18-inch (23x33cm) baking pan with 2 inch sides, with aluminum foil that hangs a bit over the long edges. It will cover the bottom and both long sides, but not the short sides. This will aid when unmolding the whole piece before cutting. Or just leave it bare.
Distribute the dough in small mounds on the bottom of the pan. With floured hands, slowly and patiently, pat the dough to cover the entire surface and go 1-inch up the sides. Start with the sides and work your way to the middle, flouring your hands as necessary.
Refrigerate for at least 30 minutes. Preheat oven to 350ºF / 180ºC.
Bake the dough for 15 or 20 minutes, until beginning to color.
For the topping:
When the dough is baking, start with the topping.
In a large bowl mix the 5 cups assorted dried fruits and nuts with the citrus zest.
In a medium saucepan, melt butter with honey. Add both sugar, mix well, turn on the heat and, when it starts to boil, cook for exactly 2 minutes without stirring.
Remove from heat and add coconut cream, careful because it will bubble furiously. Immediately pour over the nut mixture and mix well to coat everything.
Pour this caramel nut mixture over the dough, carefully covering the whole surface. Don't dump everything in the middle because it will be hard to spread to the sides without tearing the dough.
Some parts will have more caramel than other, but it will even up in the oven.
Bake for 25 minutes, remove and let cool on wire rack.
If the caramel spilled to the sides of the dough, run a thin knife around the egdes after it's cooling for a few minutes, so it doesn't stick. If it does stick and you have trouble to unmold it, simply pop it in the oven 4 or 5 minutes until the caramel is warm.
Lift the aluminum foil and put the whole piece on a surface to cut it.
---
adapted from
Cookies
, by Maida Heatter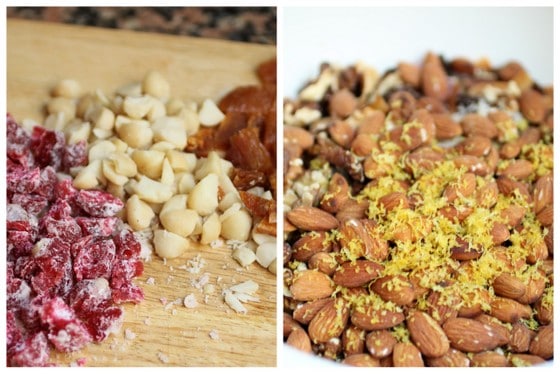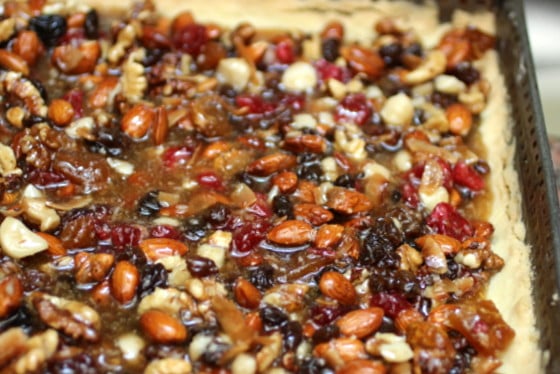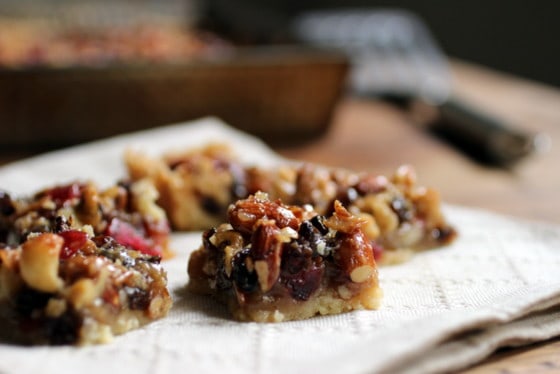 ---