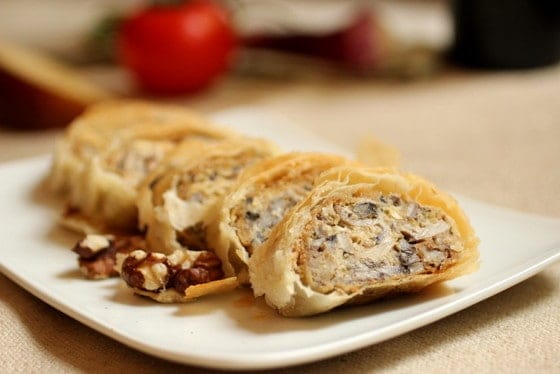 I could pretty much live on drinks and appetizers, this mushroom cheese strudel no exception. There's nothing more tempting than finger food. A little bit of this, a little bit of that. That's the appeal of buffet tables too. Oh, if I could only open my fridge and have that kind of food every day.
But I'll settle for today's virtual drinks and appetizers pre-holidays celebration. The Sunday Supper table is full of little nibbles and comforting things to drink. Though I'll pass on the latter, since it's 100º outside and a cup of hot buttered rum sounds like a sentence not a pleasure.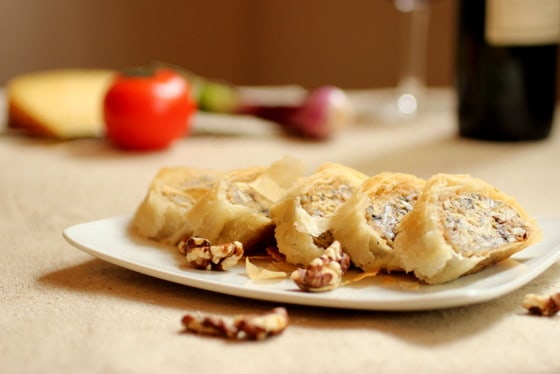 People, the food and drinks are so amazing I really, really wish this was happening right now at my house. And about that spiked eggnog, I will remember it in a few months.
So of course I made an appetizer. Crackly phyllo dough filled with mushrooms and cheese. Good at room temperature, so you don't even have to worry about that.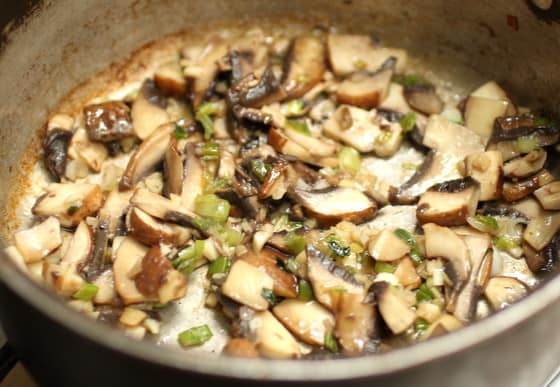 Working with phyllo dough drives some people far away. They are a middle eastern specialty, ridiculously thin pieces of dough, that, besides needing some decent counter space to work with them, they need to be individually buttered and kept under a damp cloth at all times while you tend to the other pieces of dough because they start to dry out just.like.that.
But, as with any laborious thing in the kitchen, the result is worth it.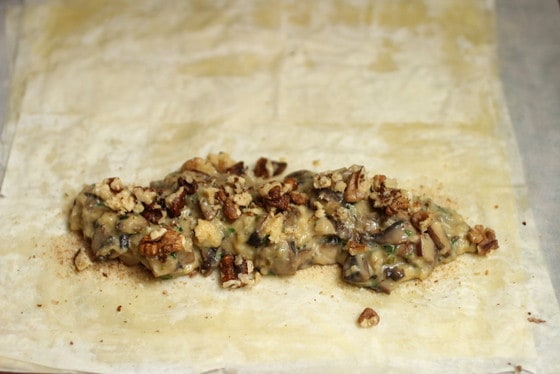 That crackly, glass shattering sound when you bite makes it worth it. You can buy them in the supermarket now, though specialty stores always have the best quality. I try to buy mine at my favorite Armenian bakery. But the one I used today was purchased at the market across the street and was the remaining half from this apple pie.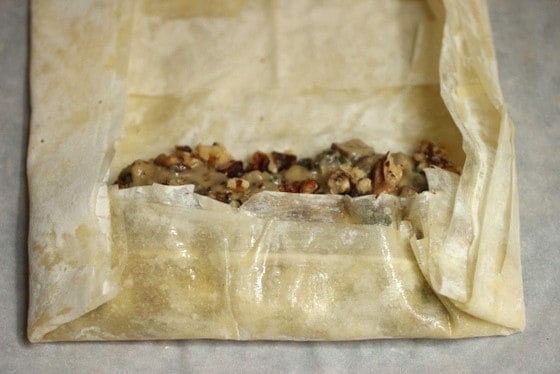 Since I love doughs in general I enjoy this type of recipes. The filling is a mix of flavors that's sure to be a crowd pleaser. Mushrooms, cheese, green onion and walnuts basically. The possibilities are really endless. Whatever you would put inside a tart will work here.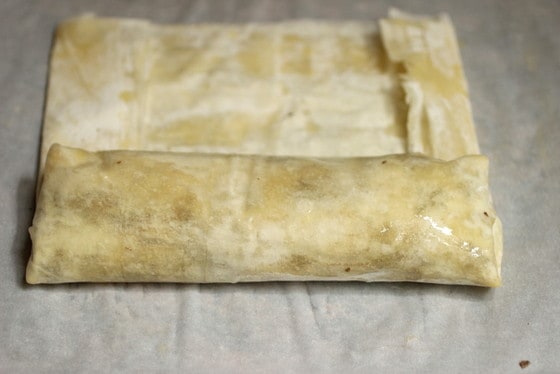 Strudels have a layer of breadcrumbs in the bottom to absorb any excess moisture during baking and prevent from biting a soggy dough. The whole filling binds together with a mixture of egg and sour cream. This is a good step for appetizers, especially if you're going to eat with your hands, it will really keep the filling in place.
You can make this with tart dough and call them handpies. Like this one with ham and mushrooms or this one
with corn
. But phyllo dough is worth the effort.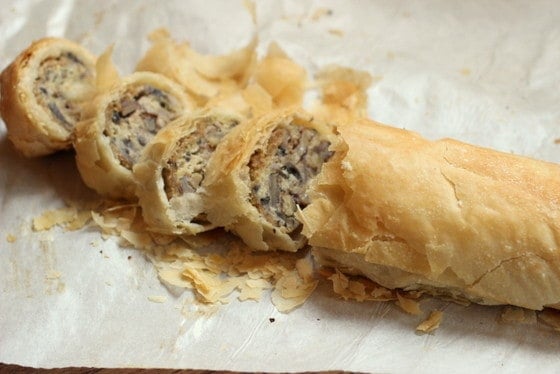 If you're serving this as an appetizer to seated guests, it goes well with a green salad or tomato salad.
Print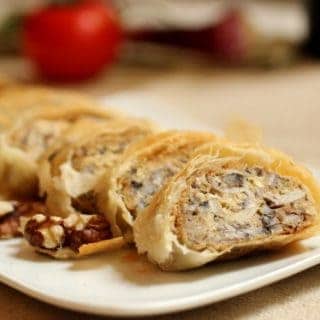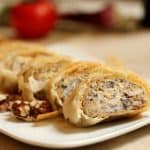 Mushroom Cheese Strudel
Yield:

16

portions

1

x
---
Description
The filling is enough for 2 strudels; work with one at a time so the phyllo dough doesn't dry out.
---
Scale
Ingredients
1 ½

pounds about

8 cup

s sliced mushrooms, any kind

1 cup

grated parmesan cheese

½ cup

grated Fontina cheese

2

or

3

Tbs chopped fresh parsley

4

Tbs butter

2

Tbs olive oil

¾ cup

chopped green onion

2

garlic cloves (minced)

¼ cup

sherry or white wine

3

eggs

½ cup

sour cream
Salt and black pepper
Freshly grated nutmeg (optional)

3

Tbs toasted walnuts (chopped)

2

Tbs dry breadcrumbs

8

phyllo sheets

1 cup

  clarified butter
---
Instructions
In a large skillet melt butter and oil over medium heat.
Add onion and garlic and soften for 1 minute.
Add mushrooms and cook over high heat until they begin to loose water. When the liquid has almost evaporated, add sherry and cook 30 seconds.
Remove from heat and mix cheeses and parsley. Season with salt, pepper and nutmeg if using.
Mix eggs and sour cream and add to the mushrooms.
Preheat oven to 350ºF.
Line a baking tray with parchment paper.
On a clean surface, have clarified butter ready and a brush.
Cut each phyllo dough in 4 pieces (I use scissors).
Arrange one sheet on a flat surface and brush, carefully, with clarified butter. This is easier if you dot the entire dough with small amounts of butter and then spread. If you tear it, don't worry, patch it up as best as you can.
Repeat with remaining three sheets, stacking them one on top of the other.
Sprinkle breadcrumbs along one short side, leaving 3 or 4 inches from the border.
Put mushroom mixture on top of the breadcrumbs, then sprinkle nuts on top.
Starting on the short side near you, fold the dough over the filling. Brush the dough with butter.
Fold the two sides inwards. Fold the packet as many times as necessary, brushing the dough with butter every time. When you're done folding and you have a tight packet brush the entire surface with butter making sure the dough is sealed.
Bake for 30 minutes, until golden.
Cool to room tº, cut into slices and serve.
---
a bit adapted from Secrets from a Caterer's Kitchen, by Nicole Aloni
---