Crisp phyllo sheets encase a wonderful mushroom cheese filling. A perfect appetizer for parties as it can be made ahead, eaten with your hands, and is a crowd-pleaser!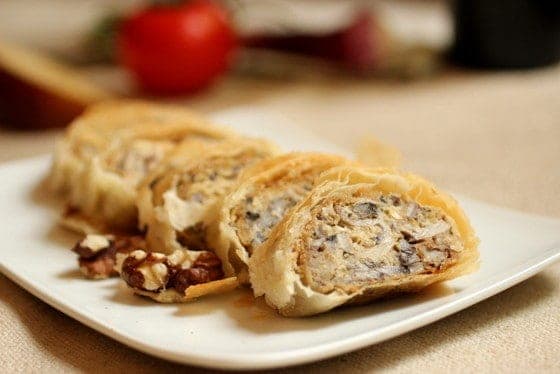 I could pretty much live on drinks and appetizers, and this mushroom cheese strudel is no exception. It goes hand in hand with my favorite cocktail nuts.
There's nothing more tempting than finger food. A little bit of this, a little bit of that. That's the appeal of buffet tables too. Oh, if I could only open my fridge and have that kind of food every day.
But I'll settle for virtual drinks and appetizers that abound at this time of year.
So, of course, I made an appetizer for you.
Crackly phyllo dough filled with mushrooms and cheese. Good at room temperature, so you don't even have to worry about that.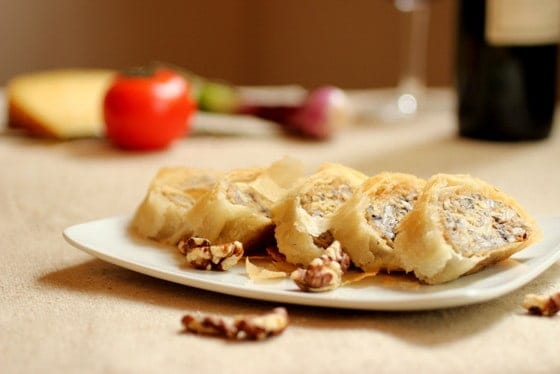 Mushroom filling
I love mushrooms as filling for anything that involves a dough, like this amazing Mushroom Leek Quiche.
So, when I thought about making an appetizer strudel, they popped into my head immediately.
Vintage Kitchen tip:when cooking mushrooms, always do it over high heat, don't salt them from the start, and don't touch them until browned. That way, they won't release too much water and turn mushy.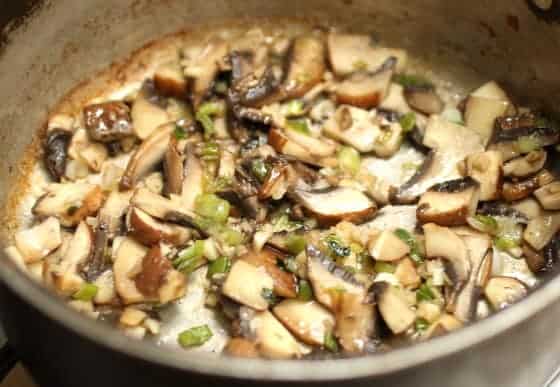 Working with phyllo dough
It usually drives some people far away when they read that the recipe includes this thin pastry.
It is a middle eastern specialty, involving ridiculously thin pieces of dough.
But, as with any laborious thing in the kitchen, the result is worth it.
Vintage Kitchen tip:phyllo dough needs decent counter space to work with, and each sheet has to be individually buttered while the rest is being kept under a damp cloth at all times so they don't start to dry out just like that.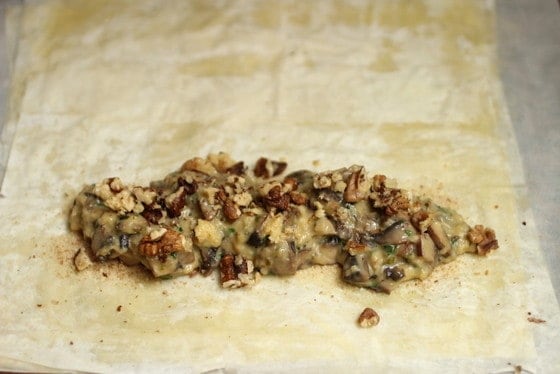 That crackly, glass-shattering sound when you bite makes it worth it.
You can buy them in the supermarket now; specialty stores always have the best quality. I buy mine at my favorite Armenian bakery.
How to roll a strudel
Once you have your buttered pieces of phyllo dough stacked together, you should proceed as with a tortilla wrap:
The filling is a log a few inches from the bottom and sides (image above).
The side close to you is folded forward, covering the filling (image below).
Both of the outer sides are folded (image below) and the whole thing is rolled forward as you would a burrito.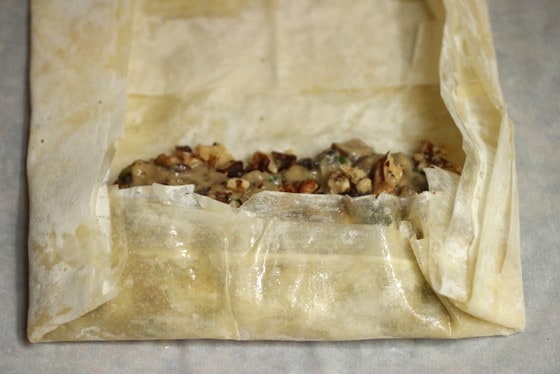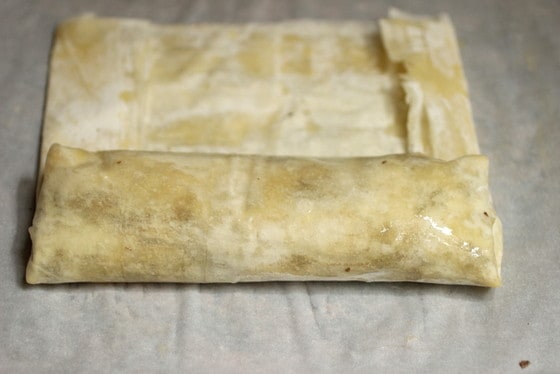 Baking and serving
Brush with ghee (clarified butter): the strudel needs to be buttered again before going into the oven. This buttering up is what creates that unmistakably crackly and wonderful dough.
You can make this with tart dough and call them empanadas. But phyllo dough is worth the effort.
It can be frozen: Wrap it well in plastic wrap and then foil. It keeps for a month. Thaw at room temperature and warm in the oven before serving so it crisps up.
Serving: if using it for a cocktail party as finger food, serve it at room temperature. If you're serving this as an appetizer to seated guests, add a green or tomato salad as a side.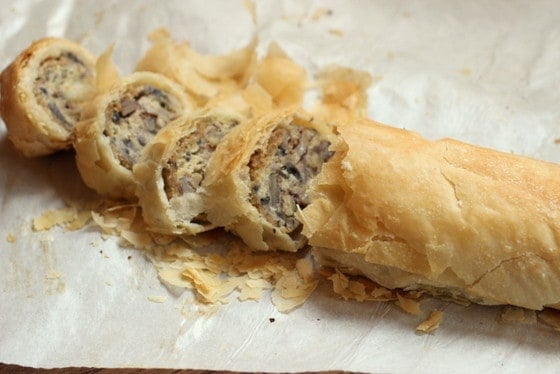 ---
Related recipes you might like:
---
Let me know in the comments below if you made this recipe and loved it and if you had issues so we can troubleshoot together. I love to hear what you think, always. Thanks for being here. It's much appreciated.
You might also consider subscribing to our FREE email series to Boost your Home Baking Skills! And our regular newsletter.
And let's connect via Facebook, Instagram, and Pinterest.
Print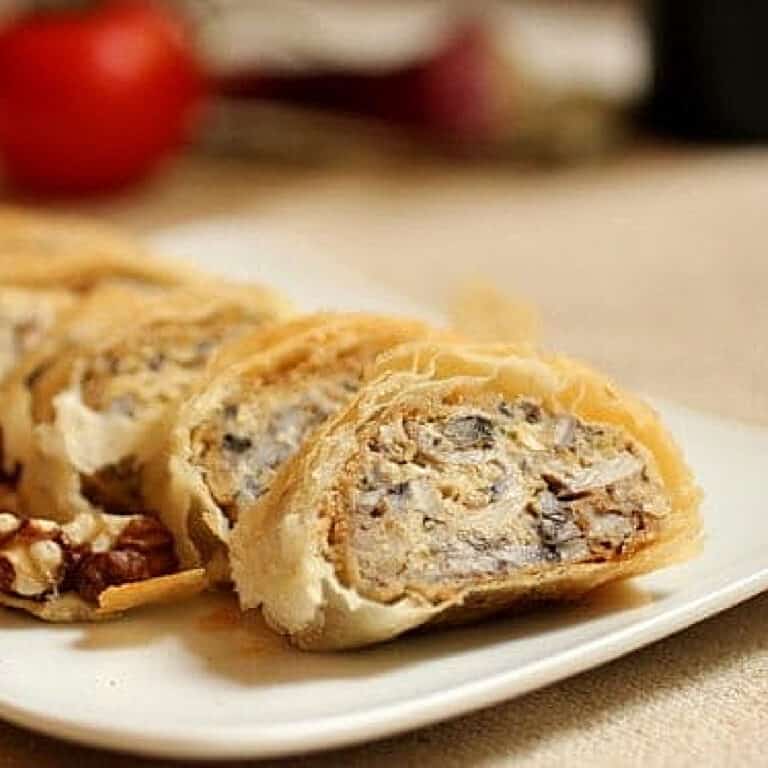 Mushroom Strudel (with phyllo dough)
Crisp phyllo sheets encase a wonderful mushroom filling, perfect appetizer for parties as it can be made ahead and is a crowd-pleaser!
Total Time:

1 hour

Yield:

16 portions
1 ½

pounds

(about 8 cups) sliced mushrooms, any kind

1

cup

grated parmesan cheese

½

cup

grated Fontina cheese

2

or

3

Tbs chopped fresh parsley

4 tablespoons

butter

2 tablespoons

olive oil

¾

cup

chopped green onion

2

garlic cloves (minced)

¼

cup

sherry or white wine

3

eggs

½

cup

sour cream
Salt and black pepper
Freshly grated nutmeg (optional)

3 tablespoons

toasted pecans or walnuts (chopped)

2 tablespoons

dry breadcrumbs

8

phyllo sheets

1

cup

clarified butter
Instructions
In a large skillet melt butter and oil over medium heat.
Add onion and garlic and soften for 1 minute.
Add mushrooms and cook over high heat until they begin to lose water. When the liquid has almost evaporated, add sherry and cook for 30 seconds.
Remove from heat and mix cheeses and parsley. Season with salt, pepper, and nutmeg if using.
Mix eggs and sour cream and add to the mushrooms.
Preheat the oven to 350ºF/180°C.
Line a baking tray with parchment paper.
On a clean surface, have clarified butter ready and a brush.
Cut each phyllo dough into 4 pieces (I use scissors).
Arrange one sheet on a flat surface and brush, carefully, with clarified butter. This is easier if you dot the entire dough with small amounts of butter and then spread. If you tear it, don't worry, patch it up as best as you can.
Repeat with the remaining three sheets, stacking them one on top of the other.
Sprinkle breadcrumbs along one short side, leaving 3 or 4 inches from the border.
Put the mushroom mixture on top of the breadcrumbs, then sprinkle nuts on top.
Starting on the short side near you, fold the dough over the filling. Brush the dough with butter.
Fold the two sides inwards. Fold the packet as many times as necessary, brushing the dough with butter every time. When you're done folding and you have a tight packet brush the entire surface with butter making sure the dough is sealed.
Bake for 30 minutes, until golden.
Cool to room temperature, cut into slices and serve.
Notes
The filling is enough for 2 strudels; work with one at a time so the phyllo dough doesn't dry out.
Author:

Paula Montenegro

Prep Time:

30 minutes

Cook Time:

30 minutes

Category:

Appetizers

Method:

Cooking + Baking

Cuisine:

International
Keywords: mushroom strudel
Adapted from Secrets from a Caterer's Kitchen, by Nicole Aloni