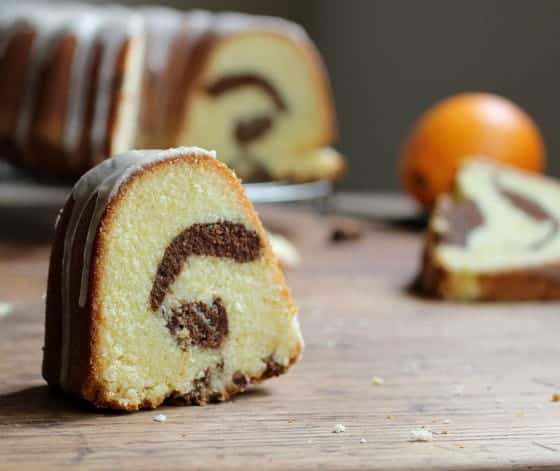 Citrus and bundt cake go so well together that the minute I found out it was this month's pairing for Bundt a Month, I decided I would bake something original, stay away from the
lemon poppy
or orange rum combinations that immediately popped into
my mind.
You know, they are so obvious, I said to myself, and I believe I'm capable of interesting combinations, a bit unexpected, like the cardamom saffron bundt or
chocolate port
.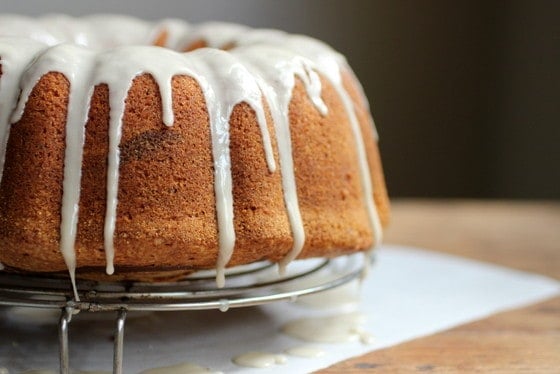 I had started thinking grapefruit, because I want to use it more, it's such a neglected citrus, but that obviously didn't happen. Sometimes when I try so hard to come up with a clever idea I end up with a basic one. Orange and chocolate. And a marble bundt. Orange chocolate marble bundt cake, doesn't get much less original than that.
It seemed almost outdated, the marble part, not even hip-retro, the kind of simple cake that nobody cares for anymore, now that olive oil cakes are considered the new little black dress and old fashioned layer ones consist of four or five layers, filled and frosted, and considered to be in the plain category. Ah, food blogging.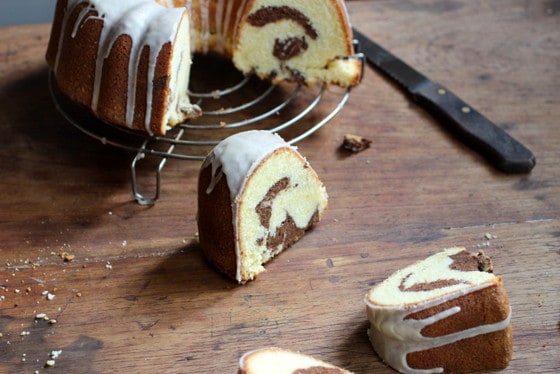 But after making this cake, brainstorming was definitely over. This is a solid bundt cake with wonderful flavors that took me a long time to get to. I wasn't consciously looking for it, or so I thought, but now I know that it was in the back of my mind, that recipe that will be good anytime I want to make a citrus bundt cake, with or without the marble effect, or a regular marble cake flavored with vanilla instead of citrus.
This will be my go-to recipe, just like the chocolate port bundt cake recipe is the one in that chocolate category, this might be the best citrus one I came across. The crumb is moist but slightly dense, almost like a good pound cake.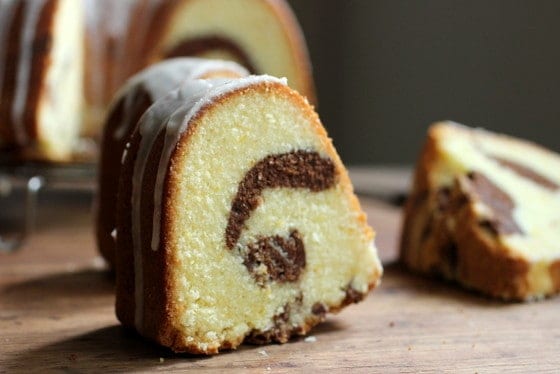 And, of
course, it unmolds like a d.r.e.a.m. Which might be the reason I have so few favorite bundt cake recipes and get so overly excited when I try one that gets me into sort of an eureka! moment, when flavor, texture
and unmolding
come together perfectly.
My idea of chocolate and orange is usually a chocolate cake with orange flavor, be it zest or candied fruit or a glaze with orange juice. Here it's a hint of cocoa with the right amount of orange tartness.
It turned out that when I made this cake different friends came over, at different times, and they all went away with a few slices and an assortment of other sweets I had lying around, like
these truffles
and this monkey bread. All of them called to tell me that they liked everything but the best part was the cake.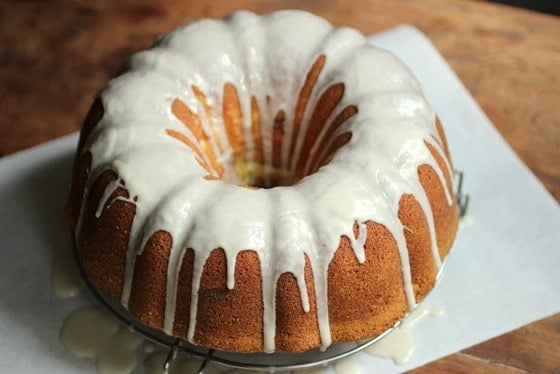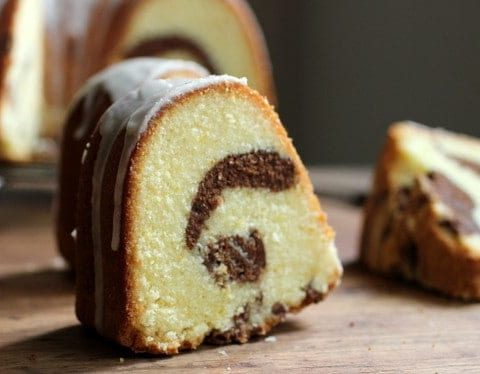 Orange Chocolate Marble Pound Cake
Cool down Time:
30 minutes
Cook Time:
1 hour
10 minutes
Ingredients
1 ½ cups (340g) unsalted butter, room tº
3 cups (600g) sugar
5 large eggs, at room tº
3 cups (400g) flour
1 teaspoon baking soda
¾ cup milk
1 teaspoon vanilla extract
Zest of 2 oranges
3 Tbs brandy or cognac
1/3 cup unsweetened cocoa powder, sifted
Glaze:
1 cup powdered sugar
1 or 2 Tbs cognac
Instructions
Preheat oven to 350º F /180ºC.
Butter or spray a large bundt cake pan.
Coat the entire surface with dry breadcrumbs, shaking off excess.
In a large bowl beat butter until creamy and slowly add sugar, beating for 2 or 3 minutes. Add eggs, one at a time, beating well after each addition.
Add orange zest, brandy or cognac, and vanilla.
Sift flour and baking soda together in a small bowl (I do this directly over the butter mixture).
Add dry ingredients in three additions alternating with milk in two additions. Don't overbeat.
Transfer 1 cup of this mixture to a small bowl and mix into it the sifted cocoa. Gently mix until well incorporated.
Add half the orange batter to the pan, spreading evenly. Drop half the cocoa mixture over it, and swirl a few times with a knife. Repeat with remaining batters.
Bake for 1 hour and 15 minutes or until a tester inserted comes clean.
Transfer to wire rack and let cool. Unmold onto serving platter and glaze.
For the glaze:
In a small bowl mix powdered sugar with cognac until very smooth.
Pour over cooled cake and let drip down the sides.
adapted from The Buttercup Bakeshop Cookbook, by Jennifer Appel
---