This is Ina Garten's plum tart, with its short deceptively simple title that leads to a crumble tart that is beyond good.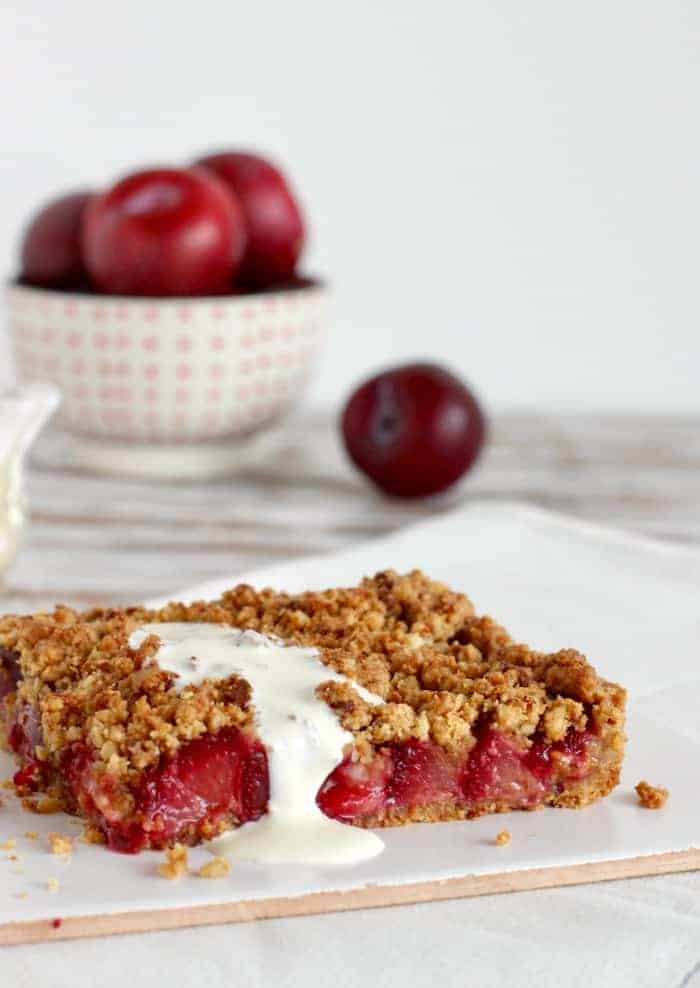 When you realize there are plums in your fridge, again, and remember you bookmarked a one bowl recipe like this one, you simply go to the kitchen and start measuring.
Plums and I have a strange relationship, because I'm constantly trying to recreate the flavors of my childhood and fruit has changed, and I don't like it, haha.
I remember being a kid and eating soft, juicy plums from the trees. My parents weren't so happy about the proliferous trees; the smashed plums all over the ground were definitely a messy thing, not to mention having to pick them up before the birds arrived for a feast.  I hardly find those anymore. Same thing with peaches and nectarines. Sad.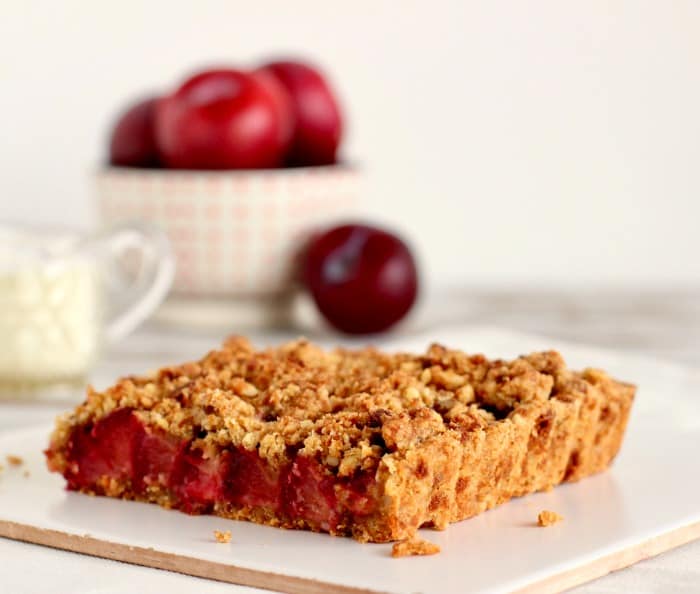 Inevitably, it always reminds me of a great chef that said something like 'How do you make the perfect peach tart? With the perfect peaches.' I agree wholeheartedly. Ripe, perfect fruit, the kind you eat with your hands is one of life's food pleasures.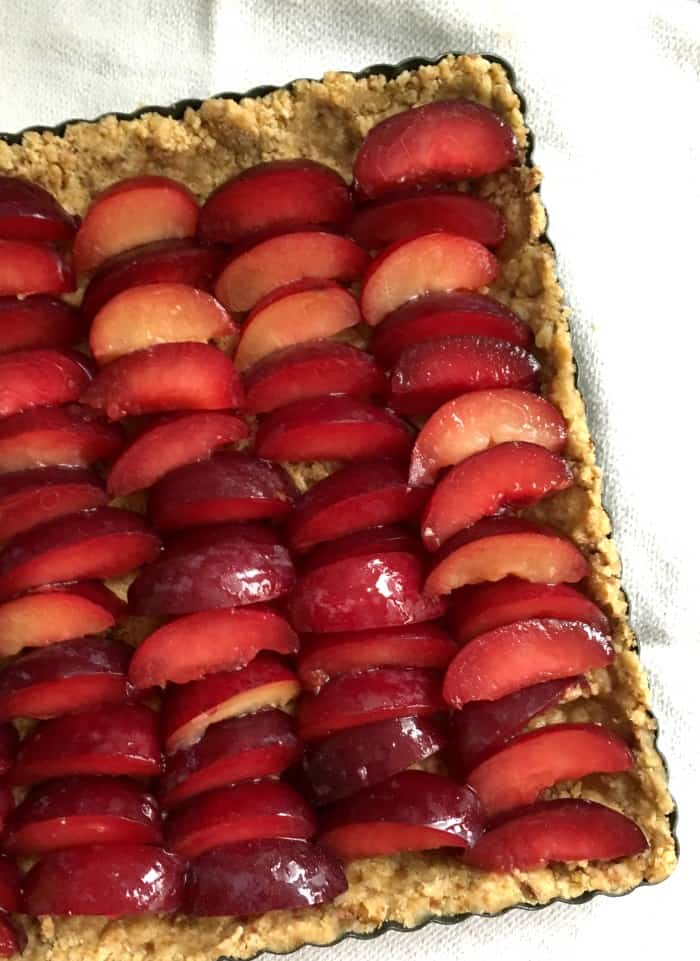 On the other hand, when you find yourself buying debatable tasting stone fruit, bake a tart like this one. Never mind if you have a combination of hard, sandy, or over-ripe fruit. They all work fine together. You simply make a crumble and use it as a pie shell and as a topping. Easy, right?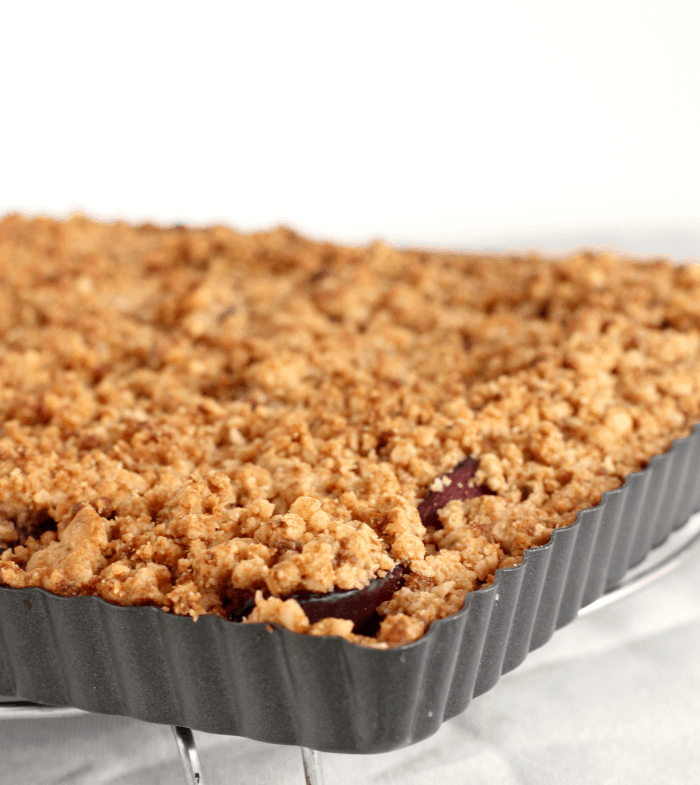 When pressing the dough in the tart shell, be sure to press a fairly thick side wall and also pay attention (I sound like your kindergarten teacher) to the union between that wall and the bottom. It will stand better when you unmold it.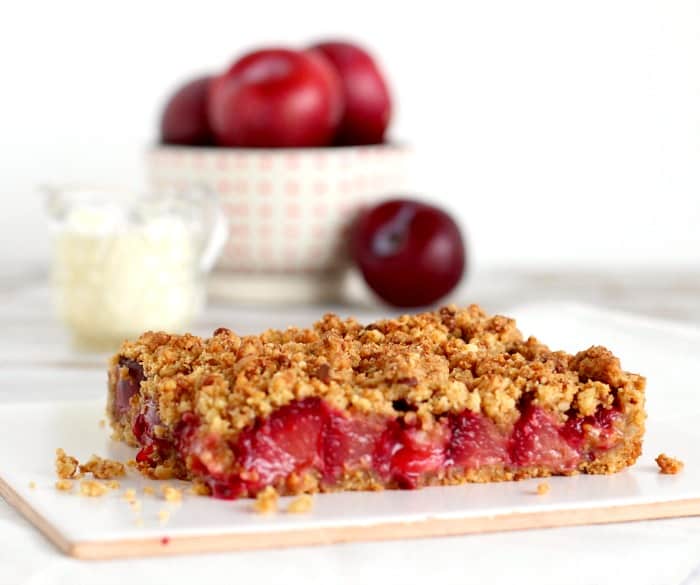 And it transforms you little rocks into a great dessert, with a toasted nuttiness in every bite, that is even better topped with ice cream. Or, serve it warm with cream directly from the container, like my grandmother did with her apple crisp.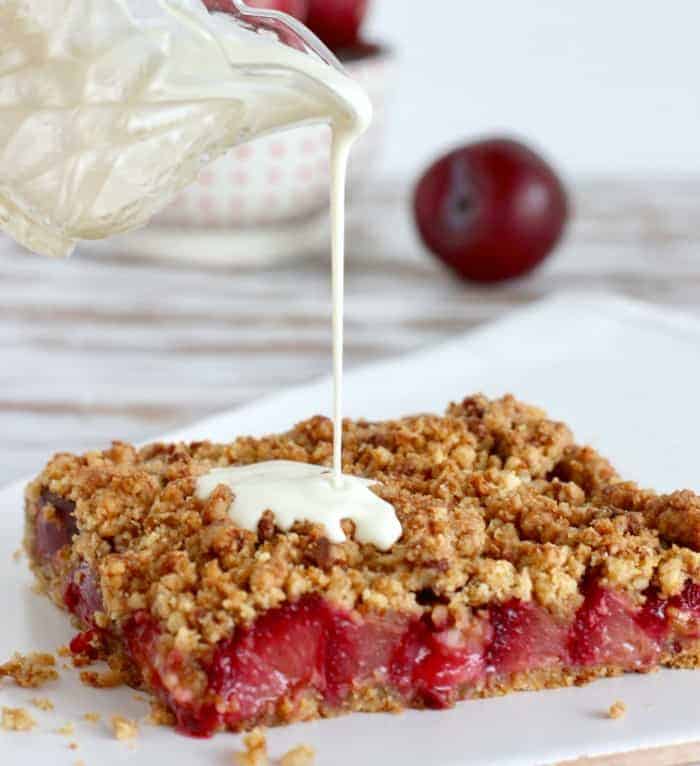 Print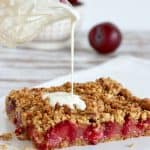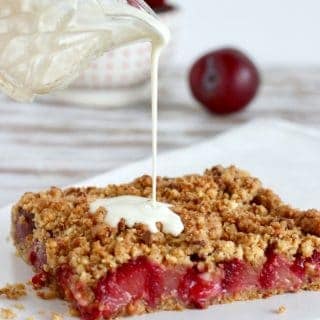 Ina Garten's Plum Tart
---
Description
I used almonds or walnuts.
To core the plums, I use an apple corer. It fits perfectly.
While cutting the plums I keep the lined tart shell in the refrigerator. The amount of crumble you use depends on the plums-topping ratio you want. Be sure to pack the plum slices snugly together; when you think you don't have more space pack a few more in between.
---
Scale
Ingredients
2 cup

s 300g all purpose flour

¾ cup

65g finely chopped almonds

¾ cup

130g light brown sugar, lightly packed

12

Tbs 180g cold unsalted butter, diced

1

egg yolk

2

pounds 950g firm, ripe plums, pitted and quartered lengthwise
Crema y azúcar impalpable (para servir)
---
Instructions
Preheat the oven to 400ºF / 200ºC.
Have ready a 9 inch square or round tart pan with removable bottom.
Core plums (see note above), cut in half and each half in thirds or fourths. 
Combine the flour, walnuts, and sugar in a large bowl.
Add the butter and the egg yolk.
Mix, either by hand or with an electric mixer, until crumbly. I always do it in the food processor.
Press 1 ½ cups of the crumb mixture in an even layer into the bottom and sides of the pan. Be sure to press on the unions so that it un-molds well.
Arrange plums in the pan, skin-side down, in whatever pattern you want; begin at the outside and work your way in.
Sprinkle the rest of the crumb mixture evenly over the plums.
Bake the tart for 40 to 50 minutes, or until it's lightly browned and the plum juices are bubbling.
Remove from the oven and cool for about 1 hour. Be careful and gently remove from the pan and transfer the tart to a flat plate. You don't want to break the edges
Serve warm or at room tº with cream with some confectioners' sugar. I don't whip it, but that's up to you.
---
Category:

Dessert

Cuisine:

American