Take advantage of stone fruit and make the best plum bars! A fabulous and easy, one-bowl recipe with few ingredients that can be made in advance. The same crumble mixture is used for the base and top with a juicy layer of fruit in between.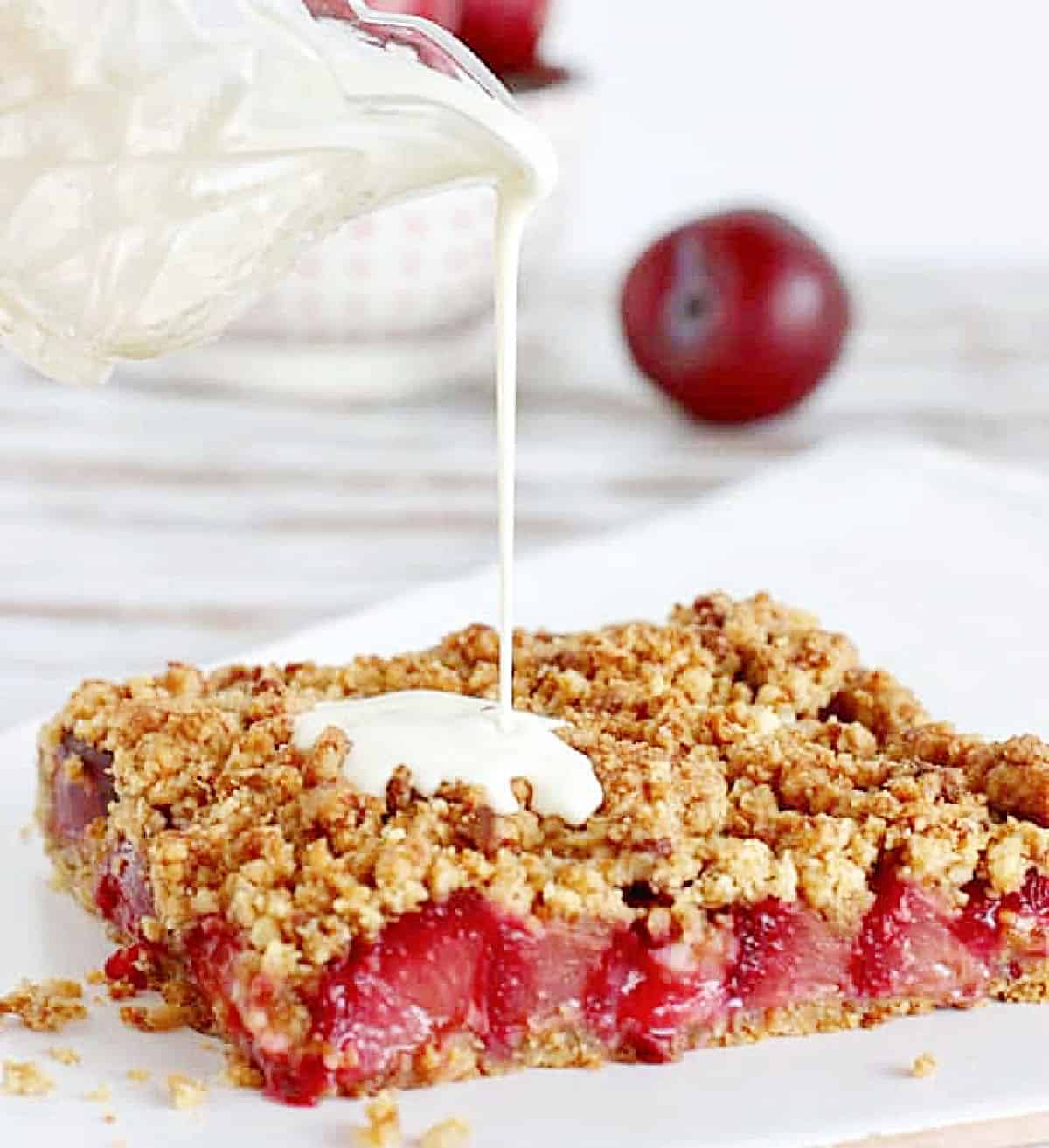 When you realize there are plums in your fridge and remember you bookmarked a delicious recipe like this, you go into the kitchen and start measuring.
Stone fruit - plums, apricots, peaches, nectarines, cherries - have a short season, and we all want to have a few easy recipes on hand. This is one of them.
'How do you make the perfect plum bar? With perfect fruit and a no-fail recipe.' I agree wholeheartedly.
Fresh plums
The most common ones found everywhere, red plums are great for this recipe.
Inside, the color can go from yellow to purple-red and have a small stone pit in the center, hence the stone fruit category name.
If you have a favorite seasonal plum, by all means, use it.
Be sure the fruit is acidic to balance the sweet, crunchy crumble. Here is a good read if you want to learn more about types of plums and experiment with different ones.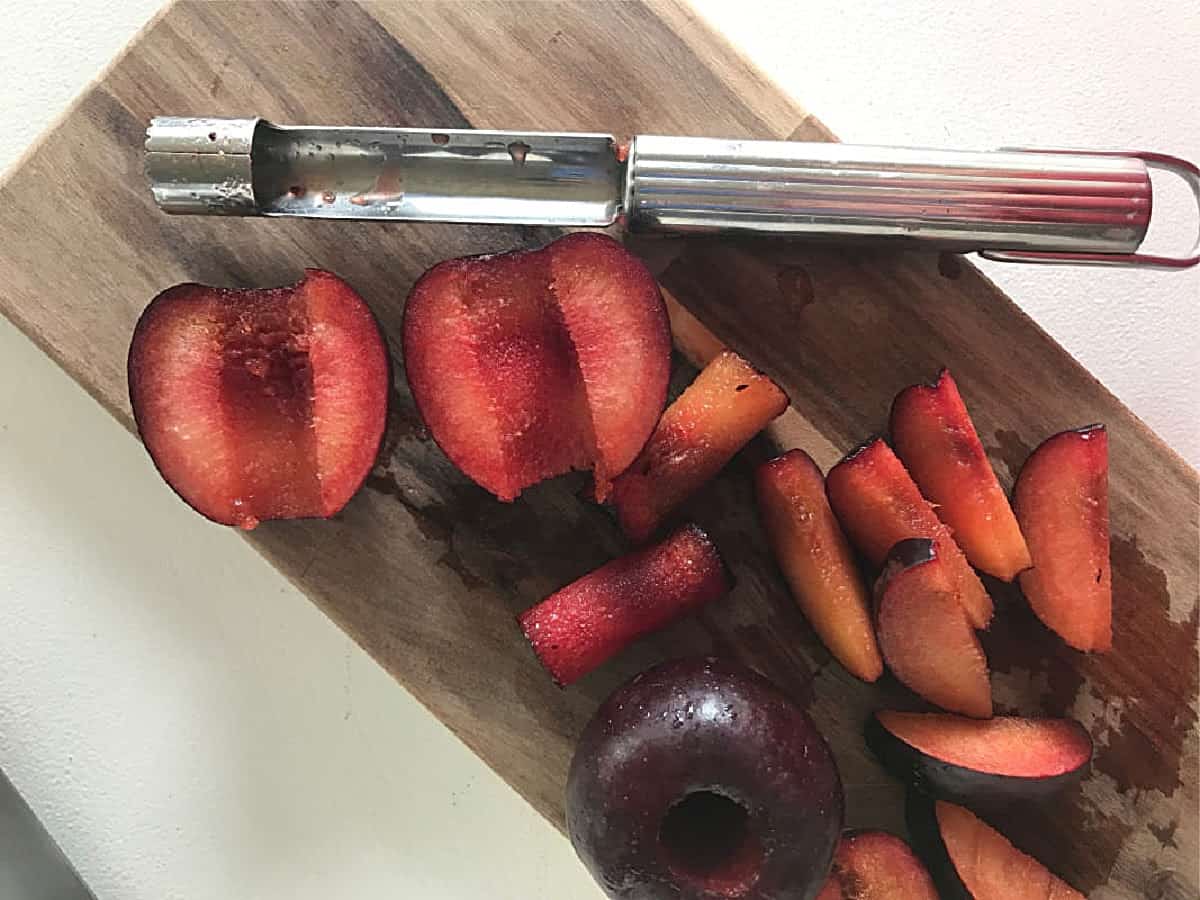 Preparing the plums
The red plums need to be cored (that is taking out the pit), cut in half, and then into thirds.
The easiest way to core them - something I found out while making this Plum Hazelnut Cake - is with an apple corer, It is a life saver and a reason to buy the gadget, let me tell you. It works great with apricots too.
Be sure you don't have very large pieces of fruit as they will make it more difficult to eat and take longer to soften while baking. A good, sharpened kitchen knife is another must when making fruit desserts.
Crumb base and topping
You mix them together in one bowl! One of the reasons this tart recipe is amazing and becomes a favorite fast is that you make a crumble and use it as a base and topping. One mixture, two uses. How's that for easiness?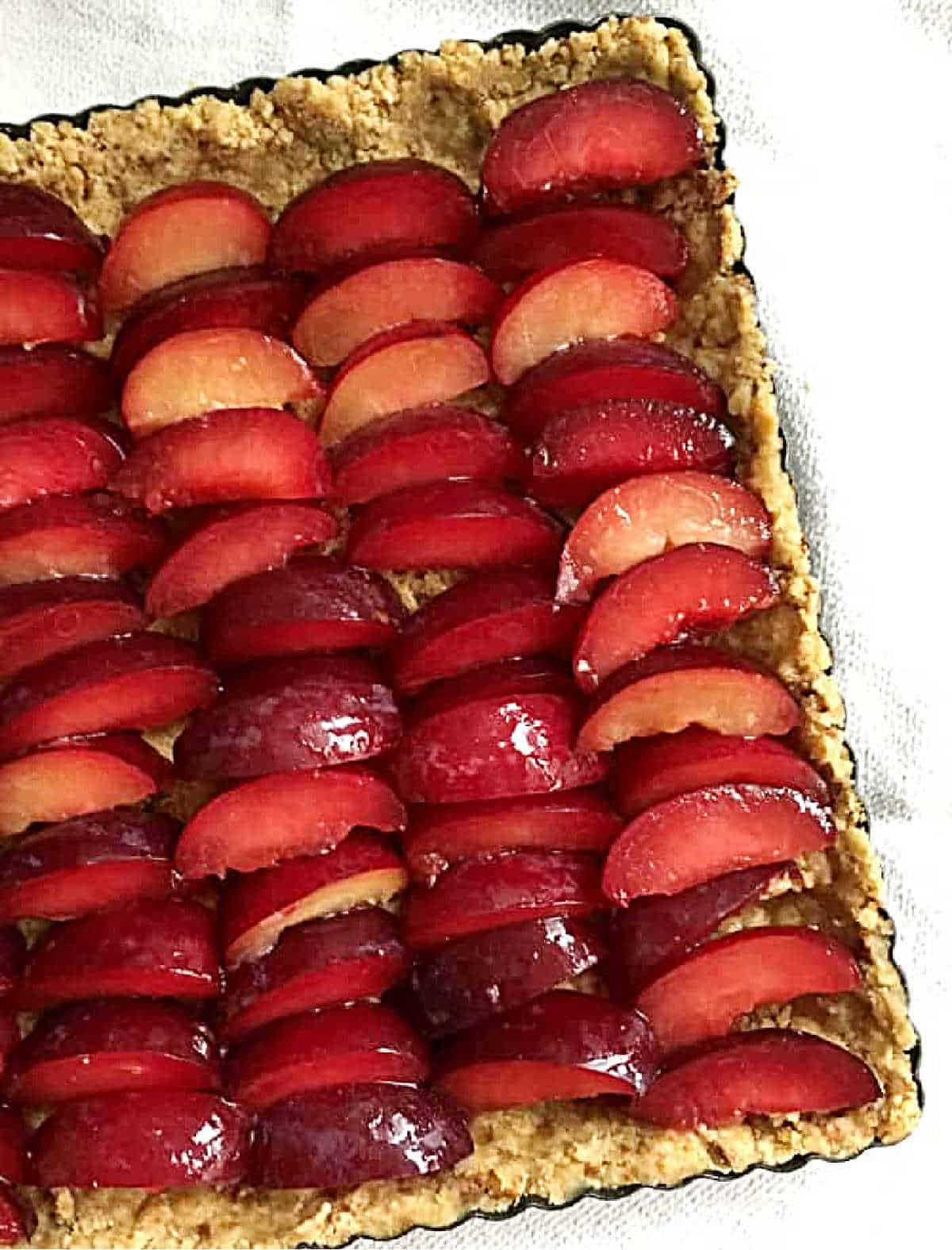 As with most crumbles, we start with the usual three ingredients: butter, sugar (brown in this case), and flour. But then we go a little further and add ground almonds and an egg yolk. This last ingredient will make the crumble incredibly crunchy, you have no idea what a single egg yolk can achieve here.
Best tips for the bottom crust
Press a fairly thick side wall and pay special attention to the union between the wall and the bottom. It is important to ensure it stands firm when removing it from the pan and doesn't break.
You can also bake it, without the plums, for 10 minutes to ensure the shell firms up. During baking, the butter, egg and dry ingredients will meld, and the crumb shell will come out firmer.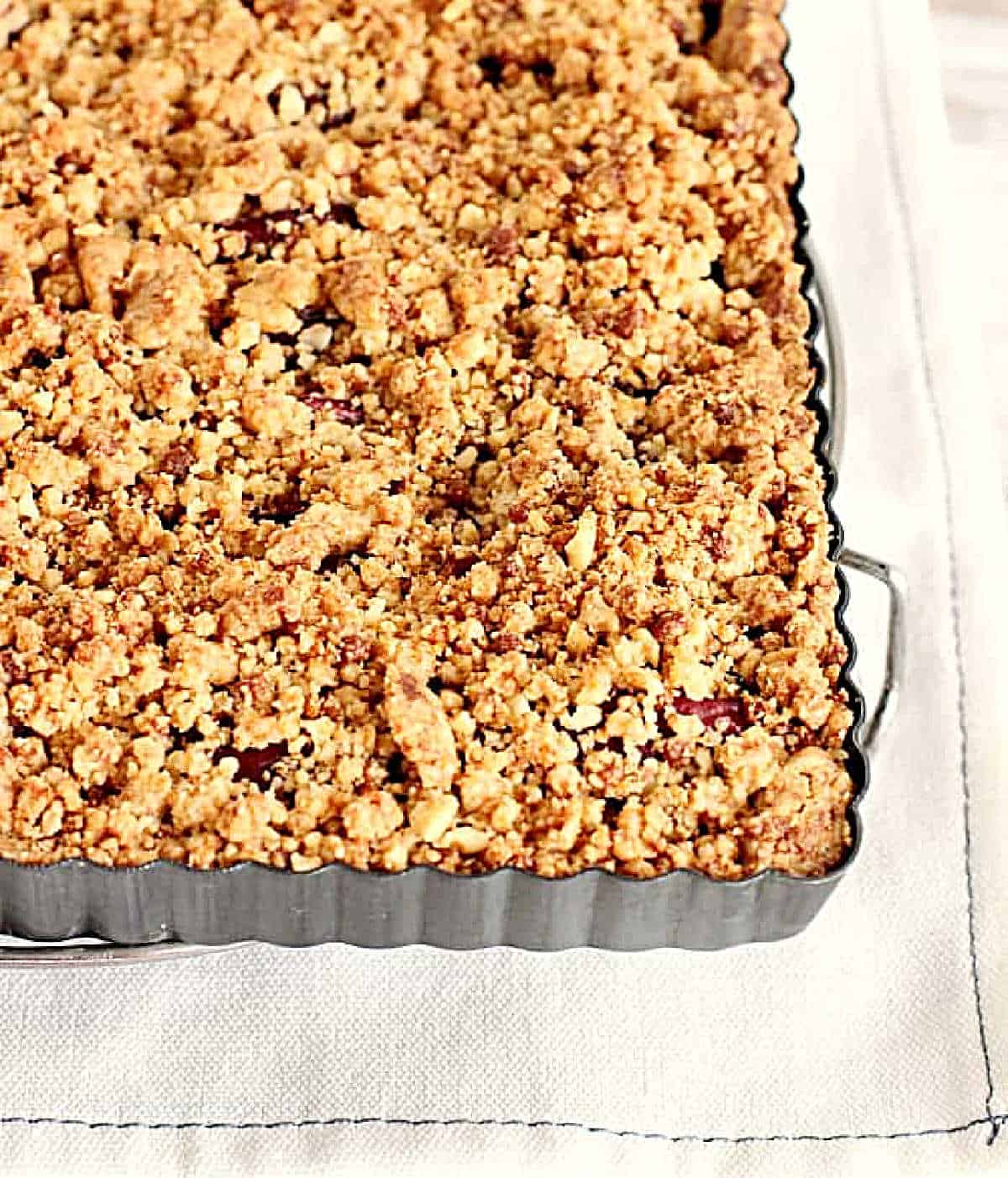 So, if you find yourself buying debatable-tasting stone fruit, bake a tart like this one.
Never mind if you have a combination of hard, sandy, or over-ripe fruit.
They all work fine together. It's one of the reasons why crumble recipes are so popular.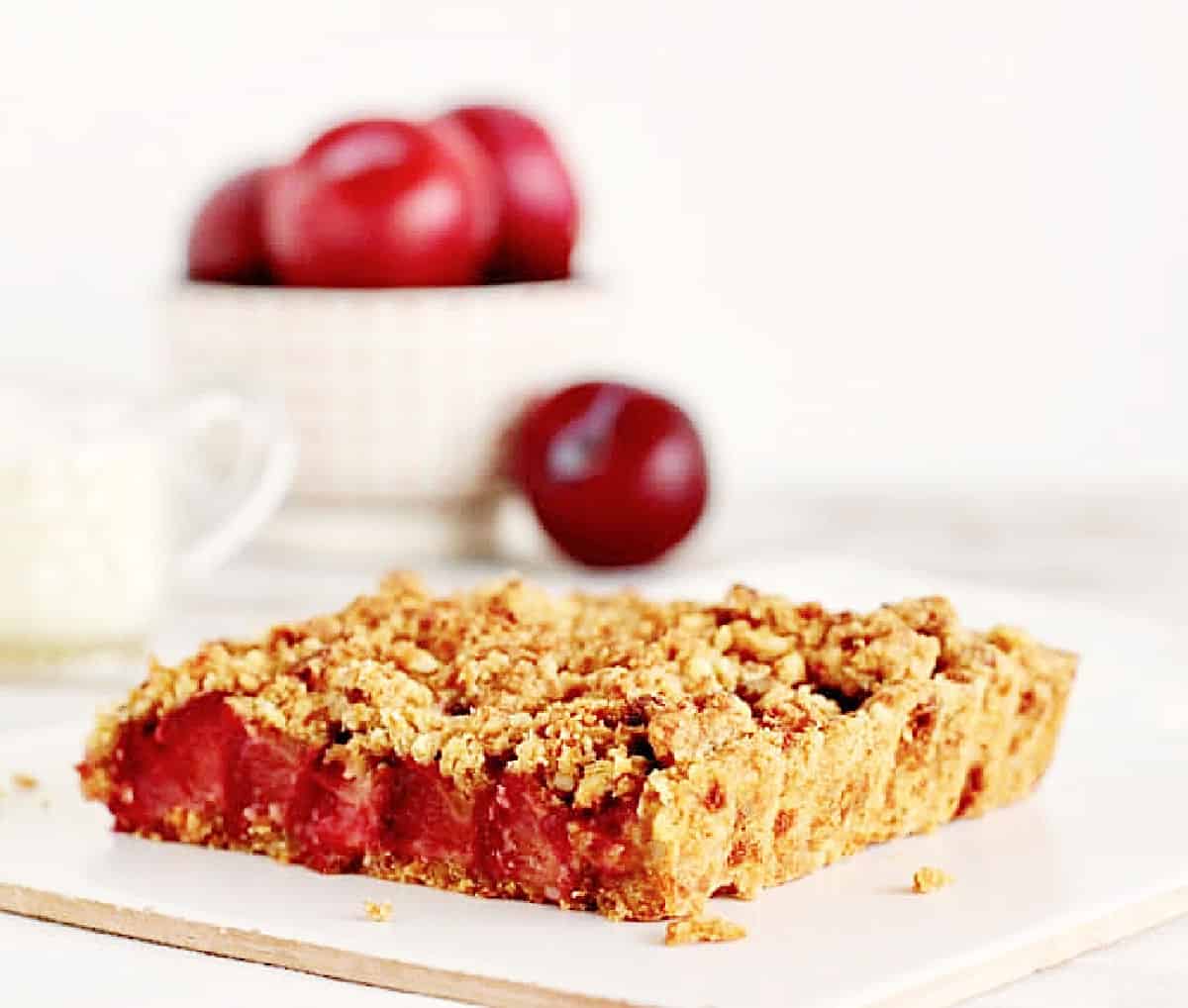 It transforms your little rocks into a great dessert, with a toasted nuttiness in every bite that is even better topped with ice cream.
Or served warm with cream directly from the container as we do in my family.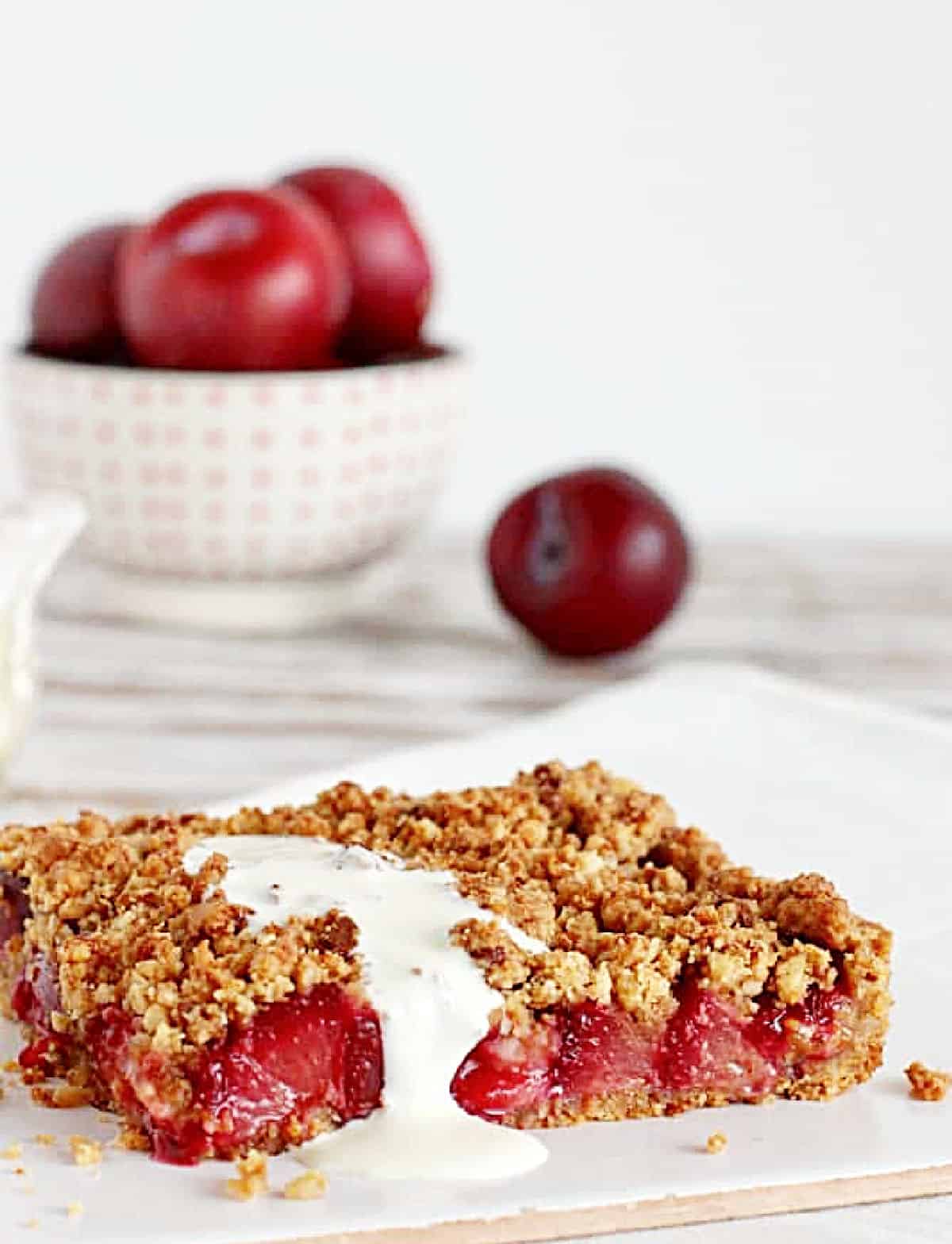 ---
Related recipes you might like:
---
Let me know in the comments below if you made this recipe and loved it and if you had issues so we can troubleshoot together. I love to hear what you think, always. Thanks for being here. It's much appreciated.
You might also consider subscribing to our FREE email series to Boost your Home Baking Skills! And our regular newsletter.
And let's connect via Facebook, Instagram, and Pinterest.
Print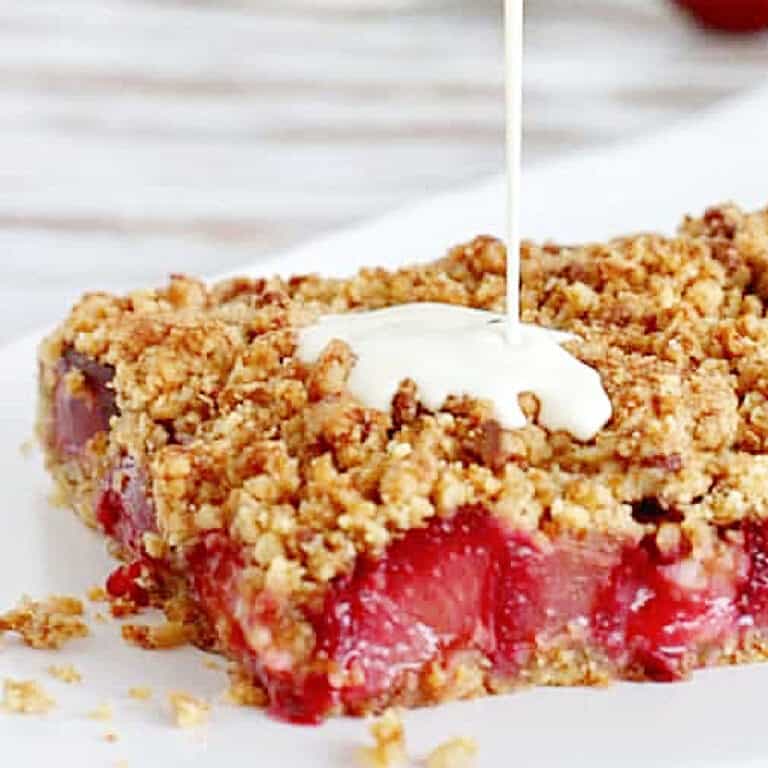 Plum Bars (with crumble)
Take advantage of plums and make this one-bowl recipe with few ingredients. The same crumble mixture is used for the base and top with a juicy layer of fresh plums in between.
Total Time:

1 hour 15 minutes

Yield:

8 servings
2

cups

all-purpose flour

¾

cup

(65g) finely chopped almonds

¾

cup

light brown sugar, lightly packed

¾

cup

unsalted butter, cold and diced

1

egg yolk

2

pounds

firm, ripe plums, pitted and quartered lengthwise

½

cup

whipping cream

2 tablespoons

powdered sugar
Instructions
Preheat the oven to 400ºF / 200ºC.
Have ready an 9-inch square or round tart pan with removable bottom.
Core plums (see note below), cut in half and each half in thirds or fourths.
Combine the flour, almonds, and sugar in a large bowl.
Add the butter and the egg yolk.
Mix, either by hand or with an electric mixer, until crumbly. I always do it in the food processor.
Press 1 ½ cups of the crumb mixture in an even layer into the bottom and sides of the pan. Be sure to press on the unions bottom/side so that it un-molds well.
Arrange plums in the pan, skin-side down, in whatever pattern you want; begin from the outside and work your way in.
Sprinkle the rest of the crumb mixture evenly over the plums.
Bake the tart for 40 to 50 minutes, or until it's lightly browned and the plum juices are bubbling.
Remove from the oven and cool for about 1 hour. Being careful, gently remove the tart from the pan and transfer it to a flat plate. You don't want to break the edges.
Serve warm or at room temperature with cream with powdered sugar. I don't whip it, but that's up to you.
Notes
While cutting the plums I keep the lined tart shell in the refrigerator.
An apple corer is the best gadget to core plums. It will allow you to easily take out the pit, so you can then cut the plum in half, and each piece in 3 slices.
The amount of crumble you use depends on the plum-topping ratio you want. Be sure to pack the plum slices snugly together; when you think you don't have more space pack a few more in between. They will shrink during baking.
You can also use walnuts instead of almonds.
Don't skip the egg yolk in the crumble, it makes it incredibly crunchy!
If you like to serve it with whipped cream, simply whip it with the powdered sugar until it holds almost firm peaks. Be careful not to over beat it or it will curdle.
Author:

Paula Montenegro

Prep Time:

30 minutes

Cook Time:

45 minutes

Category:

Dessert

Method:

Baking

Cuisine:

American
Nutrition
Serving Size:

⅛

Calories:

480

Sugar:

27.3 g

Sodium:

13 mg

Fat:

27.5 g

Carbohydrates:

54.6 g

Fiber:

3.5 g

Protein:

6.8 g

Cholesterol:

85.4 mg
Keywords: plum tart, plum crumble