A wonderful upside-down cake with a lot of texture from the alternative flours. It's sweet, and moist, with juicy plums and crunchy hazelnuts.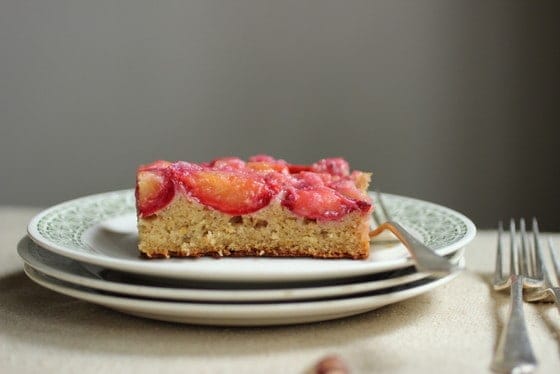 This plum hazelnut yogurt cake made me reconsider gluten-free baking. It's that amazing.
I love my gadgets, the cherry pitter, the melon scooper, the different Microplane graters, the garlic press, and a few more that make some cooking steps easier, very in sync with these modern times when we don't have time but crave old-fashioned cakes, and have a million ideas and recipes and try to find something different to post because really, there are no more cooking secrets. Everything is out there.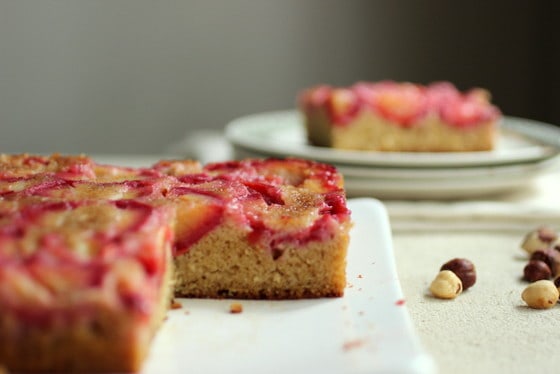 A few days ago I made a very nice discovery while making this cake. I used the apple corer to core plums. Do you all use it for that? Maybe it's even sold for plums, but the truth is that it was one little useless gadget for me.
Unless you want perfect half apples, which I rarely do, since I mostly use them chopped or sliced, the correct tool wasn't much help, it just didn't do the job quite right. The core was always bigger so once wasn't enough, and by the time I took the whole of the core out the half, apple wasn't looking very even. Much easier with a big knife.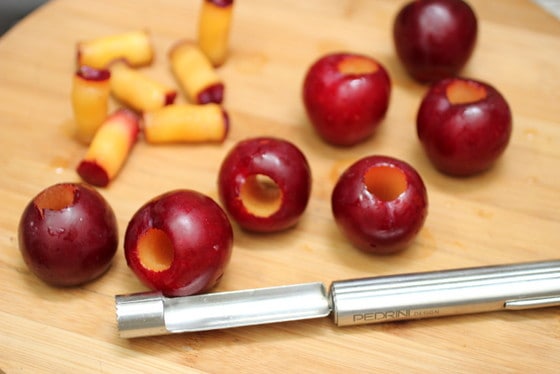 And then the plums are so darn hard to open in two without making a mess while trying to take the stone out. Now that problem is solved thanks to my plum corer, which will never go near an apple again. Happy with an apple-turned-plum corer. There are days when I really don't need much, do I?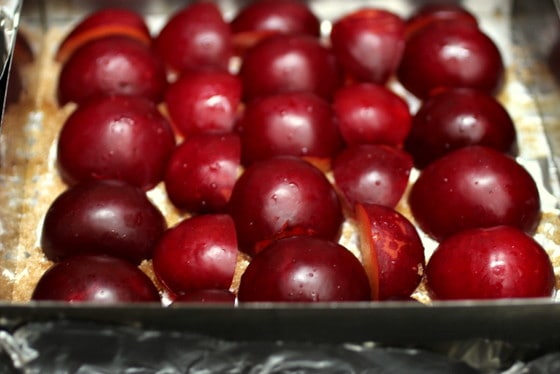 The second great discovery is this cake. Let me start by telling you it's gluten-free. You wouldn't really notice except, of course, for the taste that is a bit less sugary, somewhat coarser, and wholesome tasting.
But it's so moist and tender it's going straight into my favorite recipes.
The plums give it a slightly tangy tone, the olive oil is barely noticeable as a flavor, and the combination of flours works.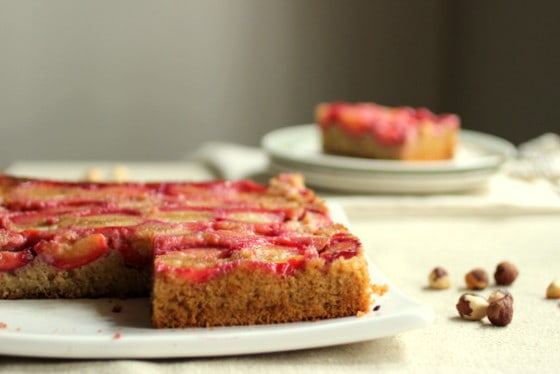 Any stone fruit and nut flour that you like together work here. Peaches or cherries and almonds are a great combination. The first time I baked it, it was without any fruit but with grapefruit zest instead of orange. It's a good alternative, though even less sweet.
If you want to try a gluten-free cake this is amazing. Highly recommended.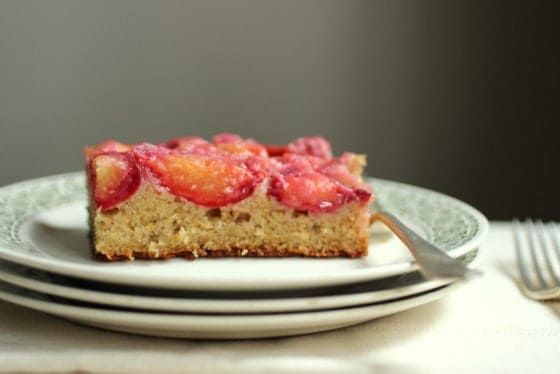 Print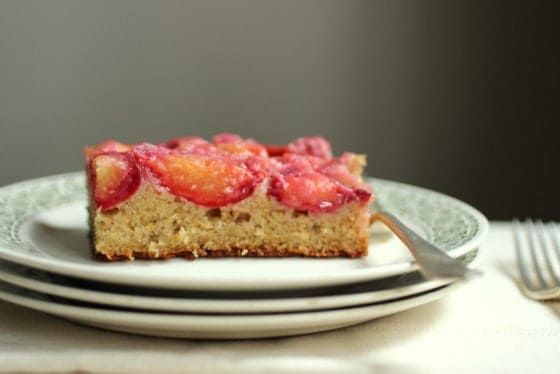 Plum Hazelnut Yogurt Cake - gluten free
The amount of butter and sugar in the bottom is minimal. I like it that way, but you can double or triple it and make a richer cake.
1

Tbs butter

2

Tbs light brown sugar

10

plums

⅔ cup

natural yogurt

½ cup

packed Light brown sugar

⅓ cup

olive oil

⅓ cup

honey

3

eggs
Zest of

½

orange

½ teaspoon

vanilla extract

½ cup

quinoa flour

½ cup

brown rice flour

½ cup

hazelnut flour

1

Tbs cornstarch

2 teaspoons

baking powder

½ teaspoon

baking soda
Pinch of salt
Instructions
Preheat oven to 350ºF /180ºC.
Spray or butter sides of a 9-inch round or square pan with removable bottom.
Melt butter and spread over bottom of pan. Sprinkle sugar over and arrange half plums over it.
In a large bowl mix yogurt, brown sugar, olive oil and honey.
Add eggs, one at a time, and beat well after each addition. Add orange zest and vanilla.
Add dry ingredients all at once and mix everything, without over beating.
Pour into pan and bake for 40 minutes or until a tester comes out clean.
Cool in wire rack for 10 minutes and carefully unmold onto serving plate. Arrange any plums that might be stuck to the bottom of the pan.
It keeps for 2 days at room tº.
Adapted from La Tartine Gourmande