These are festive cake pops made with red velvet cake and white chocolate coating. Use sprinkles and colored icings for a bright and whimsical presentation. They're particularly great for birthdays, Valentine's Day, 4th of July and similar celebrations.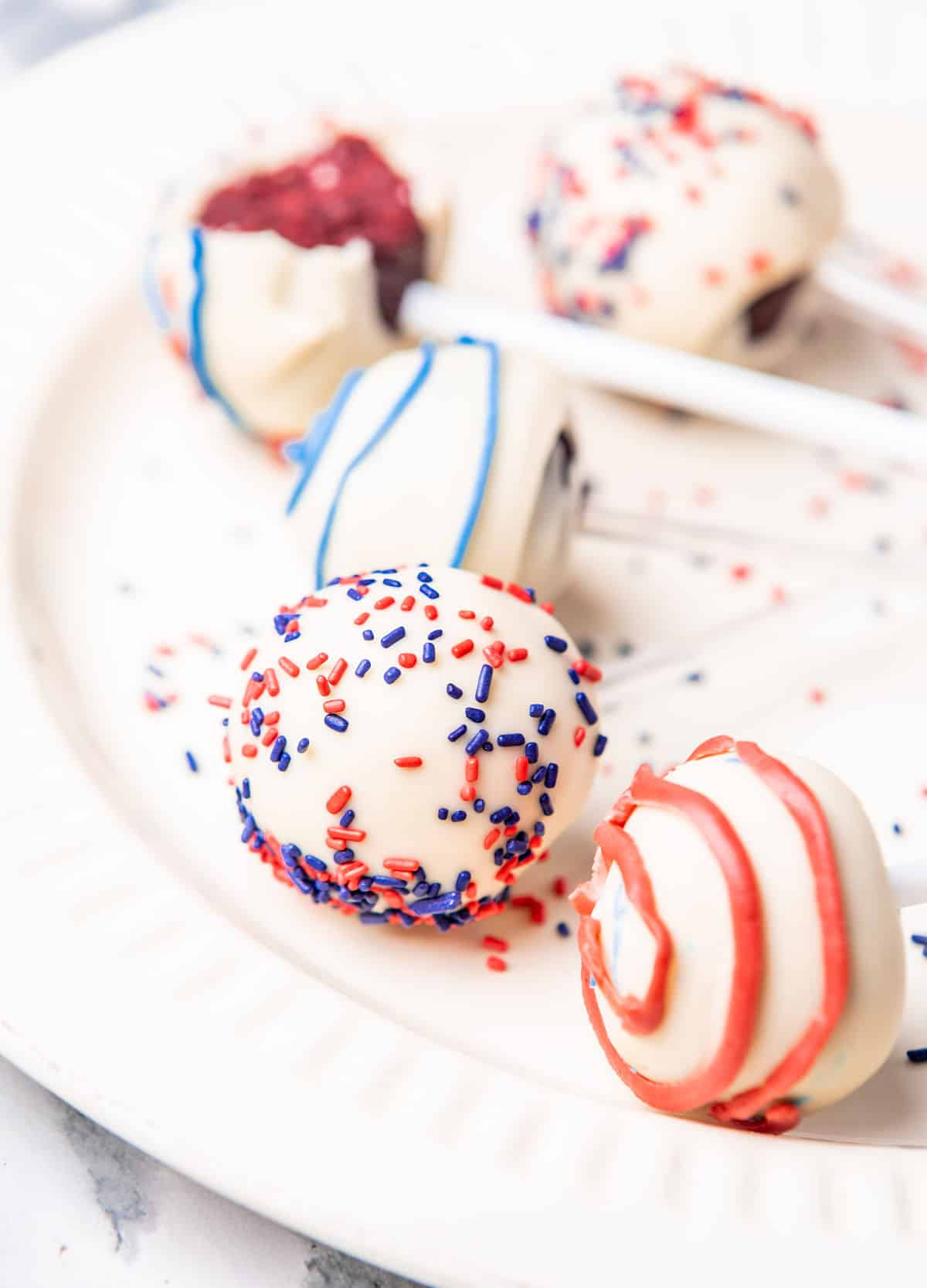 If you like bite-sized desserts, these iconic red velvet cake pops are the answer.
These treats pack all the nostalgia of a classic red velvet cake with a white coating that adds a touch of sweetness to every bite.
What are cake pops?
They are cake lollipops. Like truffles on a stick.
A mixture of crumbled cake and cream cheese or frosting is made into small balls and coated with chocolate. Sprinkles or icing are added to make them festive and whimsical. They have a stick and are eaten just like a lollipop.
The combination of cake flavors and chocolate are many, and you can choose your favorites.
Why make this recipe
Fun to make: this is a great recipe to make with kids. Let them use different types of sprinkles and icings to make their creativity come through.
Easy: it has few ingredients, and you can use the shortcut of making the red velvet cake from a boxed mix.
Perfect party food: it's great for birthdays, to take to a bake sale or school event, and pack for a picnic or outdoor gathering.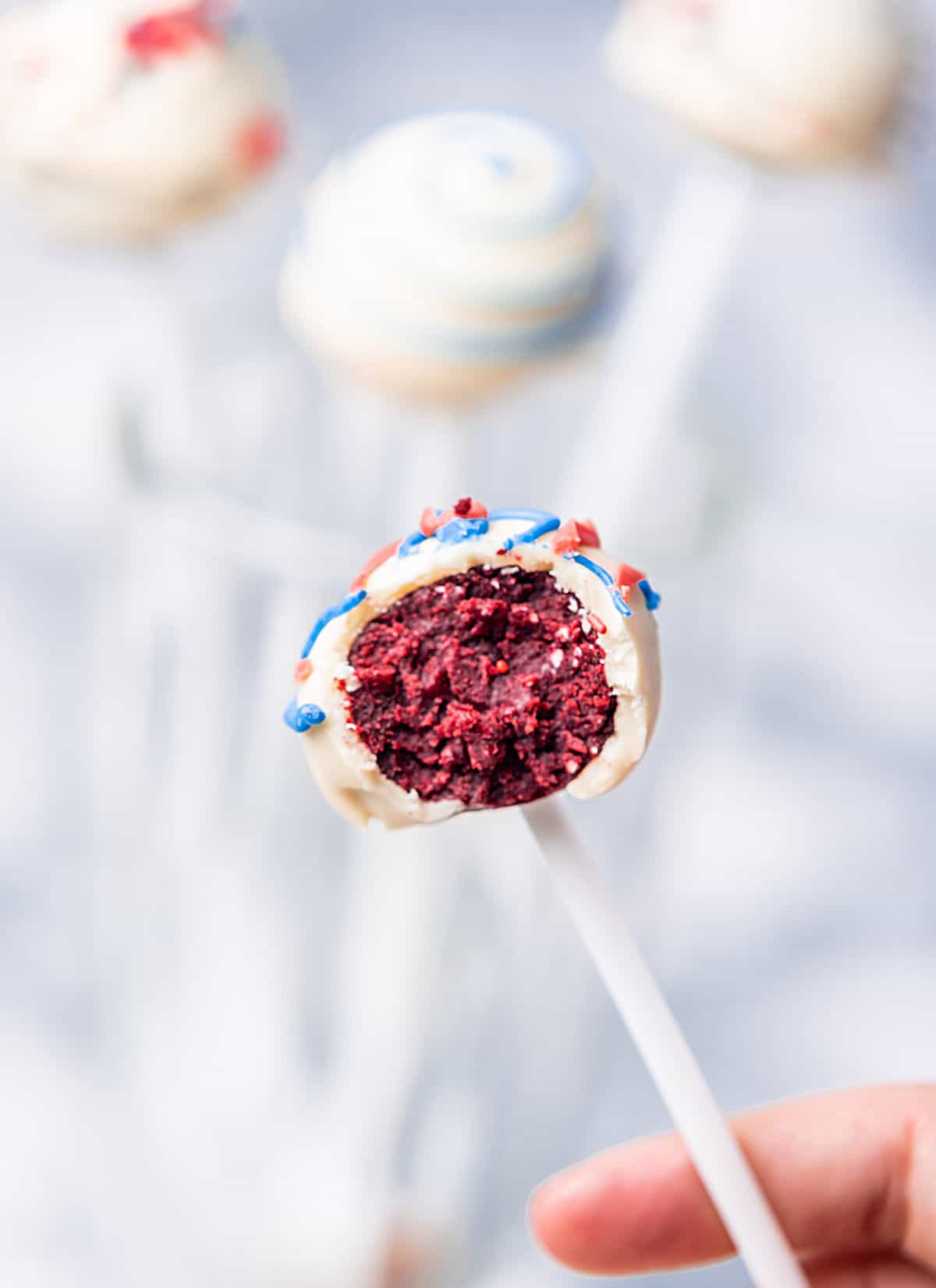 What is the trick to making cake pops?
Make sure the cake mixture is not crumbly, don't make the cake balls too large, and don't skip the chilling before coating. With
Ingredients
Use a clear shot of the ingredients for this recipe, prepped, and labeled if necessary. Insert the ingredients into the list below, omitting quantities.
See the recipe card towards the end of this post for quantities.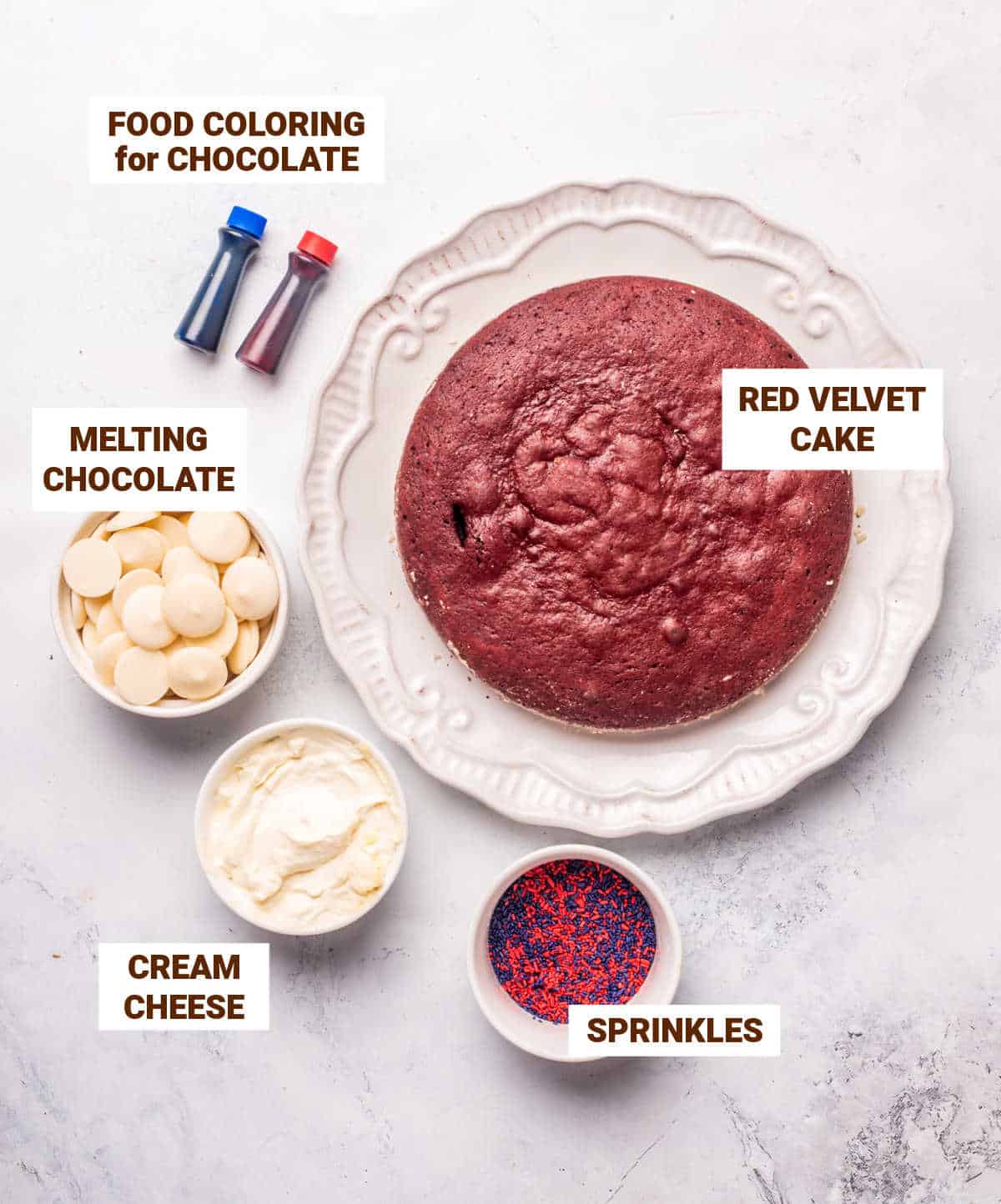 How to make red velvet cake pops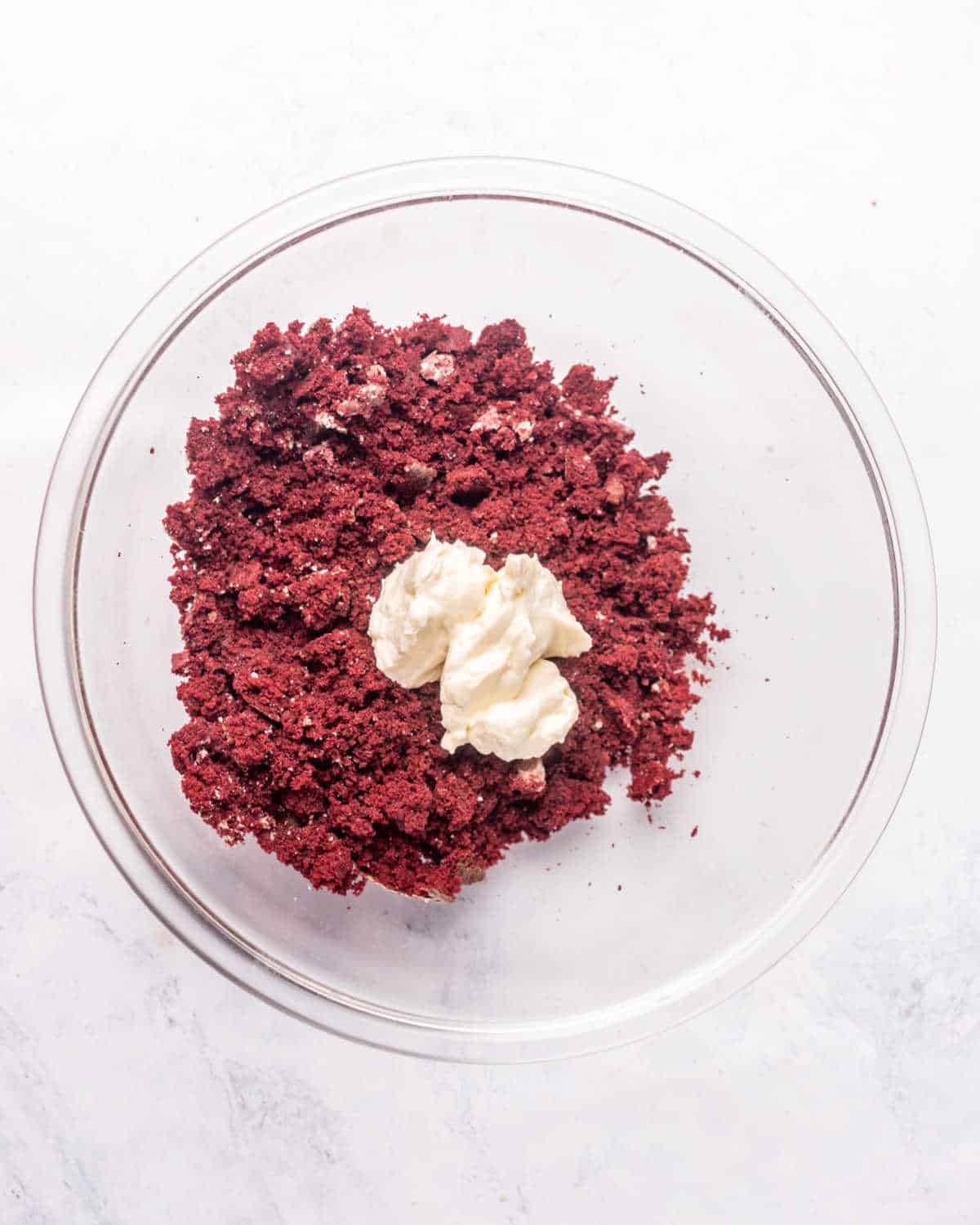 Once you have the red velvet cake, you must crumble and mix it with the cream cheese. The mixture should not be crumbly but come together when a small amount is squeezed with your hand.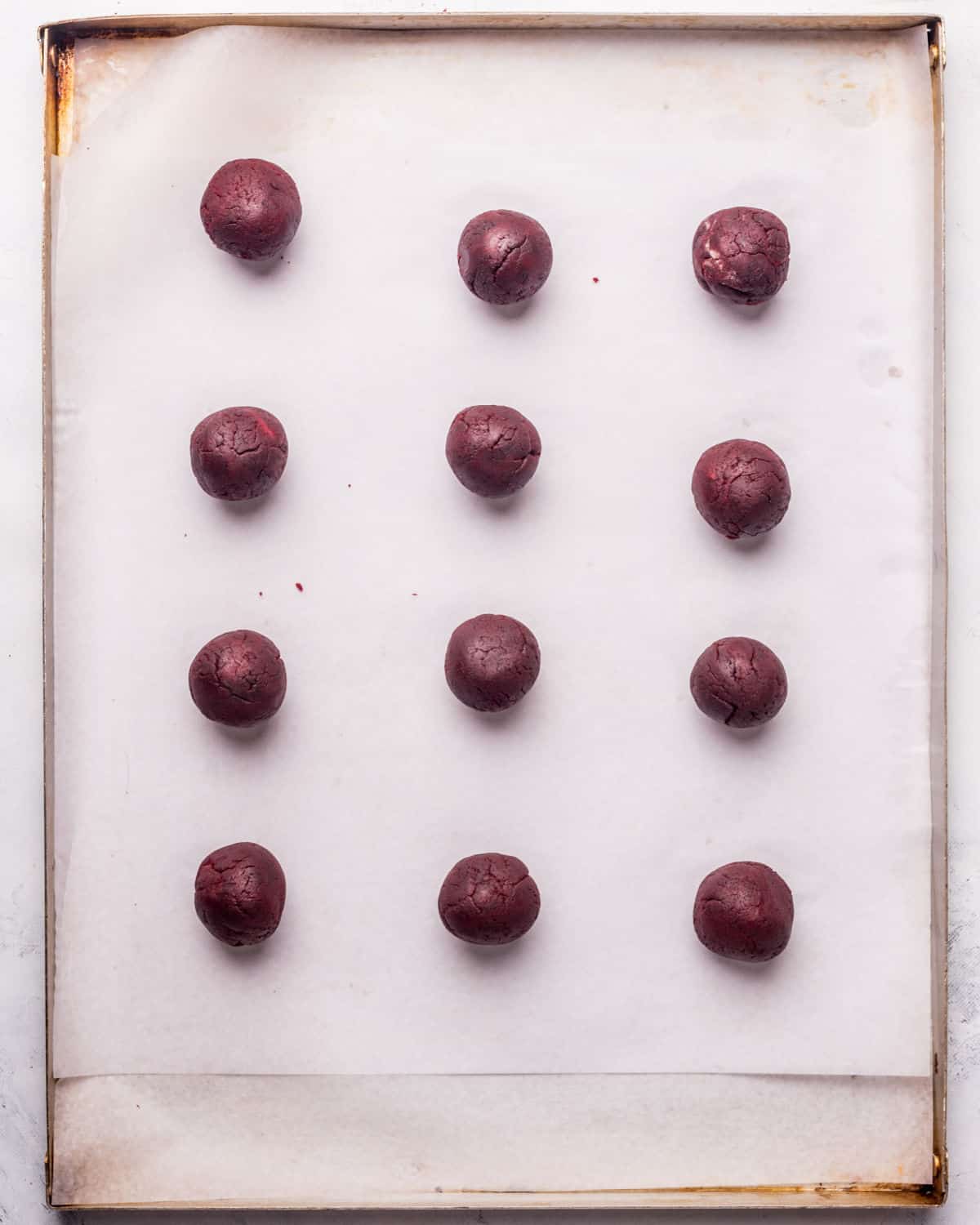 Small balls must be made with the cake mixture. Chill them for an hour, and then place a lollipop stick into each one before coating.
White chocolate coating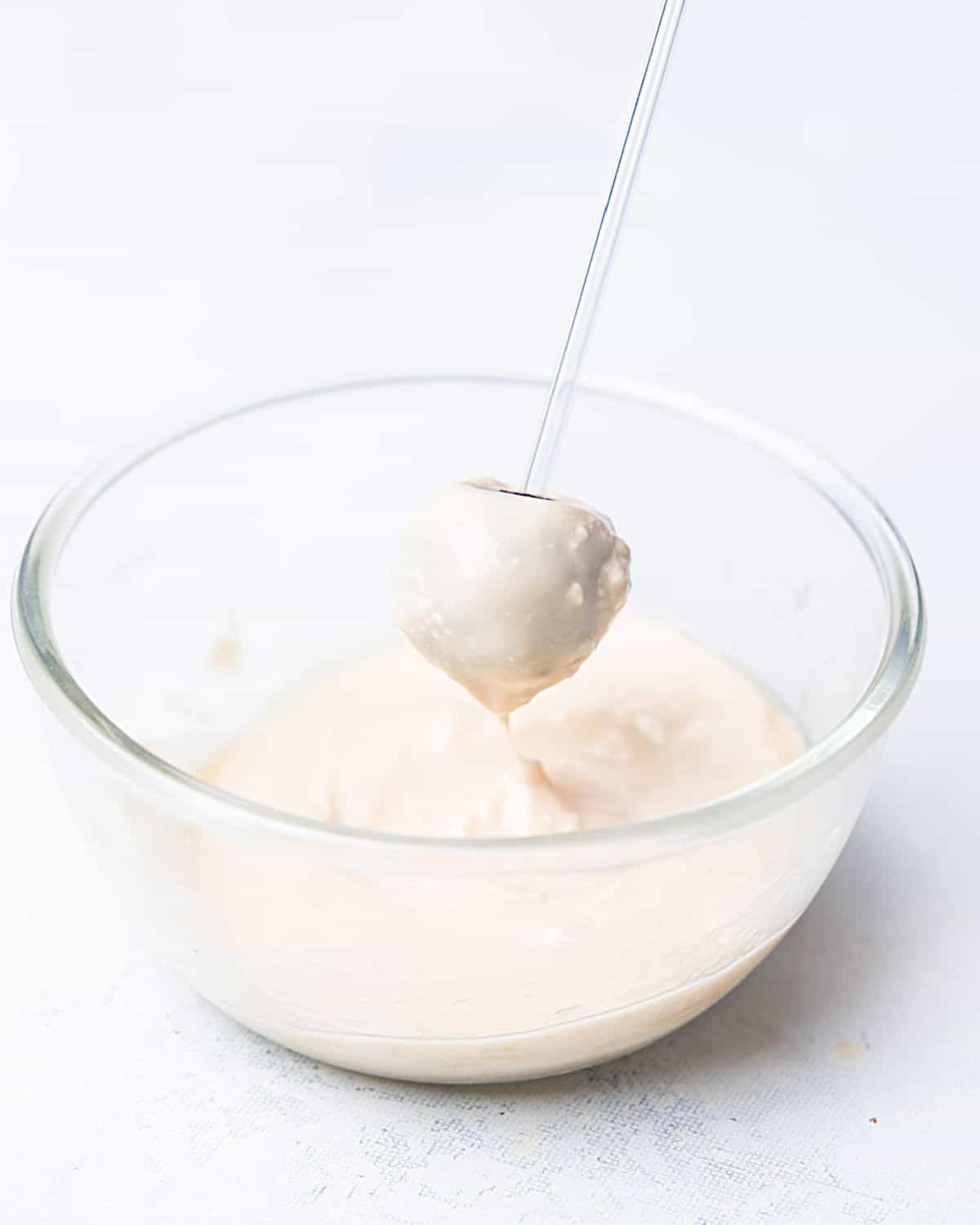 Melt the white chocolate and dip the cake balls, coating them entirely.
If icing them, let the white chocolate cool completely.
Decorating cake pops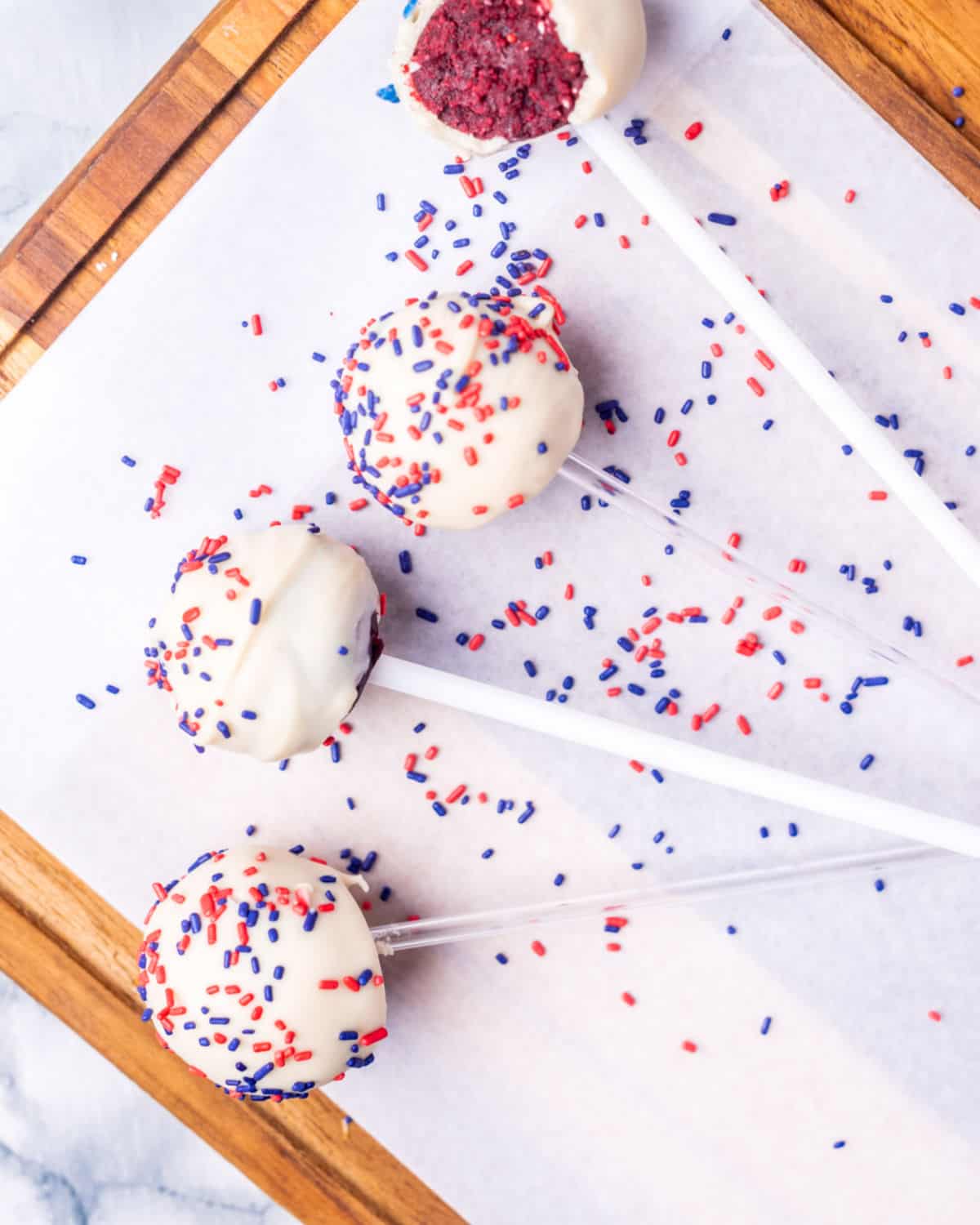 If decorating with sprinkles or jimmies, do so immediately before the chocolate hardens.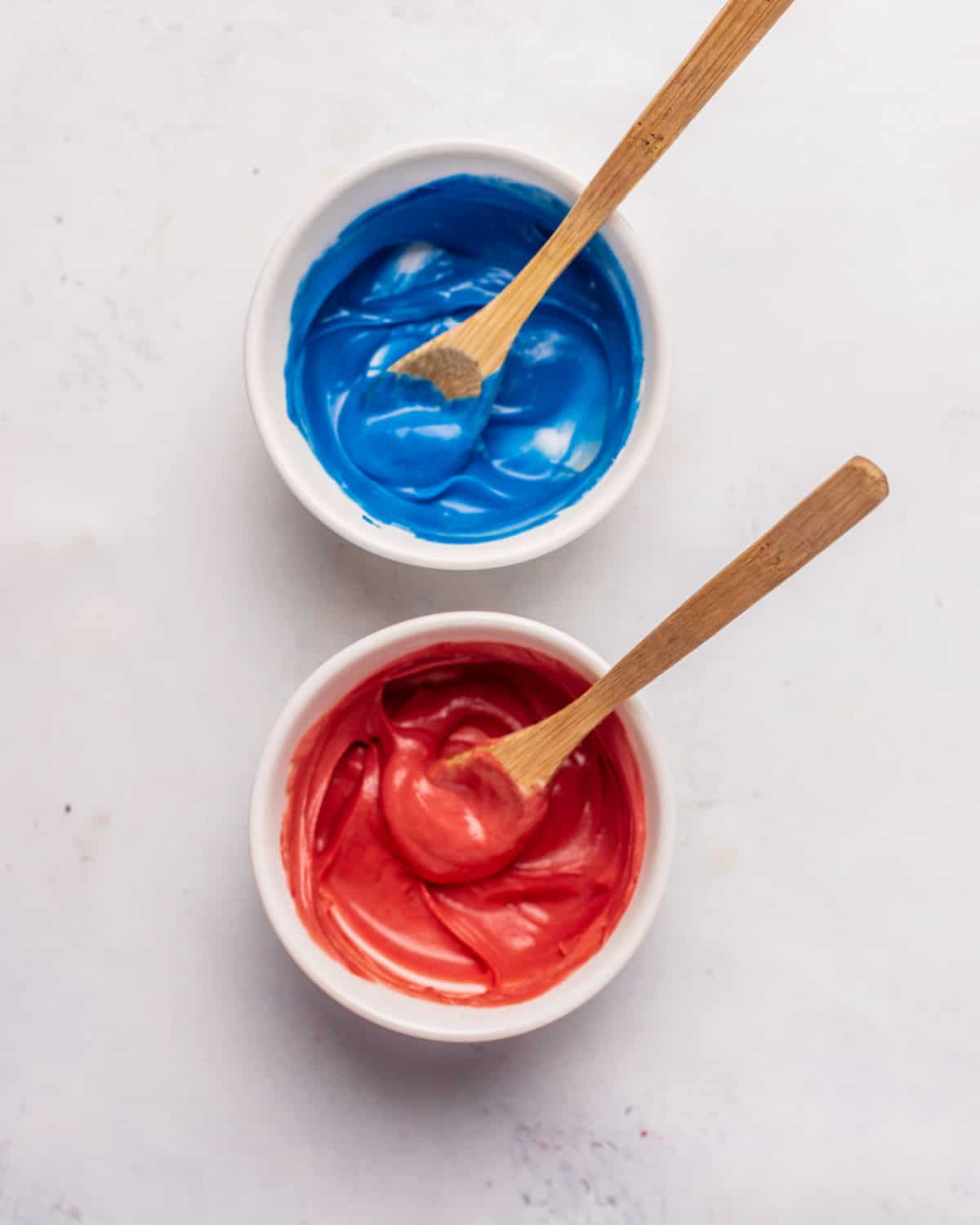 For the colored icing, melt white chocolate, divide among bowls, and add food color until you get the desired tone.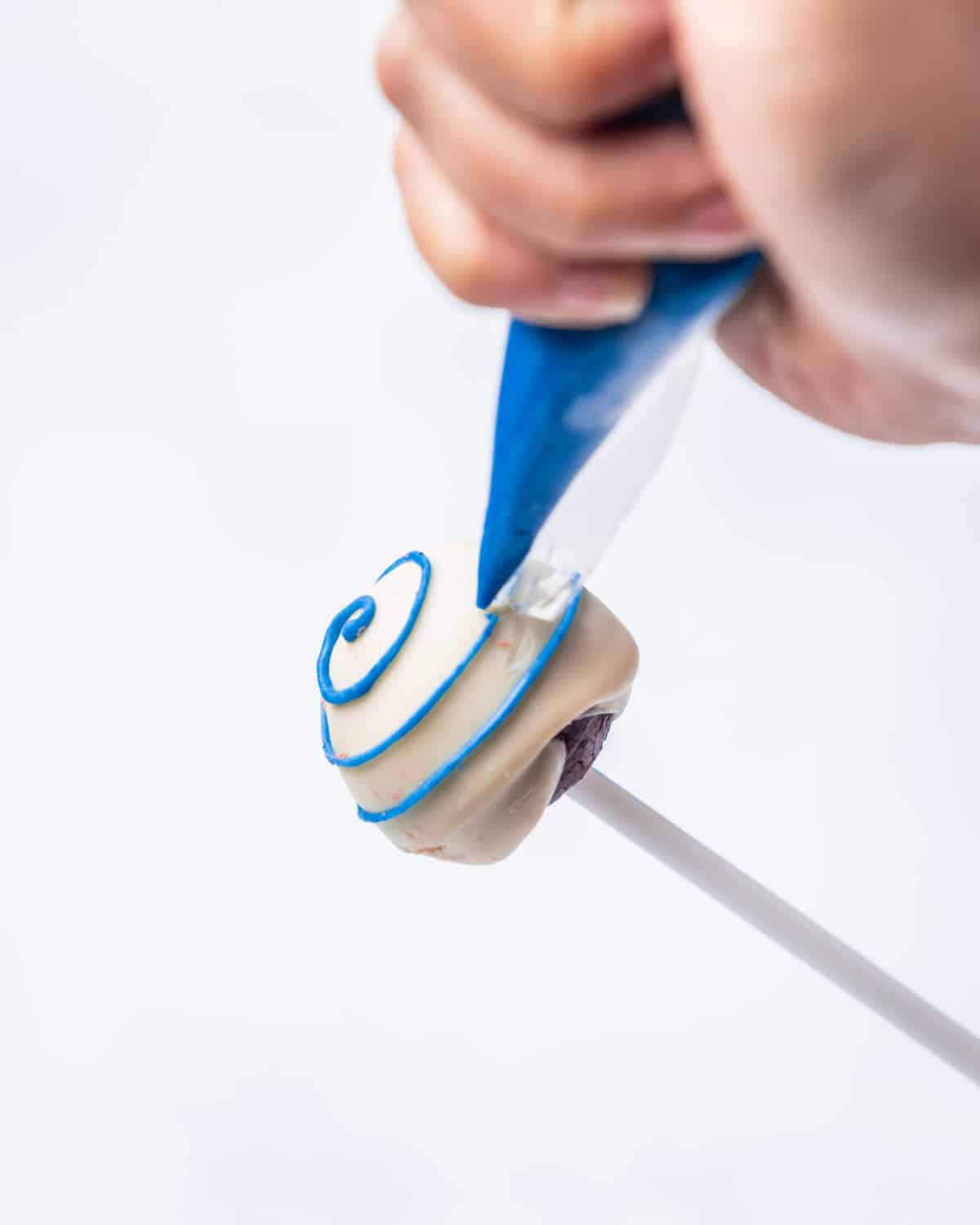 Use a small piping bag to make swirls, lines, dots, or whatever suits your decorating fancy.
Can I use frosting instead of candy melts?
You can, but the finish will not be smooth as with chocolate. The frosting has to be more fluid than the regular type so you can dip the cake balls. In my experience it's trickier than using melted chocolate.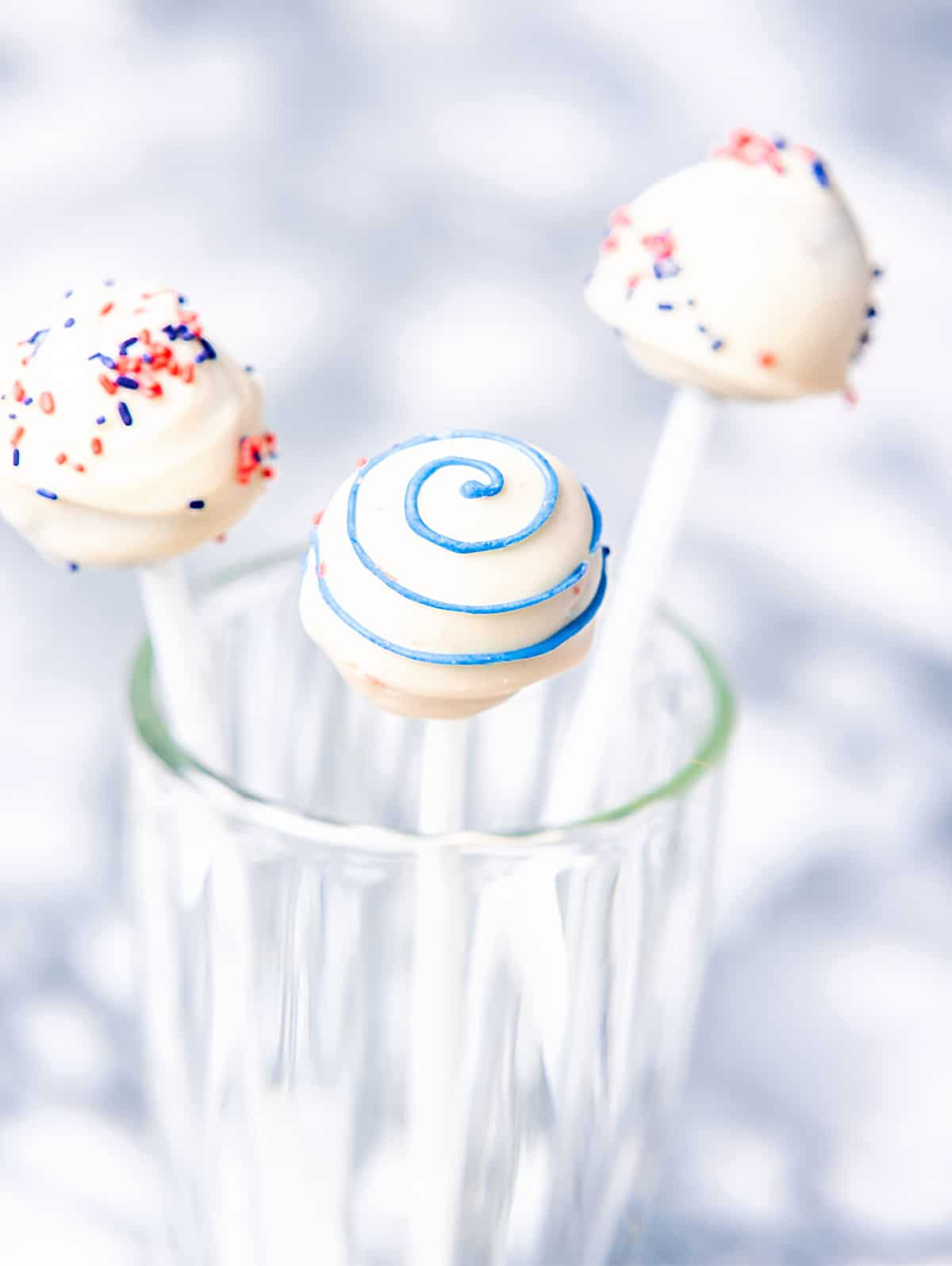 Storage
Cake pops are best consumed within a few days for optimal freshness.
If stored properly, they can last up to 3 days at room temperature or up to 1 week in the refrigerator. However, the texture and taste may degrade over time.
Choose the correct container: make sure it's large enough to contain the cake pops without squeezing or damaging them. You can use styrofoam blocks to place them inside the container, or use wax or parchment paper to separate the cake pops in layers.
Boxes for transportation: if you need to transport them, you can buy special cake pop boxes.
---
Related recipes you might like:
---
Let me know in the comments below if you made this recipe and loved it and if you had issues so we can troubleshoot together. I love to hear what you think, always. Thanks for being here. It's much appreciated.
You might also consider subscribing to our FREE email series to Boost your Home Baking Skills! And our regular newsletter.
And let's connect via Facebook, Instagram, and Pinterest.
As an Amazon Associate, I earn from qualifying purchases. Please read my disclosure policy.
Print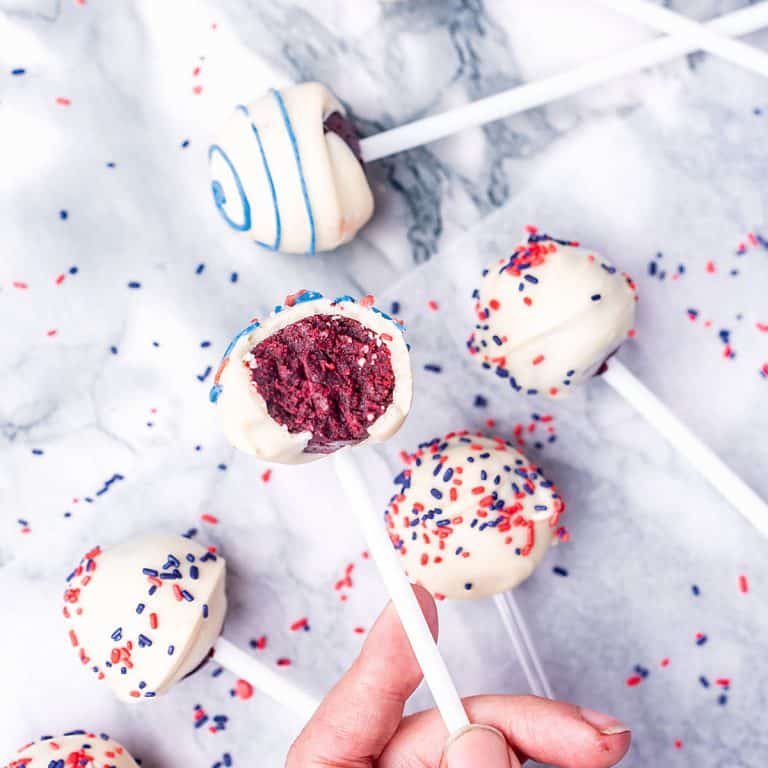 Red Velvet Cake Pops
These are festive cake pops made with red velvet cake and white chocolate coating. Use sprinkles and colored icing for a bright and whimsical presentation. They're particularly great for birthdays, Valentine's Day, 4th of July and similar celebrations.
Total Time:

1 hour 30 minutes

Yield:

25 cake pops
1

box red velvet cake mix (

15.25 oz

) prepared according to package directions

8

oz

cream cheese, at room temperature (or use cream cheese frosting for a sweeter cake pop)

16

oz

melting white chocolate
Oil-based food coloring (for chocolate)
Sprinkles for decorating
Instructions
Crumble the cake into a large bowl with your hands.
Add the softened cream cheese and mix until well combined with an electric mixer or your hands. The mixture should not be crumbly but should come together if squeezed in your hand. Add a tablespoon more cream cheese if it doesn't until you get the right consistency.
Roll small amounts of cake mixture into walnut-sized balls and place them on a baking sheet lined with parchment paper. Insert a lollipop stick into each cake ball and chill in the fridge for about an hour.
Have ready the styrofoam block or use a cardboard box that can be perforated and make the holes with a lollipop stick before you start coating the cake pops.
Melt the white chocolate in a double boiler or the microwave in 15-second spurts, stirring well between each one.
Divide the melted white chocolate as follows: half into a medium bowl and the other half distributed evenly between two small bowls (¼ of the total amount in each bowl).
Add a few drops of red food coloring to one small bowl and stir until thoroughly combined. Repeat with the blue color and another small bowl of melted chocolate. Leave the medium bowl of white chocolate as is.
Dip the red velvet cake balls into the white melted chocolate, covering them completely.

Allow any excess to drip off

before placing the cake pops on the styrofoam block or cardboard box.
Sprinkle half of them immediately with the red and blue jimmies while the chocolate is still wet.
For the iced ones, once the chocolate has hardened, melt the blue and red chocolate again if needed. Fill two piping bags with them and decorate your cake pops with swirls, dots or lines.
Wait until the chocolate hardens to serve.
Notes
Organization: read the recipe first and ensure you have ingredients at the correct temperature, equipment, and enough workspace. This will make the process so much easier.
Baking time: consider that all ovens and pans are different, even if they look similar. The baking time in my recipes is as accurate as it can be, but it might take you more or less time. You can use a thermometer (like the

OXO oven thermometer

) to check that your oven is at the right temperature. I recommend you keep track of how your oven works and what tiny details you might need to adjust.
Food coloring for chocolate: look for

oil-based food color

(as opposed to water-based) that will dissolve in chocolate.
White chocolate: use melting white chocolate wafers that are made for candy making, like

Mercken's coating melting wafers

,

Ghirardelli white melting chocolate

or

Wilton white candy melts

. They dissolve easily and create a thin coating.
Boxes for transportation: if you need to transport them, you can buy special cake pop boxes.
Author:

Paula Montenegro

Prep Time:

30 minutes

Refrigeration time:

1 hour

Category:

Candy - Sweets

Method:

Mixing + Coating

Cuisine:

American
Keywords: red velvet cake pops