With its unique flavor and color, this red velvet cake is soft, moist, and utterly delicious! It comes together quickly and can be frozen. Make it as a bundt cake, cupcakes, or sheet cake, it's always amazing. Just in time for a special celebration.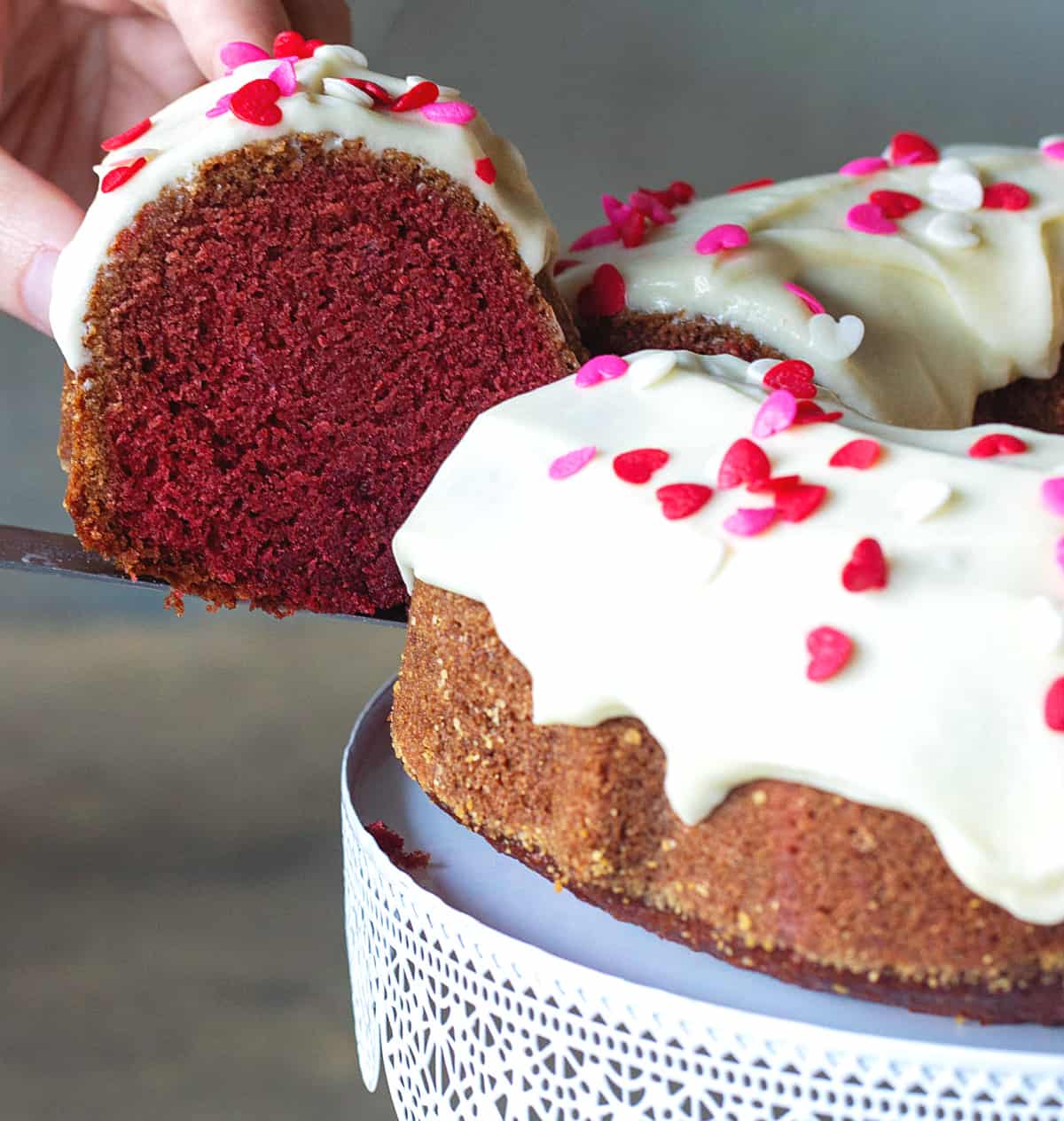 What does it taste like?
That's the million-dollar question, isn't it?
I always say 'it tastes the way a plain cake should when you think of cake'. Yet the flavor is not plain. More like an old-fashioned vanilla cake but not quite. Add a hot chocolate undertone with caramel. Maybe.
It's so delicious and unique, no wonder it's such a favorite!
If you never made a red velvet cake before this is a wonderful recipe because it's pretty straightforward and easy.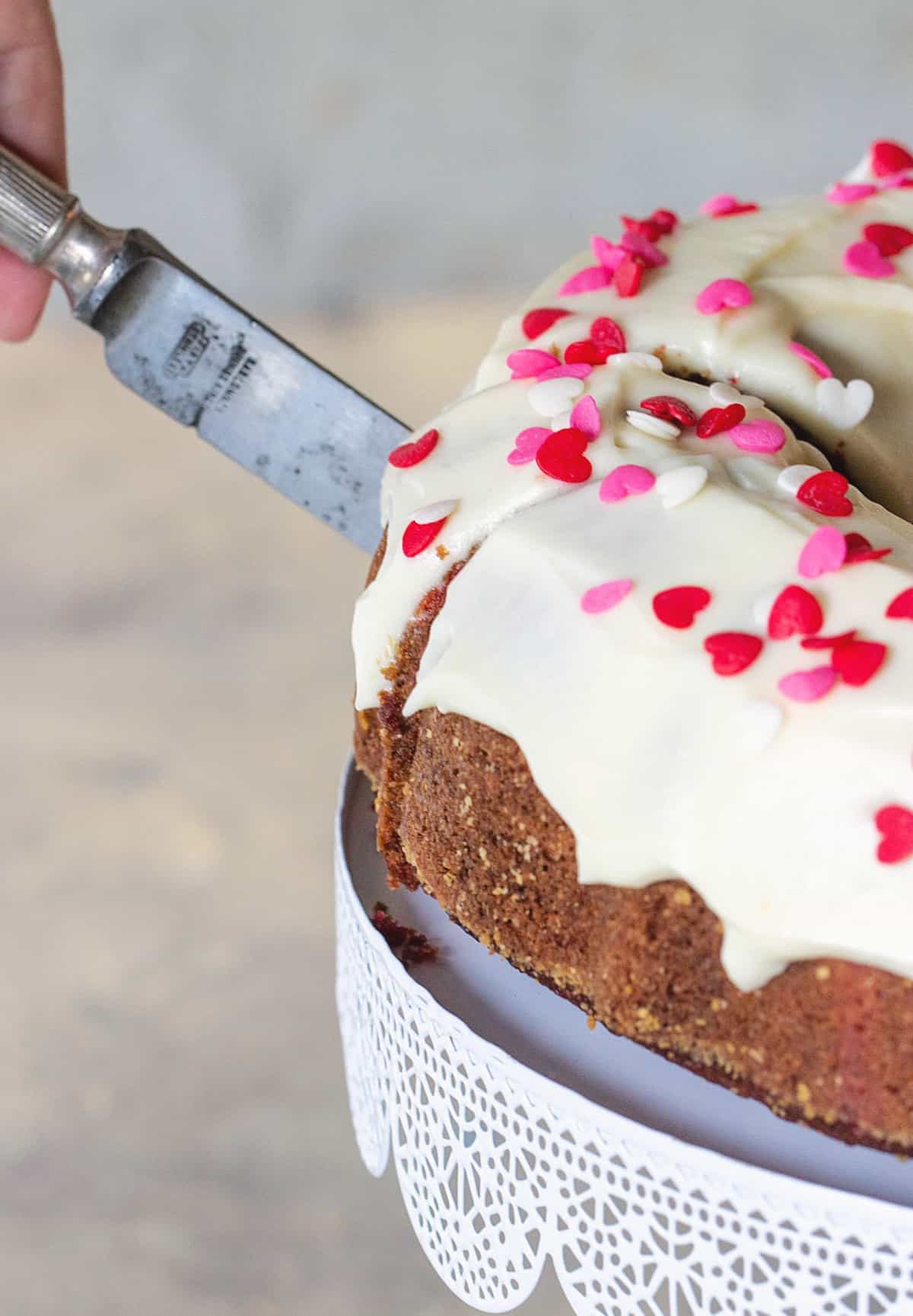 Origin of red velvet cake
This cake is said to be from the Victorian Era (UK 19th century), but then a staple of Southern cuisine also.
It is a cake flavored with cocoa powder that used to have a natural reddish hue from the reaction of the vinegar with the cocoa at the time (which was not dutch-processed) though not as loud as it is today where food dye is added to achieve a deeper or brighter red.
There are many recipes, some with butter, others with oil. I make different versions and they are all delicious.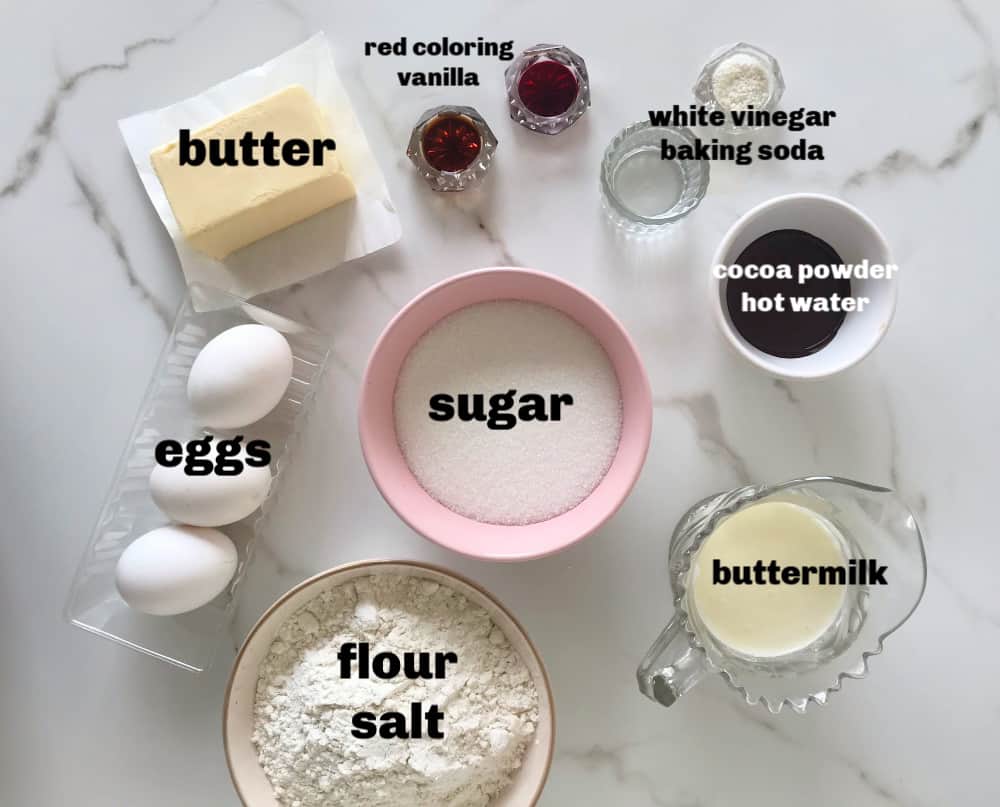 Main ingredients
As you can see in the image above, the ingredients are pretty simple and you probably have most of them.
Cocoa powder: use a deep colored one as they usually have a better flavor. I like dutch-processed but natural works well also. Don't use sugared hot cocoa drinks.
Buttermilk: it adds to the tenderness of the crumb. You can use milk with a tablespoon of lemon juice (homemade buttermilk). It will curdle and that is OK. Stir and use.
Vinegar: it makes a reaction and adds to the color. I use white vinegar whenever possible. Maybe apple cider if I'm out of white.
Red coloring: there is a section about this below.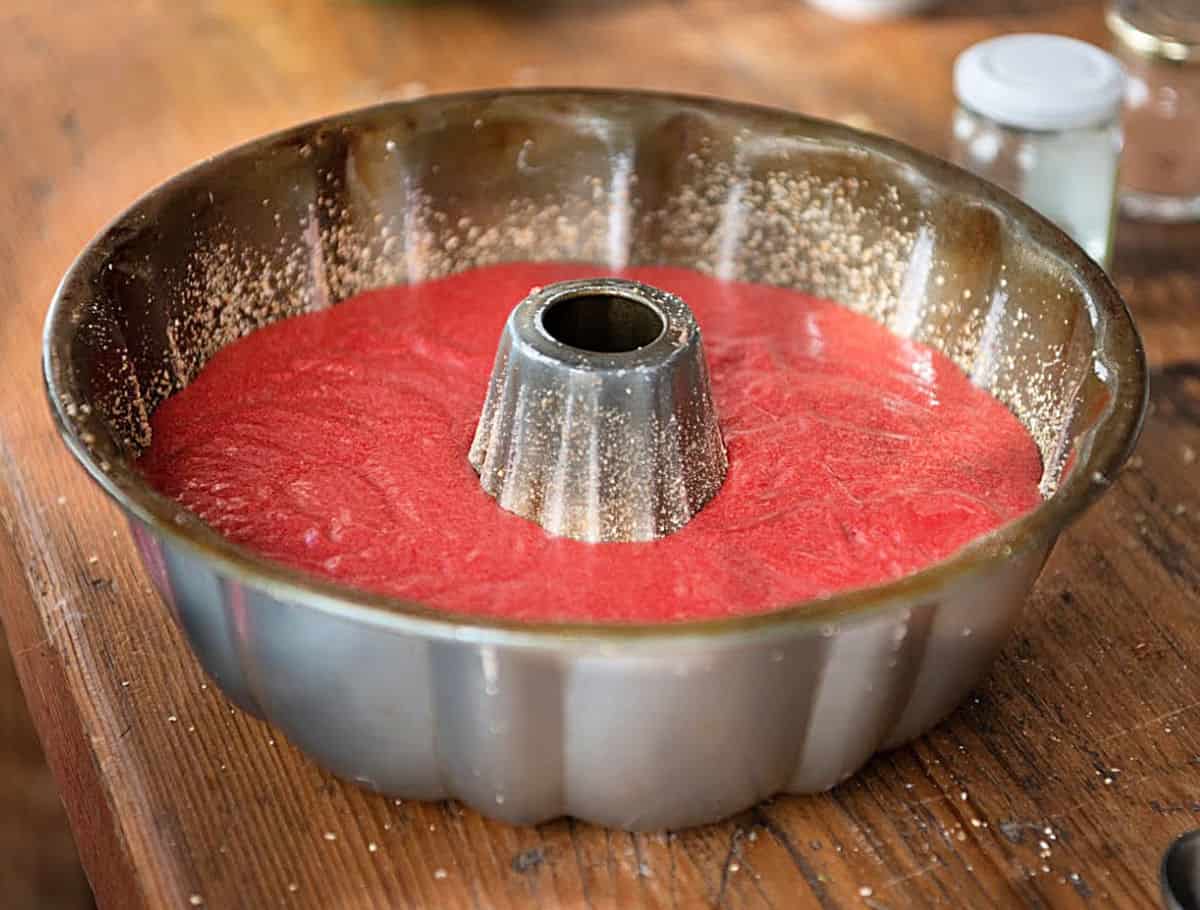 The difference in reddish tones
In the image below I'm holding the same red velvet cake but the hues are different. I made one after the other during a baking class I gave.
Both have the same amount of red food coloring but the one on the left has 1 tablespoon of cocoa powder and the one on the right has 2 tablespoons.
An interesting color variation from a slight change in one ingredient.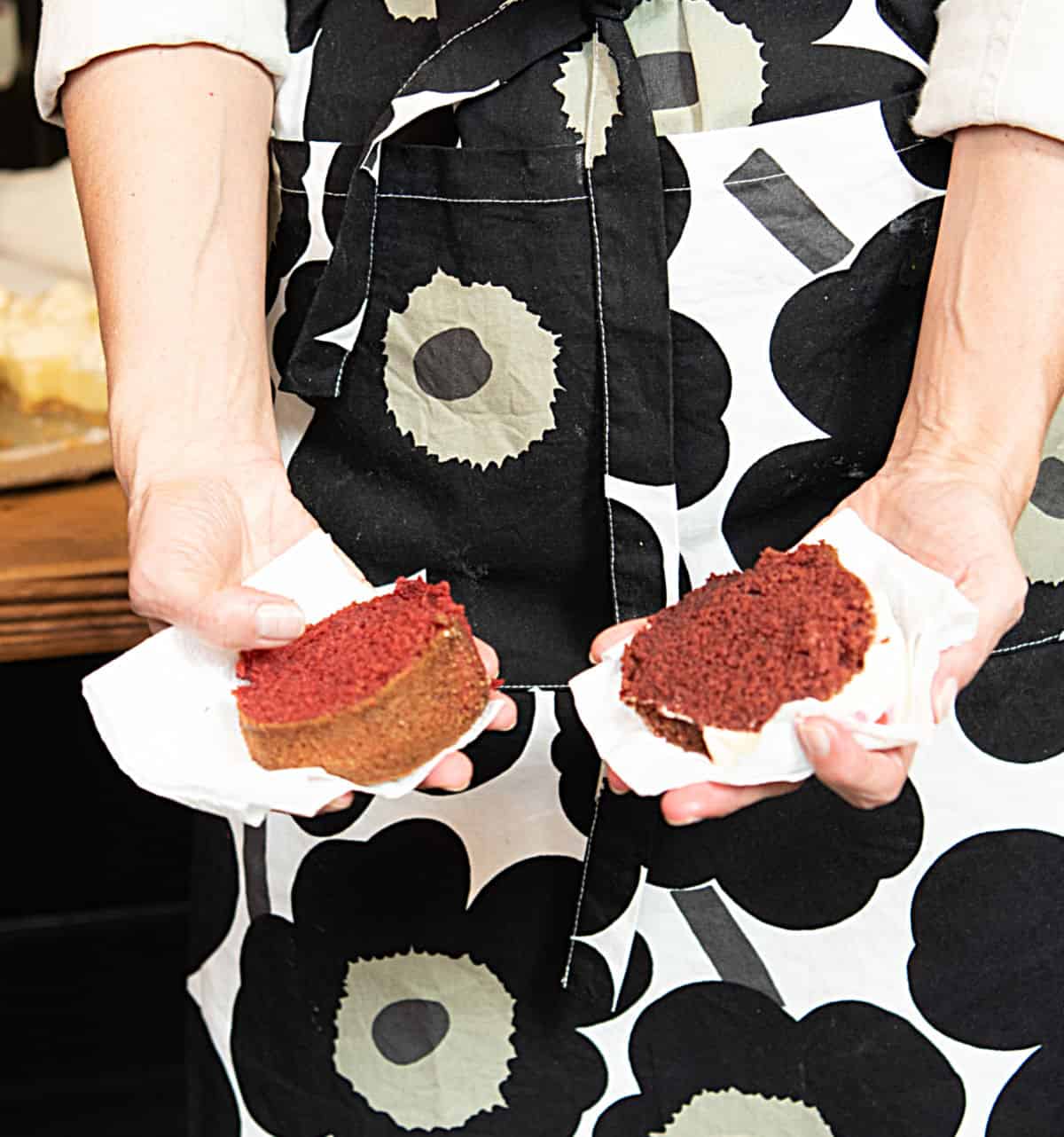 I think the darker hue is more sophisticated and adult, as opposed to the lighter redder tone which is more apt for children or when you want the cake to stand out more.
I love the flavor and don't particularly care about adding food dyes. They can be overpowering and change the texture a bit if not using good quality ones because you have to add a lot to achieve good color.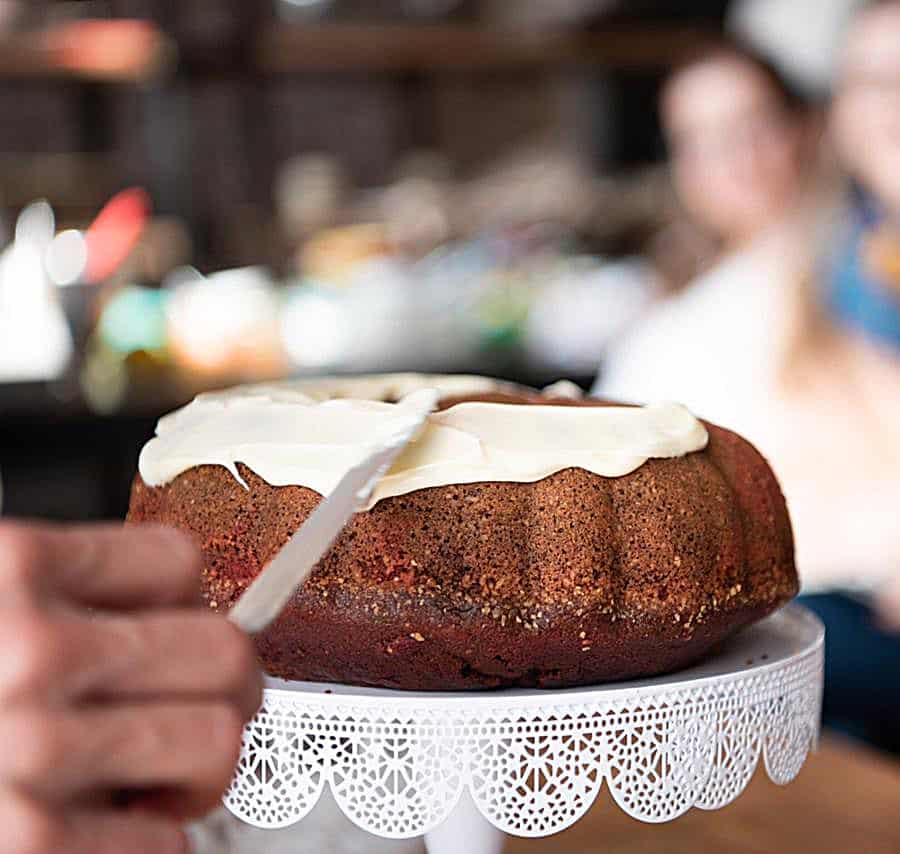 Cream cheese frosting
This is the traditional frosting for a red velvet cake. The same we use for the Hummingbird cake, and even in the chocolate sandwich cookies.
It is one of my favorite frostings in the world and is not only easy to make but can be refrigerated for several weeks and even frozen.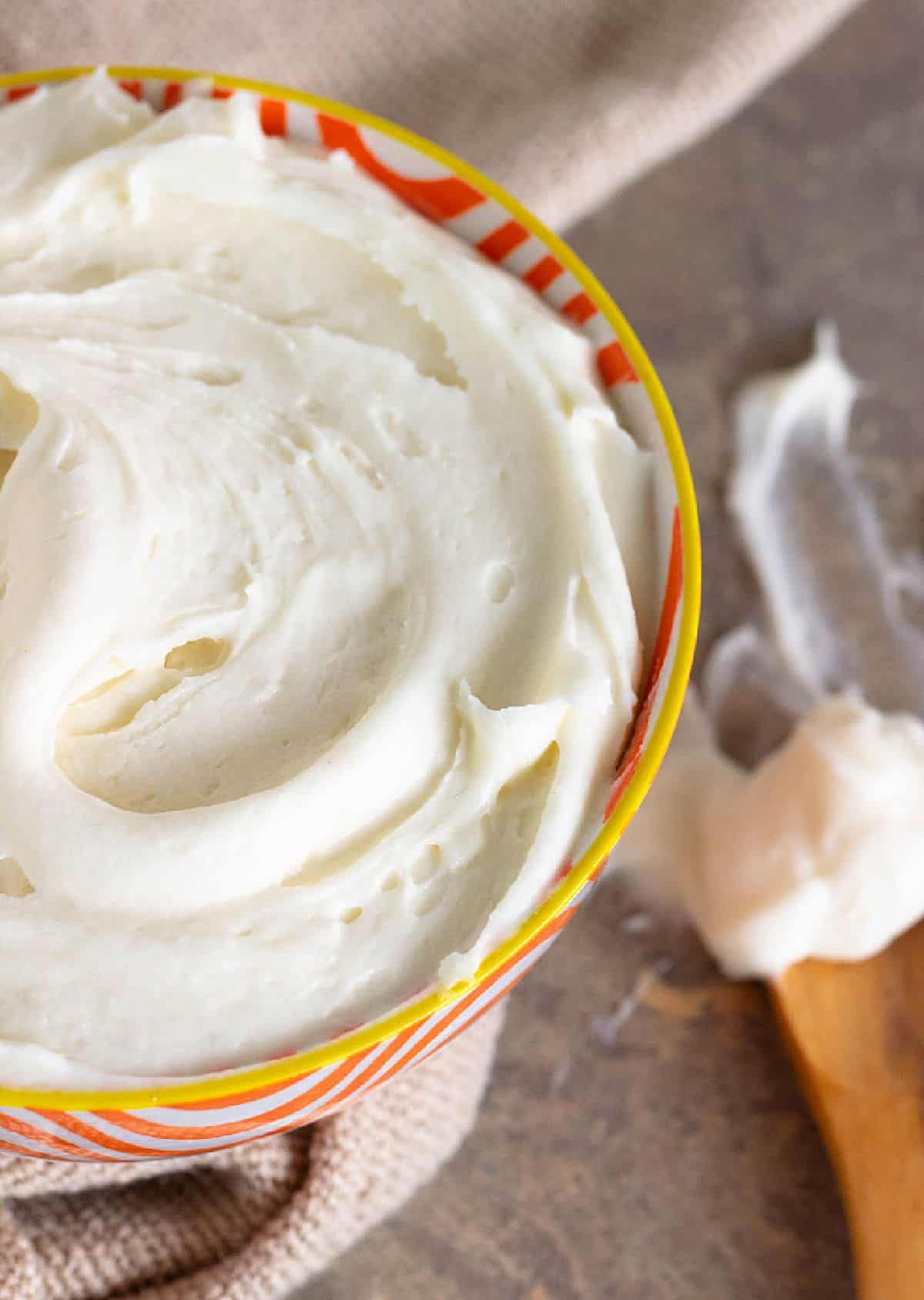 Variation: add some red coloring to the frosting also if you want a complete red look.
I like it like the image below: red cake, white frosting, and colored sprinkles. Pink and red hearts today because we're all love and roses this time of year, aren't we?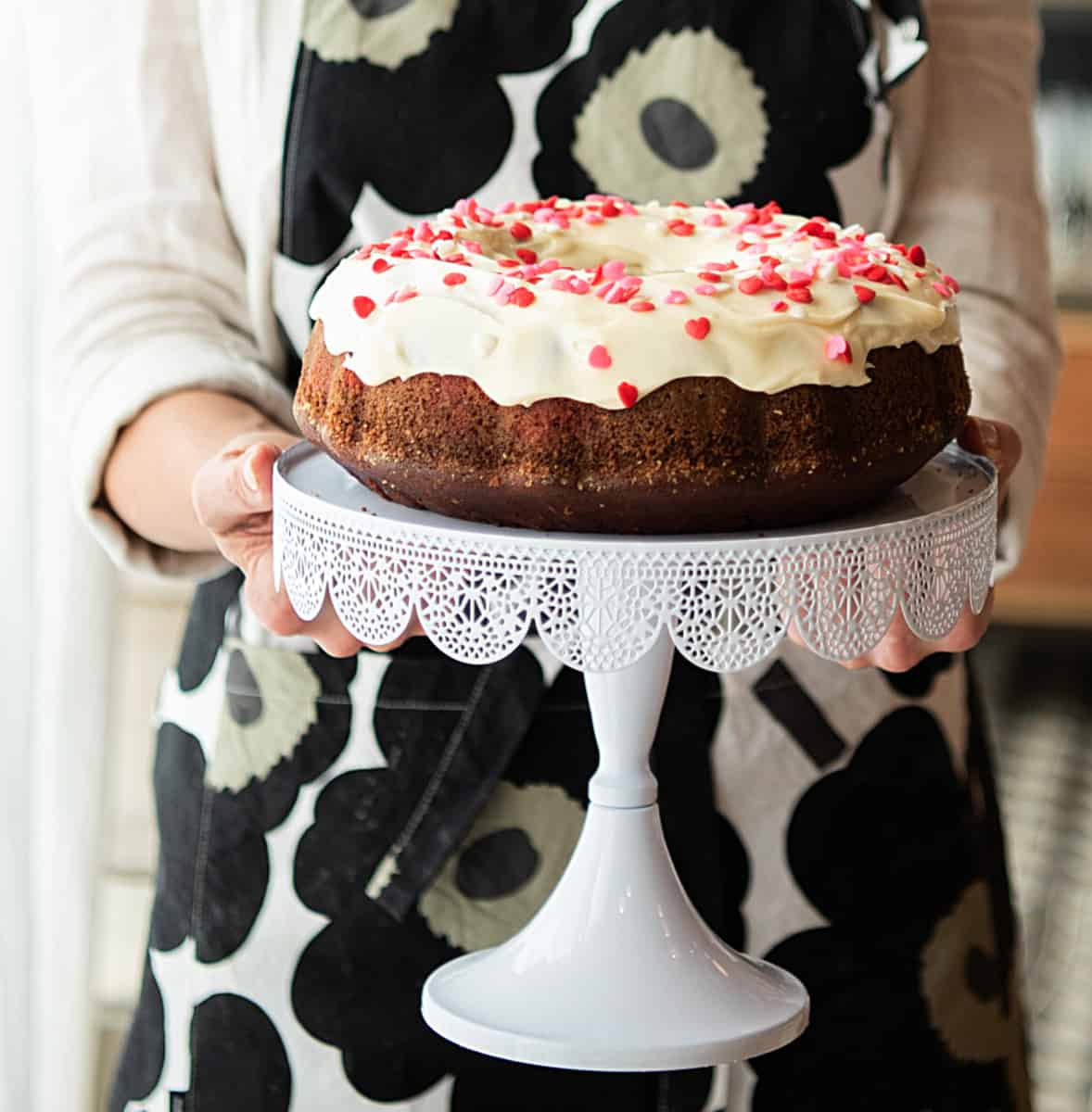 Pan sizes
This cake is wonderful to make in any shape or size.
The recipe below yields 1 large bundt, 18 to 24 cupcakes, 2 loaf cakes (similar to the apple walnut loaf) or 1 9-inch layer cake (similar to the lemon blueberry cake). Give or take.
Or 1 sheet cake similar to the lemon coconut cake that is perfect for picnics, barbecues, children's birthdays or a small celebration.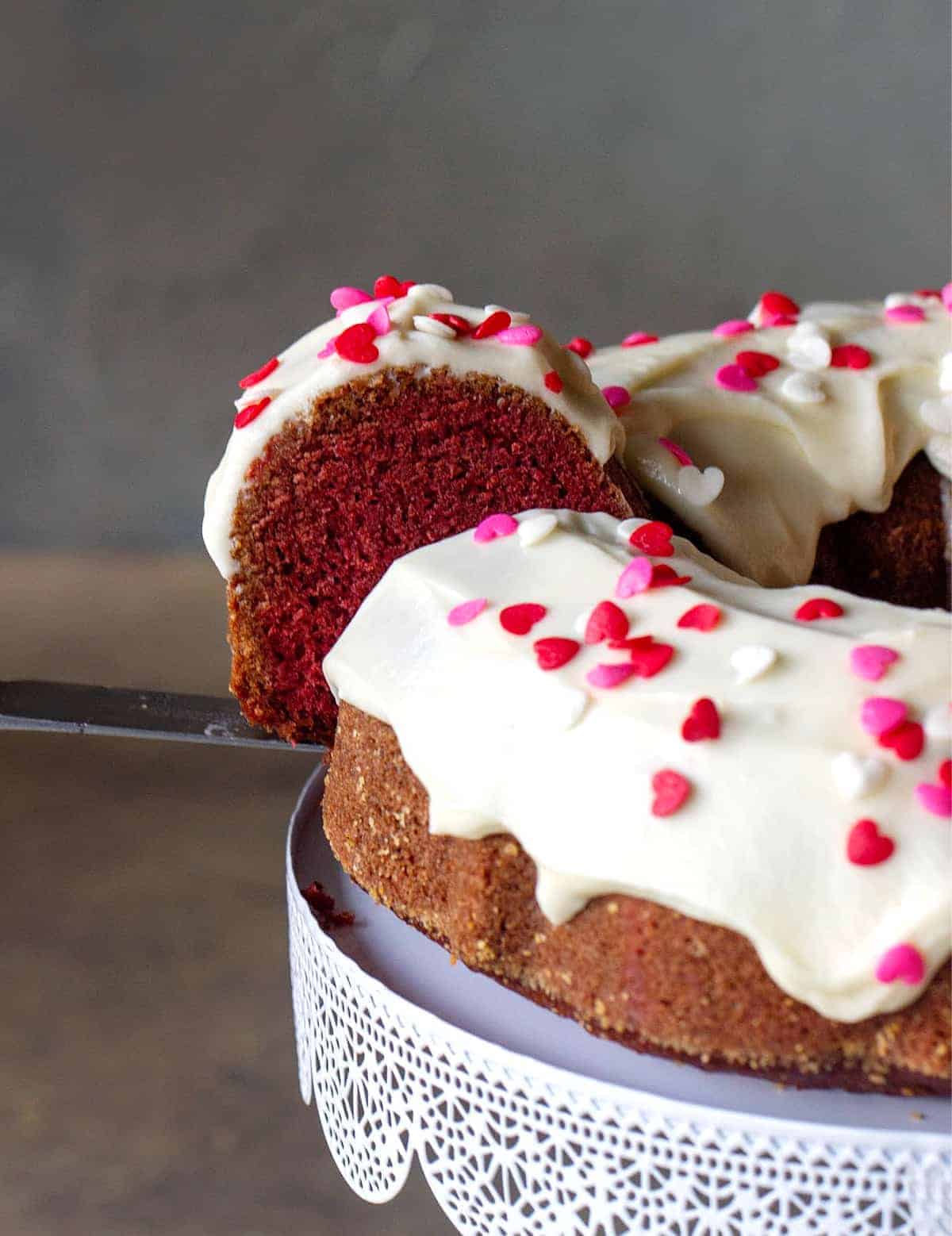 ---
Related recipes you might like:
---
Let me know if you make this recipe! I'd love to hear what you think about it.
Thank you for being here, I appreciate it! Let's connect via Facebook, Instagram, and Pinterest.
If you like the recipes in this blog, consider subscribing and getting all new posts by email. As a thank you, we'll also send you a FREE recipe e-book and our Guide to Freezer Baking!
Print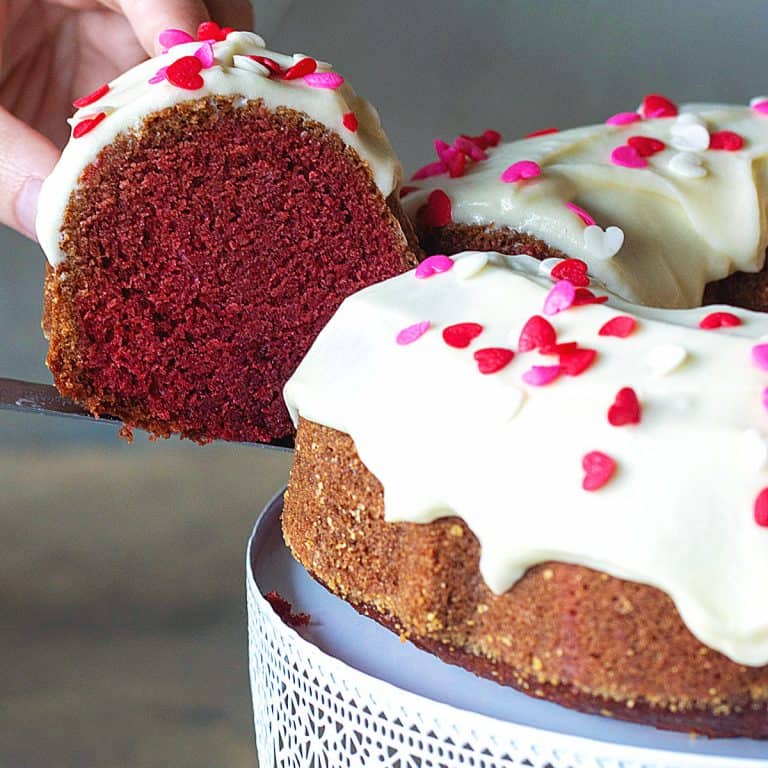 Red Velvet Bundt Cake
Author:

Paula Montenegro

Prep Time:

15

Cooling time:

90

Cook Time:

45

Total Time:

2 hours 30 minutes

Yield:

10

servings

1

x

Category:

Cakes

Method:

Baking

Cuisine:

American
---
For the cake:
2 tablespoons

(

30g

) unsweetened cocoa powder (see Notes, below)

⅓ cup

(80ml) boiling water

1 cup

(

250g

) buttermilk (or whole milk with

1 tablespoon

lemon juice)

¾ cup

(

185g

) unsalted butter, at room temperature

1 ½ cups

(

300g

) granulated sugar

3

eggs, at room temperature

¼

to

1

teaspoon red food coloring (see Notes, below)

2 teaspoons

vanilla extract (if using paste use

1 ½ teaspoons

)

½ teaspoon

salt

2 ½ cups

(

350g

) all-purpose or cake flour

1 ½ teaspoons

baking soda

1 teaspoon

white vinegar
For the cream cheese frosting:
4oz

(

½ cup

or

120g

) cream cheese, at room temperature

3 tablespoons

(

45g

) unsalted butter, at room temperature

1 teaspoon

vanilla extract or

½ teaspoon

vanilla paste
About

1 ½ cups

powdered sugar
---
Instructions
For the cake:
Preheat the oven to 350°F/180°C.
Butter or spray a bundt cake pan (10 cup capacity) or tube pan. Flour it or sprinkle with fine dry breadcrumbs. Shake off excess and reserve.
In a small bowl or jar mix cocoa powder with boiling water. Let cool a little and add buttermilk. Mix and reserve.
In a large bowl, beat softened butter with sugar for 2-3 minutes until creamy.
Add eggs, one at a time, and beat well after each addition.
Add food coloring and vanilla. If using powder color mix it with the vanilla before adding.
Add flour and salt to the butter mixture in 3 parts, alternating with the cocoa mix in 2 parts. That means you begin and end with dry ingredients.
In a small bowl mix baking powder with vinegar. It will foam. Immediately add it to the cake batter and mix.
Pour into the prepared pan and bake 40-45 minutes, or until a tester inserted comes out clean.
Let cool for 5-10 minutes and carefully remove onto a wire rack. Cool completely before frosting.
For the cream cheese frosting:
In a bowl beat cream cheese with butter until very creamy and no lumps remain.
Gradually add sugar and vanilla until you have a thick, very creamy consistency, good enough to spread. You might need more sugar.
Add to the cooled cake.
It keeps well in the refrigerator for a few weeks. Beat again before using to attain a creamy consistency.
---
Notes
Cocoa powder: if you want a brighter red use 1 tablespoon cocoa, 2 if you want a deeper red like the images.
Red food coloring: There are many brands that come in gels, powders, and liquid. I have tried Wilton with good results. I try to use powder dyes (Red Ponceau is the shade of red I like) that are water-soluble and dissolve it in the vanilla before adding it. If they are good the color tends to be more intense so I need very little. There are good gels from what I read, but I never tried them. Or don't use added color and it will be a nice brownish hue.
Pan sizes: this recipe yields 1 large bundt, about 18 cupcakes, 2 loaf cakes (similar to the apple walnut loaf) or 1 9-inch layer cake (similar to the lemon blueberry cake). Or 1 sheet cake similar to the lemon coconut cake that is perfect for picnics, barbecues, children's birthdays or a small celebration.