Caramelized white chocolate is the new wonder of my baking world, and these creamy custards are the new dessert you were waiting for!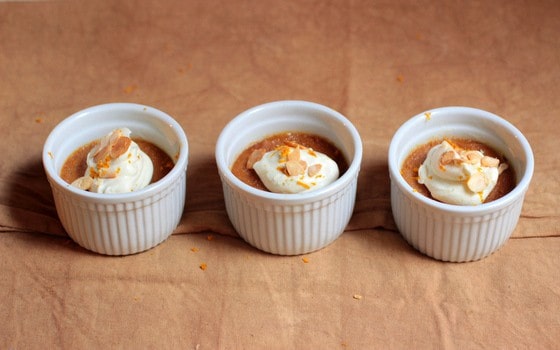 In time everything becomes clear. One way or the other. In this case, I believe it's in the most decadent way. I think white chocolate was invented so that, one day, we could have salted caramelized white chocolate to fill our days. Emphasis on
the salted aspect of it.
I finally succumbed to its charms. And there's no going back. After I made it for the first time, I spend the next day and a half simply thinking about it, writing down all the things I wanted to do with it. And also opening the jar, spoon in
hand, and slowly eating the whole thing, a few tablespoons each day.
I don't remember being blown away in this way by a flavor in years.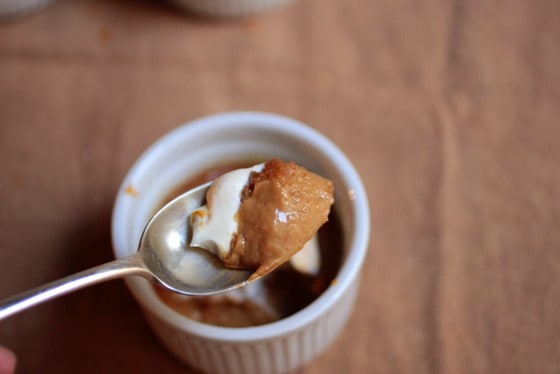 When a whisper becomes as soft as a thunder there's no questioning it, you need to go to work.
When a hint becomes obvious and you stumble with it one time after another in the course of a few days, it's probably time to do something about it.
It started with Kate leaving me a comment in the dulce de leche mille feuille post about it. A few days later Liz posted some incredible cupcakes with it and by now it was more than a thought. Then I opened Emma´s post about eclairs glazed with it; the time had come. I had to go into the kitchen and make a big batch of caramelized white chocolate. With salt. A very big one.
I am repeating myself, I know.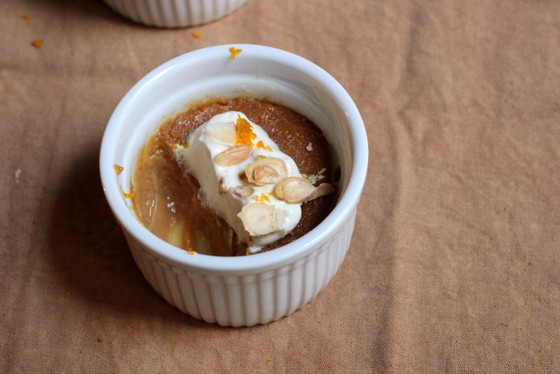 But, you see, there's no middle ground when it comes to salted caramelized white chocolate. It's addictive. So, so addictive I quite frankly don't know what to tell you about it because words are not enough. You have to taste it. You really, really, really, really do.
I had saved Dave Lebovitz's original post about it a few years ago and then forgot about it. It turns out that the masterminds at Valrhona, the extraordinary chocolate company, developed this way of baking white chocolate at low heat for quite a while, stirring it periodically, until it turned into a golden semi-liquid unctuous thing. They now sell it as a chocolate bar from what I heard.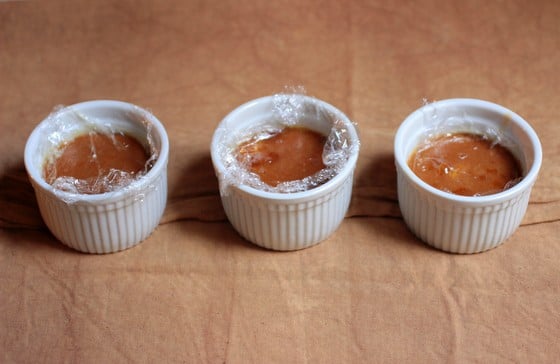 This is the type of ingredient that would make a big hole in my pockets if I were able to buy it easily. For now, I'll keep on making it at home.
And with average white chocolate. I didn't even use a top-quality one. I figured I might as well try with some leftover I had that was just lying there in my pantry. I know I will try it sometime with a better quality one, but for now, I'm telling you, it's not even necessary. What is very needed is the touch of salt.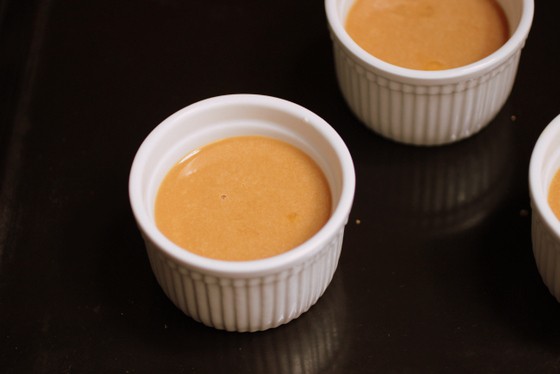 When I first tasted it, while still warm, the feel in my mouth felt like Nutella. Coarse and almost cloying, but that for some inexplicable reason I couldn't stop eating.
It hardens as the days go by, becoming completely solid in a day or two. But it melts in a minute in the microwave or hot water. So keep it in a glass jar that can be heated.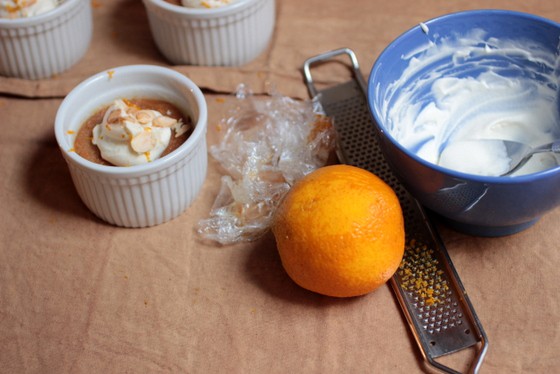 Just don't taste it right out of the oven. It's hot, very hot and you'll burn your tongue. Just saying.
These custards are very creamy but not dense. The whipped cream flavored with amaretto and sprinkled with orange zest is an amazing combination, one that wasn'
t planned but will be used in the future again.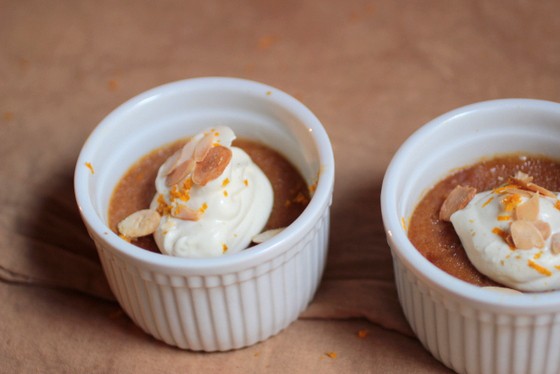 Print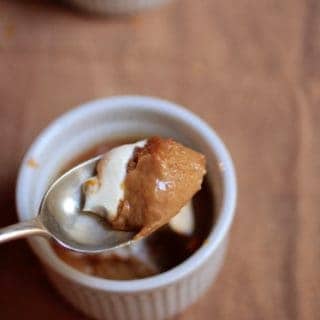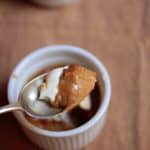 Salted Caramelized White Chocolate Custards
Author:

Paula Montenegro
Prep Time:

60

Cook Time:

30

Total Time:

1 hour 30 minutes

Yield:

6

servings

1

x
Category:

Desserts

Method:

Baking

Cuisine:

International
---
Description
Caramelized white chocolate is the new wonder of my baking world, and these creamy custards are the new dessert you were waiting for!
---
Scale
Ingredients
For the custards:
For the flavored cream:
½ cup

cream (whipped)

1 teaspoon

liqueur or vanilla (I use homemade amaretto)
Orange zest
Sliced toasted almonds
---
Instructions
For the custard:
Preheat the oven to 300ºF.
Have ready a baking tray with 6 individual ramekins.
In a large bowl stir the egg yolks to blend. Reserve.
In a medium saucepan heat caramelized white chocolate, cream and milk. Let it boil for 1 minute, stirring constantly.
Slowly add this mixture to the egg yolks, whisking constantly and quickly to prevent curdling. Mix until well blended. Sieve the mixture into the ramekins, dividing evenly.
Put the baking tray in the oven, and fill with 1 inch of hot water. Bake the custards until slightly jiggly, about 30 minutes.
Let cool five minutes, and then cover with plastic wrap, letting it completely touch the top of the custards, to prevent a skin from forming. Refrigerate until cold, about 4 hours.
Can be kept covered, in the refrigerator, for a few days.
To serve, spoon some whipped cream on top of each custard, grate some zest over it and sprinkle with sliced almonds.
For the flavored cream:
In a bowl beat cream until beginning to thicken.
Add liqueur or vanilla and beat to desired consistency.
Keep refrigerated, covered.
---
Notes
Change the flavor of the cream and use your favorite fruity liquor.
Keywords: white chocolate custards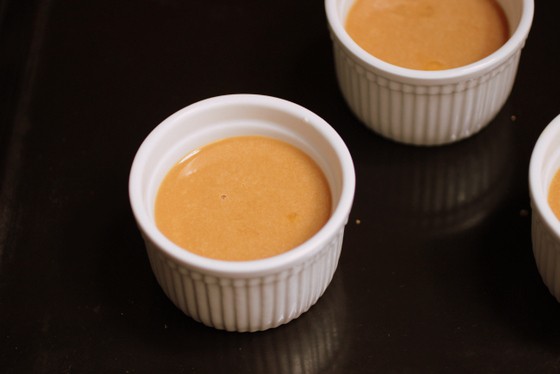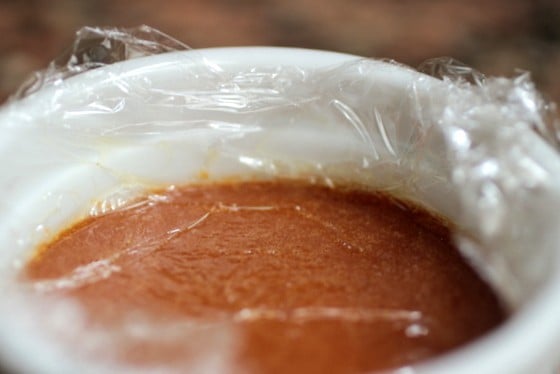 ---