A strawberry and passion fruit caipirinha has to be one of my favorite drinks, or cocktails.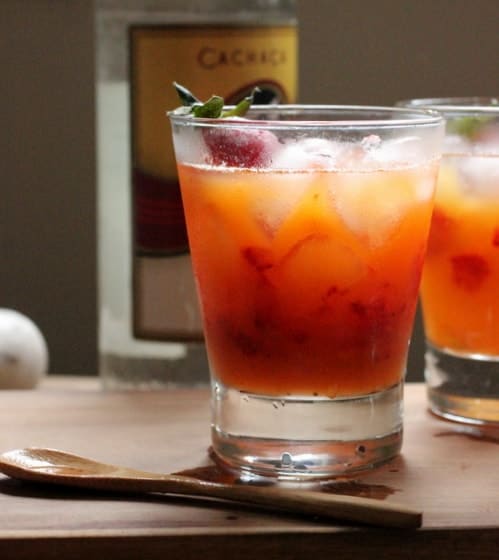 Some people here would say this is a caipifruta (fruta meaning fruit in spanish) not a caipirinha, because it's made with fruit, strawberry and passion fruit, other than limes. But that's really street talk and I don't want to complicate the title even more.
There is a fine line with many recipes when we, food bloggers, try to name them. Pesto, chimichurri, tiramisu, trifle, hawaiian, burger and a lot more are many times used to describe a shape or style of sauce, even though they're far from the original, and might include a small percentage of the traditional ingredients or none at all.
So let's wing it and settle for strawberry and passion fruit caipirinha.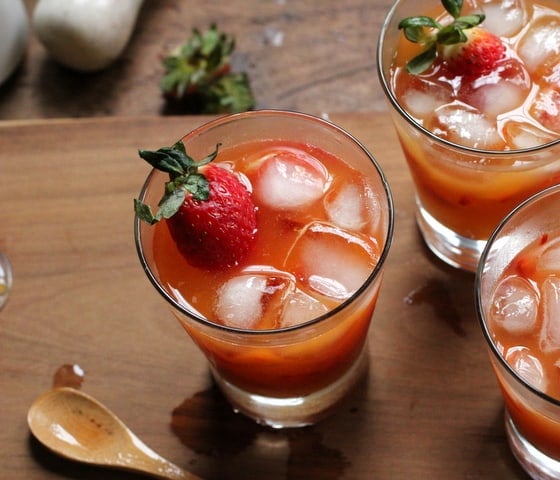 It has cachaça after all, the brazilian liquor distilled from sugarcane, which for me is the only exclusive ingredient in a caipi (short for caipirinha around here). The rest is debatable.
The pictures are deceiving. Though you might see three times the same drink, only two have cachaça, the other has vodka, which means we have a strawberry passion fruit caipiroska too. I know, I drank it.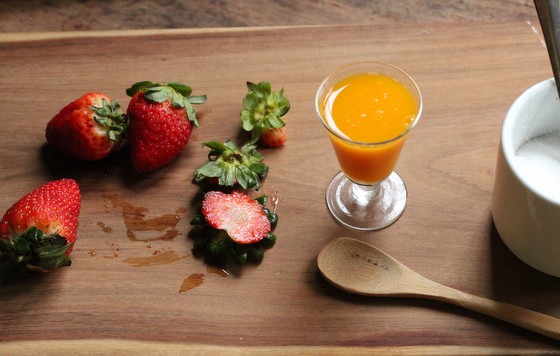 Truth is I first became enthralled with this fruit mixture due to a caipiroska a bartender friend made for me once. Some years ago, while looking into the possibility of opening a bar with some friends, we had a few drink making demonstrations, preparing of the mise en place and all that accompanies cocktail making.
Have you ever set up an informal bar at a party? It's so much fun.
So we cut fruits, checked liquor bottles, prepared the different glasses, made sure we had enough napkins and cocktail straws and kept a list of ingredients for the drinks we were about to make close by.
'So now I'm gonna show you how to make a passion fruit caipiroska' he said, and proceeded to add some pieces of strawberry to the glass, sugar and startled muddling.
'Didn't you say passion fruit?' one of us inquired
'Yes, but it has strawberries too' he said, and went on to add some passion fruit juice, ice and vodka.
Well, for me it a strawberry passion fruit caipiroska, both fruits having a stellar place in the drink, and some time later, through a
fortuitous lack of vodka in my house one evening, I added cachaça and was completely sold.
Strawberry and passion fruit caipirinha baby! That's my favorite combination. The same way I think fresh cherries go better with vodka, hence the cherry caipiroska from last sunday.
I'm having some boozy weekends lately.
I have to confess I consider passion fruit a citrus. And an intoxicating one.
The smell when I cut it in half is so unique, and when I run a finger through some of the juice that remains on the counter the words that pop into my mind are fresh acid.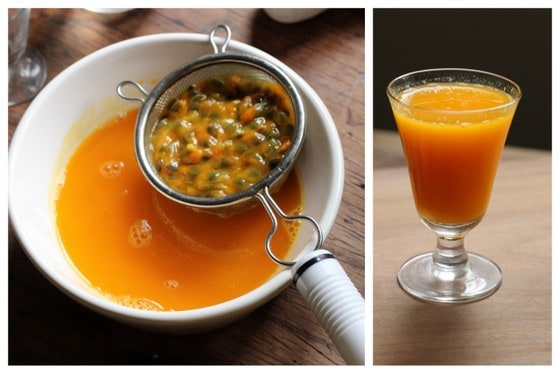 There's a freshness about passion fruit that I don't find in any other fruit. It has nothing to do with the juice itself, it's the smell of it. I wonder if any of you feel the same, or I'm just in loonie land talking to myself. Either way, it's what comes out when I try to describe it. Some company would be nice, of course.
I sat down yesterday, my fruity caipirinha in front of me, enough napkins to prevent a pool of water on my desk and hands, and, eventually, my keyboard, as I made my way through the pile of unread posts in my readers, the ones I told you about in my last post.
Print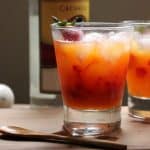 strawberry passion fruit caipirinha
---
Description
This is the homemade way of making this drink. If you have a cocktail shaker, use it to mix the muddled fruit with the vodka and the ice.
The amount of sugar and cachaça is a personal taste. Go easy on the liquor the first time until you know what's the  fruit/alcohol ratio you prefer.
---
Scale
Ingredients
½ cup

fresh (hulled strawberries, cut into chunks)

5

or 6 Tbs sugar (or simple syrup **)

½ cup

passion fruit juice (with or without pulp, your choice)
Cachaça (about 4 oz.)
Ice
Cocktail straws and napkins (to serve)
---
Instructions
To get passion fruit juice, simply sieve it through a strainer. The type of holes in it will determine whether some pulp goes through or not.
Divide strawberries and sugar between two glasses. Add half the sugar and, with a muddler, start crushing the fruit with the sugar, until it becomes syrupy. Do this slowly and take your time. It's the base of the drink.
Add ice to almost fill the glass, and then pour half of the passion fruit juice into on top of the ice.
Add about 2 oz. vodka to each glass.
Stir until it mixes well, decorate with a strawberry half and serve.
** You can use simple syrup instead of the sugar. To make it simply heat the same amount of sugar and water (1/2 a cup of each for example), and when it comes to a boil remove it from the heat. Let cool completely and keep refrigerated. 
---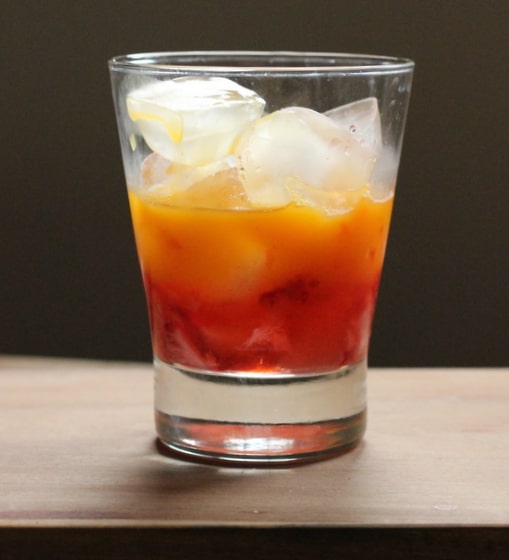 Before adding the cachaça




Today's 5 related recipes worth looking at:


Habanero & Passion Fruit Martini from The Wicked Noodle
Strawberry Jasmine Green Tea from Buttered Side Up
Cachaça and Coconut Cake from Baking in Lisbon
Passion Fruit Curd from Drizzle and Drip
Balsamic Roasted Strawberries from The Corner Kitchen