Moist and delicious, this is a great way of using those extra summer zucchini! The streusel adds a wonderful layer of crunchiness and flavor.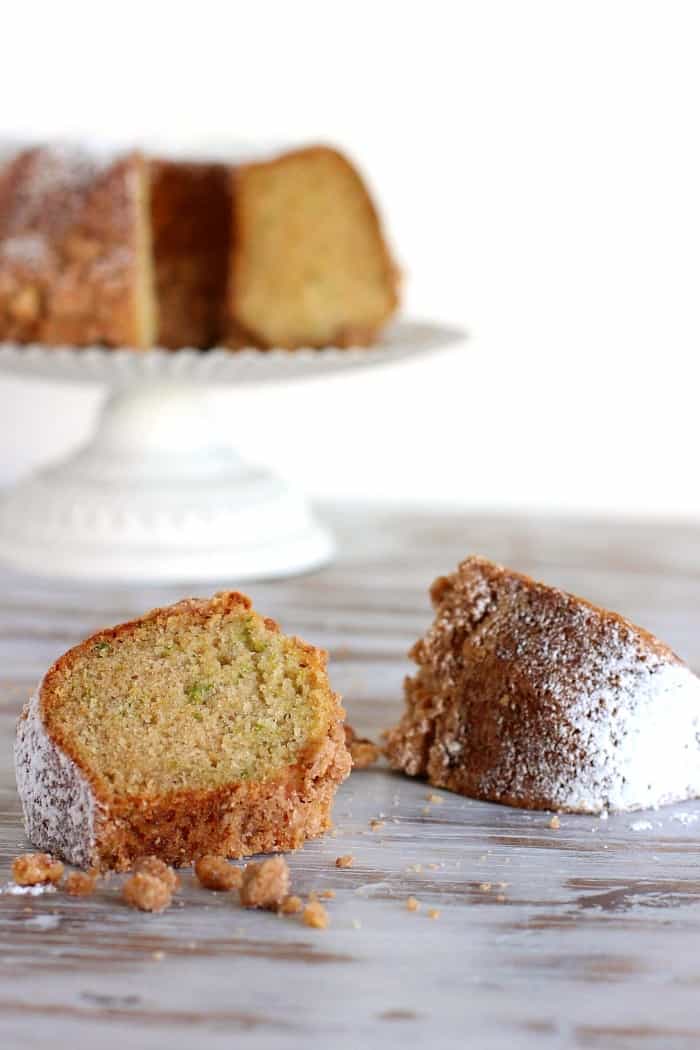 I believe one of the greatest appeals of a bundt cake is that it's simple. Even when it's studded with whatever and has a glaze on top, it still can be considered simple. Take the same cake and bake it in layers and take the glaze and use it for filling and frosting and it's not a simple cake. I rest my case. There's something about them.
There's a new group in town. Of course, it's a mad-about-bundts group. The brainchild of
Lora
and Anudhara of Baker Street, two lovely, lovely bloggers who continuously bake one goodie after another.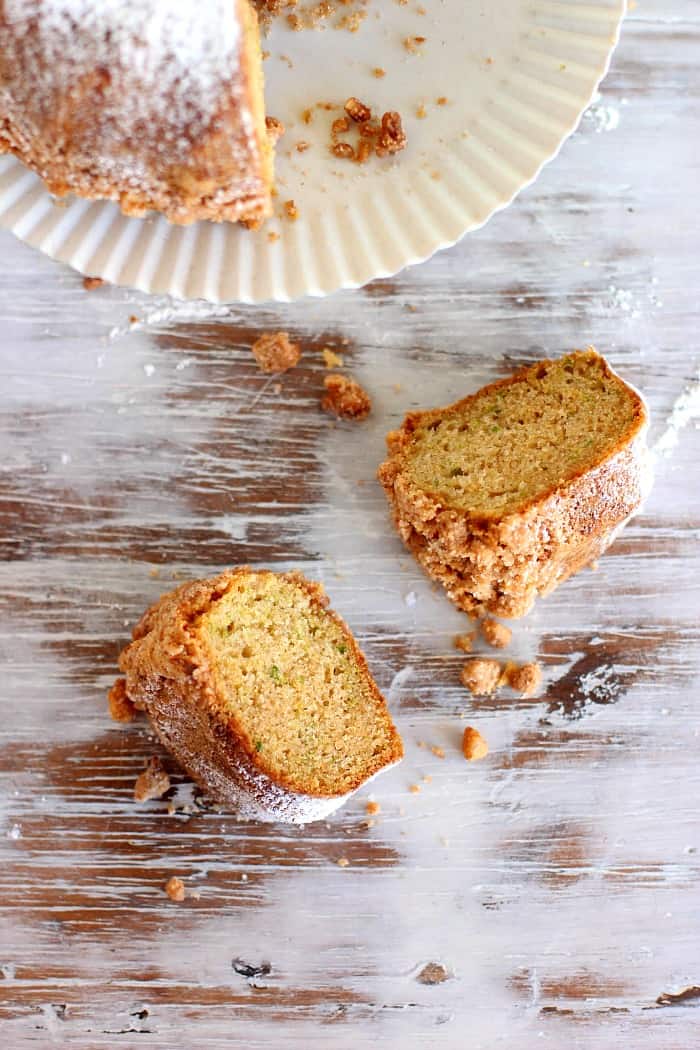 I'm very serious about my love for bundt cakes; there's enough proof in this little blog of it, whether it's maple walnut, chocolate Kahlua, or banana bourbon.
This months' theme is zucchini. However, you want to use it as long as it's part of the cake. I decided to use it with raisins and a cinnamon streusel. You can't find the streusel? It's at the bottom of the cake. Or at least it will after you bake it and unmold it. The top becomes the bottom when it comes to bundt cakes.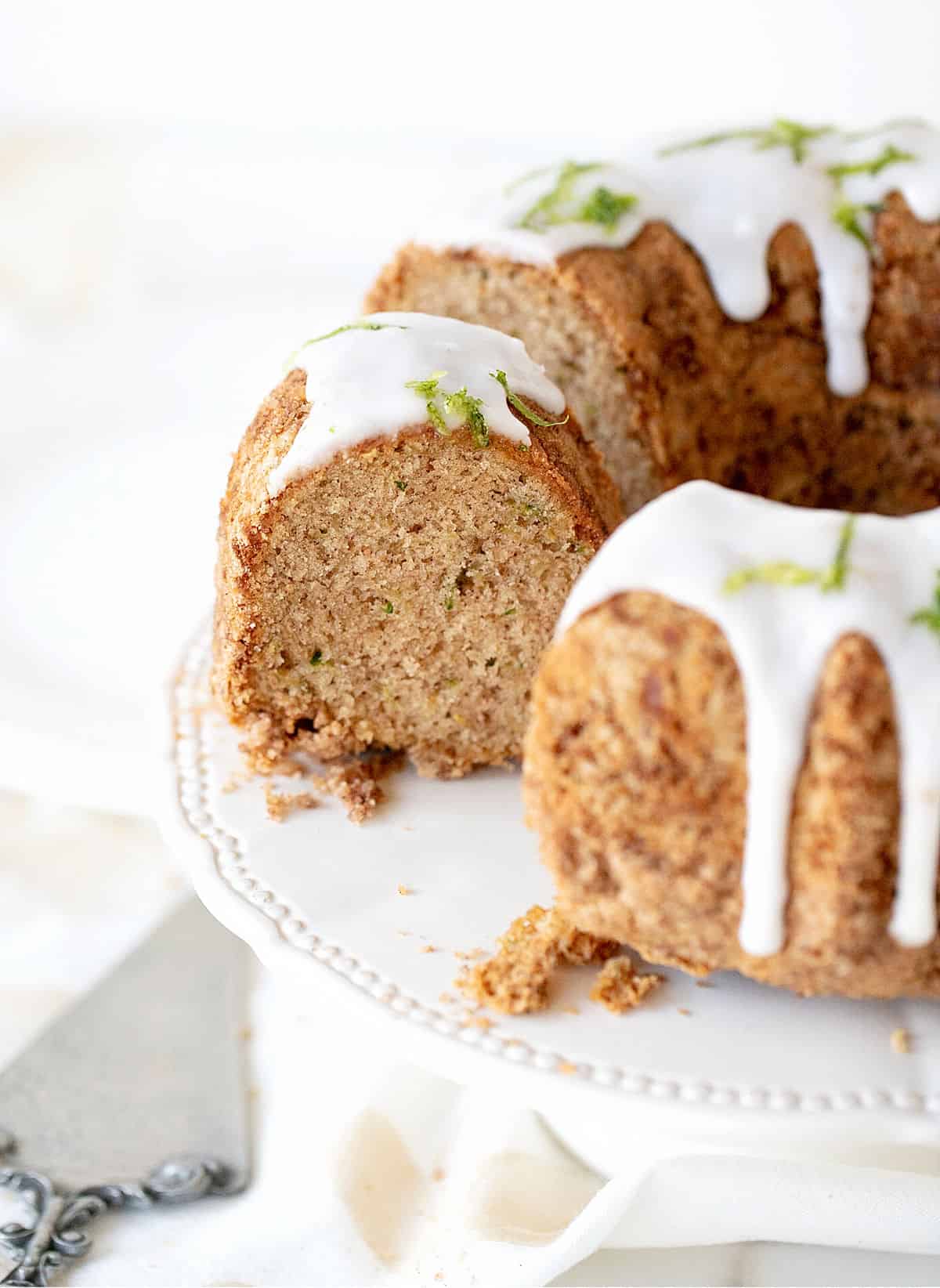 This is really a simple cake. For starters it uses oil. That in itself makes for an easy batter.
It also has a most delectable mixture of brown sugar, cinnamon, and walnuts that is sprinkled on top and will later become the bottom. Yes, the streusel. I just wanted to know if you were paying attention here.
Finally, plump yellow raisins and freshly grated zucchini. Not just a simple cake. A simple and delectable bundt cake. It makes a good gift, a good pair for afternoon tea, for a brunch or a picnic.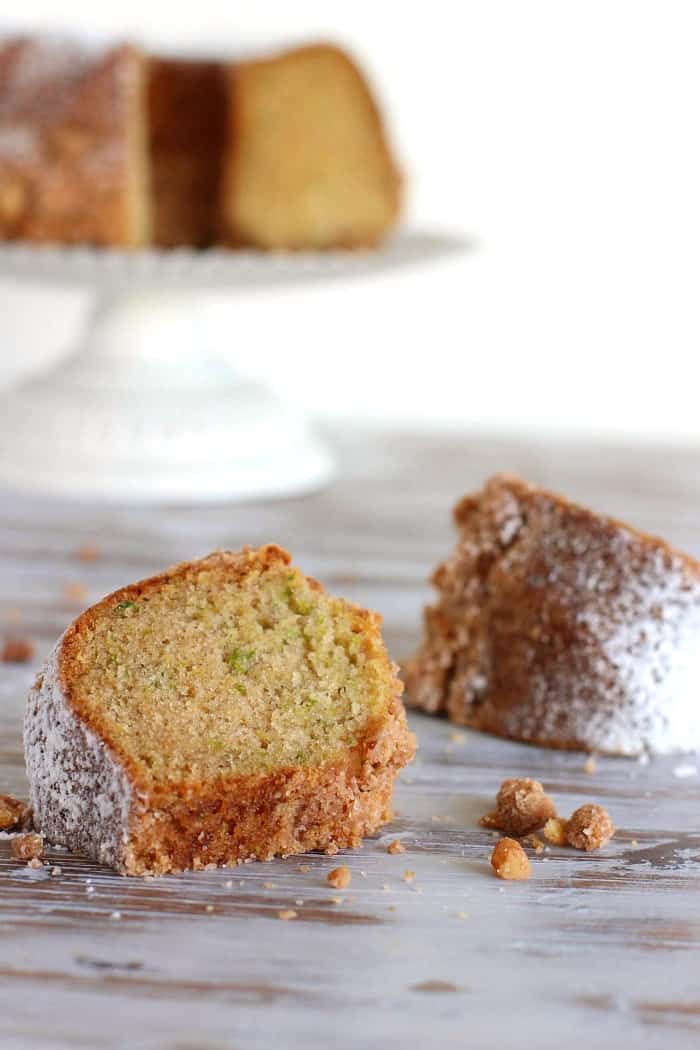 The flavors come together wonderfully. The speckled crumb is lovely by itself, with those bits of green.
The crunchy bottom a nice surprise. Time to go into the kitchen and bake a zucchini raisin bundt cake with cinnamon streusel!
Print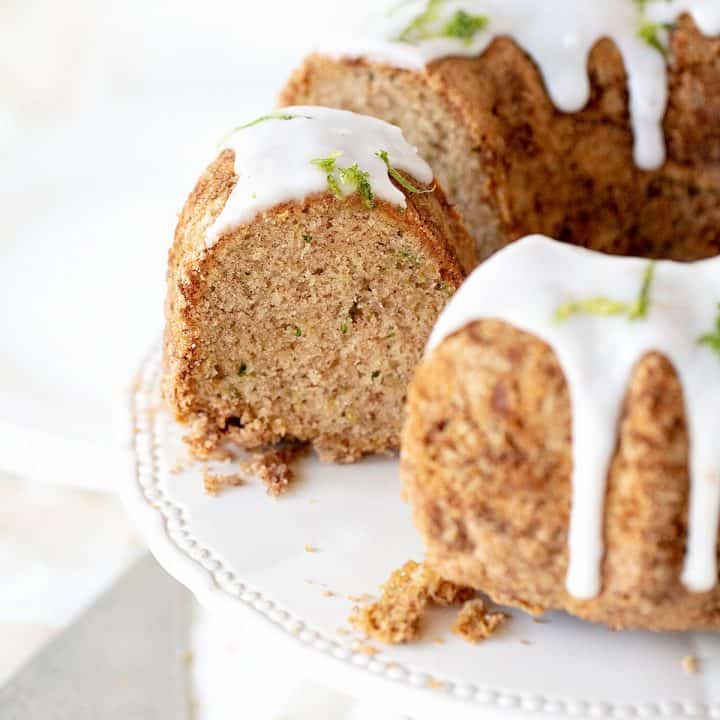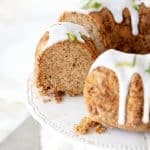 Zucchini Raisin Bundt Cake with Cinnamon Streusel
---
Description
You can add ½ cup of walnuts in addition to the raisins.
---
For the cake:
2

eggs

½ cup

vegetable oil (I use canola)

1 cup

sugar

1 teaspoon

vanilla

1 ¼ cups

flour

1 teaspoon

baking powder

½ teaspoon

baking soda

1 teaspoon

cinnamon

1 cup

grated zucchini (

1

medium)

1 cup

yellow raisins (optional)
Cinnamon streusel (recipe below)
Confectioners' sugar (for sprinkling)
For cinnamon streusel:
3

Tbs flour

½ teaspoon

cinnamon

¼ cup

brown sugar
Pinch of baking powder

1

Tbs melted butter

2

Tbs finely chopped walnuts
---
Instructions
Preheat oven to 350º. Grease a bundt cake pan.
In a large bowl beat eggs, oil, sugar and vanilla until foamy, about 1 minute.
Sift over it flour, baking powder, baking soda and cinnamon. Mix well but don't overmix.
Add grated zucchini (I grate it directly over the batter) and raisins. Mix well and pour into prepared pan.
Sprinkle streusel over batter and bake for 45 to 50 minutes, until tester inserted comes out clean. Let cool on wire rack, invert onto serving plate, sprinkle with confectioners' sugar and serve.
In a small bowl combine all streusel ingredients until crumbly.
---
---