Sweet, juicy cherries topped with a crunchy almond crumble. Use fresh cherries when in season or canned cherry pie filling for an effortless dessert that can be made ahead and frozen. It's very versatile, so with this recipe you can make it traditional or gluten-free and adjust the level of sweetness.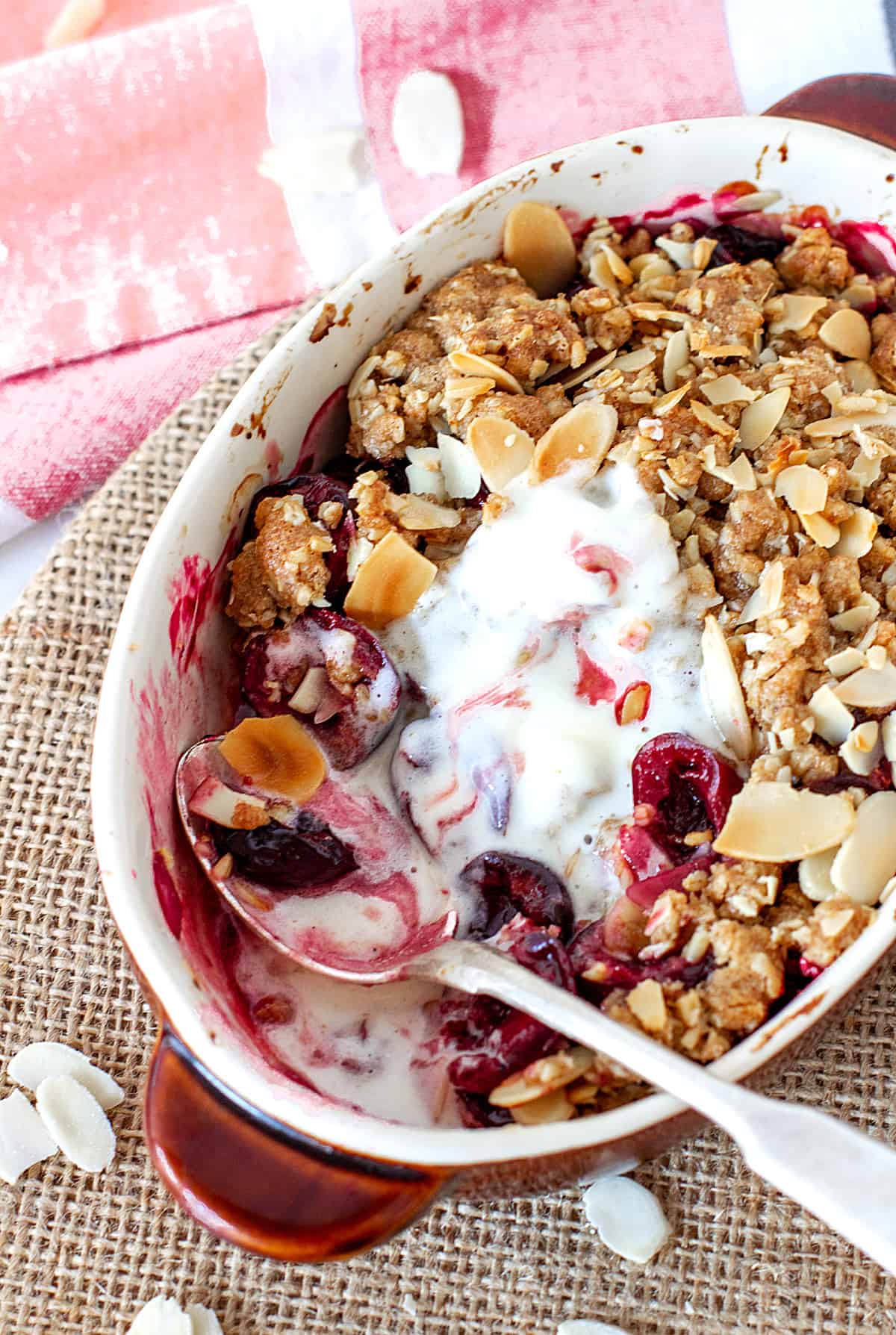 As an Amazon Associate, I earn from qualifying purchases. Please read my disclosure policy.
Originally posted in 2013, this post has been updated with photos, text, and a recipe variation to serve you better.
Cherries and I have an ongoing love affair, and I'm eagerly awaiting for them to appear, and they do so for such a short time!
But, I take immense advantage of those weeks and eat as many as I can fresh, directly from the refrigerator, as they are much better when they are very cold.
Then, I start making desserts like the fantastic and super popular easy cherry tart.
Lately, this cherry crumble has been one of my top choices, with its golden brown crisp topping and a syrupy cherry mixture showcasing the best summer fruit.
About crisps and crumbles
Now, aren't they one of the best desserts ever? A layer of juicy fruit and a crunchy, buttery topping.
They take little time to prepare, almost any fruit can be used, no need for baking or knife skills, rustic is what we should aim for, and they are meant to be eaten directly from the pan. Perfection really.
Though both names are often used interchangeably, a crisp includes oats in the topping, and a crumble doesn't. That extra ingredient makes for a crisper topping.
My experience is that you can achieve a super crunchy topping without oats, by decreasing the amount of flour. But that's for another conversation.
Vintage Kitchen tip: I always have pitted frozen cherries and crumble mixture in the freezer. That way, I can quickly assemble this cherry crisp and have it on the table in 45 minutes.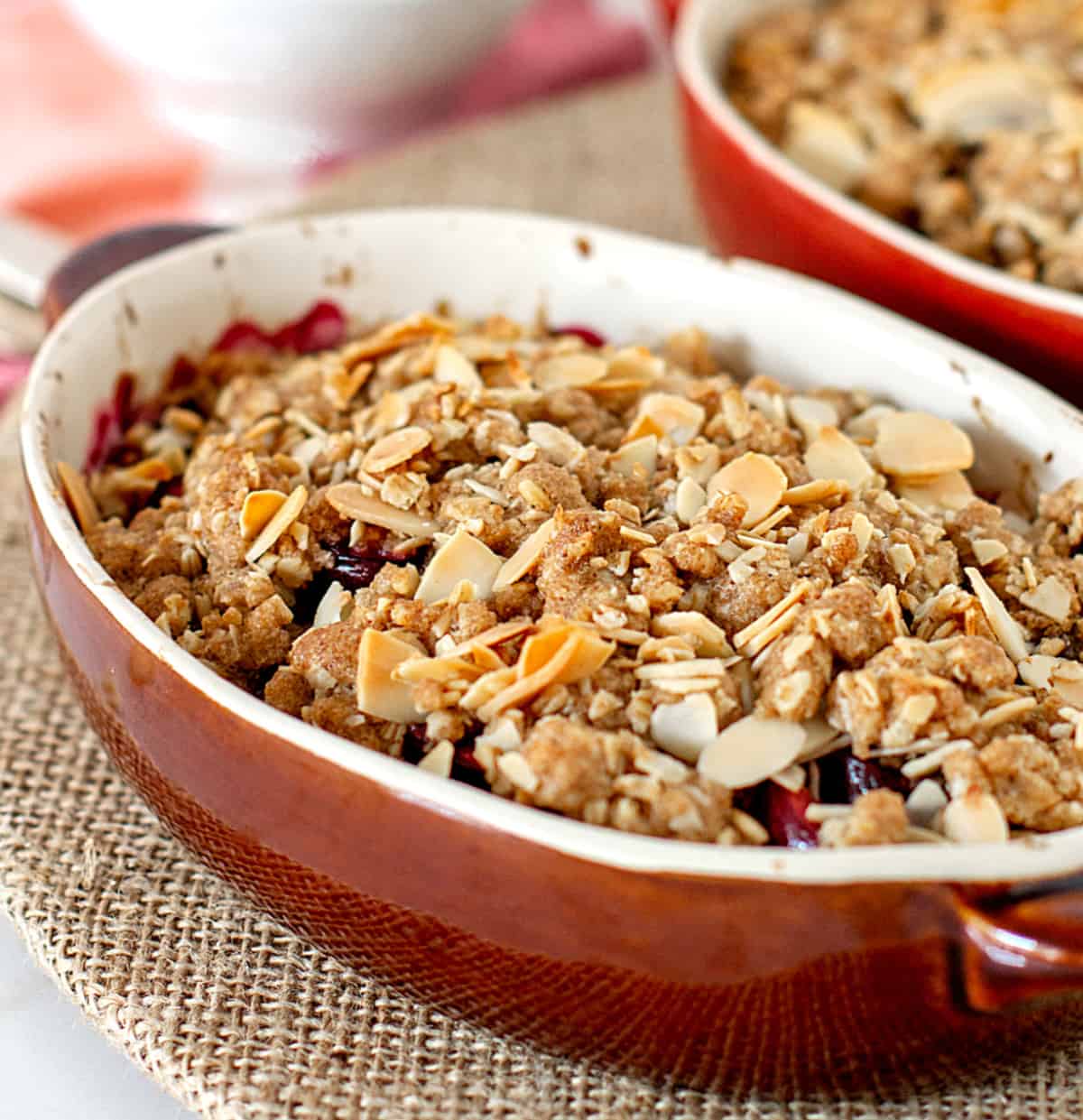 Ingredient list
Cherries: can be fresh or frozen. Just make sure they are pitted. Or use a canned cherry pie filling if cherries aren't available.
Unsalted butter.
Oats: I use old-fashioned rolled oats (traditional oats) because they have more texture, but you can use instant or quick-cooking oats.
Flour: almost any type works with this recipe. I usually use all-purpose or cake flour.
Sugar: I use brown sugar, but white, granulated sugar works fine. Don't go to the grocery store if you don't have brown.
Lemon juice: it adds acid and balances out the sugar and butter. Use fresh juice if possible.
Sliced almonds: will add fantastic texture to the crumble, but they're optional. You can use chopped almonds if that's all you have. Don't refrain from making this dessert just because you don't have almonds. Omit them and substitute with more oats.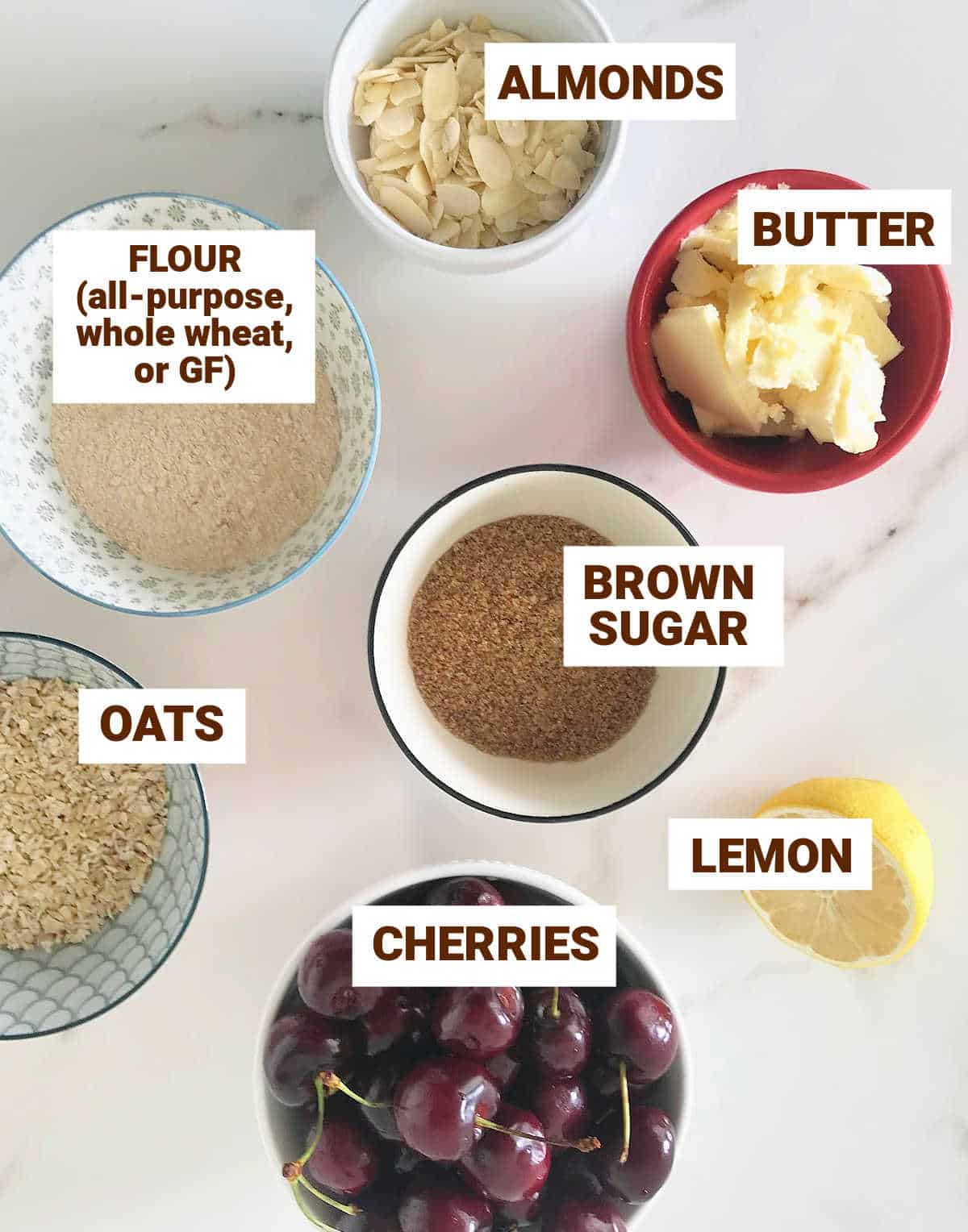 How to make a cherry crisp
Pitting cherries: fresh cherries are easy to work with if you have a cherry pitter. The stones must be removed, otherwise eating this dessert ends up being a pain as you have to spit out every cherry pit while being careful not to crack a tooth.
Whole or cut cherries: I like to cut them in half so they're easier to eat, but you can chop them in thirds or fourths. Or leave them whole. Be careful not to cut them too small as they will get lost in the crumble when you eat them.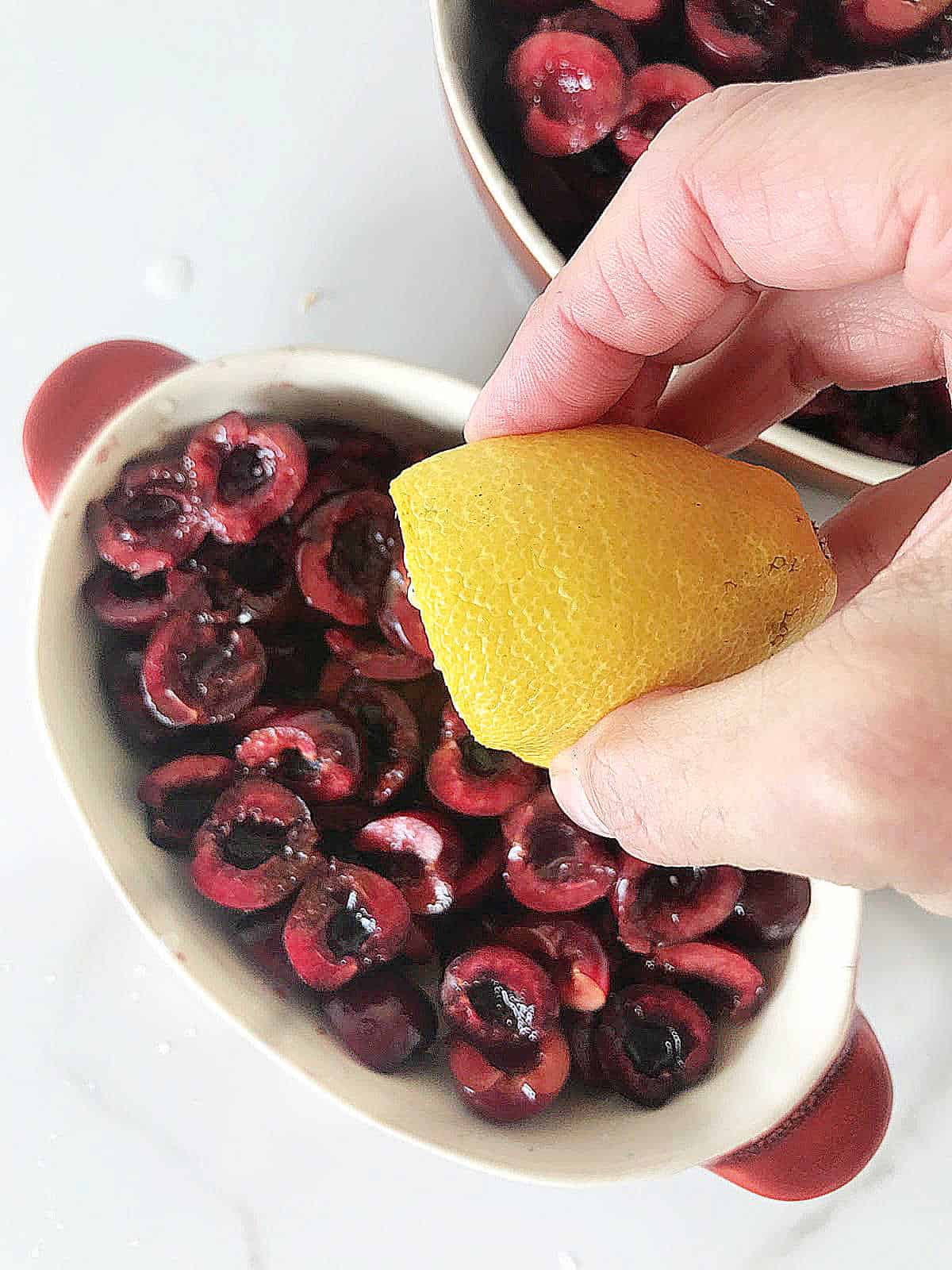 Mixing the crumble: there's not much work here, and you only need a medium bowl. If you plan on freezing the crumble, you might consider mixing it in the container that will go to the freezer and have one item less to wash.
Cold butter or melted butter: both work for achieving a clumpy mixture that will make the crumble topping have texture. Melted butter is way easier to mix and less messy.
Sliced almonds are added last because we don't want to break them up too much. Lightly mix them into the rest of the ingredients.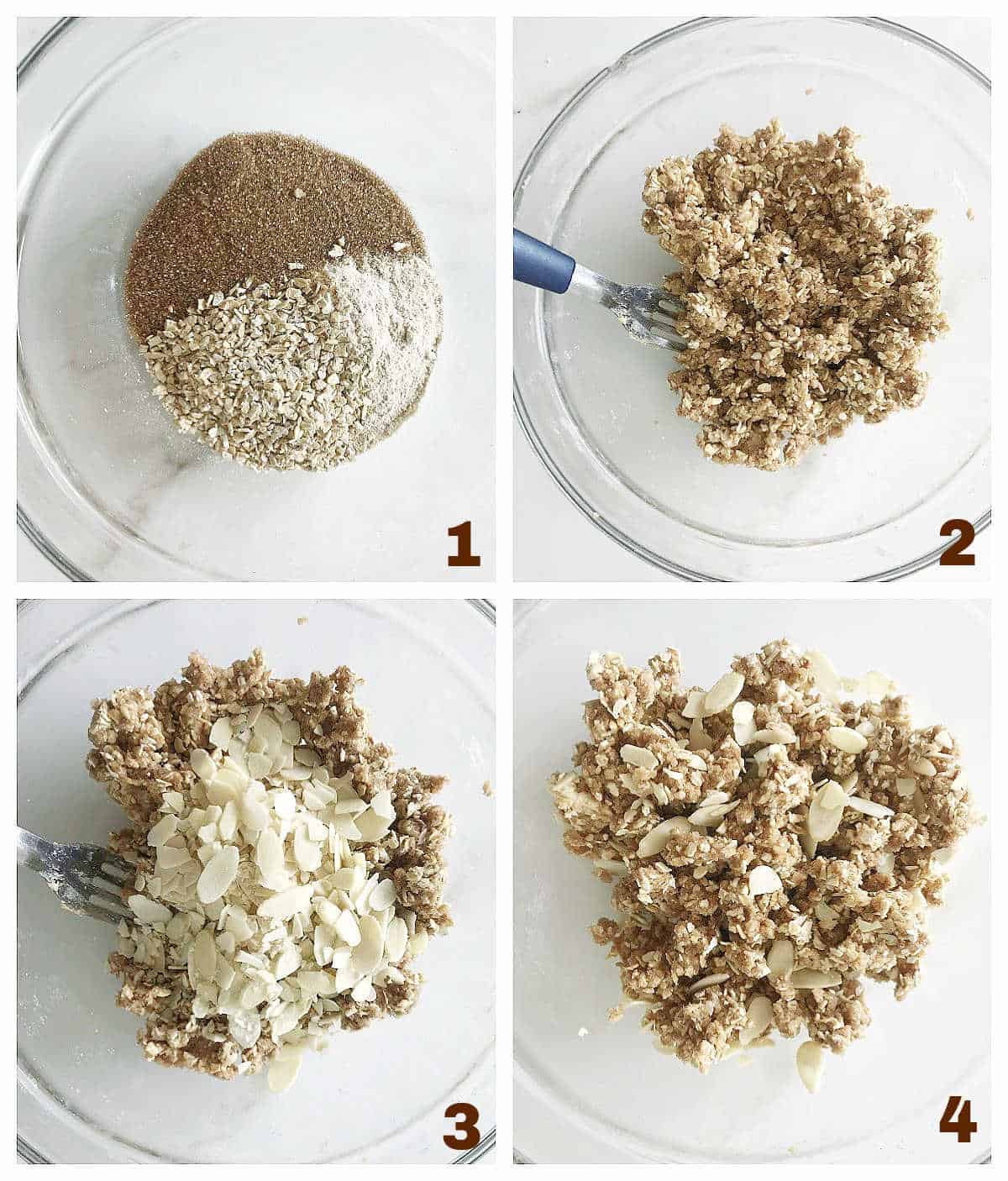 Gluten-free option
Like any type of diet or cooking technique, it's not hard once you understand what works and what ingredients are available. It turns out that the amount of different gluten-free flours available is mind-blowing.
My favorite flours: I like substituting quinoa flour for the all-purpose, and almond flour for the oats or using gluten-free oats like Quaker's.
Other alternatives: packaged gluten-free flour mixes, buckwheat flour, or amaranth flour.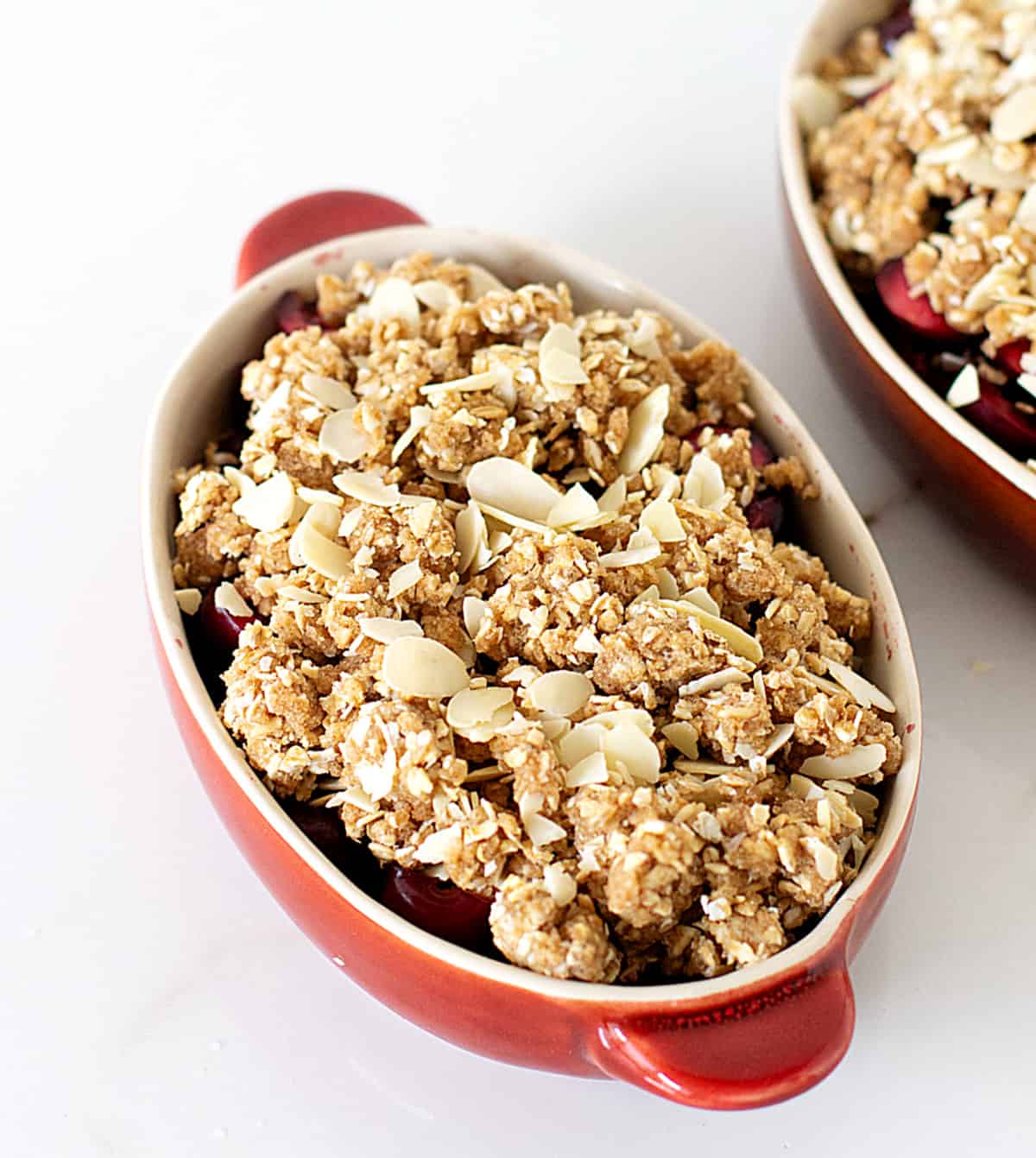 Serving
Favorite way: hands down, I think the best way is barely warm with a scoop of vanilla ice cream. Or use some lightly sweetened whipped cream. Either way, you'll love it!
Plain, at room temperature, is my second choice.
Cold: I don't recommend eating it cold from the refrigerator. It's not bad, but you'll miss the juicy flavor of the cherries with the crunchy topping.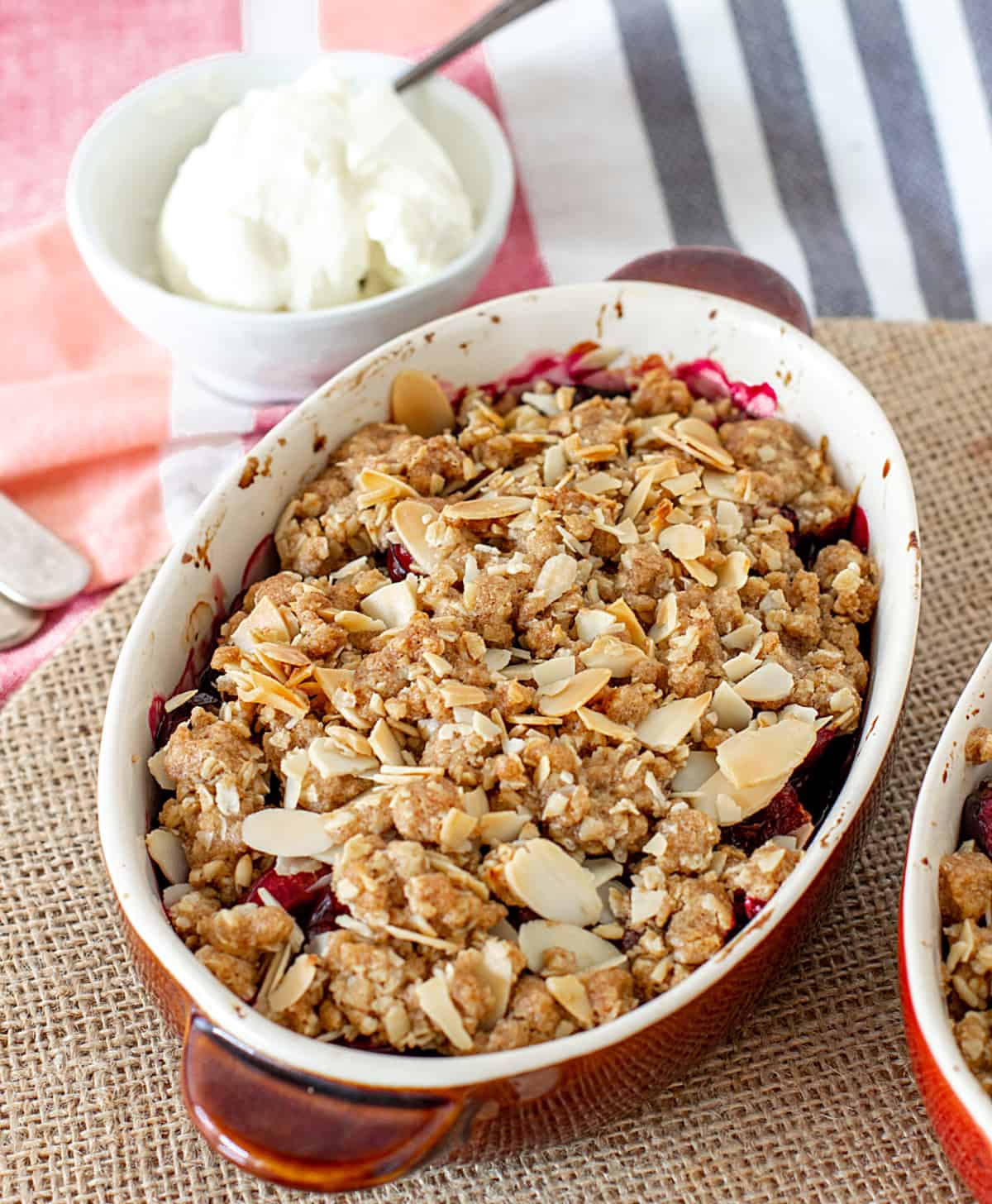 ---
Related recipes you might like:
---
Let me know in the comments below if you made this recipe and loved it and if you had issues so we can troubleshoot together. I love to hear what you think, always. Thanks for being here. It's much appreciated.
You might also consider subscribing to our FREE email series to Boost your Home Baking Skills! And our regular newsletter.
And let's connect via Facebook, Instagram, and Pinterest.
Print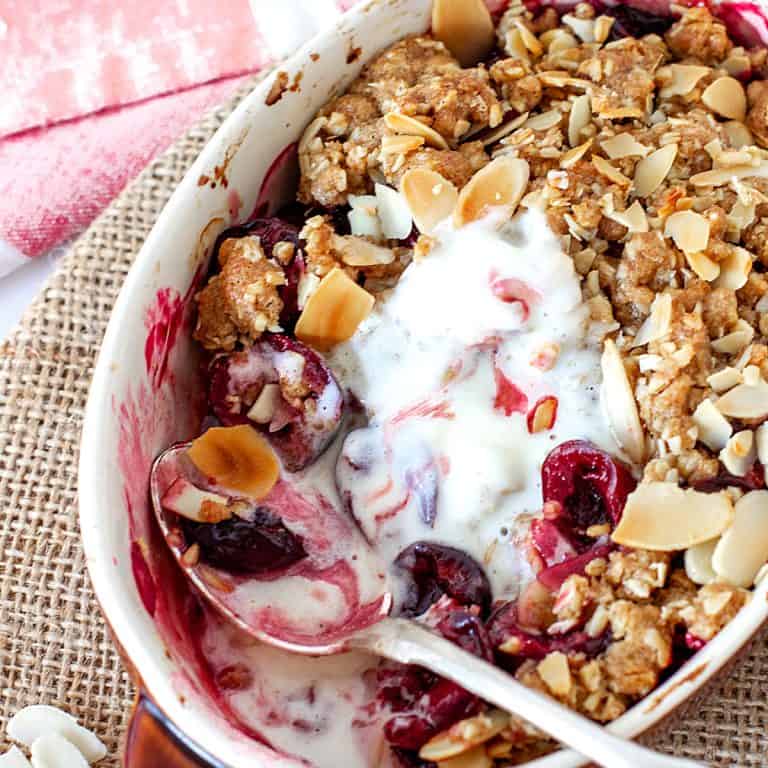 Easy Cherry Crisp (or crumble)
Sweet, juicy cherries topped with a crunchy almond crumble. A straightforward dessert that can be made with fresh or frozen fruit or canned cherry pie filling. It's versatile regarding how much sweetness you want and what fruit/topping ratio you prefer. Make it in individual servings or family style.
Total Time:

45 minutes

Yield:

4 servings
For the cherries:
4

cups

pitted cherries, fresh or frozen

2 tablespoons

light brown sugar

2 tablespoons

lemon juice

¼ teaspoon

pure almond extract or vanilla extract (optional)
For the crumble:
See Notes below for gluten-free options and other variations
½

cup

all-purpose flour

½

cup

regular oats

½

cup

(50g) light brown sugar

¼ teaspoon

ground cinnamon (optional)

½

cup

sliced almonds

½

cup

(115g) butter, cold and in pieces
Ice cream or whipped cream, optional for serving
Instructions
Preheat the oven to 350ºF /180ºC.
Butter four oval, shallow ramekins. Or an 8-inch baking dish if making a family-style dessert.
For the cherries:
Cut pitted cherries in half and divide them among ramekins.
Drizzle with lemon juice, sugar, and extract if using, diving equally. Set aside while making the crumble topping.
For the crumble:
In a bowl mix flour, oats, sugar, and cinnamon if using. Or gluten-free variation.
Add butter in small pieces and with your hands or a fork, work it until the butter is mixed with the dry ingredients. It will be lumpy.
Add the almonds and mix lightly. You don't want to break up the almonds too much. You can make the crumble in a food processor with the steel blade, but the resulting mixture will be finer.
Divide the oat mixture equally over the cherries.
Bake for about 25 minutes, until the top is lightly golden and the filling is bubbly. If baking it in a large dish might take 10 more minutes.
Serve warm with a scoop of ice cream or a dollop of whipped cream.
Store, covered, in the refrigerator for a few days or freeze for up to a month.
Notes
Organization: read the recipe first and make sure you have ingredients at the right temperatures, equipment needed, and enough workspace. This will make the process so much easier!
Baking time: keep in mind that all ovens and pans are different, even if they look the same or very similar. The baking time in my recipes is as accurate as it can be, but it might take you more or less time. Use a thermometer inside the oven (like the OXO oven thermometer) to check that the temperature is right. I recommend you keep track of how your oven works and what tiny details you might need to adjust.
Gluten-free option:
My favorite flours: I like to substitute quinoa flour for the all-purpose and almond flour for the oats, or use gluten-free oats like Quaker's. Other alternatives: packaged gluten-free flour mixes, buckwheat flour, or amaranth flour.
Variations: substitute some almond flour for the sliced almonds, use whole wheat flour instead of all-purpose, or use some of the more rustic gluten-free flour above together with regular flour. It will make this a more earthy dessert.
Make-ahead: you can have the pitted, halved cherries and the crumble in the freezer, in separate containers for up to a month.
Cherry pitter: this is a handy gadget and much needed if you bake with fresh cherries. You can buy them online OXO Good Grips Cherry Pitter
Family-style: if you want to serve more people, double or triple this recipe and use ceramic dishes that can go directly to the table. I like this White rectangular Baking Dish, Staub rectangular Baking Dishes, or round Faberware Ceramic Pie Dish.
Author:

Paula Montenegro

Prep Time:

20 minutes

Cook Time:

25 minutes

Category:

Desserts

Method:

Baking

Cuisine:

International
Nutrition
Serving Size:

¼

Calories:

603

Sugar:

47.4 g

Sodium:

12.6 mg

Fat:

33 g

Carbohydrates:

74.2 g

Fiber:

6.6 g

Protein:

8.5 g

Cholesterol:

61 mg