Dense, with a lot of texture, this pound cake has walnut cream and a swirl of chocolate. It keeps well and can be frozen.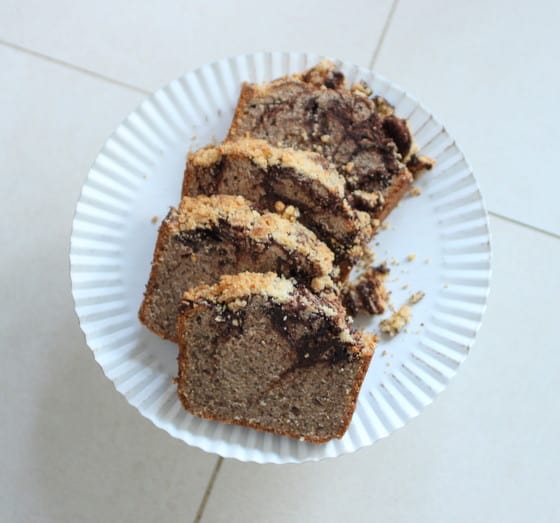 This chocolate swirl walnut pound cake made me look back on these past years.
A few years ago I ventured into the gastronomic business with a small café, something you probably know if you come here often. I closed it (sold it) a few months ago, have absolutely no regrets whatsoever of any shape, size, or form, just in case you're thinking how sad, and got my life back.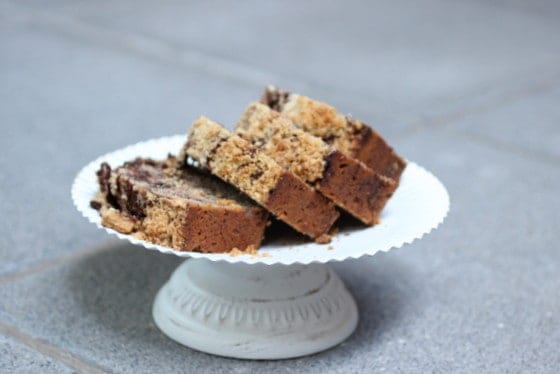 Gastronomy.
It's a hard life, which you hear about endlessly, and yet nothing compares to reality. Especially when you dive into it with another job going on and not a drop of experience. Molly of Orangette, brilliantly explains the feeling 'A couple of years ago, not long after we opened Delancey, back in the days when I was still cooking there every night and trying to write on the side and living on pizza and cookie dough and adrenaline and contemplating a third career as a mass murderer, ..'
Now that I have more time, and before it magically disappears again, for whatever reason, I decided to start investigating certain things I had on my mind for the longest time, like nut pastes and creams.
I am very familiar with the well-known frangipane (almond cream), a mixture of almonds, sugar, and eggs mainly, and an extraordinary base for fruit tarts, like pears, peaches, plums, figs, or apples as in this crackly apple almond tart.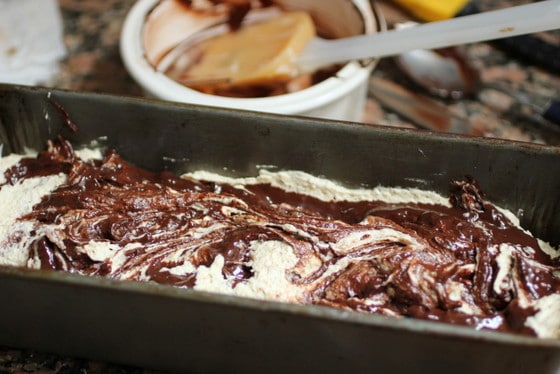 The almond paste is the first step when making almond cream, where the nuts are ground with powdered sugar and a binding ingredient is added, in my case egg whites, though I've made it with honey and corn syrup too.
I often wondered why other nuts were not used as often as almonds. I mean, pistachios, hazelnuts, walnuts, all marvelous flavors to use in fruit tarts. Or as is the case here, in a gooey, tender walnut chocolate pound cake.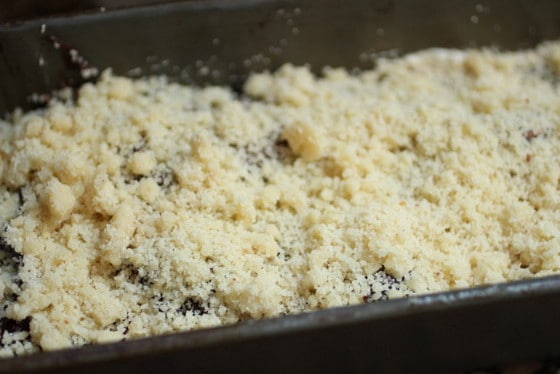 So, taking matters into my own hands, I made a walnut cream and used it in this cake, where it is treated almost as a butter and then swirled with chocolate, before a crumble is added on top. Simply wonderful.
This is a pound cake with a texture, unlike a regular pound cake. It is more buttery, not so doughy. Any nut goes well with chocolate, so feel free to change the flavor.
The crumble is a nice and crunchy surprise, which might seem too much, but it works.
Being this a very rich cake, if you have to feed many people, it's a good idea to bake it in square form, and cut it into smaller pieces. Or serve it with coffee after a meal for a perfect sweet bite to end the night.
Print
Chocolate Swirl Walnut Pound Cake
Beautiful walnut loaf cake swirled with chocolate. It keeps well and can be frozen.
Total Time:

1 hour 10 minutes

Yield:

8 servings
For the cake:
8

oz

unsalted butter, at room temperature

¾ teaspoon

baking powder

¼

cup

sugar

1

cup

walnut paste, below

5

large eggs, at room temperature

2

cups

cake flour or all-purpose flour

4

oz

semi-sweet chocolate, melted
For the streusel:
½

cup

flour

½

cup

sugar

4

oz

unsalted butter, cold and cut into pieces
For walnut paste:
1

cup

walnuts

1

cup

powdered sugar

1

egg white
Instructions
For the cake:
Preheat oven to 350º. Butter or spray a non-stick 9x5 inch loaf pan.
In a large bowl with an electric mixer, or the bowl of a stand mixer, cream butter with baking powder. Add sugar gradually and then walnut paste and beat for 2 or 3 minutes.
Add eggs, one at a time, beating well after each addition. Remove from the mixer and add flour in three additions, mixing well with a spatula.
Pour into prepared pan, level batter and add chocolate on top. Swirl with a knife, bringing some white batter to the top. Add crumble over batter and bake for 45 to 55 minutes or until a tester inserted in center comes out clean.
Cool on wire rack and unmold. It keeps, well wrapped in plastic, for a few days.
Walnut paste:
In the bowl of a food processor fitted with the metal blade, put walnuts and powdered sugar.
Process until well ground and mixed.
Add egg white and continue processing until a crumbly paste forms.
Keeps well covered and refrigerated for a few weeks.
For the streusel:
In the bowl of a food processor fitted with the metal blade, mix flour and sugar.
Add butter and process until crumbly.
Do not let it form a ball.
Author:

Paula Montenegro

Prep Time:

20 minutes

Cook Time:

50 minutes

Category:

Cakes

Method:

Baking

Cuisine:

International
Keywords: chocolate walnut loaf cake
Adapted from Pastries from La Brea Bakery, by Nancy Silverton