This is a festive sangria with cranberries, the perfect holiday drink that takes 10 minutes to prepare and lasts several hours, making it ideal for gatherings. Though it's traditionally drank cold, you can serve it warm. It's a tangy twist on the classic sangria we all know and love.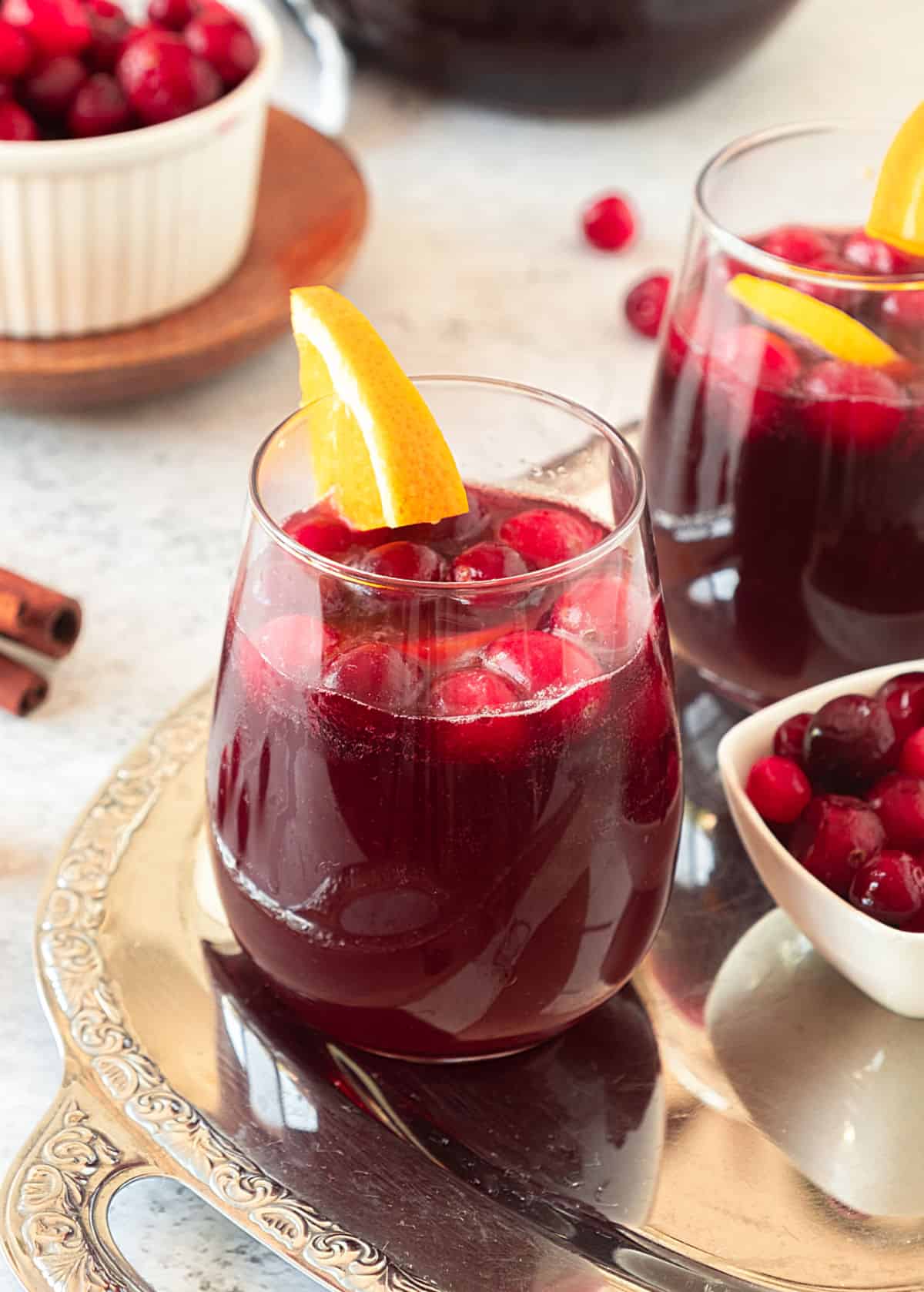 Sangria is a quick and popular drink, similar to a wine punch, that can be varied using different types of wines and fruits.
Today is all about cocktail recipes for the holiday season, like the apple cider sangria, another variation we love for this time of year.
Cranberry sangria involves your favorite red wine, usually dry but can also be made with a sweeter, fruity red wine.
We are sangria lovers, and this is our latest addition to an ever-growing drinks and cocktails category (with and without alcohol) where you can already find white wine sangria and rose sangria. All with unique fruit and flavor profiles.
Why make this recipe
Easy to prepare.
Served cold or warm.
Versatile and customizable.
A crowd-pleasing and delicious holiday cocktail that's ideal for socializing.
Impressive presentation.
What is the difference between red and cranberry sangria?
They differ in the type of fruit and liqueurs used. A cranberry sangria recipe might also include spices like cinnamon sticks. Both use red wines.
What type of red wine is best for cranberry sangria?
Choose a red wine you like to drink, but don't go overboard with the price tag. You'll sweeten it and add other flavors, diluting the original flavor. Many opt for a fruity and medium-bodied wine like a Malbec (my favorite), Merlot or Pinot Noir, but Cabernet Sauvignon or a red blend works well.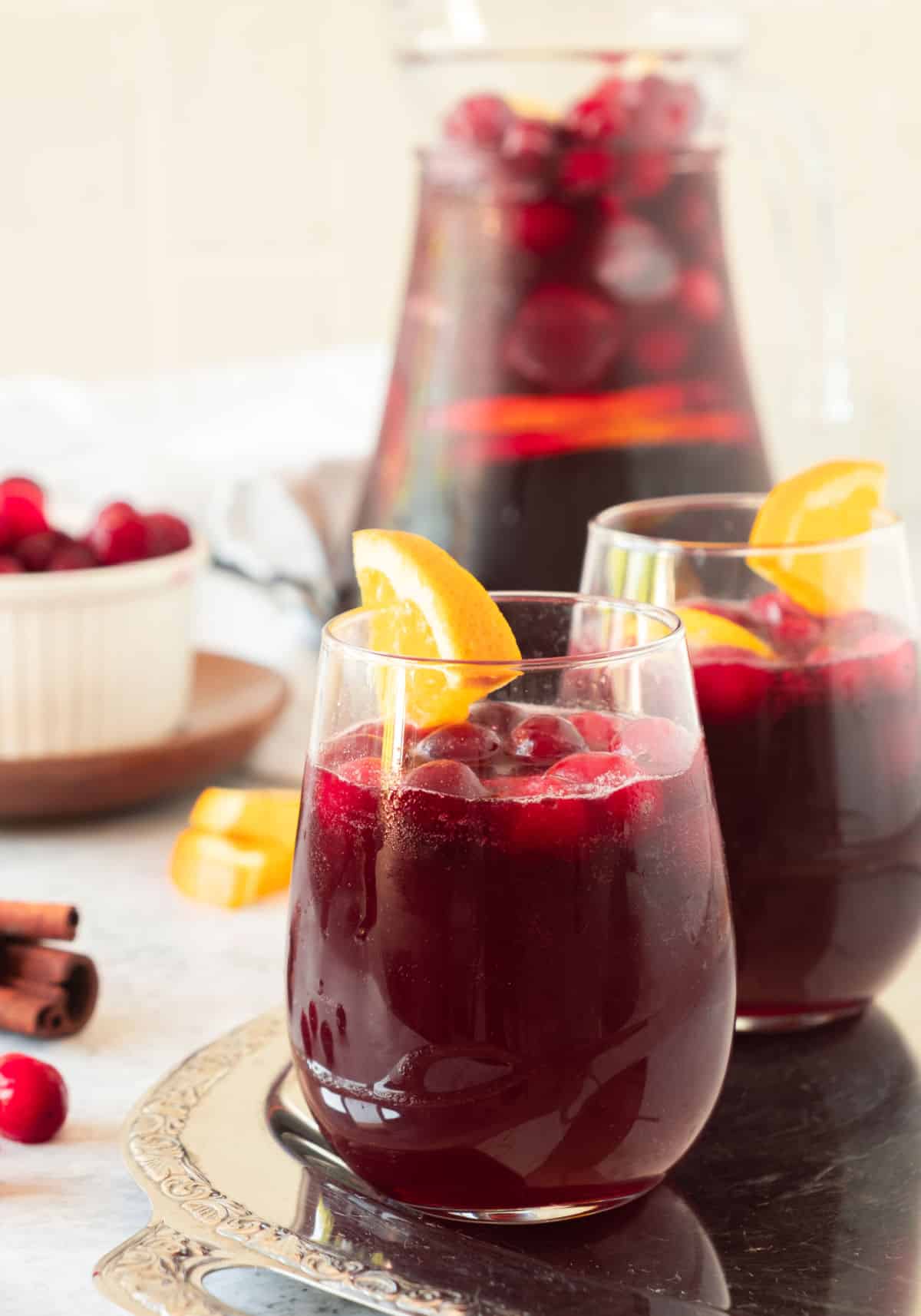 Can I make sangria in advance?
Yes, especially if you like a fruitier drink. The chunks of fruit will release their juice and sweeten the sangria as the hours go by. This Spanish beverage will taste slightly different as time passes.
Can I replace sparkling water with something else?
When making sangría, you can replace club soda or sparkling water with a lemon-lime soft drink (7up and ginger ale like Mountain Dew are often used). Or omit it; the sangria will be excellent anyway.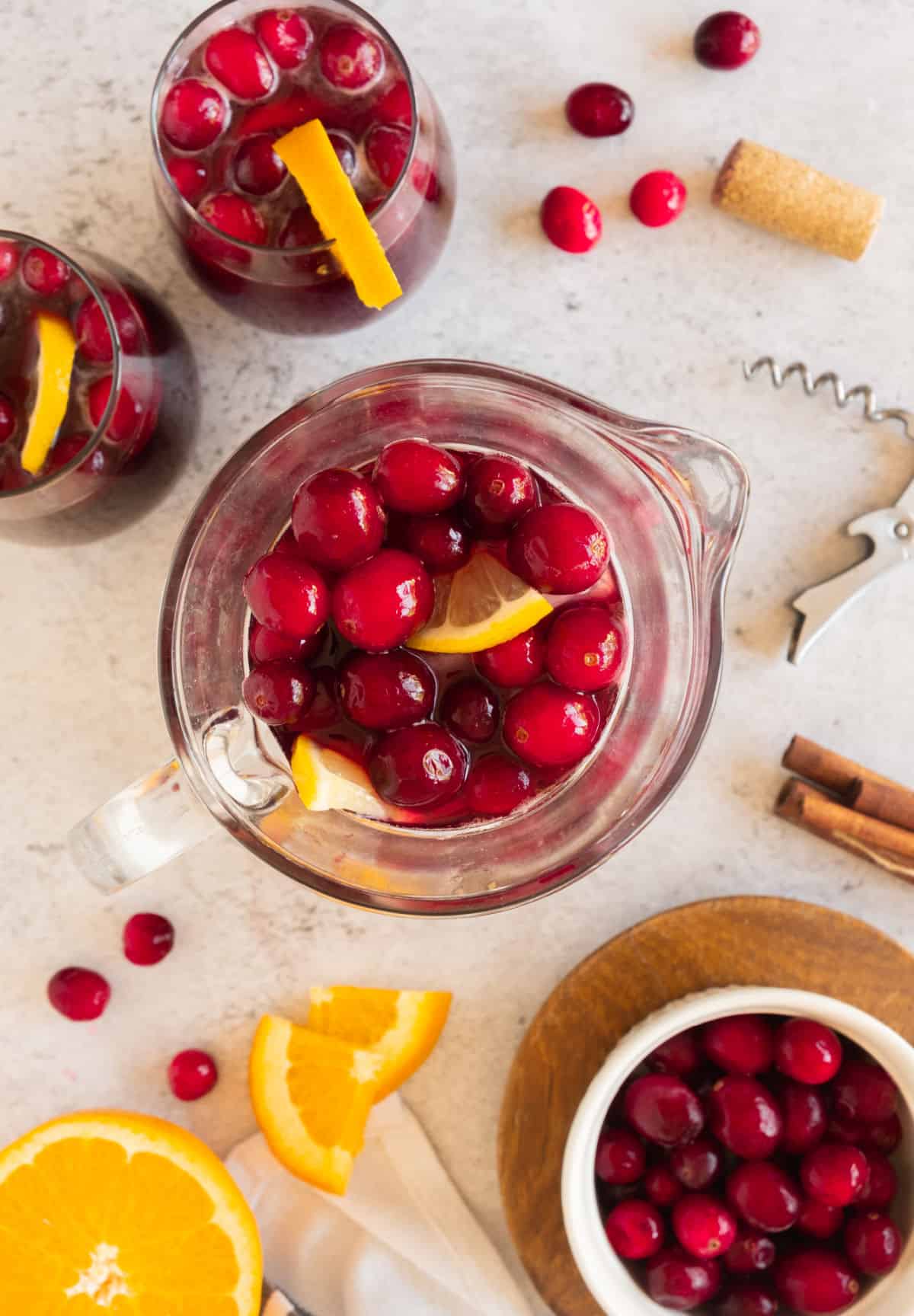 Ingredient list
Red wine: use your favorite. It can be dry or sweetened (late harvest). Depending on your choice, increase or decrease the amount of syrup or sugar.
Cranberries: fresh or frozen.
Cranberry juice.
Orange juice.
Fruit: orange and lemon slices, with rind.
White granulated sugar.
Liqueur: Triple Sec, Cointreau or Grand Marnier are all good. Brandy also works.
Club soda or sparkling water: if you want to add some fizz. It can be omitted if you don't have any. Don't refrain from making this sangria because it's not available.
Cinnamon: ground or sticks, optional but great to serve warm sangria.
See the recipe card towards the end of this post for quantities.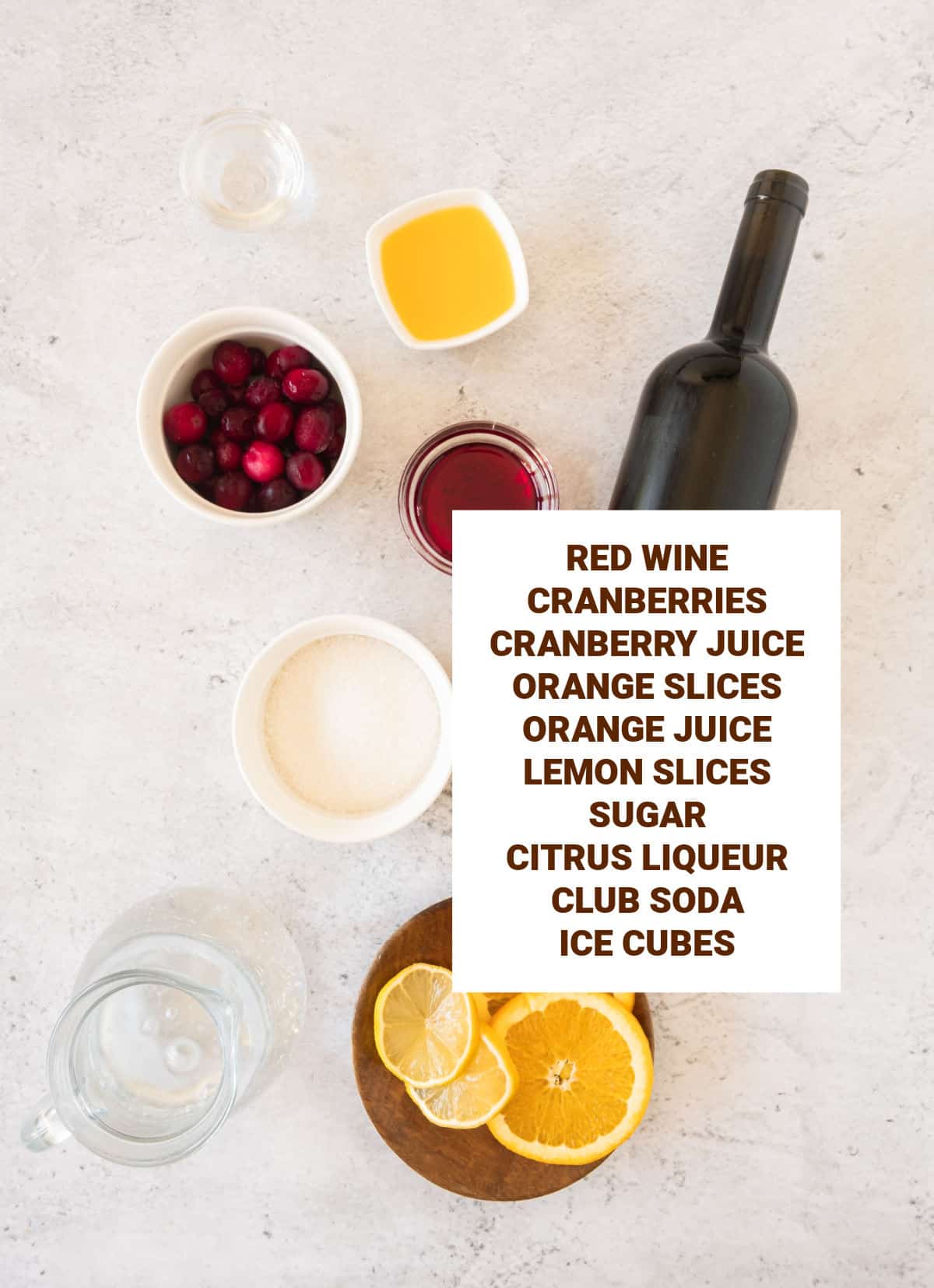 Variations & substitutions
Fruit: add apples, pears, peaches or tangerines. Use one of the first two, in addition to the cranberries, and you have a Fall sangria.
Sweet red sangria: there are red wines that are sweetened (naturally or artificially). Reduce (or omit, depending on the wine you use) the amount of syrup to compensate for the added sweetness.
White sangria: use white wine. It pairs well with the fruit and is a lighter, fruitier option.
Sweetener: use honey or fruit syrup (like fig or grape) instead of sugar for a unique flavor. Or use brown sugar for a more caramel tone.
Spices: go heavy on them and make Christmas sangria. Add cinnamon sticks, star anise, and maybe cloves to the simple sugar syrup and let it infuse after you remove it from the stove. Serve the sangria warm, like you would mulled wine or spiced rum.
How to make sangria with cranberries
Sweetener: a simple syrup or sugar. I favor the first option as it blends faster with the wine and doesn't pool at the bottom of the pitcher.
Fruit: you need unpeeled fresh oranges, lemons and whole cranberries. You can also chop some and add them to the pitcher.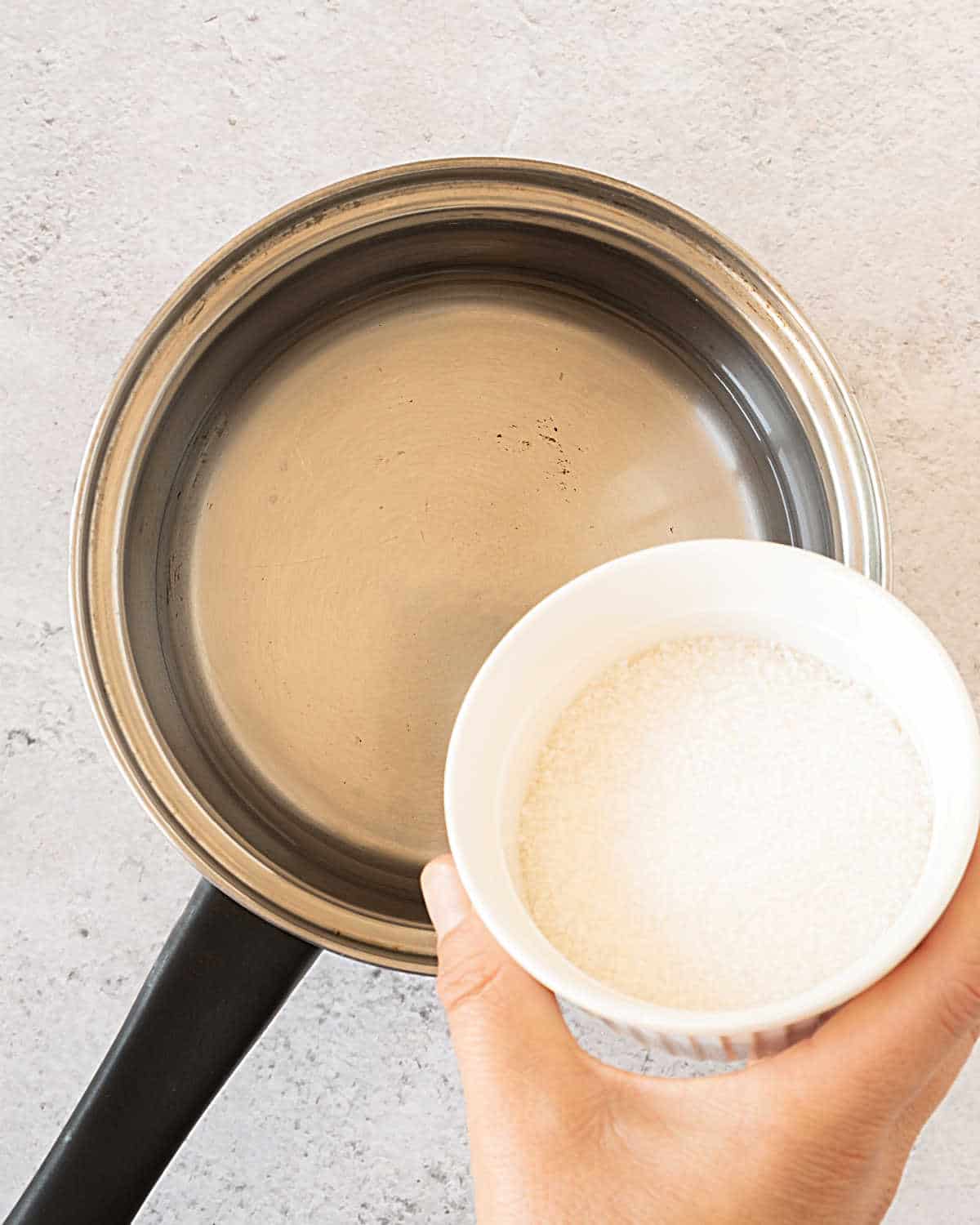 Make the simple syrup: put sugar and water in a small saucepan and cook until it breaks to a boil. Remove from the heat and use cold or at room temperature.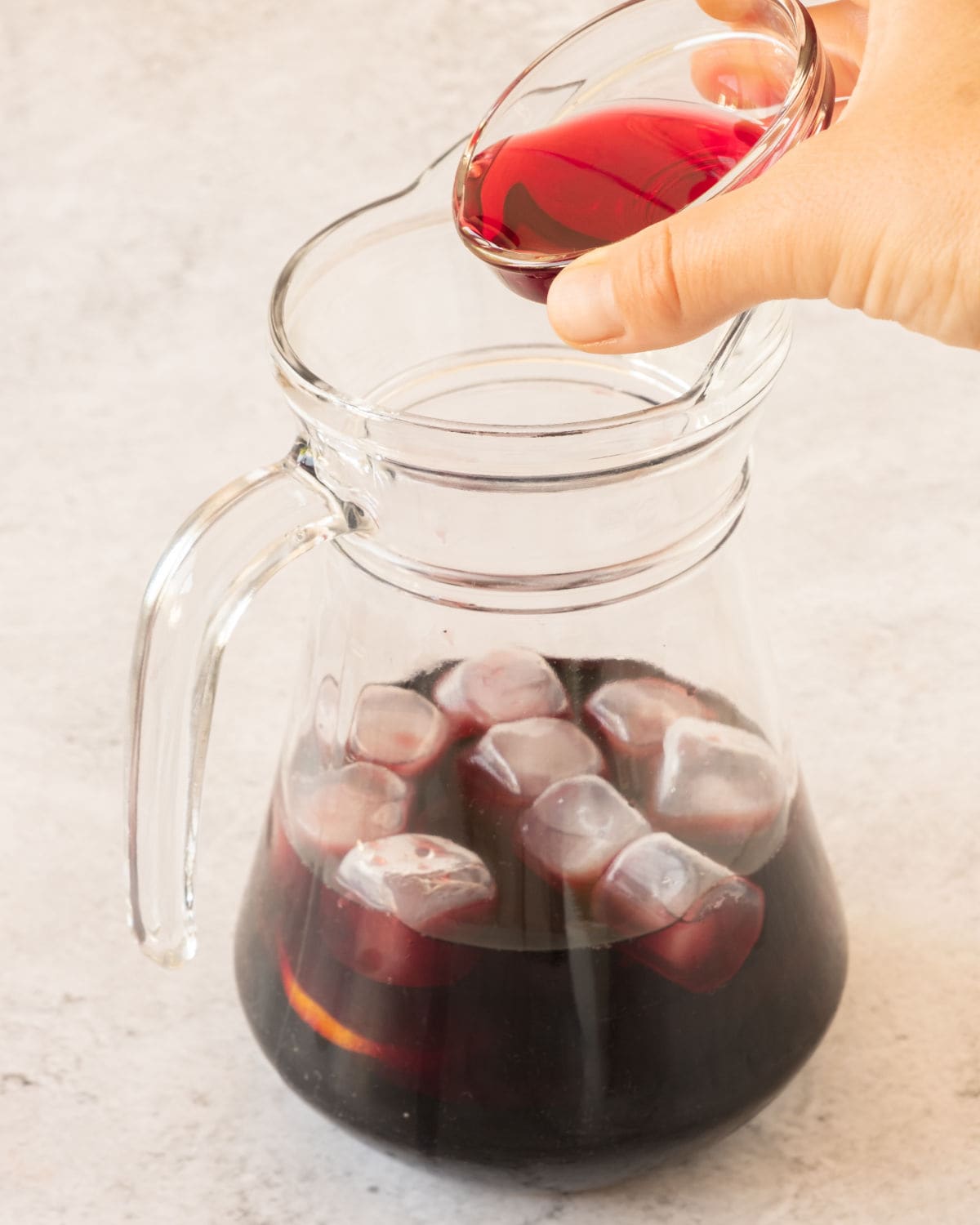 Add the citrus slices to the pitcher with the wine, juices and some ice. You should have some space left.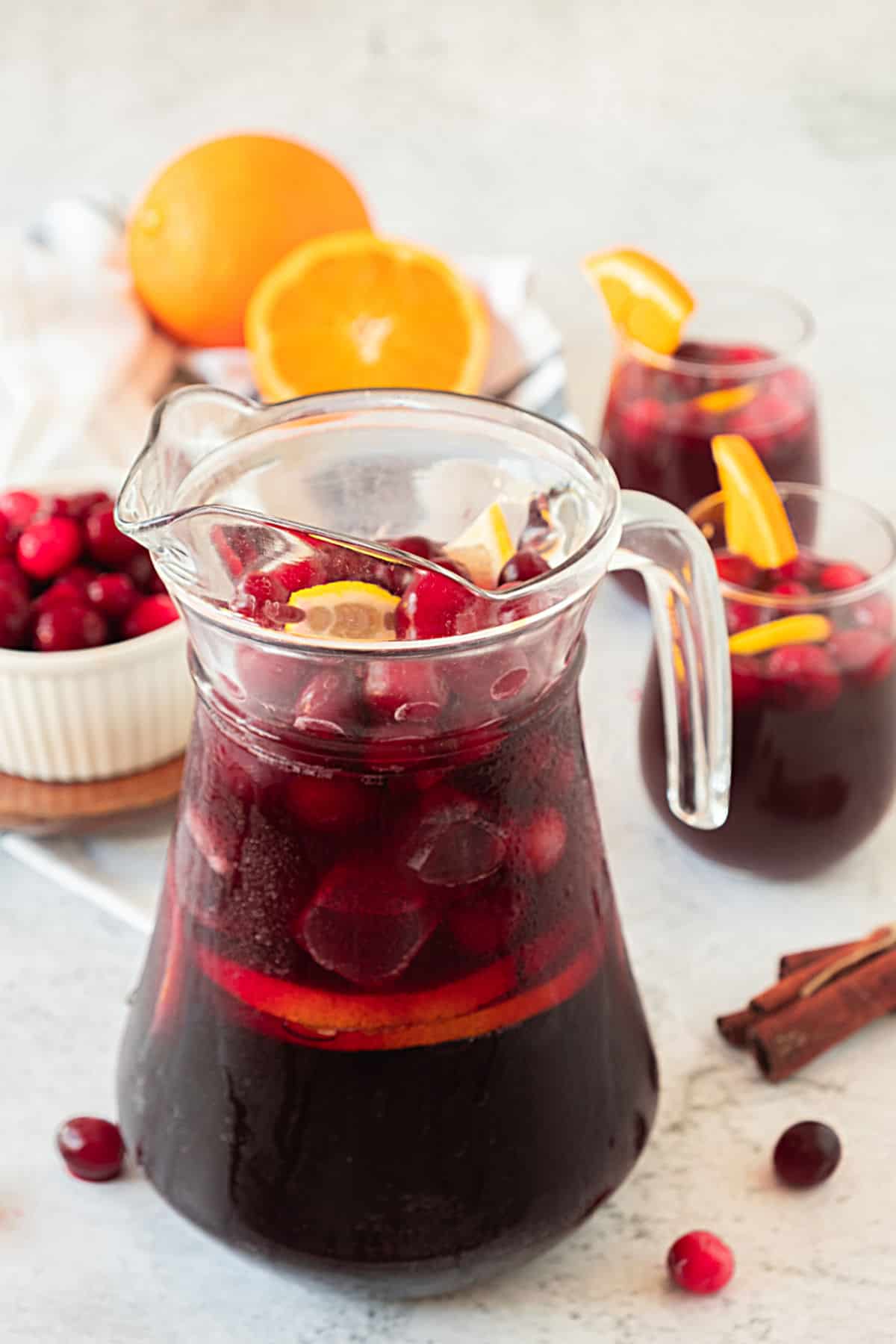 Fill the pitcher with the remaining ingredients and use the leftover fruit to serve. Or serve it without fruit. It's less common, but many people like it this way.
Vintage Kitchen tip: don't add too much fruit from the start, as you might run out of pitcher space for the wine after you add ice.
Can you use frozen fruit?
Yes! Though seasonal fresh fruit is recommended, frozen cranberries are perfect for this festive drink.
Serving cranberry sangria
Pitcher: it's the classic presentation for casual gatherings.
Glasses: pass trays of individual drinks for a more formal gathering or cocktail party.
Serving a larger crowd: use a glass dispenser. Depending on the size of the container, you'll have to double or triple the recipe. Don't fill it less than half full. I like to start with ¾ filled and add more wine, syrup and fruit as the hours pass.
Garnishes: it can add a visual and aromatic touch to your drink. A sprig of fresh mint or cinnamon stick is a nice touch, especially if serving it for holiday gatherings. Add some additional fruit slices to the glass for an attractive presentation.
Storage
Without fruit: use a sieve to drain the liquid and pass it to a sealed jar or bottle. Refrigerate the sweet wine, but discard the fruit (or eat it). This is my first recommendation for storing it for a few days. Fruit ferments quickly, and there's a good chance the sangria was left outside or at room temperature before you store leftovers. So the fruit will already be heavily macerated.
With fruit: if you store it with fruit because you'll be drinking it again soon, smell and taste it before serving to ensure it's not fermented.
An airtight container, mason jar or bottle: they seal in the wine mixture and help preserve it.
---
Related recipes you might like:
---
Let me know in the comments below if you made this recipe and loved it and if you had issues so we can troubleshoot together. I love to hear what you think, always. Thanks for being here. It's much appreciated.
You might also consider subscribing to our FREE email series to Boost your Home Baking Skills! And our regular newsletter.
And let's connect via Facebook, Instagram, and Pinterest.
As an Amazon Associate, I earn from qualifying purchases. Please read my disclosure policy.
Print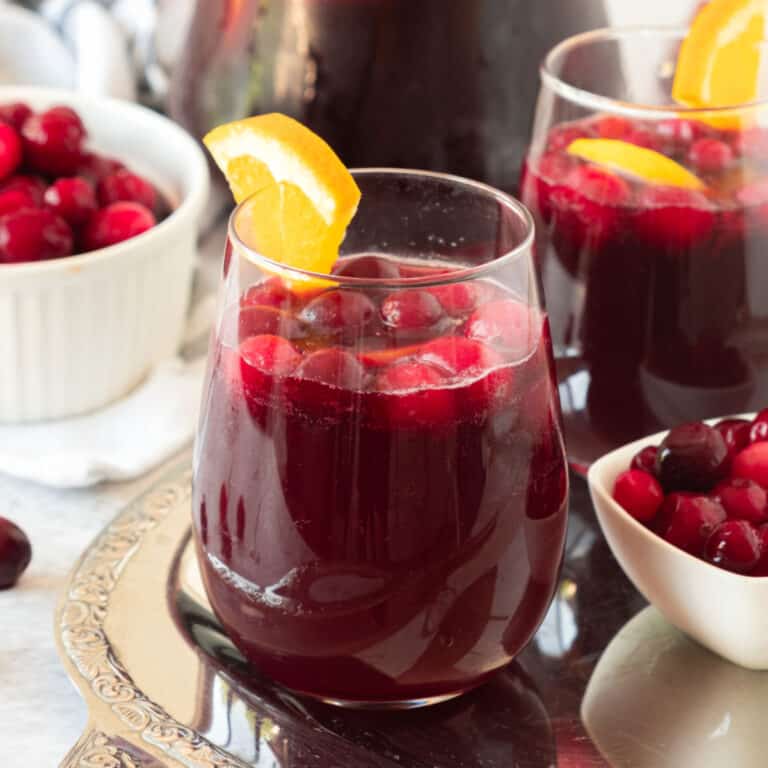 Cranberry Sangria (easy holiday drink)
This sparkling cranberry sangria takes 10 minutes to prepare and lasts hours. It can be served cold or warm, making it a good choice for holiday parties and Thanksgiving dinner table instead of a plain glass of wine.
Total Time:

25 minutes

Yield:

8 servings
1

bottle of red wine

¼

cup

cranberry juice

¼

cup

orange juice

½

cup

fresh or frozen cranberries + more for serving

⅓

cup

sugar (for syrup)

2

orange slices with skin + more for serving

2

lemon slices with skin

2 tablespoons

Triple sec or orange liqueur

Club soda
Ice cubes
Instructions
Don't add too much fruit from the start, as you might run out of pitcher space for the wine after you add ice.
Make the simple syrup: combine the sugar with ⅓ cup of water in a small saucepan. Stir to moisten and cook over medium heat, without stirring, until it breaks into a boil. Remove and let cool completely. Keep refrigerated in an airtight jar or bottle. It keeps indefinitely.
Cranberry syrup: optional instead of the one above. Infuse the simple syrup with some chopped cranberries added from the start. Let it all cool down before passing it through a sieve and using it.
For the sangria:
Have a large pitcher (8 cups or more) ready.
Add orange and lemon slices and some ice cubes.
Add the whole bottle of wine, cranberry and orange juices and cranberries. You can use them all whole or chop some in half. Stir a few times.

Add about ¼ cup of simple syrup and the triple sec or orange liqueur.
Add more ice and club soda to fill the pitcher.

Stir the sangria and check the sweetness. Add more syrup if needed.
Serve in glasses with small half or quarter orange slices, cranberries and ice.
Author:

Paula Montenegro

Prep Time:

15 minutes

Syrup process:

10 minutes

Category:

Drinks

Method:

Mixing

Cuisine:

International
Keywords: cranberry sangria, holiday sangria