If you never tried this flavor combination before you're in for a treat. Juicy peaches are mixed with dulce de leche and cream to create a delicious dessert. Sort of Eton mess meets a trifle type of recipe. It takes 10 minutes to put together if you have the components ready. The recipe includes variations to make it even easier!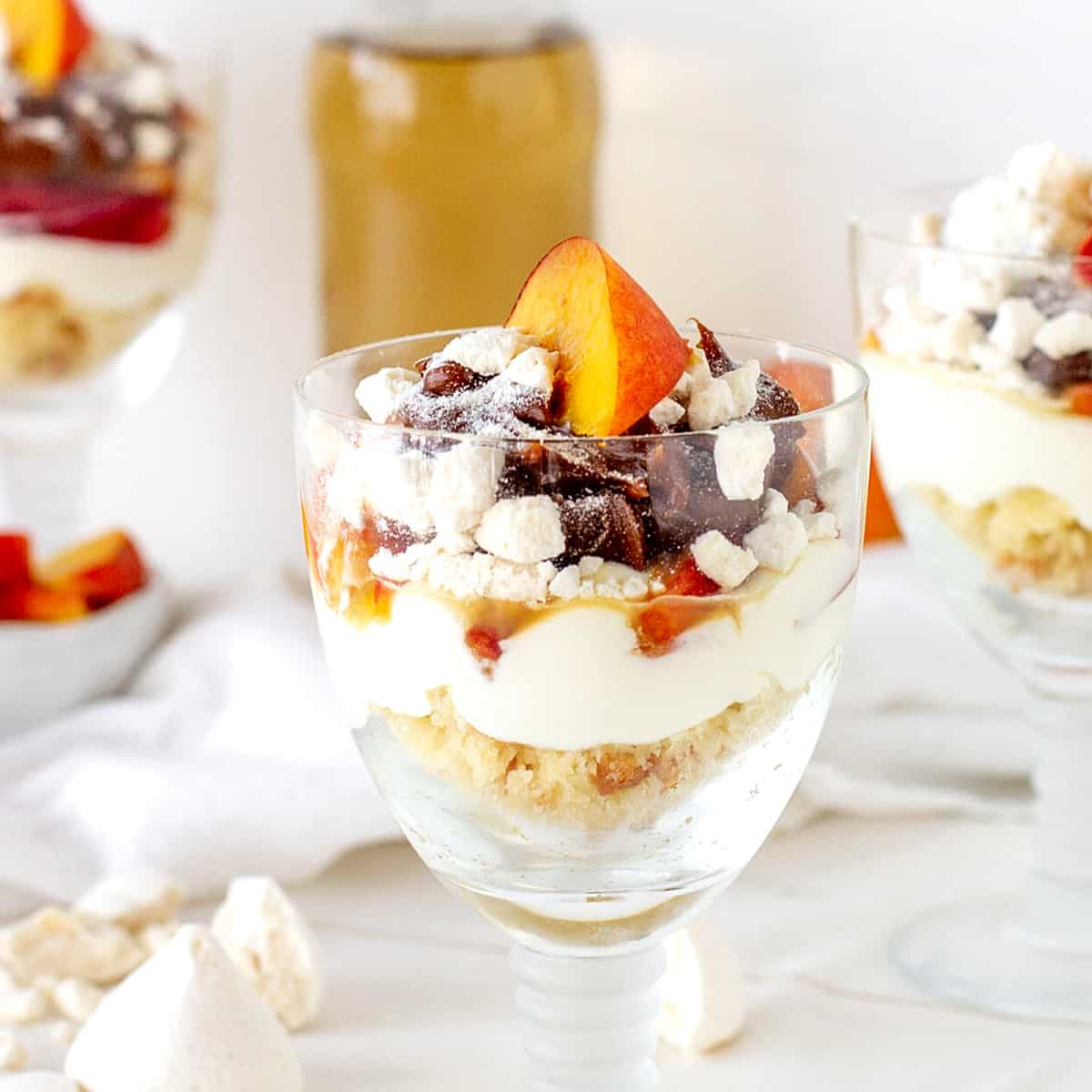 Originally posted in July 2013, as a guest post, it has been updated with images and text to serve you better. The recipe remains the same.
Do I have a treat for you today!
This is one of my favorite flavor combinations and a take on a very traditional dessert from Uruguay called Postre Chajá - in Spanish postre means dessert and Chajá is a bird with fluffy wings.
I deconstructed it and made this fabulous peach trifle with layers of cream, gooey dulce de leche, and crushed meringue cookies. Very easy to make during the summer.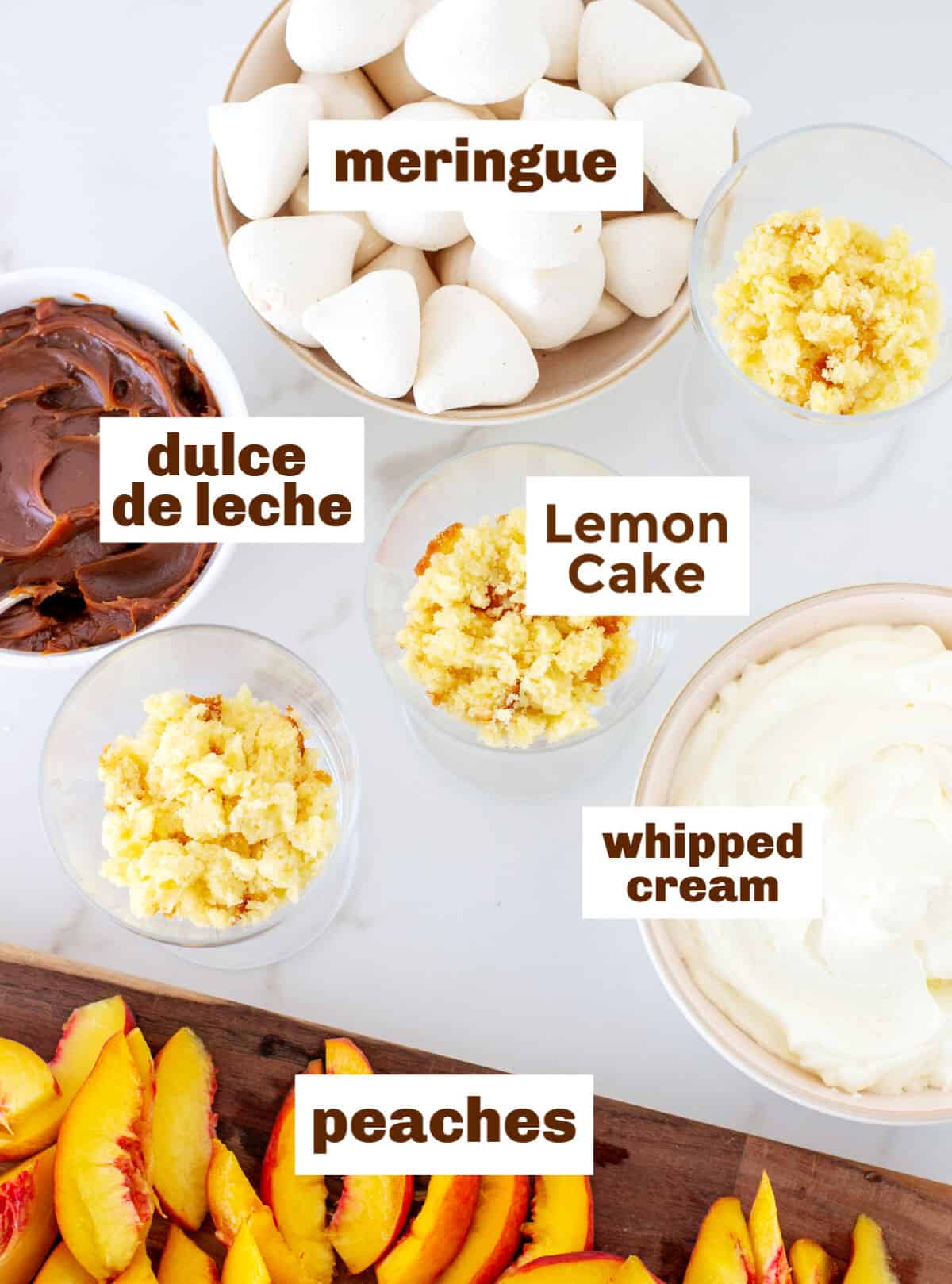 Ingredients
Cake: citrus cakes are a great companion for the rest of the ingredients. I like to use a simple lemon pound cake or my favorite lemon olive oil bundt cake. Another cake that I used is the olive oil cake from Food52 if you want to add some liquor and orange to the flavor mix.
Dulce de leche: it's a sweet milk jam (literal translation from Spanish) which I love and use a LOT. You can easily buy it online and the links are in the recipe card's Notes, at the end of the post). You can use a butterscotch or caramel sauce, they are not as firm, but they work well.
Meringue: these are the dry meringues that sometimes are called meringue cookies. You want to crumble them so the soft pavlova-style ones are not recommended.
Peaches: the original dessert was made with canned peaches and they work very well. I prefer to use fresh ones when in season, but you can make it year-round and use homemade peaches in syrup or store-bought canned ones.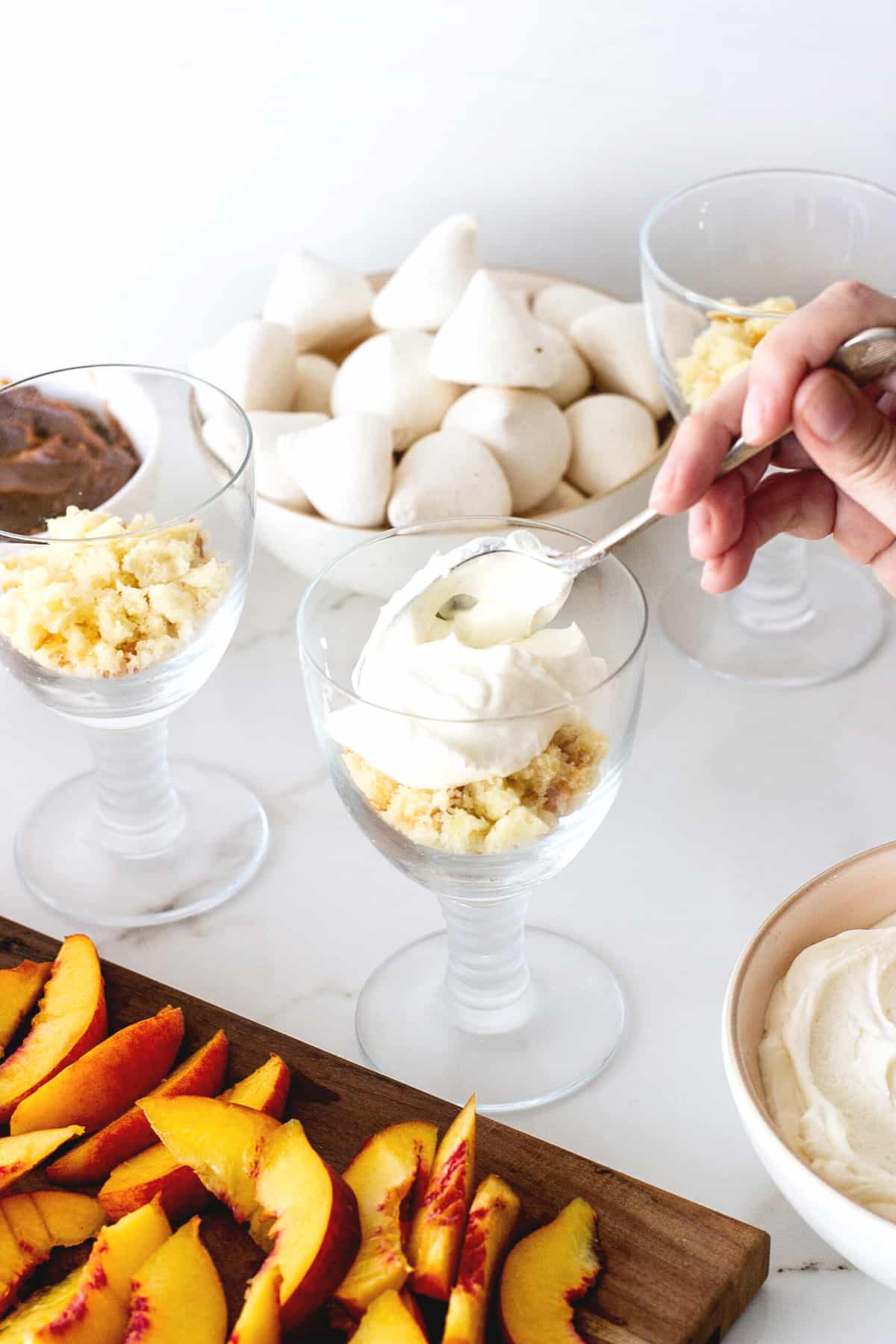 Whipped cream
Choose a whipping or double cream (sometimes called heavy I believe, depending on the country) that is fresh and good for whipping. I know that sounds obvious, but dairy products vary in the percentage of water content among other things. The more water the less they hold and the easier they curdle in my experience.
I never use light creams for this type of recipe because for me they don't have the right consistency or flavor. But if you like and are familiar with it, by all means, use it.
Sour cream or cream cheese: I always add a few tablespoons to the cream before whipping. They give it more structure and it holds better after whipped for a couple of days. But you can omit it.

Vintage Kitchen Tip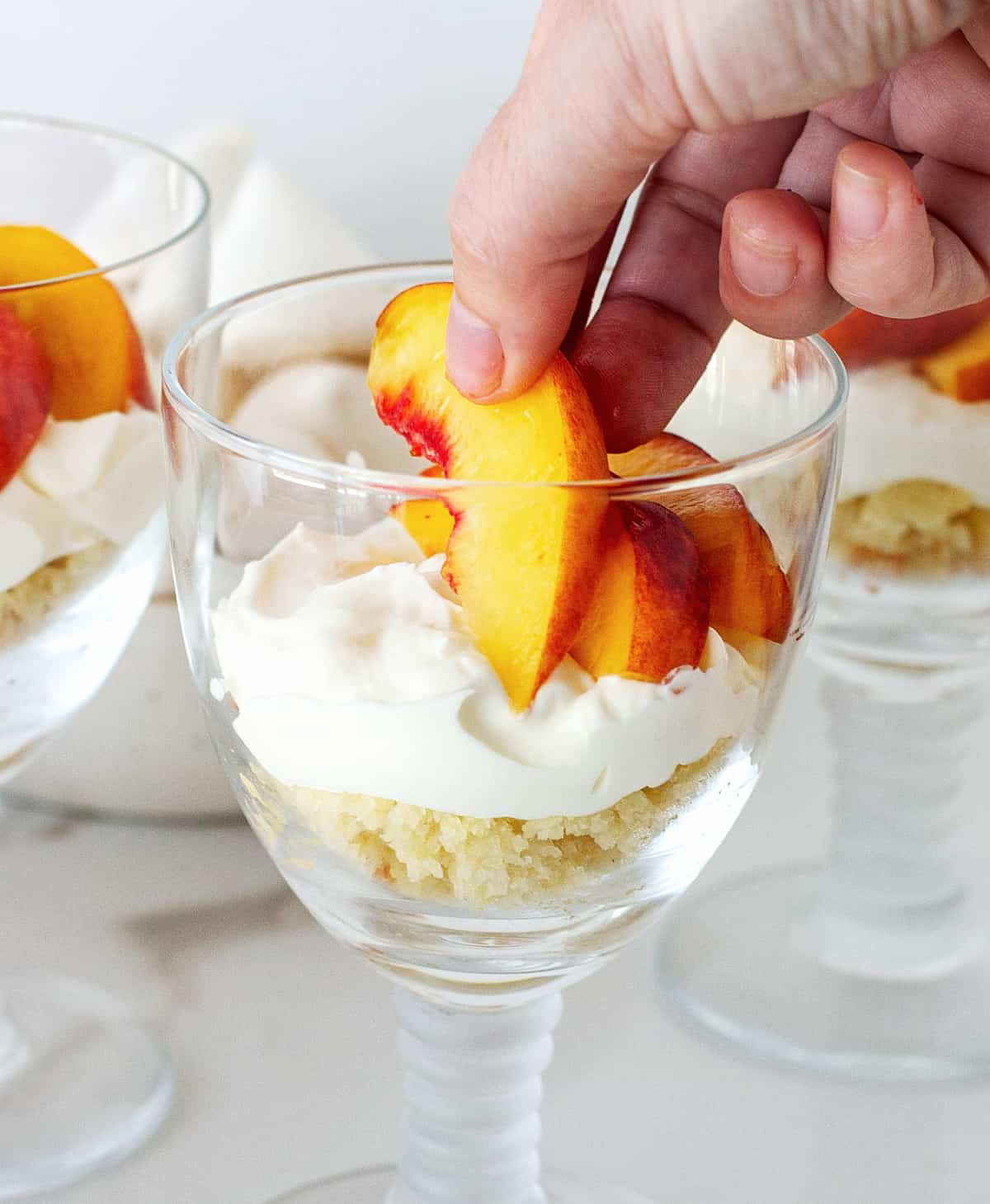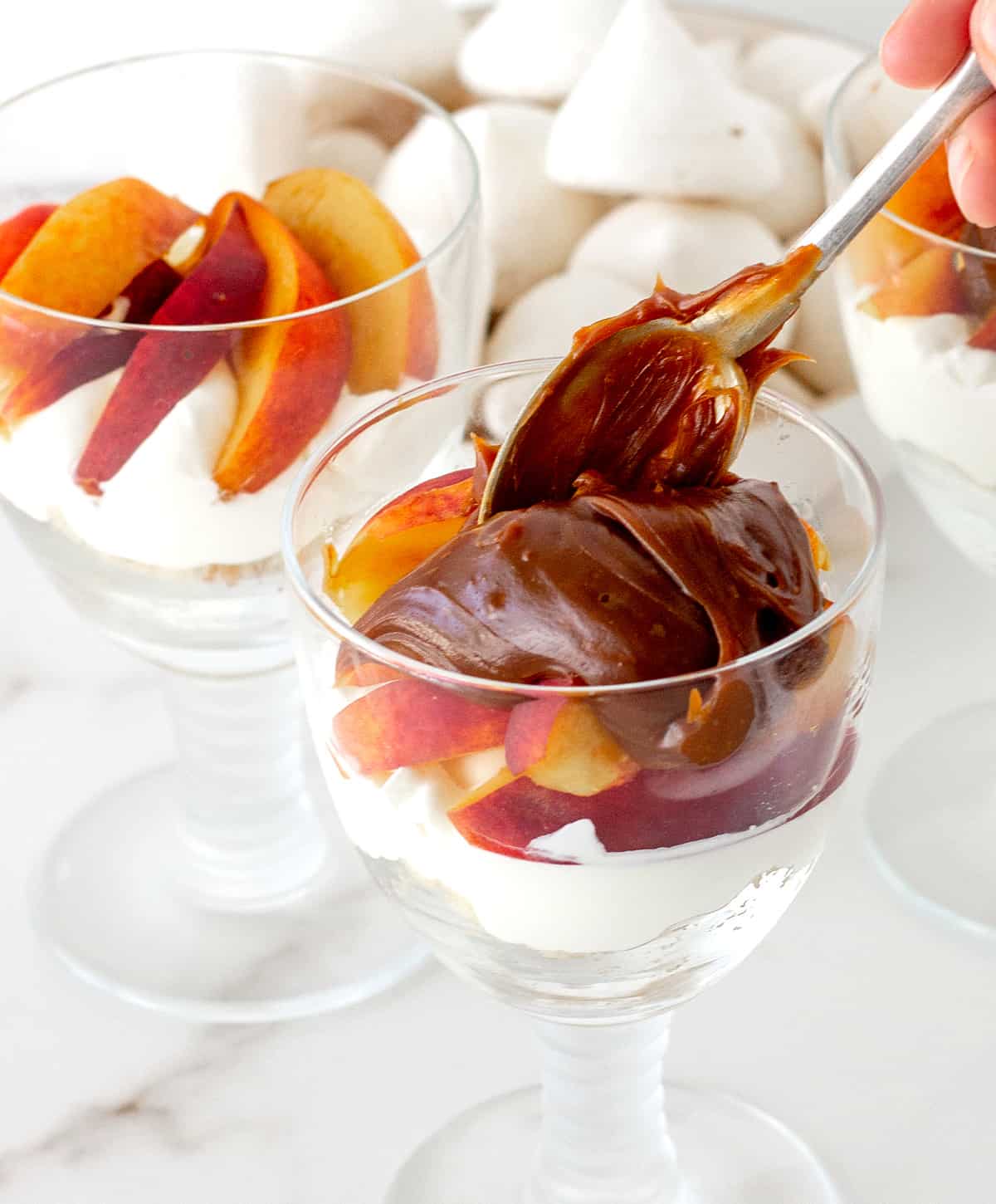 About dulce de leche
It is a milk jam. Milk and sugar are cooked until thick and dark. I use dulce de leche a lot because I'm from Argentina and it's our jam, literally, pun intended.
You can buy it online (see Notes in the recipe card below) or make your own dulce de leche. Spoiler alert: It takes some time but it's so worth it IMO.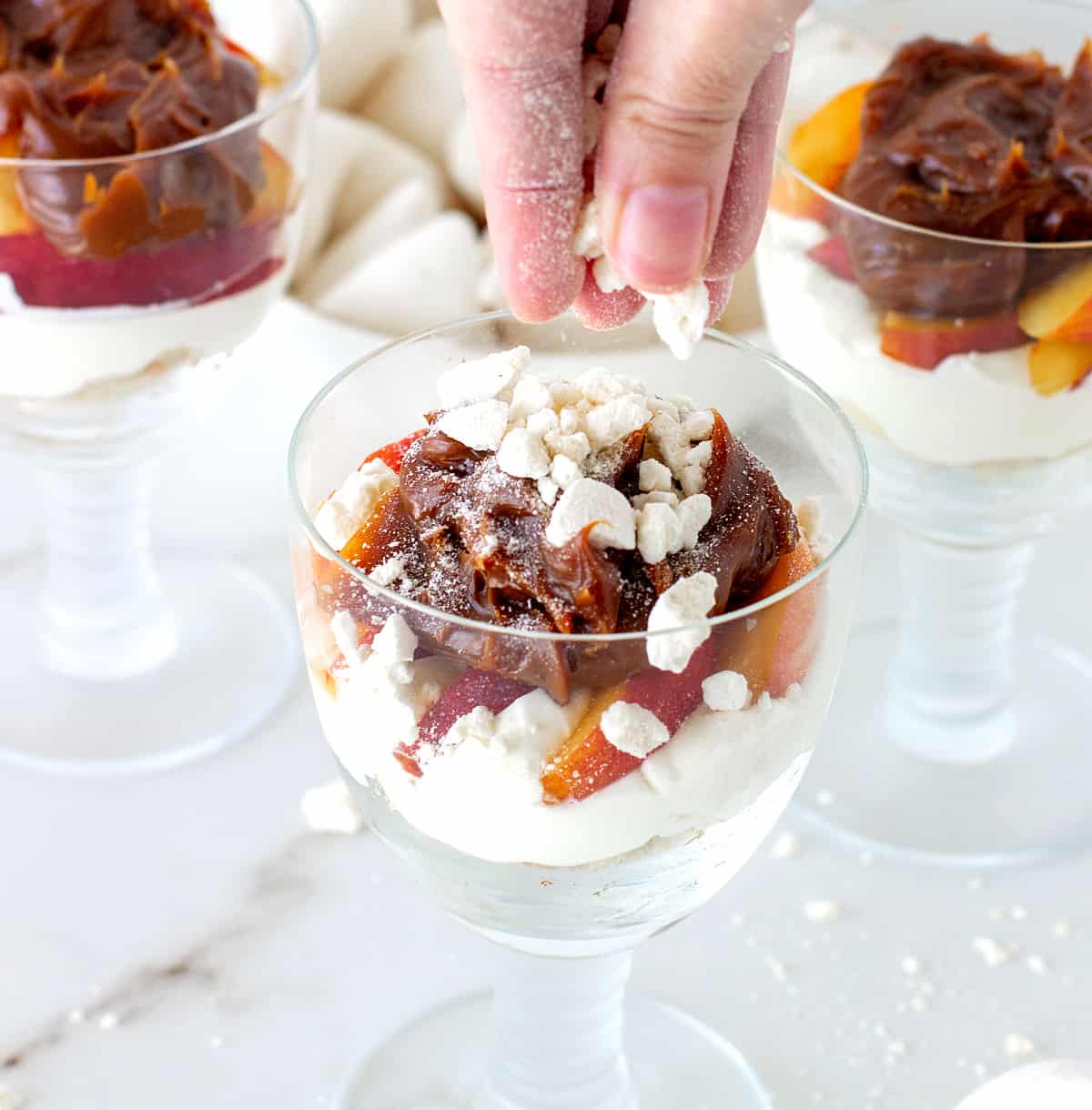 Top tips
Make-ahead: I like to make it 1 hour (or so) so the cake has time to soak the juices and the peaches to soften because I like them better that way.
Customize: depending on your taste, use more or less cream, or dulce de leche, or even another fruit. This is fantastic also with fresh strawberries.
Custard: add a layer of vanilla custard instead of, or in addition to, the whipped cream.
Family-style: make it in a dish or bowl and serve it directly from it. It's great for barbecues and gatherings, even if it's only your family because of the current situation.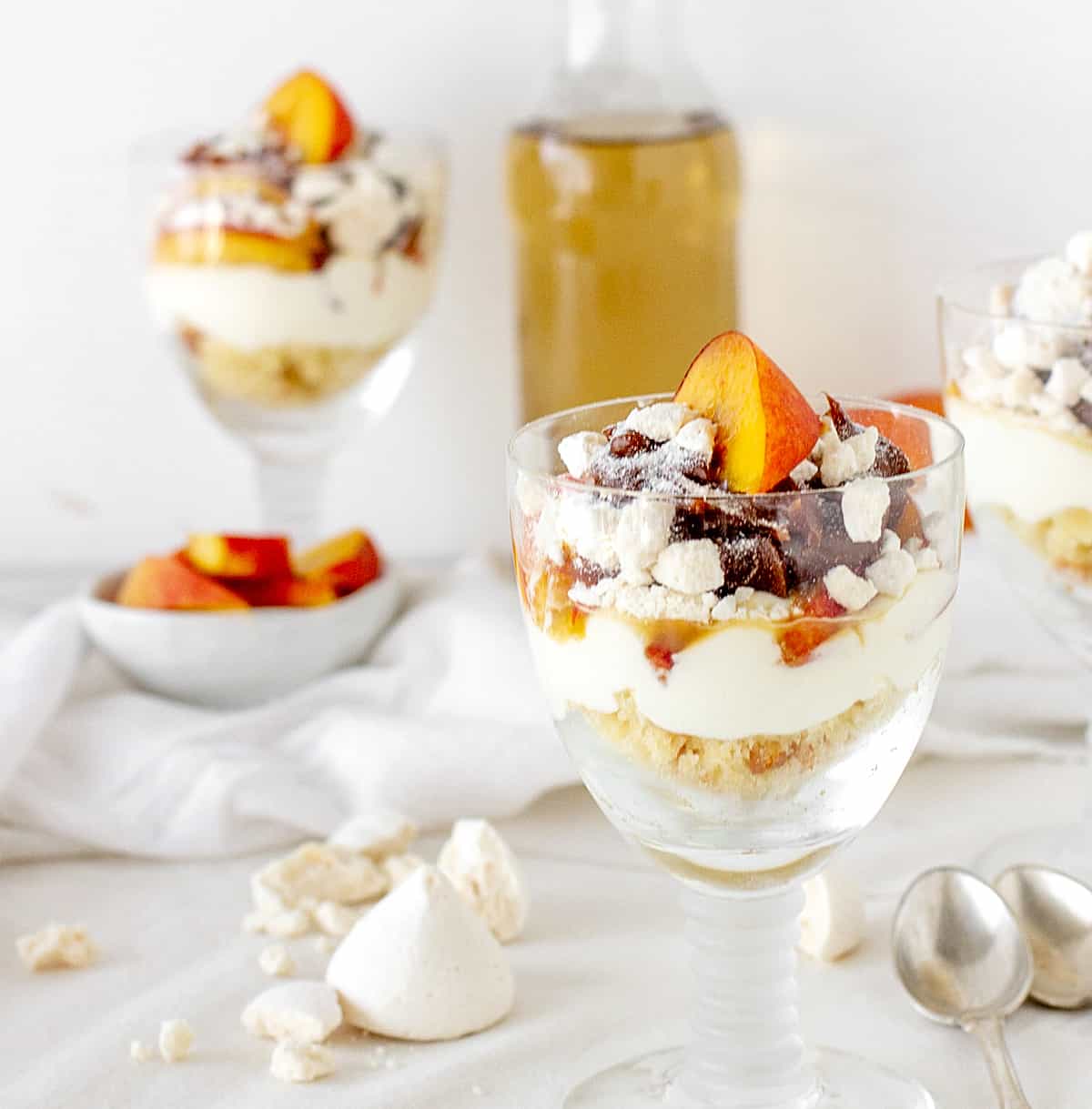 Other dessert recipes you might like:
Strawberry Cream Trifle
Lemon Icebox Dessert
Brown Sugar Strawberry Crisp
Old-fashioned Peach Cobbler
Cherry Almond Crisp
Let me know if you make this recipe! I'd love to hear what you think about it. Thank you for being here, I appreciate it! Let's connect via Facebook, Instagram, and Pinterest.
If you like the recipes in this blog, consider subscribing and getting all new posts by email. As a thank you, we'll also send you a FREE recipe e-book and our Guide to Freezer Baking!
Print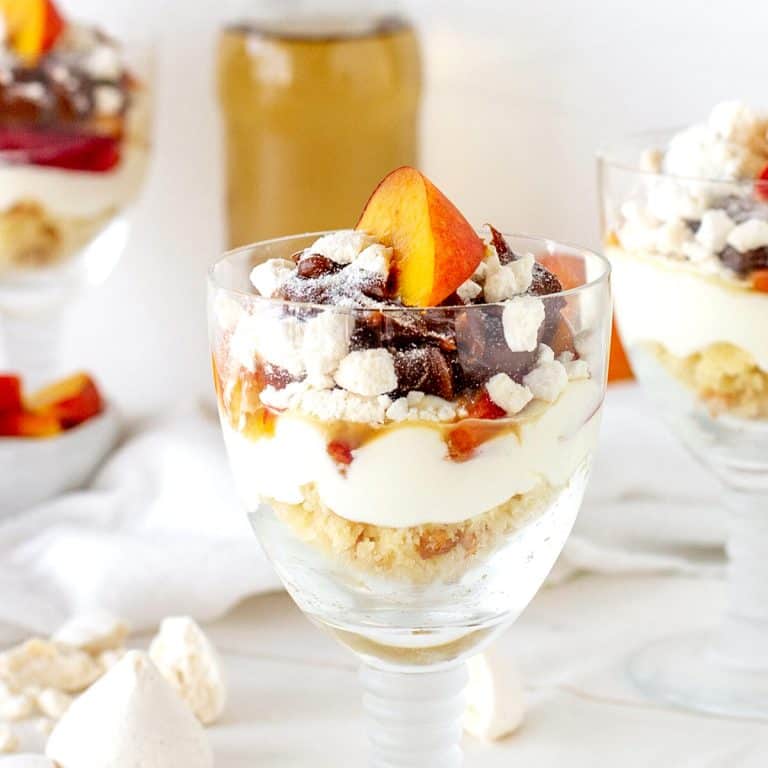 Peaches and Cream Trifle
Juicy peaches are mixed with dulce de leche and cream to create a super easy and incredibly delicious dessert. Sort of Eton mess meets a trifle type of recipe. It takes minutes to put together if you have the components ready.
***The quantities are estimative, as with most trifle recipes. That is because it's a matter of personal taste if you like more or less fruit, more or less whipped cream, or even more layers.
Total Time:

20

Yield:

1 serving
Instructions
In a glass cup, jar or bowl of your choice start by putting the cake covering the bottom. I tear it up with my hands.
Add the whipped cream.
Arrange half the peach slices.
Top them with the dulce de leche and the rest of the peach slices.
Crush the meringue cookies on top.
I like to put it for an hour or so in the refrigerator before serving to allow the juices to soak the cake and flavors to combine,
Serve cold.
Notes
Whipped cream: use 1 tablespoon of powdered sugar per ½ cup of cold whipping cream and beat until medium-soft peaks form (it makes 2 servings). Or use the recipe in the Black Forest Tarts which is firmer because it has some sour cream.
Quantities: as explained in the description, the quantities are estimative. Take the recipe as a reference and add more or less of what you love or don't love. You can't really go wrong customizing a trifle. If you want to make more layers, halve the ingredients and double the layers.
Cake: use a homemade or store-bought lemon cake. Or any cake that is sturdy. Vanilla flavored is also good, but missing that tang that lemon gives this dessert.
Dulce de leche: you can buy dulce de leche online. Or make your own dulce de leche. Or use caramel instead. It's more liquid so it will soak the dessert more, but the flavor will still be very good.
Author:

Paula Montenegro

Prep Time:

20

Category:

Desserts

Method:

Layering

Cuisine:

International