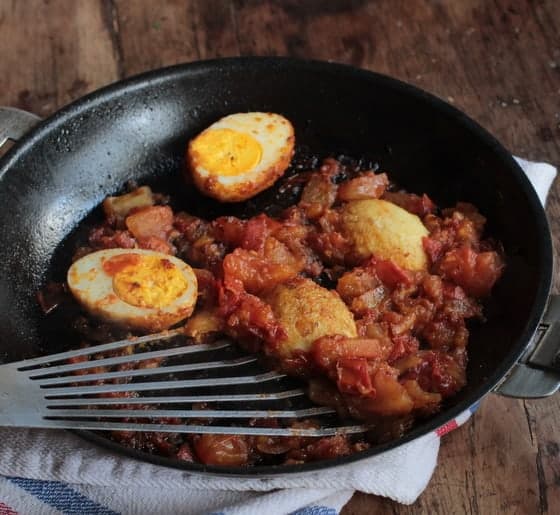 The weather is always a safe topic of conversation, an opener, whether you know the other person or not. Or persons. Or virtual readers. You.
Brunch recipes are a safe topic too when it comes to food. And eggs. And something called egg curry that involves homemade harissa and hard boiled eggs that are fried, does the job pretty nicely, don't you think?
Even though it doesn't have bacon. You can forgive me for that. But it does have fried hard boiled eggs guys. First hard boiled, then fried. You didn't see that one coming.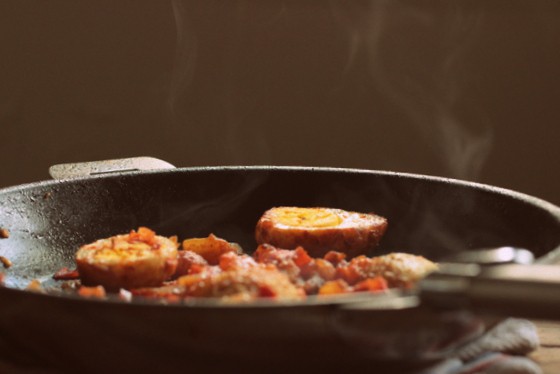 Breakfast
all day long. Or brunch in my case, since my breakfast is coffee. These
days, when it´s finally acceptable to eat breakfast at night, when you can go
into a coffee shop or bakery and have a cafe latte with croissants instead of
dinner, and believe me when I say a lot of people do, dishes with eggs have to
get creative.
How do you like your eggs? For me it's scrambled or poached, the latter over hot french fries or rice with butter, a meal from my childhood. Or the sophisticated version with creamy mushrooms from dorie.
This one today is probably a new idea. I saw it in
David's blog
and couldn't resist it. Maybe I was hungry? Or wanted to use that homemade harissa I had in the fridge? He posted a beef curry with a pic of
the book
opened in this recipe.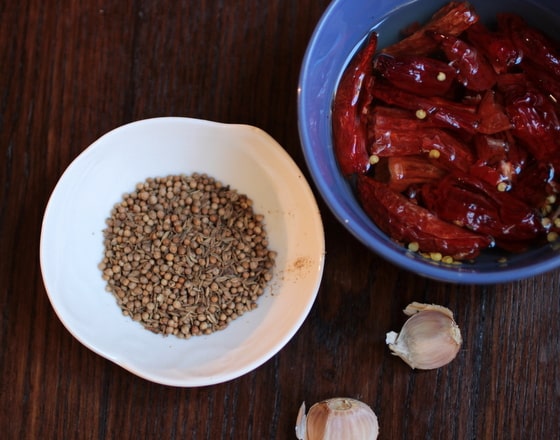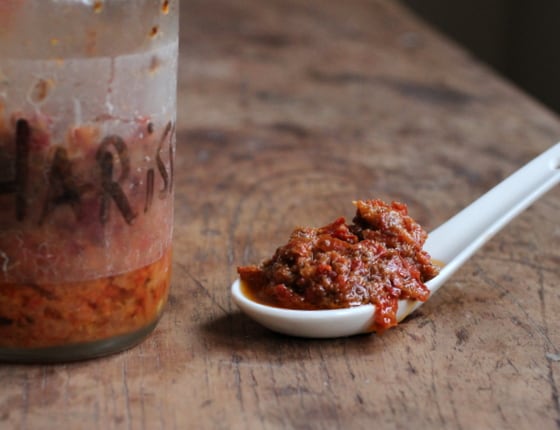 The picture
tempted me, and though I don't have the book he mentions, the recipe was
online. I substituted harissa for all the red chiles, cayenne and
garlic it called for. After all, what is harissa but a blitz of dried chiles
and garlic mostly, right? Right.
The fried hard boiled eggs are a fun thing to do, and they come together in no time, all blistered and golden.
The flavor is not very different, but there's a barely there crunch. And the spicy tomato mix is perfect.
Sort of huevos rancheros if you really need a comparison. Which you probably don't, but I always look for comparisons. Which makes me very annoying. I know. People around me made it clear through the years.
But when it comes to food, comparisons are welcome. To get you in the mood. Food comparisons are good. I'm sticking to that idea.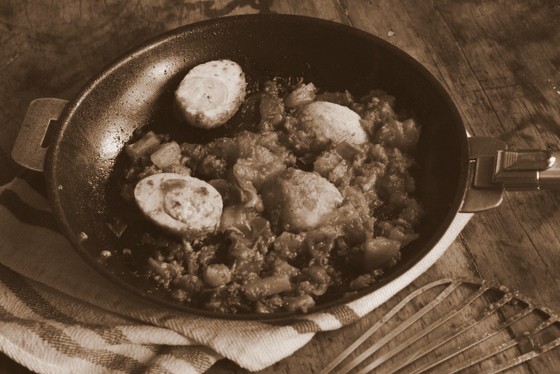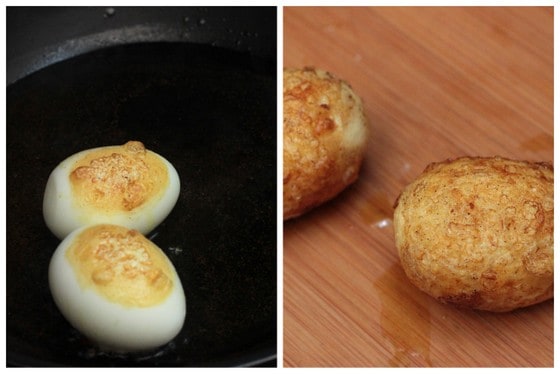 This would be a great brunch recipe to use those leftover hard boiled eggs, from the last time you took eggs to a picnic and returned home with a few, or miscalculated the amount of deviled eggs you wanted to make. I should probably remind you of it around easter time next year. Fat chance I will remember.
So my advice is to make and enjoy it now. Just because it's a great, tasty, spicy, brunch dish.
I had just made this cheddar scallion bread and it was fantastic with the egg curry.
There's no time like the present.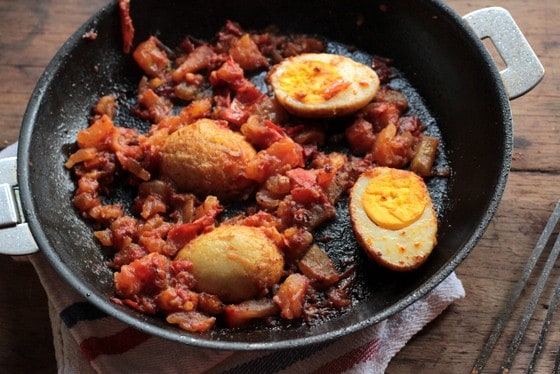 PS: Leftovers are great over rice.
Print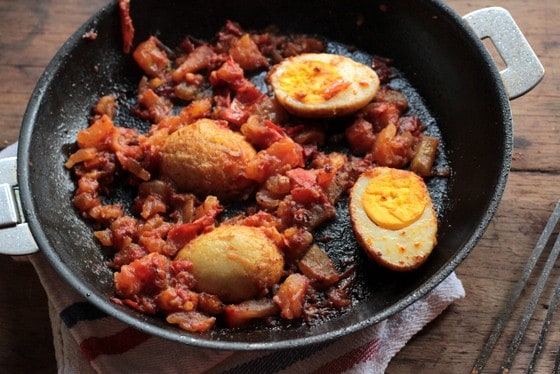 GOLDEN EGG CURRY WITH HOMEMADE HARISSA
For the harissa:
2 oz

. dried red chiles

4

garlic cloves (peeled)

1

Tbs coriander seeds

1

Tbs cumin seeds

1 teaspoon

salt
Juice of

½

lemon

¼ cup

olive oil
For the egg curry:
4

eggs (hard boiled)

4

Tbs olive oil

1

Tbs sesame oil

2

small shallots (minced)

2

Tbs harissa

2

medium tomatoes

1 teaspoon

worcestershire sauce

1 teaspoon

ground turmeric
Salt to taste
Bread (to serve)
Instructions
For the harissa:
In boiling water, soak dried red chiles until soft, about 1 hour. Chop coarsely.
In a clean skillet (I use my crepe skillet), heat coriander and cumin seeds until fragrant, about 1 or 2 minutes, stirring.
Careful not to burn. Transfer to mortar and ground with the pestle. Or use a nut or coffee grinder.
Put soaked chiles, seeds, garlic and salt in a food processor.
Process until it begins to form a paste, while you add the olive oil in a thin stream. You will probably have to use a spatula a few times to scrape down the sides of the processor bowl, before you have a paste. If necessary add a few more tablespoons of olive oil.
Remove from the processor, add the lemon juice and transfer to a jar with lid. Keep refrigerated.
For egg curry:
In a pan or skillet, heat both oils. Add peeled hard boiled eggs and brown on all sides. Use tongs to aid you in this. Transfer to plate and reserve.
To the same skillet, add shallots and harissa.
Season with salt to taste, and cook for a minute or two, until softened.
Add tomatoes and cook until they start to break down.
Add worcestershire sauce and turmeric, and cook until it´s the consistency of a chunky sauce.
Cut eggs in half and add to the skillet.
Cook for a minute or two, and add a few Tbs of water if needed to prevent tomato mixture from sticking to the bottom.
Serve immediately with crusty bread.