This classic side dish combines crunchy green beans, creamy white sauce, cheese, and crispy onions. It's quick to make, can be prepared ahead of time, and is sure to please any crowd. Get ready for a flavorful and effortless addition to your holiday table!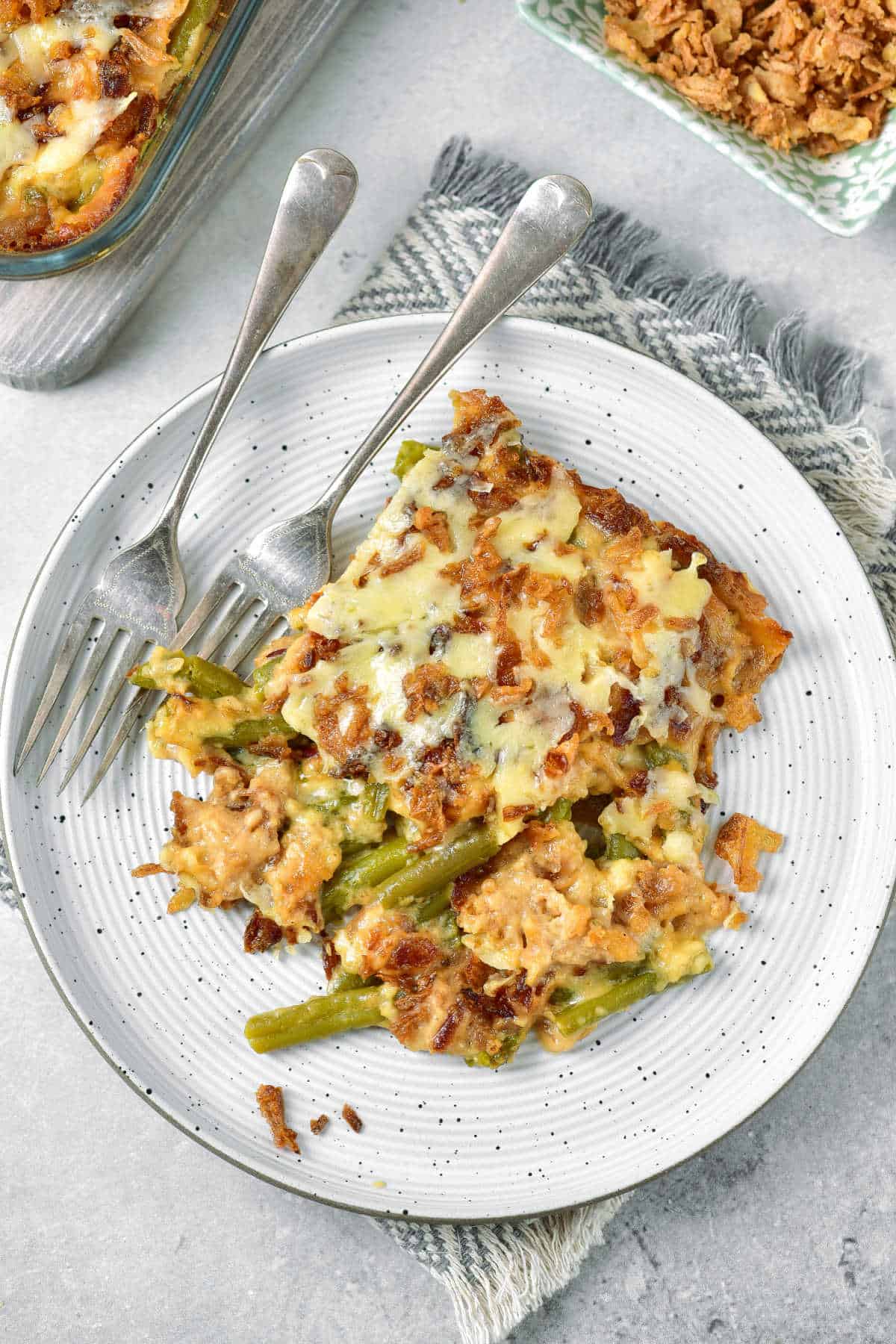 No Thanksgiving table is complete without some type of green bean side dish.
It has a nostalgic and comforting quality, making it a perfect addition to holiday tables and cozy family gatherings. Serve it with other classics like candied sweet potatoes, balsamic brussels sprouts and cornbread.
We love this simple casserole, a little more homemade than the ones made with canned soup. But not so much as to make your own crispy onions. Though you can.
Why make this recipe
Classic and crowd-pleasing: this is a beloved classic that has stood the test of time.
Effortless: it's quick to make, requiring minimal prep and ingredients. The straightforward instructions are simple for beginner cooks to whip up this delicious side dish.
Make ahead: it can be prepared ahead of time, allowing you to save valuable time on the day of your event.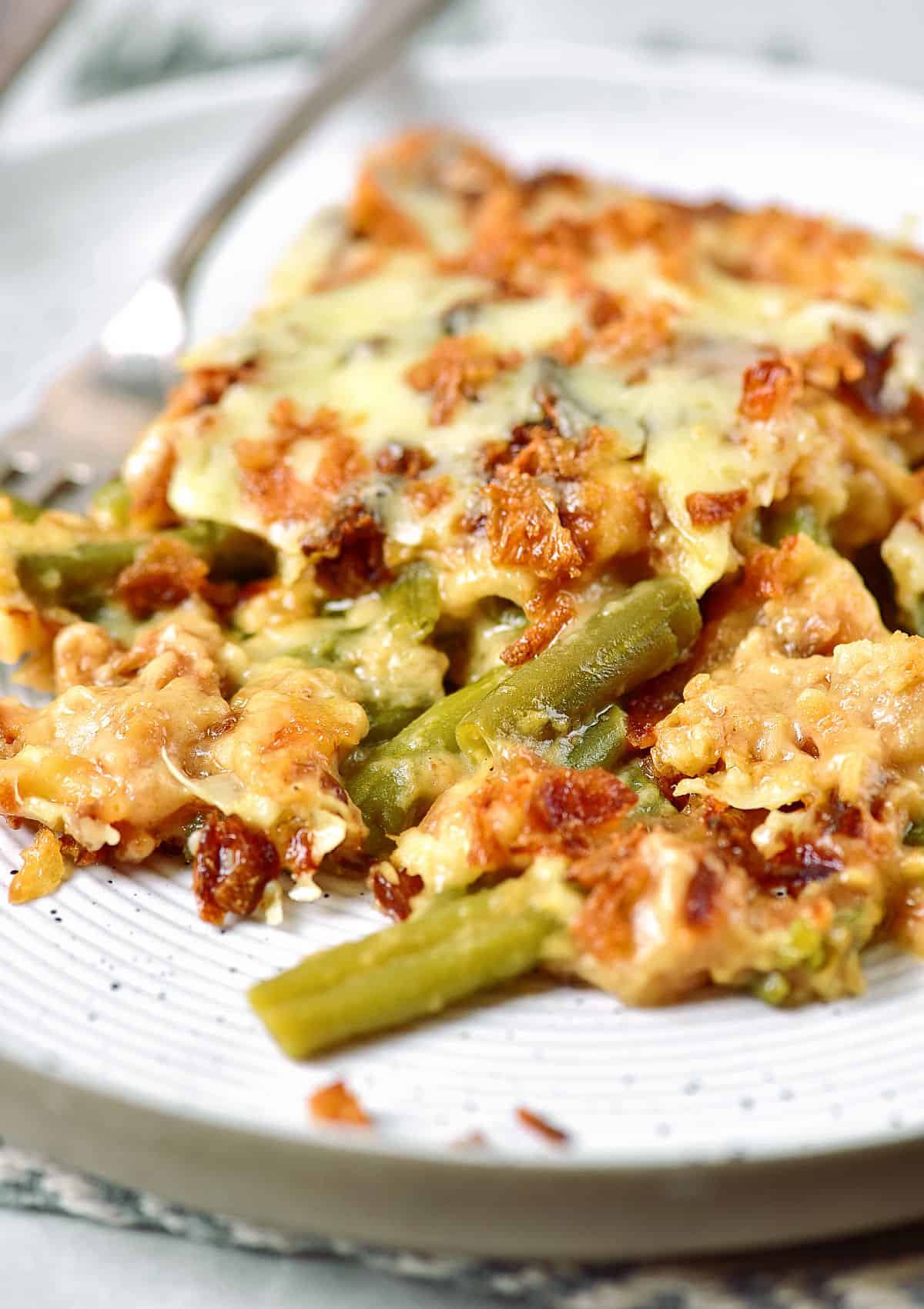 Ingredient list
Green beans: they will be cooked if fresh. If using frozen beans, use them thawed.
Unsalted butter.
All-purpose flour.
Cheddar cheese.
Crispy onions: we use homemade, but you can use store-bought crispy onions.
Soy sauce.
Salt.
Black pepper.
Nutmeg.
Garlic powder.
See the recipe card towards the end of this post for quantities.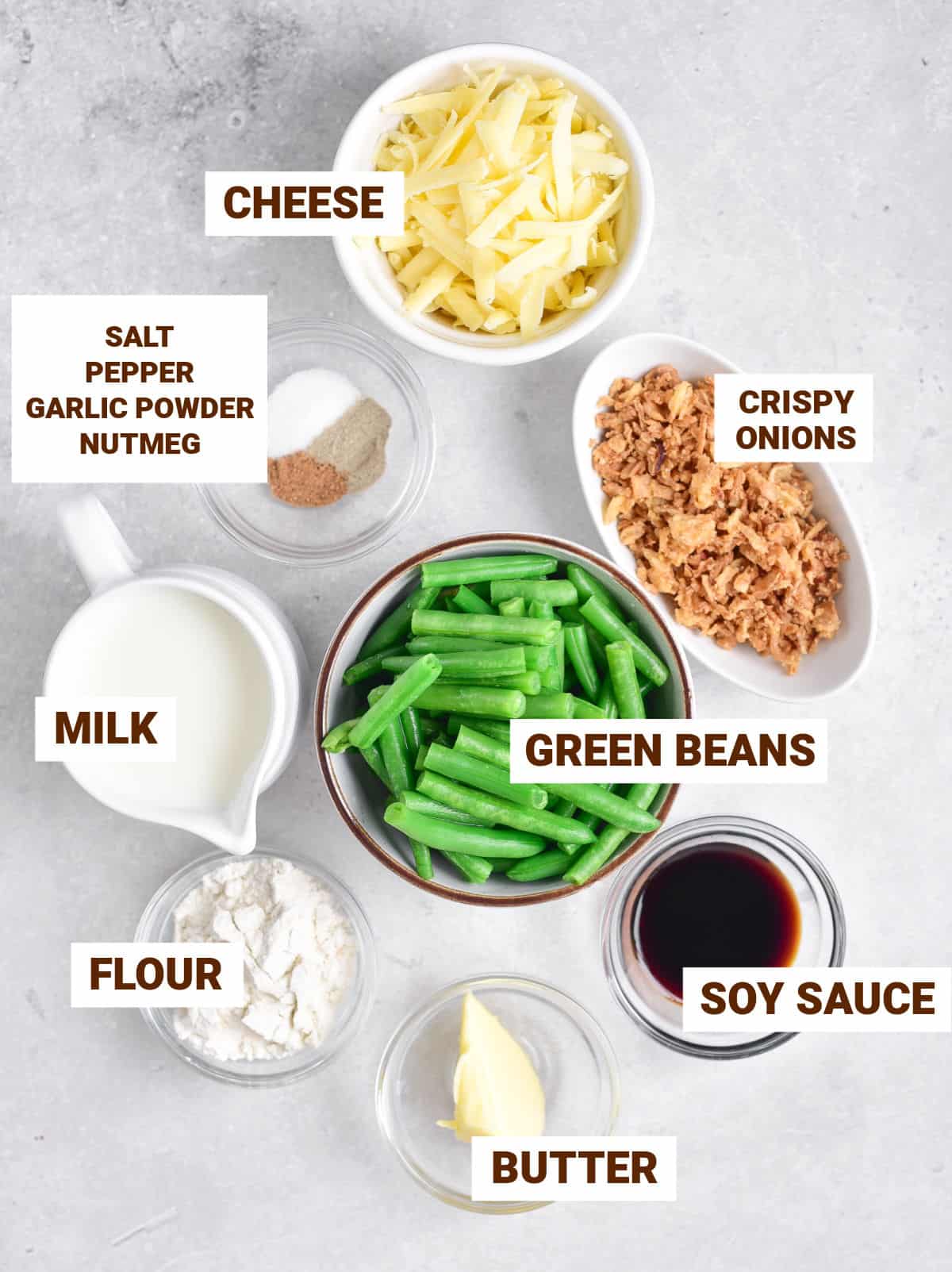 Variations & substitutions
Spicy: add chili pepper flakes, chili powder or smoked paprika to the white sauce.
Creamier and richer: use half the amount of cream and substitute the rest for cream.
Change the cheese: white cheddar is a classic, but other semi-hard cheeses work, like Fontina or Swiss.
Mushrooms: add sauteed mushrooms to the green beans before mixing the white sauce.
Can I use frozen green beans instead of fresh ones?
If you're using frozen green beans, thaw them first. This simple substitution will save you time and still deliver your casserole's desired crunch and flavor.
Can I use a different type of cheese instead of cheddar?
While cheddar is the classic choice, experiment with other semi-hard cheeses like Fontina and Swiss. Each cheese will bring its unique flavor profile and melt beautifully, adding extra richness to your green bean casserole.
Can I add mushrooms to the recipe?
Since this recipe doesn't use the cream of mushroom soup, add sautéed mushrooms, cooked in a little butter or oil until they're nicely browned, then mix them with the green beans before adding the white sauce.
Can I prepare this dish in advance?
Green bean casserole is a fantastic make-ahead option. You can assemble it ahead of time and refrigerate it until baking. When it's time to serve, pop it in a preheated oven and bake until golden. It's convenient for busy cooks who want to enjoy a stress-free holiday meal.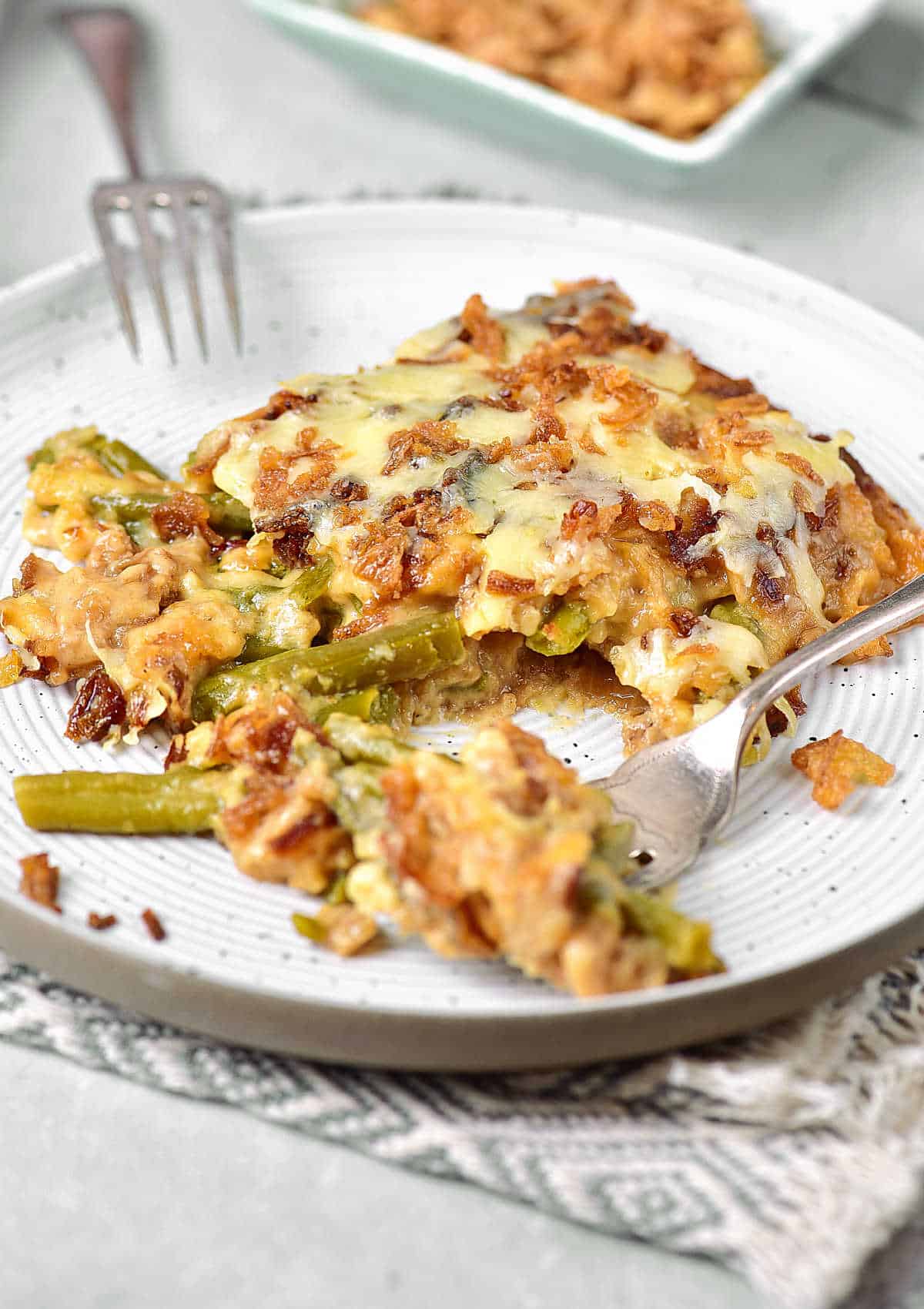 Kitchen notes
Organization: read the recipe first and ensure you have ingredients at the correct temperature, equipment, and enough workspace. This will make the process so much easier.
Storage: keep covered with plastic wrap in the refrigerator for a week.
To make a lighter version: use reduced-fat cheese and substitute part or all of the butter with a healthier option like olive oil or vegetable broth. Opt for low-fat milk or a combination of milk and unsweetened almond milk to achieve a creamy texture without the extra fat.
Topping: while crispy onions are a traditional topping for green bean casserole, consider a breadcrumb topping of panko crumbs mixed with melted butter, crushed crackers, or toasted almond slices for extra texture and flavor.
How to make green bean casserole
Cooked beans: use fresh green beans that are cooked until crisp or al dente as they will continue baking in the oven. If using frozen, let them thaw. You can use canned green beans, though it would be my last option.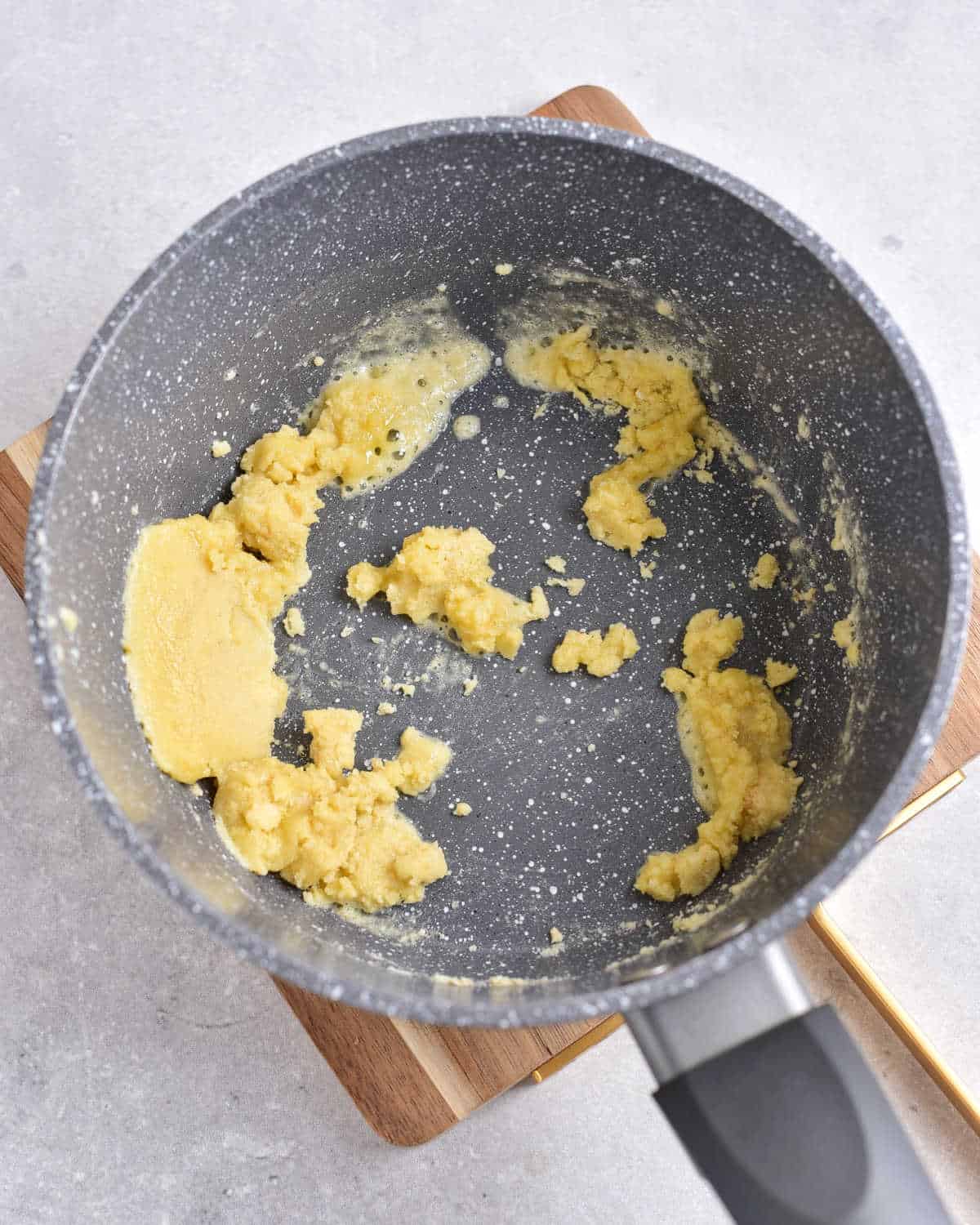 Make the white sauce: the first step is the roux (a French word for butter and flour cooked together). When the milk is added, it will help to create a thick but fluid mixture.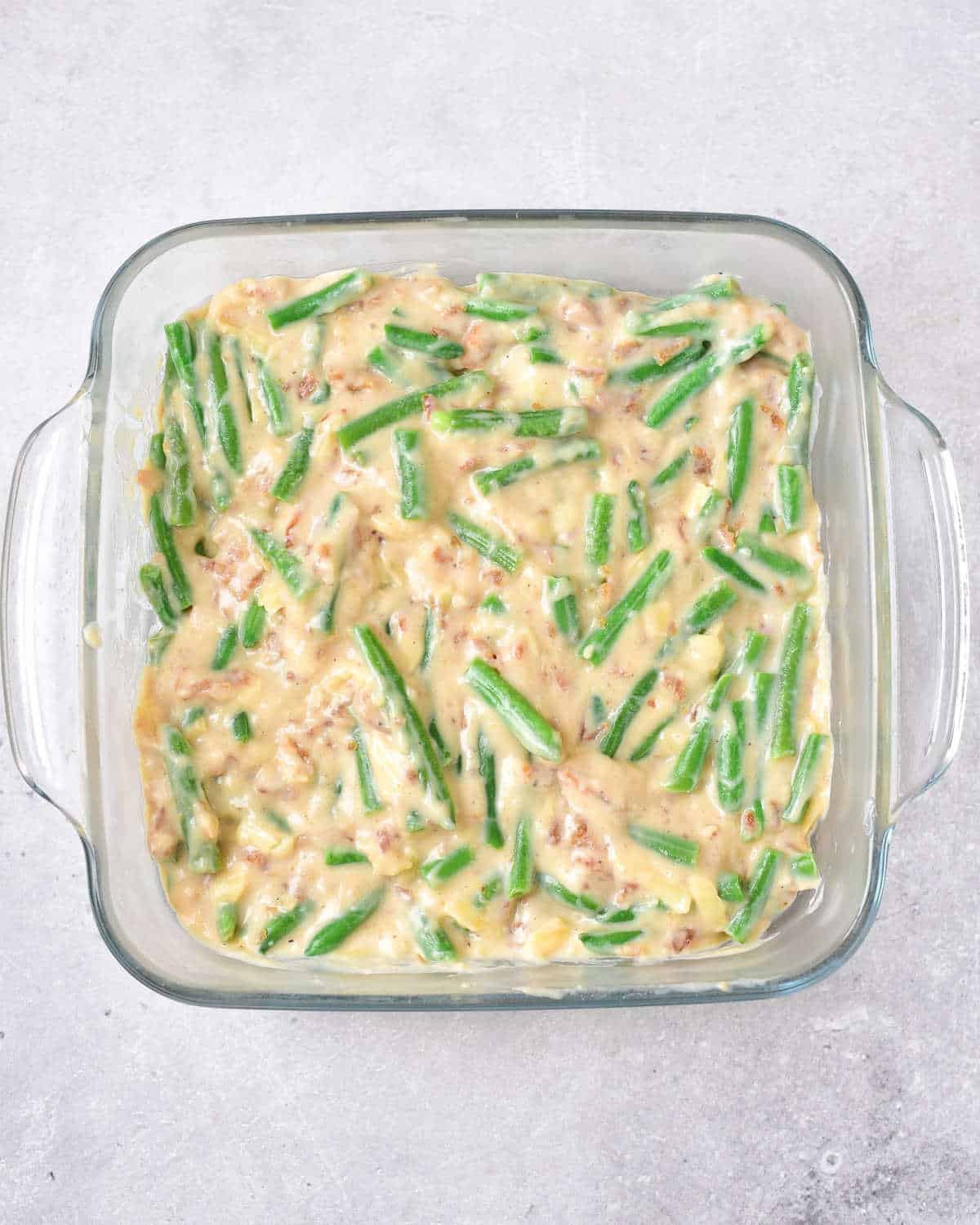 Assembling the casserole: the green beans are mixed with the white sauce and topped with cheese.
How to make crispy onions
Cutting the onions: any way you like it is fine. Here is a tutorial for cutting onions. I use the second option and sometimes cut the slices in half.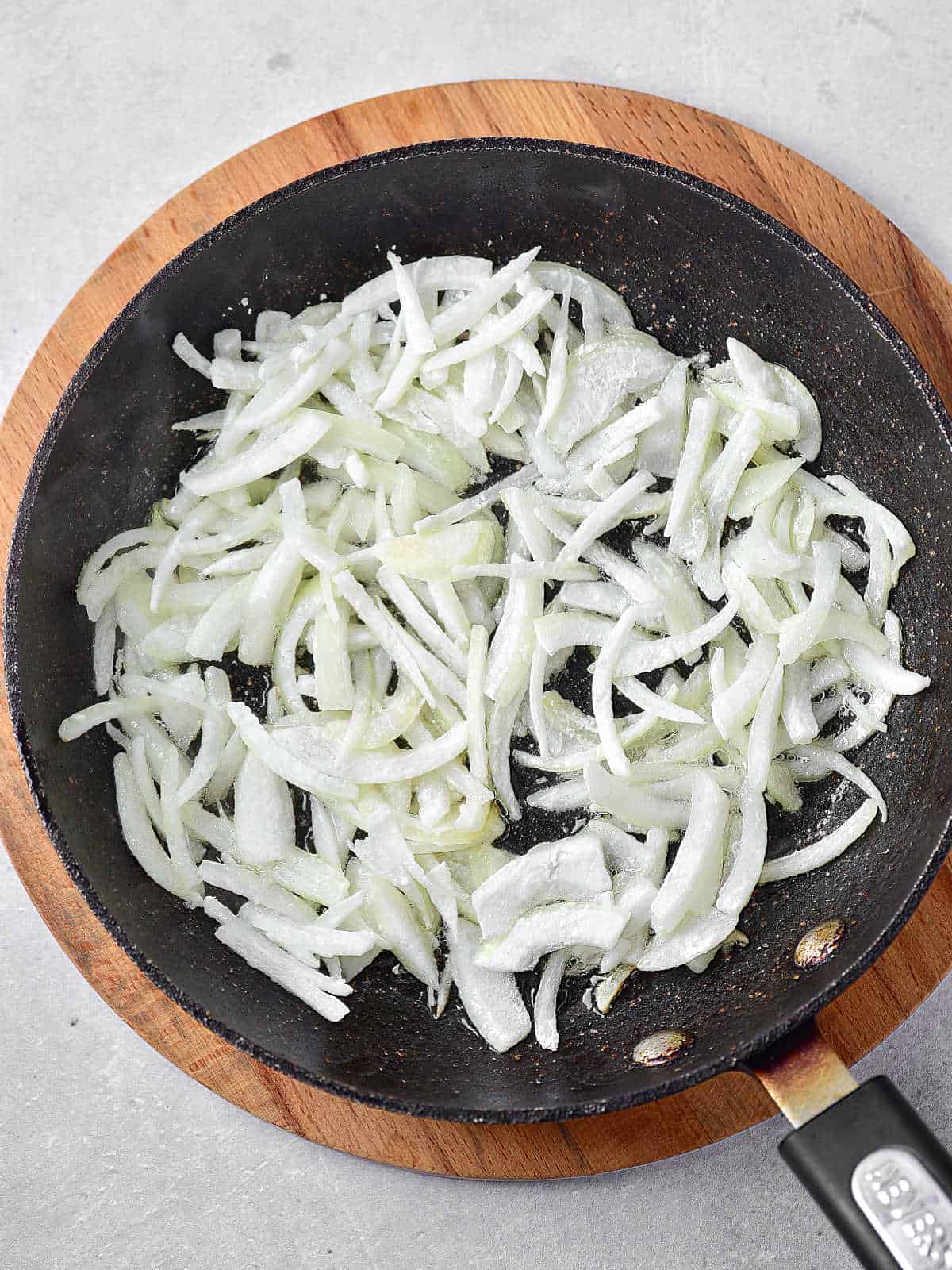 Thin slices are our favorites because they crisp really well. Don't overcrowd the skillet!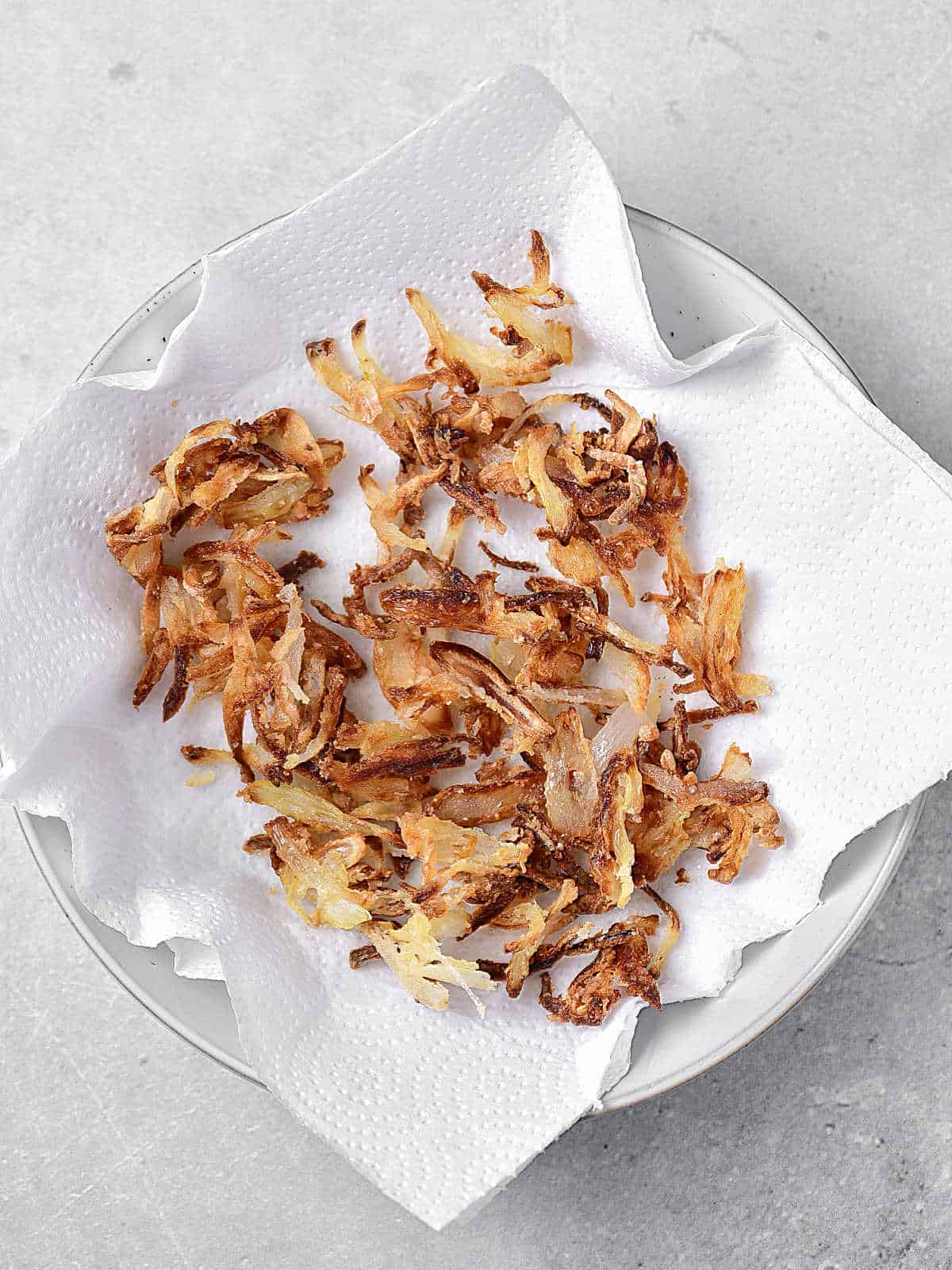 Blotting the onions (using paper towels) is essential for them to stay crisp.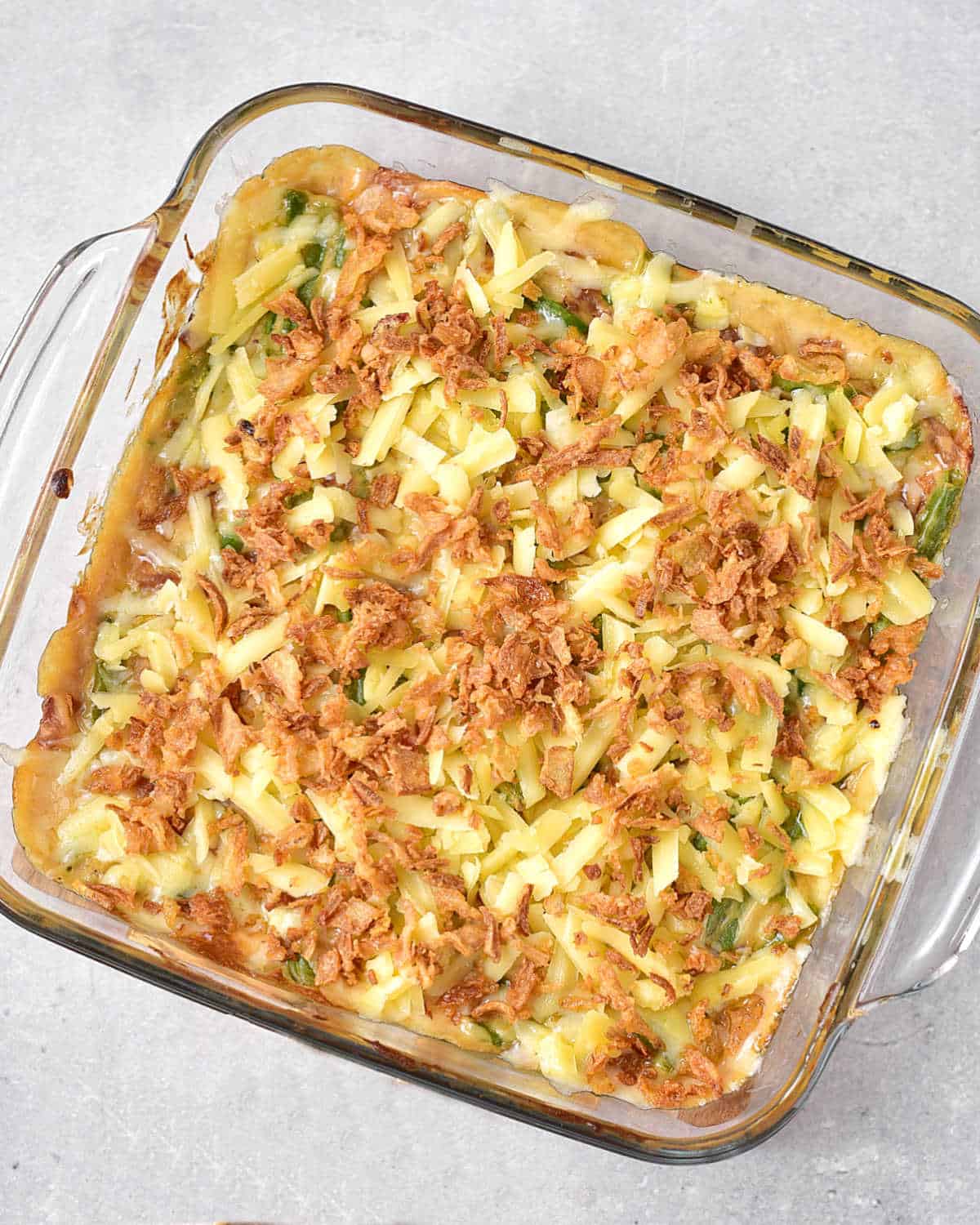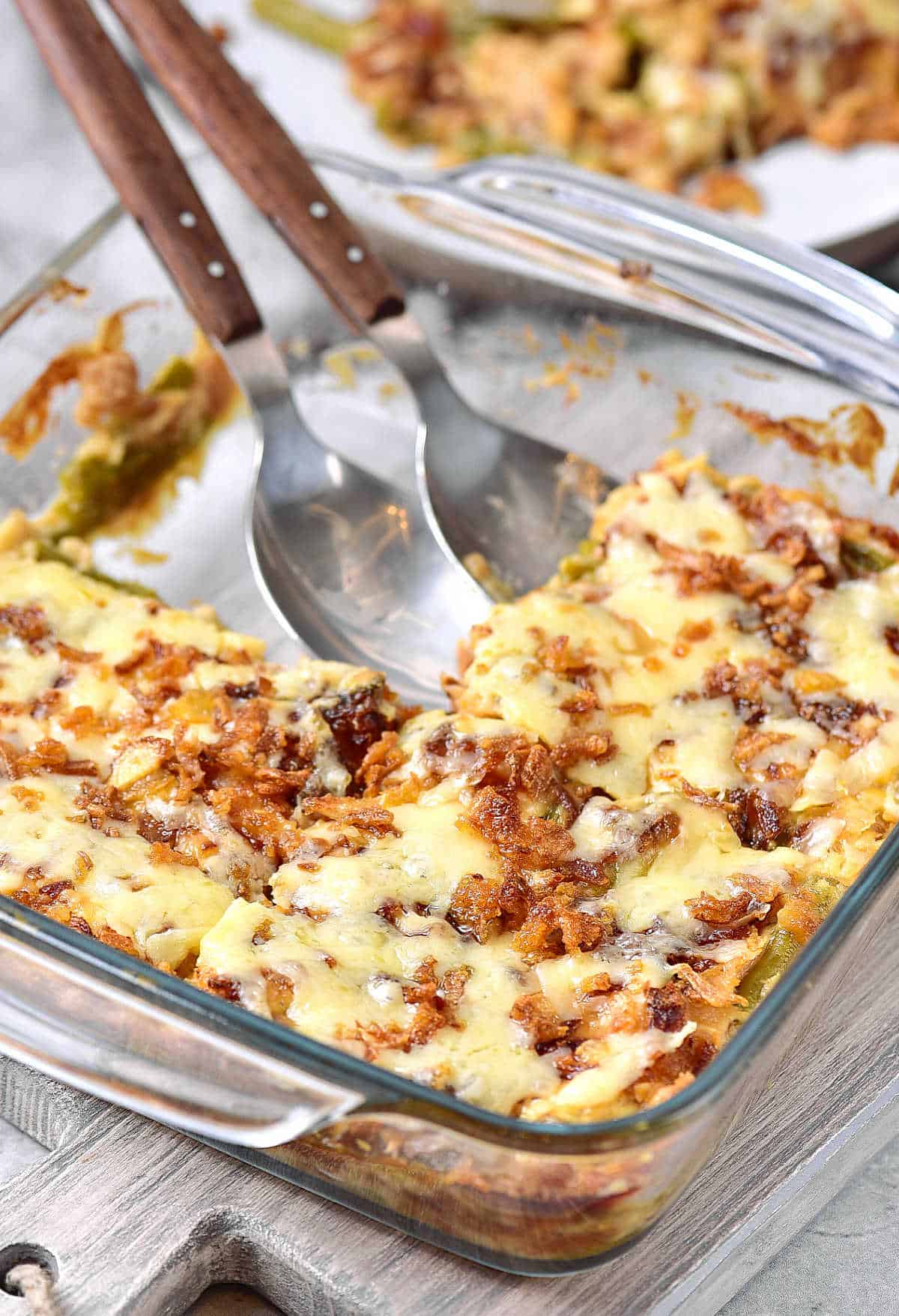 ---
Related recipes you might like:
---
Let me know in the comments below if you made this recipe and loved it and if you had issues so we can troubleshoot together. I love to hear what you think, always. Thanks for being here. It's much appreciated.
You might also consider subscribing to our FREE email series to Boost your Home Baking Skills! And our regular newsletter.
And let's connect via Facebook, Instagram, and Pinterest.
As an Amazon Associate, I earn from qualifying purchases. Please read my disclosure policy.
Print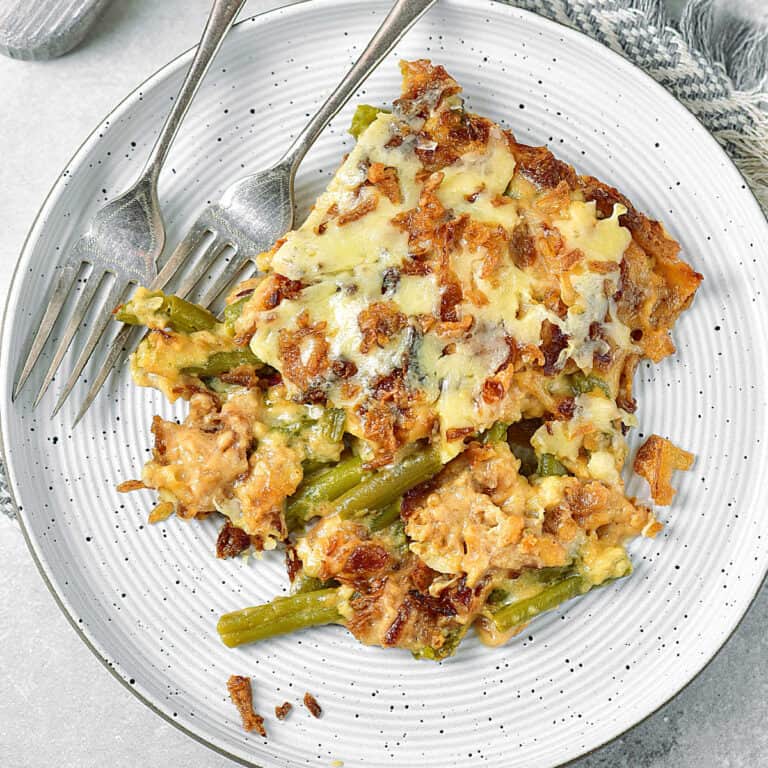 Green Bean Casserole (no mushroom soup)
With its crunchy green beans, creamy white sauce, gooey cheese, and crispy onions, this classic dish checks all the boxes for a crowd-pleasing addition to your holiday table. Plus, it's quick to make and can be prepared ahead, making it a stress-free option for busy cooks.
Total Time:

50 minutes

Yield:

6 servings
3

cups

green beans, cut into 1-inch pieces

½

cup

fried onion (homemade or store-bought)

1

cup

grated cheddar

1 tablespoon

soy sauce or Worcestershire sauce

½ teaspoon

garlic powder

1

cup

milk

2 tablespoons

all-purpose flour

2 tablespoons

butter

¼ teaspoon

salt

⅓ teaspoon

pepper
Pinch of ground nutmeg
Instructions
If making crispy onions from scratch: cut the onion into thin slices. Add a few tablespoons of oil to a large skillet and add the onions when hot. Salt them and make sure they're spread out. Cook over medium-high heat until browned. Move them around a few times so they brown evenly, but don't touch them too much. Blot on several layers of paper towels.
Preheat the oven to 375°F/190°C.
If using fresh green beans, cook them in a large pot with abundant water and salt until al dente (crisp, not too soft). Drain under cold water and reserve. You can put them in a large bowl of ice water to help maintain the green color.
Melt butter in a large skillet. Sprinkle the flour and stir with a whisk until well integrated. Cook for 2 minutes, stirring constantly until you have a shiny, lightly colored paste.
Slowly pour in the milk while you stir over medium heat. It's important to incorporate the milk as you add it. If lumps form, break them up with a spatula. You need a smooth, lump-free sauce.
Add salt, pepper, garlic and nutmeg. Mix well.
Place green beans, ⅔ cup grated cheddar, and fried onion (reserve 3 tablespoons) in a bowl.
Add white sauce to the green bean mixture and mix with a spatula.
Transfer to an 8-inch inch baking dish. Bake for 10 minutes.
Add the remaining cheese on top and bake for 10 more minutes. Top with the remaining onions and bake for 10 more minutes, until crisp and golden brown.
Serve immediately.
Refrigerate leftovers, covered, in the refrigerator. Reheat before eating.
Notes
Make in advance: assemble and refrigerate, covered, until ready to bake. When it's time to serve, pop it in a preheated oven and bake until golden.
Spicy: add chili pepper flakes, chili powder or smoked paprika to the white sauce.

Creamier and richer: use half the amount of cream and substitute the rest for cream.
Author:

Paula Montenegro

Prep Time:

20 minutes

Cook Time:

30 minutes

Category:

Side dish

Method:

Baking

Cuisine:

American
Keywords: green bean casserole