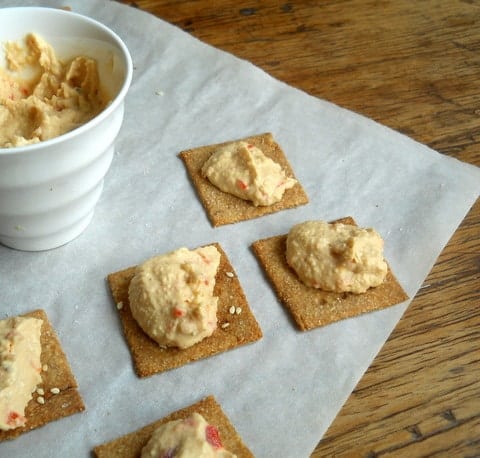 Homemade wheat thins. I jumped at the idea of re-creating them at home.
Yesterday's sandwich gave way to this easy and reddish hummus. Just add some roasted red peppers to the processor while making regular hummus. I can end my post right here I guess.
But then, I wouldn't be able to tell you how great it is with some homemade wheat thins.
I don't know if I ever mentioned that I lived near Palo Alto, CA for two years when I was a teenager. Went to school and everything. Learned to understand english without translating it to Spanish first, as I did during the first months there.
I certainly didn't want to, but my comprehension took a while to develop; that is until english just took over and I even dreamt in that language.
But, newly arrived, it was a pain trying to listen to the radio or go to a movie. Not to mention taking notes in class about a biology documental, which ended up being mostly in Spanish, the note-taking that is, leading to Mr. Thompson, my biology teacher, calmly explaining to me that the class was in english and how was it that I spoke it so well but didn't take notes in english. 'It's just the way my brain works', I tried to explain to him. 'By the time my imaginary translation is done, the documental is on a different subject and I can't keep up with it'.
The joys of living abroad and learning to be fluent in another language.
Though when you are a teenager there's nothing joyous about it. I can imagine many of you nodding regarding those two last sentences.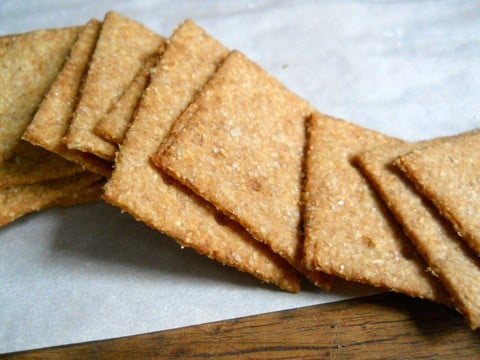 Anyway, something that I remember and make a point of eating every time I visit the US, are
Wheat Thins
. Probably my favorite crackers in the world. Highly, highly addictive and one of those things I'm happy to not be able to buy here.
It's like honey-roasted peanuts, I can't stop once I open the tin. So I just don't buy them.
The idea of making these homemade salty crackers had been floating in my mind ever since I made some sesame sables and got a somewhat similar taste of my beloved thins. But that was pure coincidence, so I toyed with the idea of making them from scratch at home. Well, it never happened.
Until this recipe came along, courtesy of the wickedly talented
smitten kitchen
. The search is finally over and I didn't have to do a thing, except try to roll them as thinly as possible to achieve that wonderful cracker the way it's supposed to be. And not to embarrass Deb, who specifically suggests aiming at thin crackers.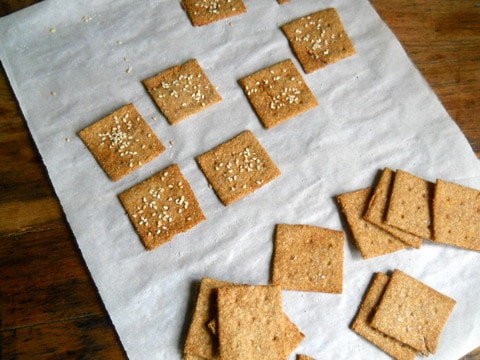 I can even say I rolled them too thin and hopelessly burned my first batch. The second was almost burned. The third time's a charm they say and it was true. I lowered the oven a bit and watched them like a hawk. Literally waited the 5 to 7 minutes they take to bake in front of the oven door. Few things are so annoying as a perfectly made recipe that ends up being inedible.
Just so that you understand if you decide to make these, don't suddenly decide to go find a scarf you misplaced or answer an e-mail that's been sitting in your inbox for an hour as you put these crackers in the oven. Just a
warning. He who warns is not a traitor.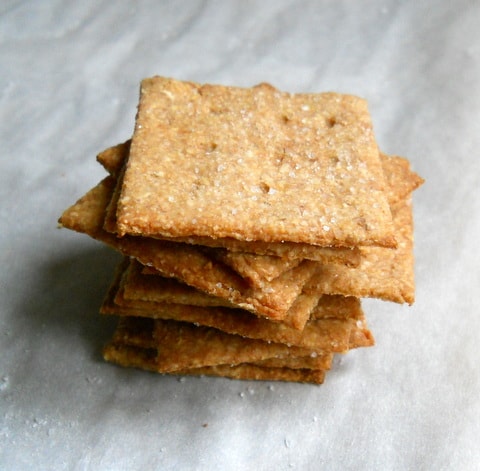 Let's just say that homemade wheat thins together with the roasted red pepper hummus is a flavor wonder.
For the homemade wheat thins recipe go to
this link
. I followed the recipe exactly and added extra salt before baking.
For the hummus recipe, I used this one and added 3 Tbs roasted red peppers. But you can add, taste and see if you like more or less red in it.
---