This no-bake pumpkin pie is creamier and less dense than the traditional baked version. It has a lovely, airy texture and is super easy to prepare with a buttery graham cracker crust that doesn't need an oven. That's the magic of this pumpkin pie recipe. It's fantastic as a Thanksgiving dessert and other holiday season celebrations.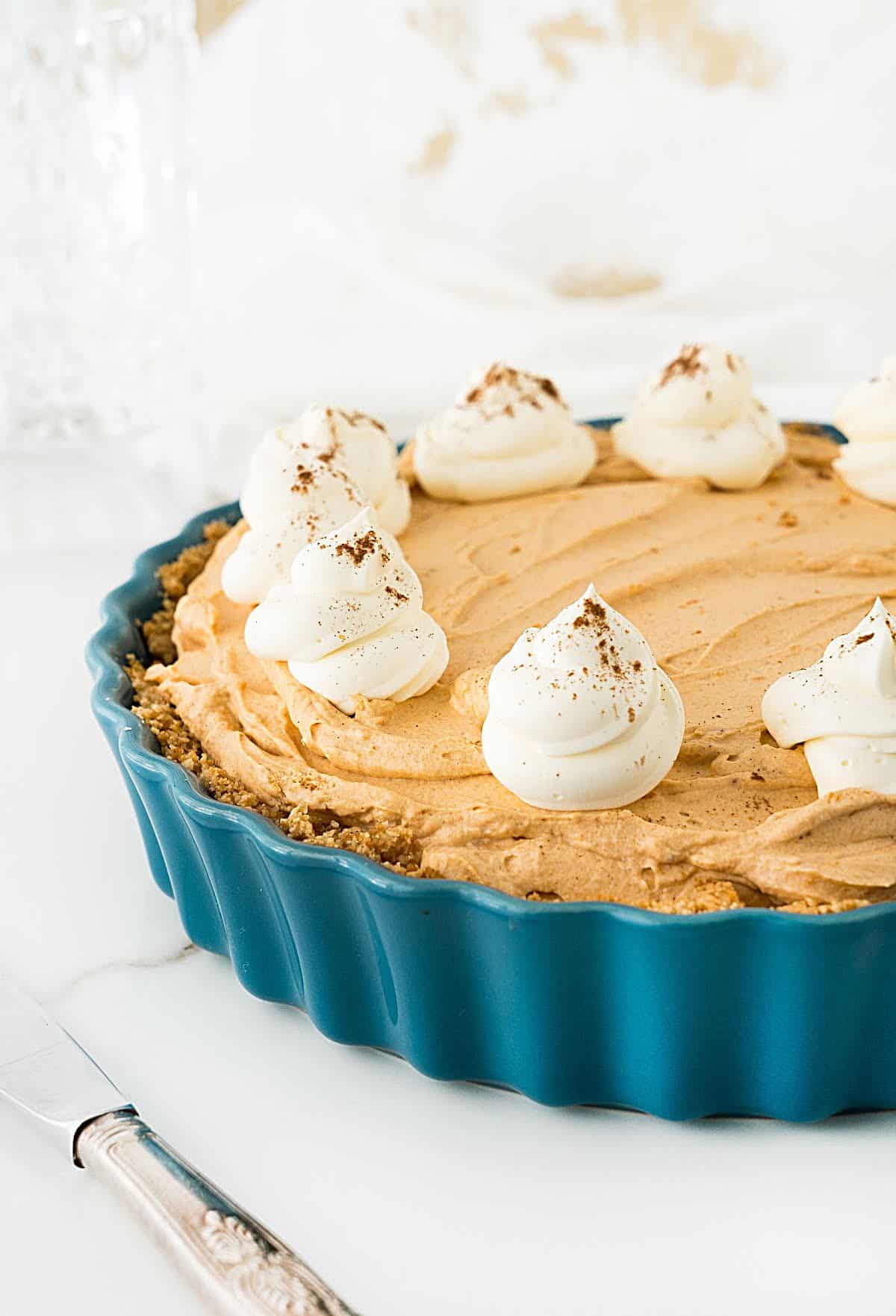 This pie is all about simplicity. A crumb crust, a creamy filling, and a few hours of chilling in the fridge, and you're good to go.
No need to be a master baker – just follow the recipe along, and you'll have a dessert that'll have your family and friends asking for seconds.
Why make this recipe
Simplicity: a pumpkin mousse pie is much easier than a traditional baked one. You won't have to deal with the complexities of a perfect pie crust and baked filling.
Time saver: making this recipe is relatively quick and can be made ahead, so you'll have more time to enjoy your company and the festivities.
Easy crust: this is the part that worries many beginner bakers and the crumb crust made with graham crackers takes care of that issue.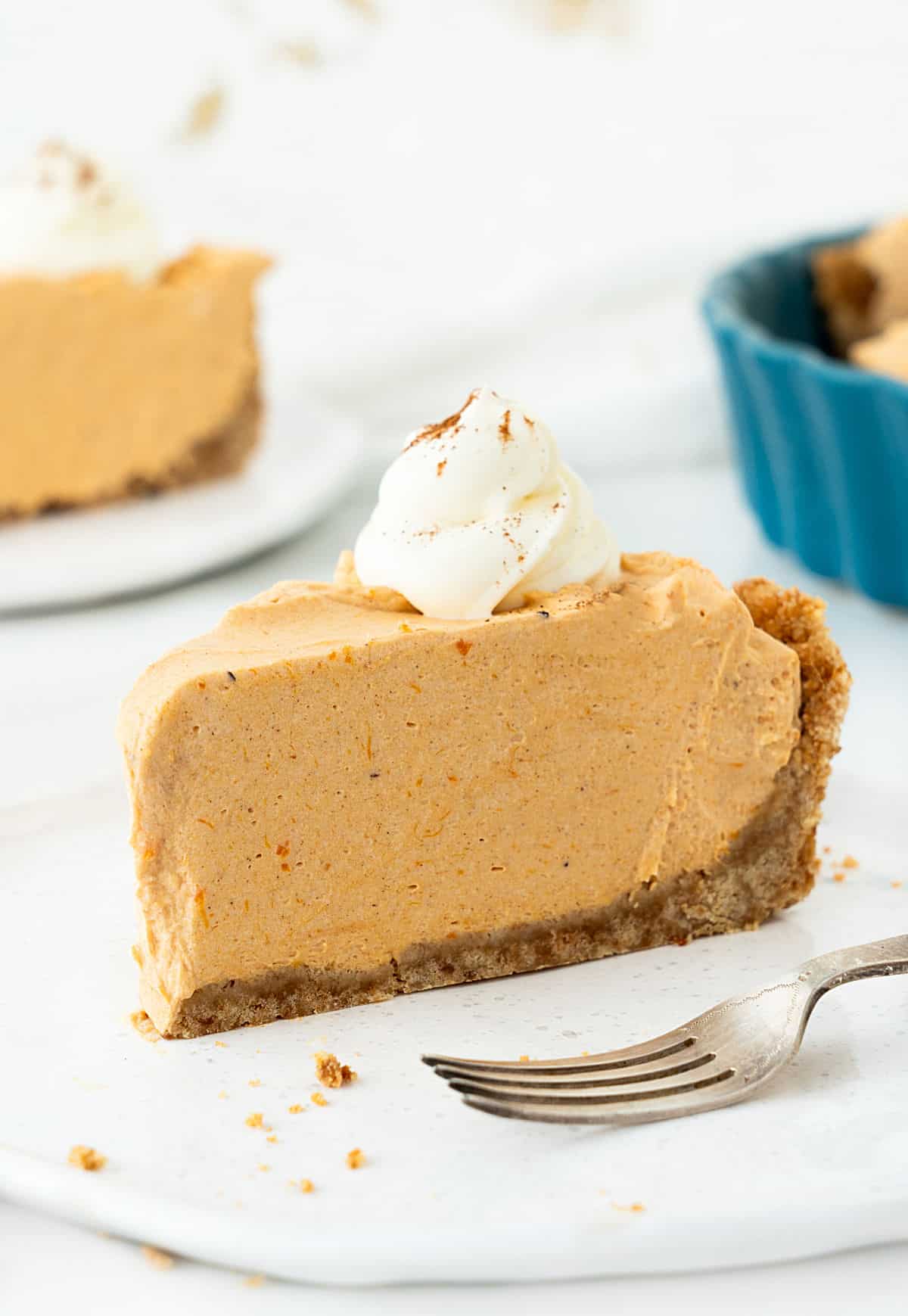 Ingredient list
See the recipe card towards the end of this post for quantities.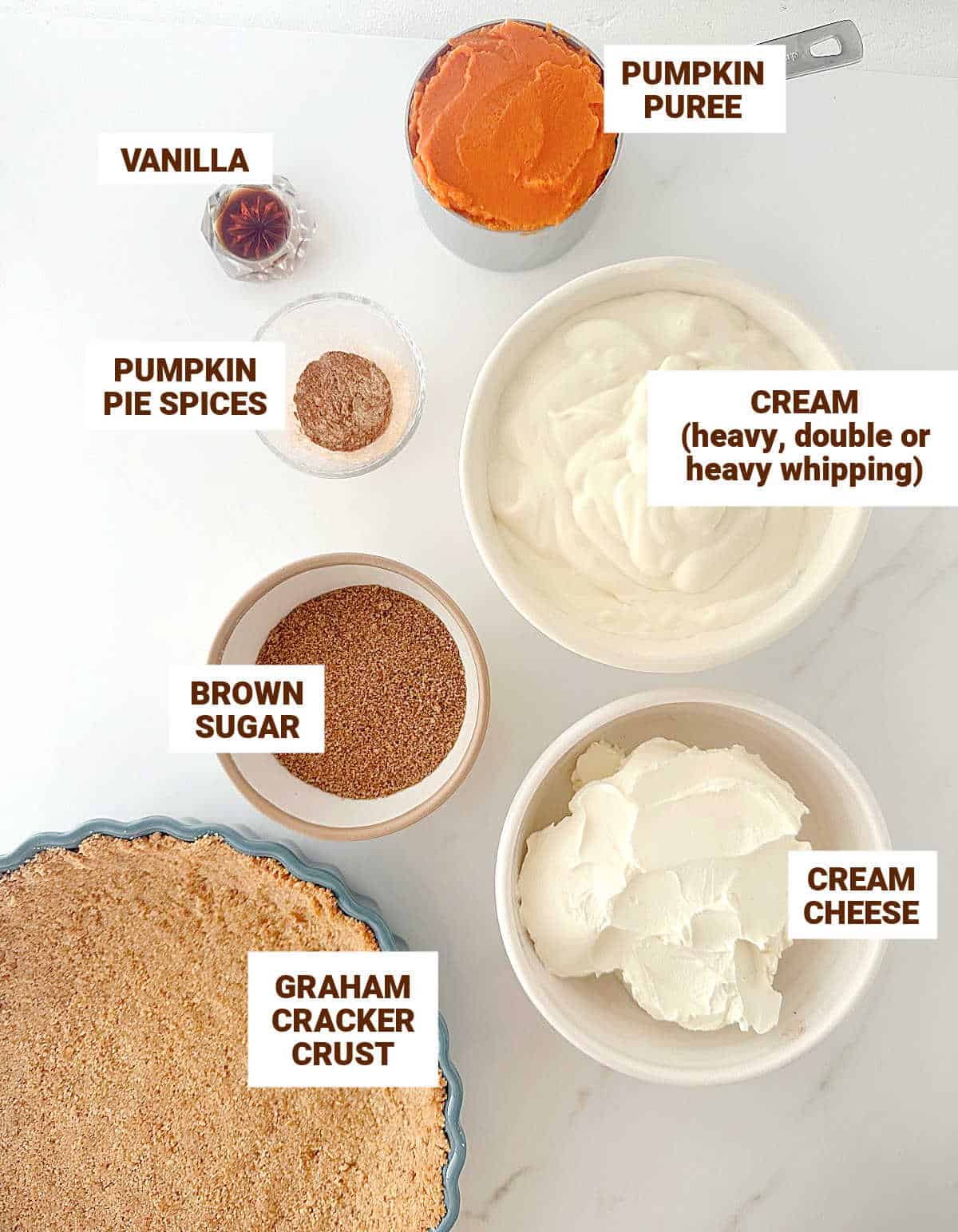 Variations & substitutions
Use flavored crackers like honey maid graham crackers or cinnamon graham crackers.
Store-bought crumb crust: if in a hurry, sub the homemade graham crust for a purchased one.
Gingersnap cookie crust: just like the one we use for the sweet potato pie. Use it instead of the graham cracker crust.
Chocolate crust: it goes very well with pumpkin. You can use a crumb crust (see the peppermint mousse pie) or a classic chocolate tart dough.
Individual pies: use small pans and make each guest its own dessert.
Toppings: besides the plain whipped cream, you can top this pie with candied pecans, candied pumpkin pieces and pumpkin pie spice or cinnamon whipped cream.
Mini parfaits: instead of a full pie, create individual parfaits with alternating layers of pumpkin mousse, crushed crust, and whipped cream in small glasses or dessert cups.
How to make pumpkin mousse pie
Easy crust: the idea is to have an easy graham cracker crust.
Pumpkin no-bake filling: it takes a few ingredients and 10 minutes to prepare. An electric mixer is highly recommended for the whipped cream and to achieve the smoothest consistency.
Topping: it's encouraged but optional. You can omit it and still have a fantastic, creamy, no-bake pumpkin pie.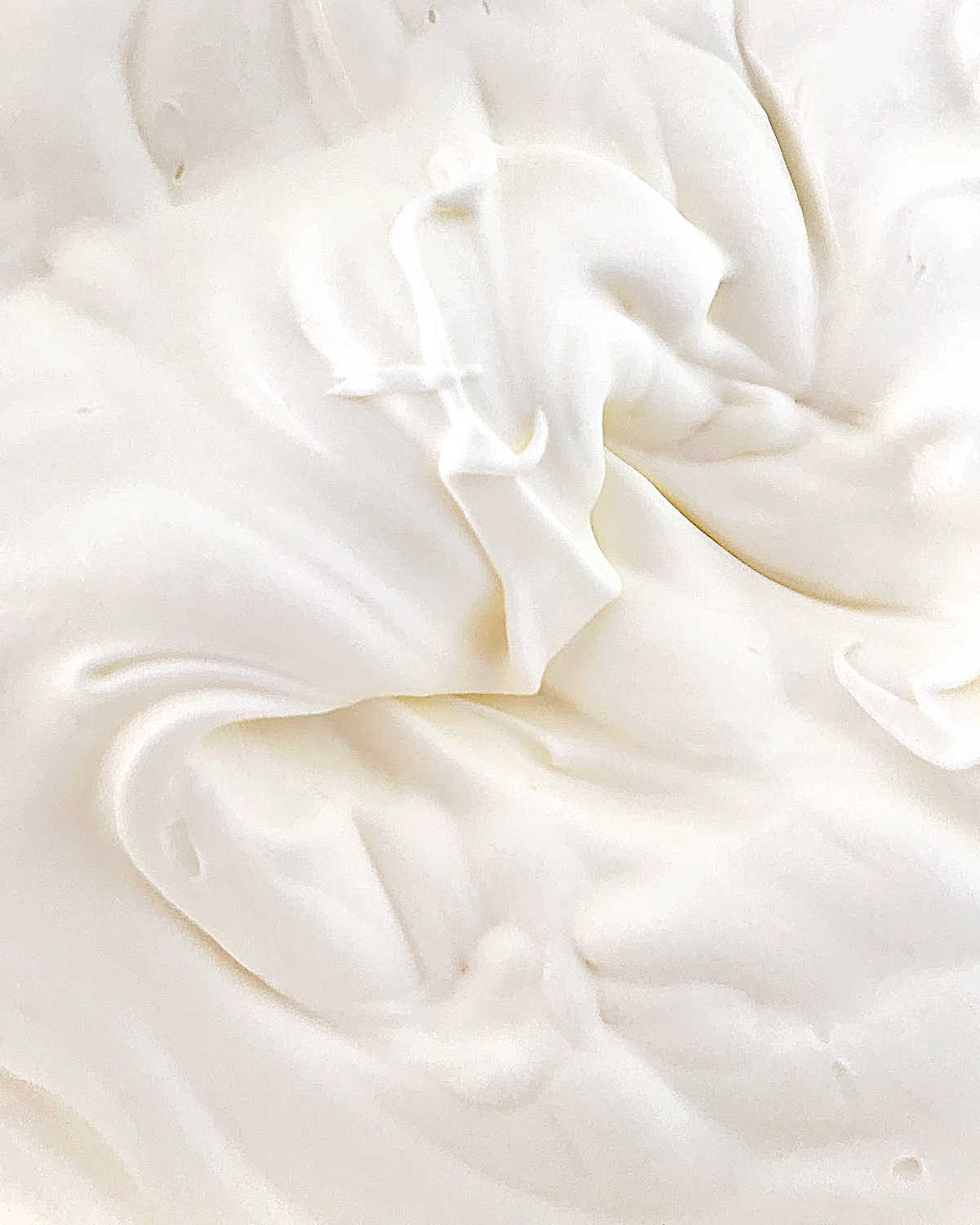 The cream is beaten to medium-firm peaks. This is important for the pie to have structure.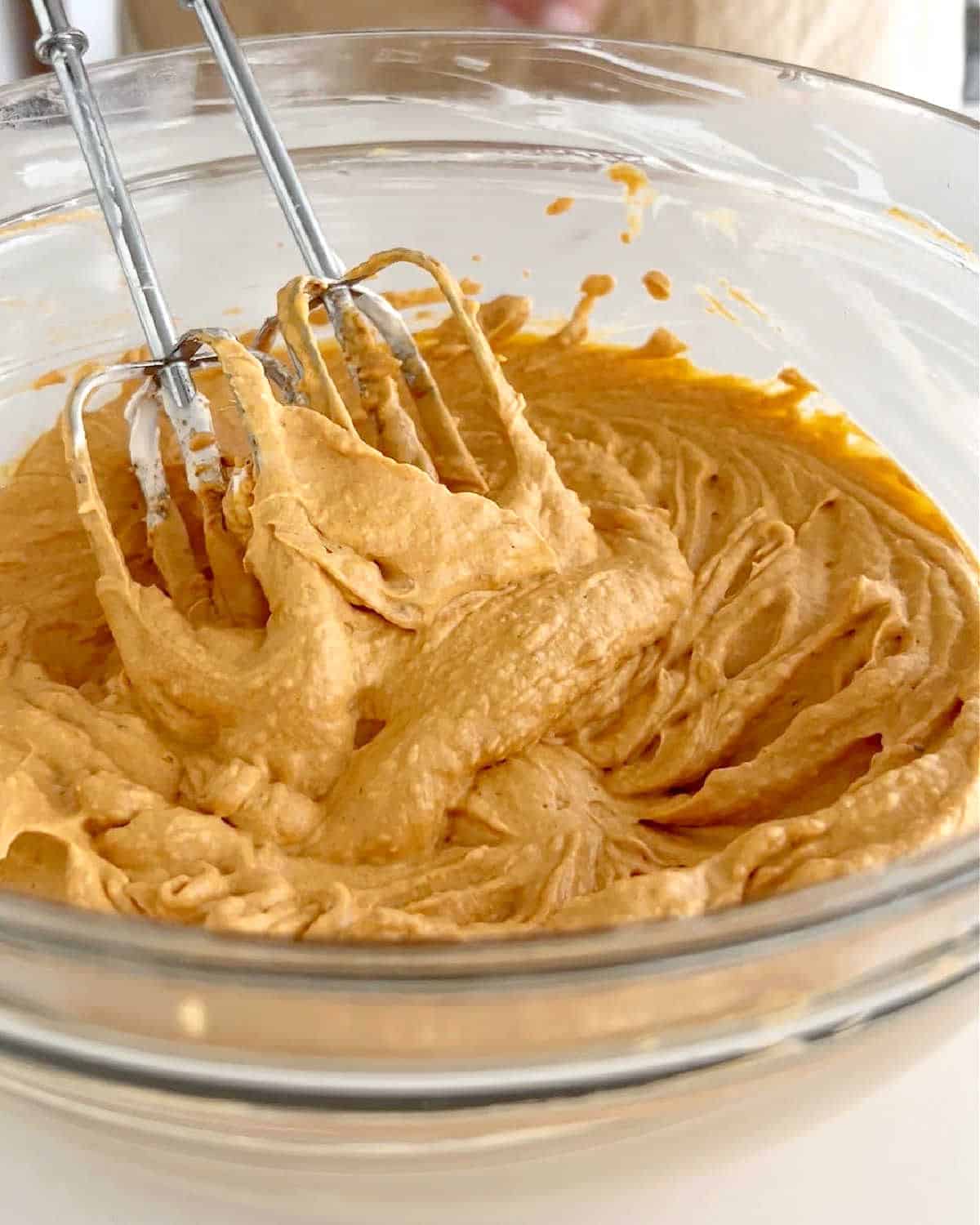 The pumpkin cream cheese filling is beaten until smooth with the sugar and vanilla. Both preparations are then mixed together.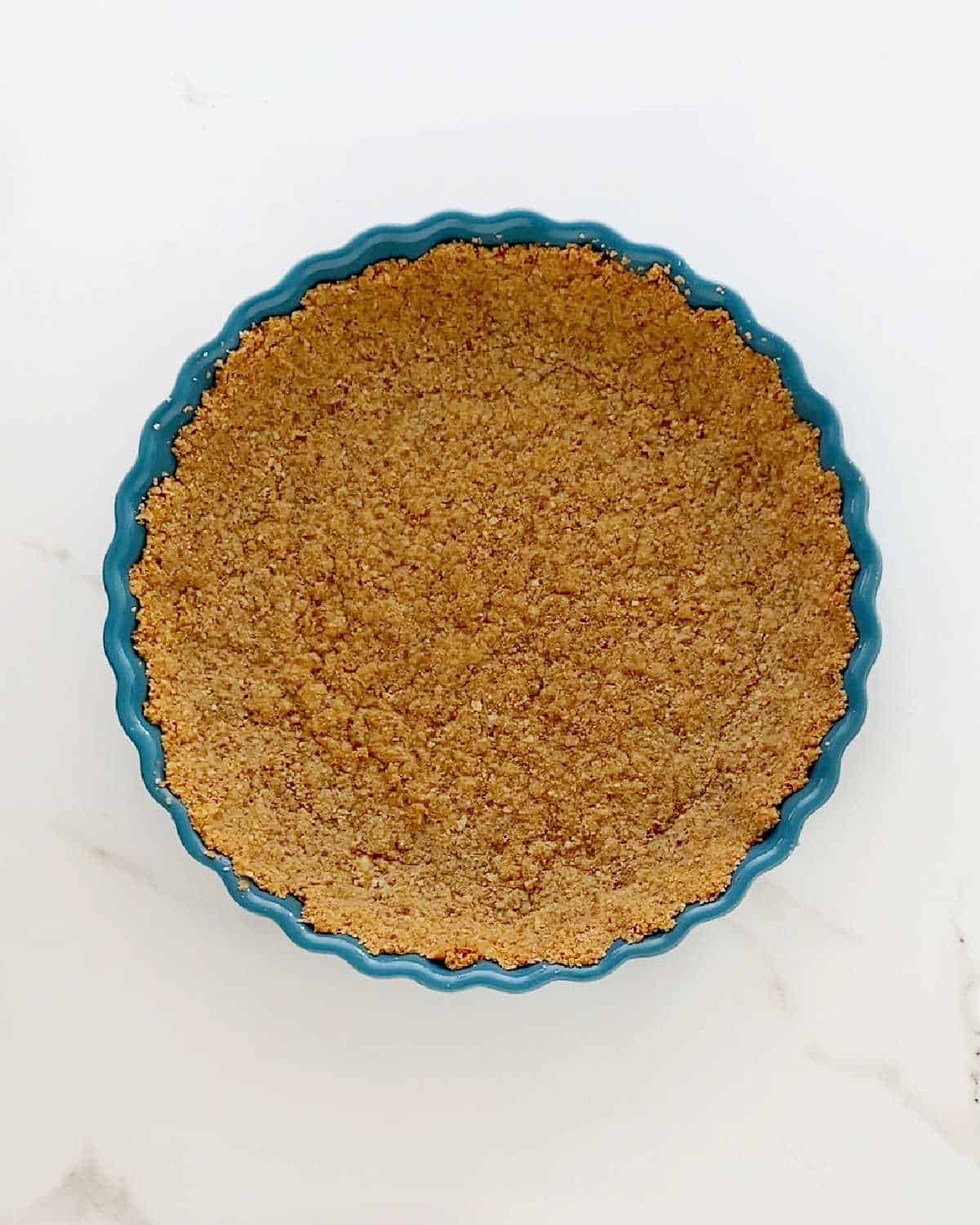 The graham cracker crust can be baked for 10 minutes or chilled until firm. You can also use a purchased crust.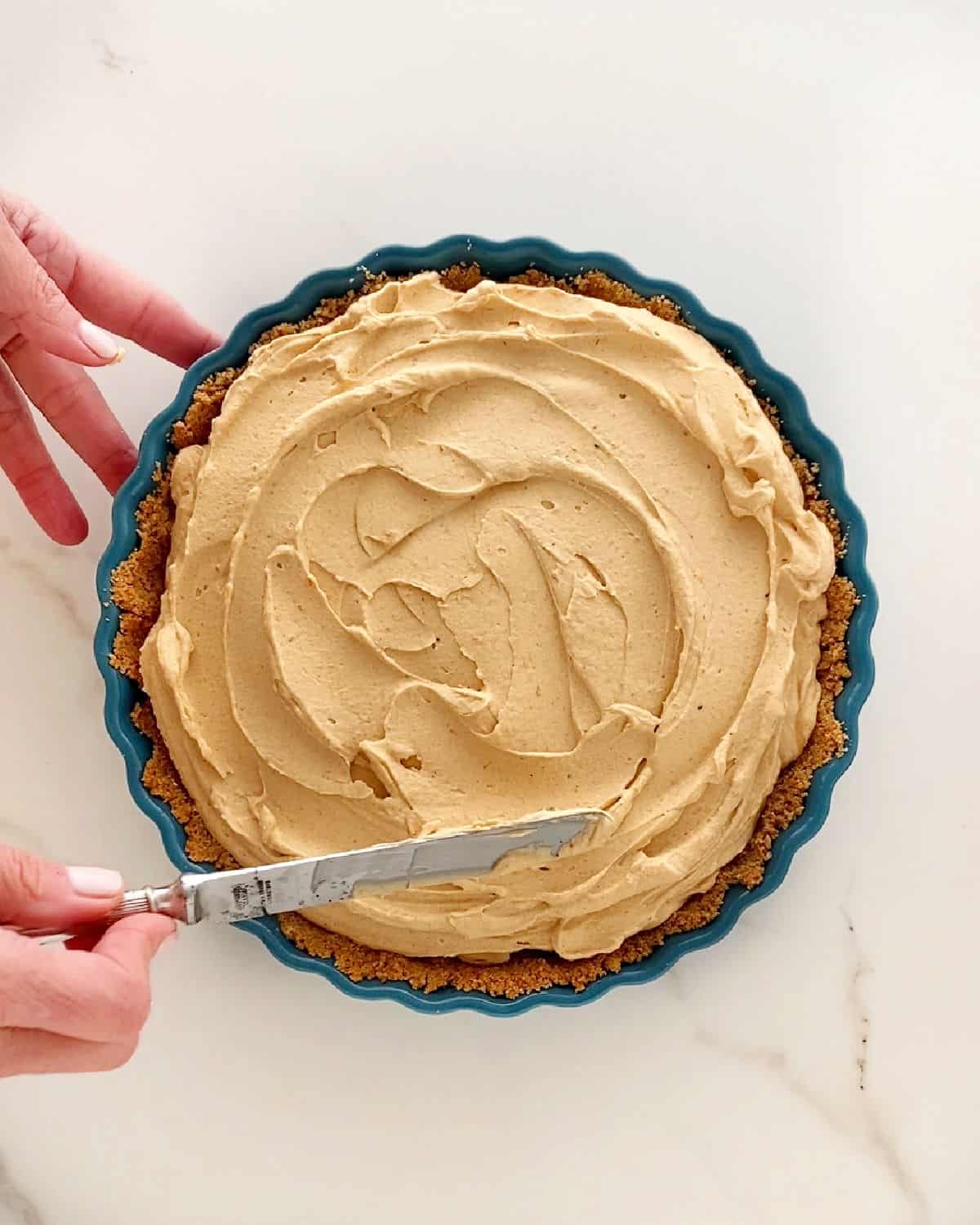 The assembled pie must be refrigerated for several hours before topping and serving.
Vintage Kitchen tip: read the recipe first and ensure you have ingredients at the correct temperature, equipment, and enough workspace. This will make the process so much easier.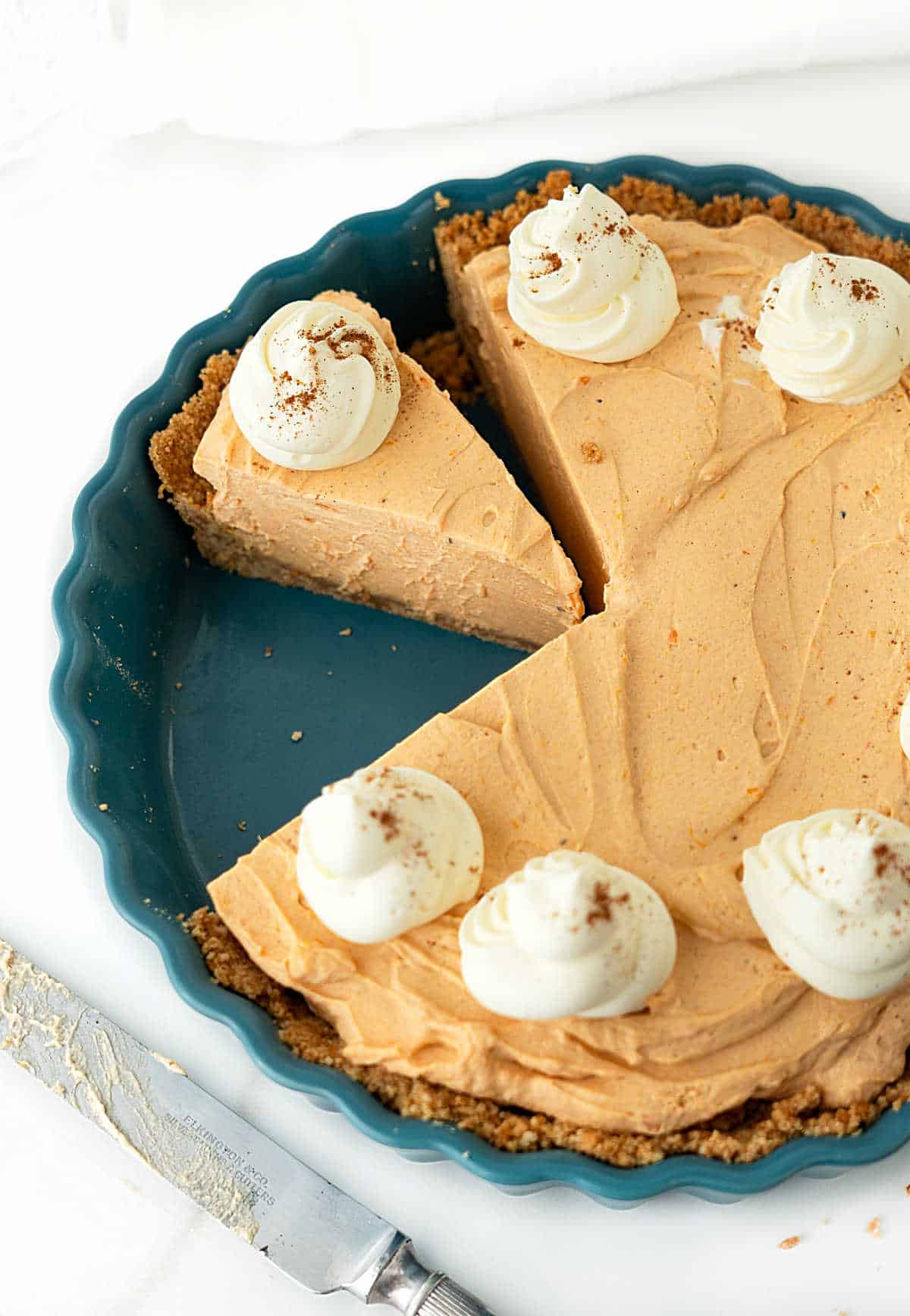 Kitchen notes
Can I make it ahead of time? Yes, and it is particularly convenient for holiday gatherings. It can be refrigerated for a day or two before serving.
Can I make a gluten-free version? Use a gluten-free crust or substitute crushed gluten-free cookies for the crust.
Lumpy filling: if your mousse has lumps, it's likely due to not mixing the ingredients thoroughly and not having them at the right temperatures. Follow the specifications in the recipe card below.
Mousse not setting: the key is to whip the cream to medium-firm to firm peaks. It'll firm up as it chills, helping with the structure.
Bland flavor: you can enhance the mousse by adjusting more spices and vanilla before pouring it into the crust. Taste it and adjust.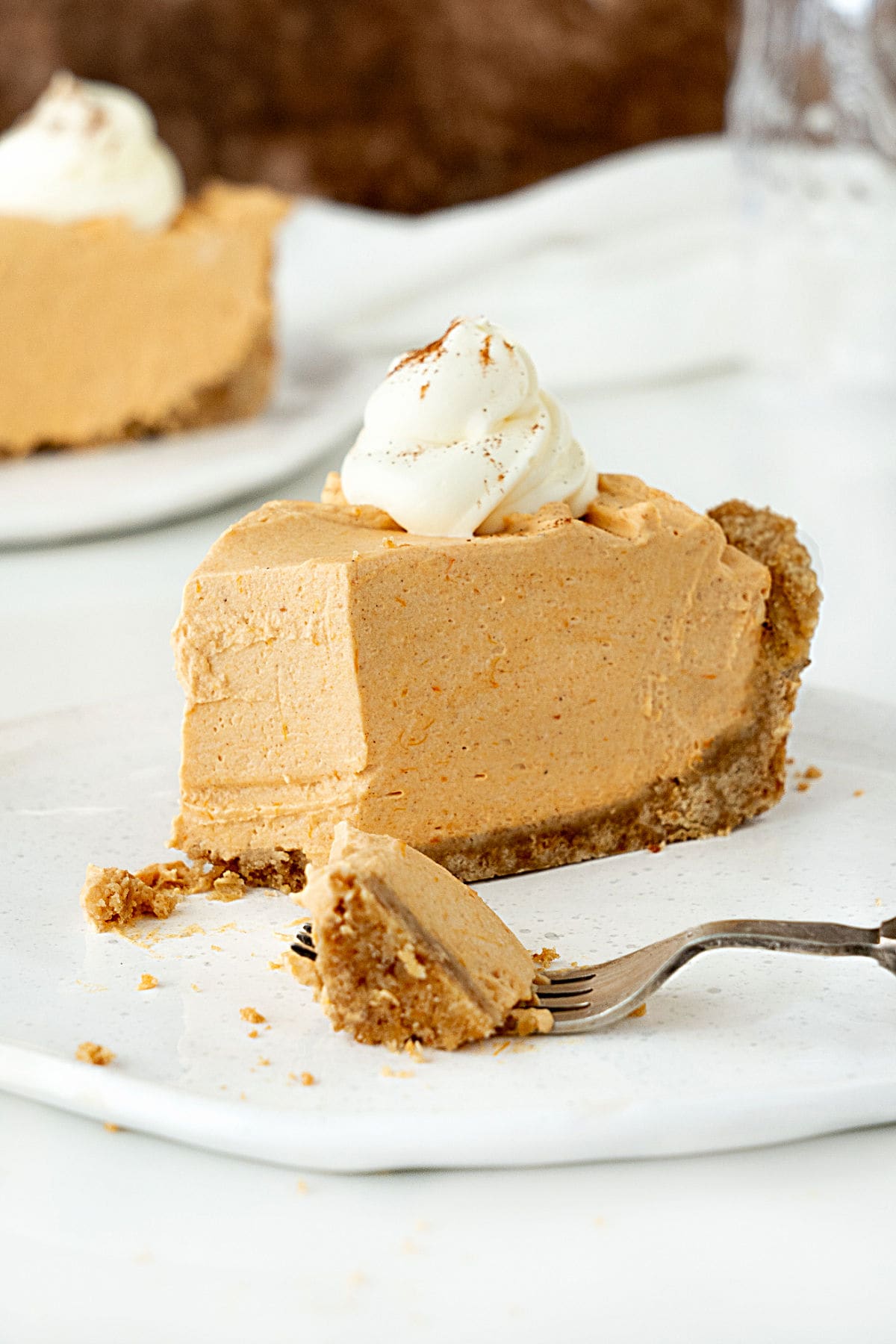 Storage
Refrigerator: this is the best way to store leftovers. Cover it with plastic wrap or place it in an airtight container to avoid dryness.
Freezer: it's not my first recommendation, as the texture might suffer a slight change. But you can freeze leftover pie for a few weeks. I recommend slicing it first and using a freezer-safe container.
Consume within a few days: no-bake pies generally have a shorter shelf life than baked pies because they often contain dairy products. Consume the pie within 4-5 days for optimal taste and quality.
---
Related recipes you might like:
---
Let me know in the comments below if you made this recipe and loved it and if you had issues so we can troubleshoot together. I love to hear what you think, always. Thanks for being here. It's much appreciated.
You might also consider subscribing to our FREE email series to Boost your Home Baking Skills! And our regular newsletter.
And let's connect via Facebook, Instagram, and Pinterest.
As an Amazon Associate, I earn from qualifying purchases. Please read my disclosure policy.
Print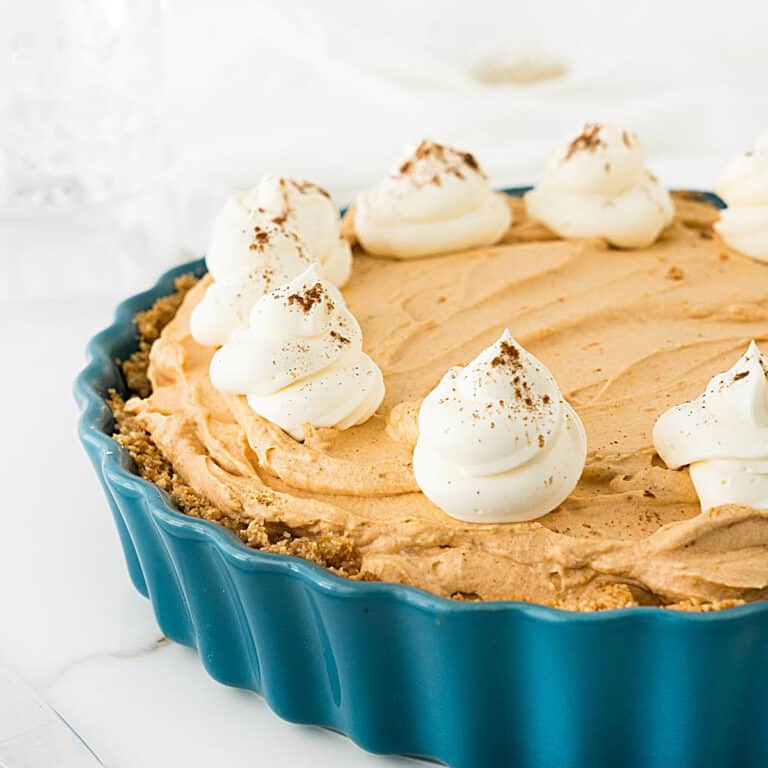 Pumpkin Mousse Pie
This no-bake pumpkin pie is creamier and less dense than the traditional baked version. It has a lovely, airy texture and is super easy to prepare with a buttery graham cracker crust that doesn't need an oven. That's the magic of this no-bake pumpkin pie recipe. It's fantastic as a Thanksgiving dessert and other holiday season celebrations.
Total Time:

4 hours 30 minutes

Yield:

8 servings
For the crust:
1

and ½ cups graham cracker crumbs

2 tablespoons

brown sugar

½

cup

unsalted butter, melted
For the pumpkin filling:
2

cups

heavy whipping cream, cold

8

oz

cream cheese, at room temperature

¼

cup

white granulated sugar

¼

cup

light brown sugar

1

cup

pumpkin puree, at room temperature

1 teaspoon

vanilla

2 teaspoons

pumpkin pie spice mix (o

1 teaspoon

cinnamon,

¼ teaspoon

ground ginger,

¼ teaspoon

mix of nutmeg and cloves)
Whipped cream topping:
½

cup

heavy or heavy whipping cream

1

and ½ tablespoons powdered sugar
Instructions
For the crumb crust:
Preheat the oven to 350°F/180°C if you're baking the crust. You can opt for simply chilling it until firm.
Have ready a 9-inch pie plate or pie pan with a removable bottom and high sides.
For the cookie crumbs, the easiest way is to use a food processor and process until you have fine crumbs. Make sure there are no large pieces or that it's a very coarse crumb mixture as it will prevent the mixture from compressing well.
By hand: mix crumbs with the sugar in a medium bowl. Add the melted butter and combine everything until it resembles wet sand and no dry spots remain.
Food processor: you can make the mixture directly in the bowl of the processor. Simply process the graham crackers with the sugar and add the melted butter to the bowl of the processor, pulse a few times, and you have your graham mixture ready.
Press the mixture onto the pan, starting at the edges and the angles where the base and sides join together and make sure it's compacted. This will help when removing the pie from the pan.
Bake for 10 minutes, until lightly golden and dry. Let cool completely on a wire rack before filling.
For the pumpkin filling:
In a large mixing bowl, beat the softened cream cheese with the sugars until smooth and lump-free. You can use an electric mixer for this part.
Add the pumpkin puree, vanilla and spices and mix to incorporate well. Reserve.
Beat cold cream in another large bowl until it forms medium-firm peaks.
Add the whipped cream to the pumpkin mixture in 2 parts, mixing lightly the first time and making sure it's fully incorporated the second time. Don't overmix but make sure no streaks remain. Use a rubber spatula to integrate well.
Fill the prepared crust, smooth the top and refrigerate the pie for several hours until firm.
The pie should be served cold.
For the whipped cream topping:
Beat the cold cream with the powdered sugar in a medium bowl until firm. Be careful not to overheat it as it will start to curdle.

Put the cream in a piping bag with a star or round tip. Pipe mounds around the pie. I like to make eight, marking each slice. Sprinkle with a pinch of ground cinnamon.
Notes
No food processor? You can also make the crumbs by hand, but it takes a while and some patience. Crush the cookies with a rolling pin. It's easier if you put them in a large plastic bag, like a Ziploc bag, leaving it a bit open to let the air out as you roll.

For a no-bake pie crust

: simply put the crust in the refrigerator for at least 1 hour to allow the butter to firm up. This will make it less sturdy and might crumble here and there when you cut it but worth it if you don't want to turn on the oven.
Refrigerator: this is the best way to store leftovers. Cover it with plastic wrap or in an airtight container to avoid dryness.
Author:

Paula Montenegro

Prep Time:

30 minutes

Cook Time:

4 hours

Category:

Pies & Tarts

Method:

Mixing + Refrigerating

Cuisine:

American
Keywords: pumpkin mousse pie