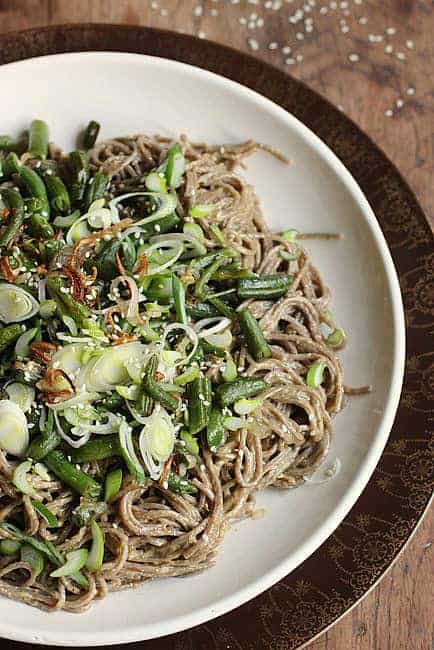 This cold noodle salad is the result of a moment of embarrasement.
I have a tight phone relationship with the lady at the other end of the line at my favorite chinese restaurant, a fact that happens simply because they have delivery, it's chinese food after all, and they're fast and bring me diet coke too, which is not a minor detail sometimes. If there's coffee, yogurt, diet coke, pasta or rice to reheat, I can live a few days without leaving the house. That
aside, it has come to a point that when I say '…curried chicken chow fan', she simply asks 'do you need a diet coke too?' and then proceeds to tell me the amount, a goodbye and hangs up. Yep, we don't need to exchange phone numbers or
addresses because, apparently, I'm the only one asking for the same dish every single time for the last two years. Last week I went crazy and ordered chicken chow fan, and heard
no curry?
from the other end of the line, and then she had to laugh because frankly I need a life.
Being social is a
good
thing they tell me, keeps you young and active.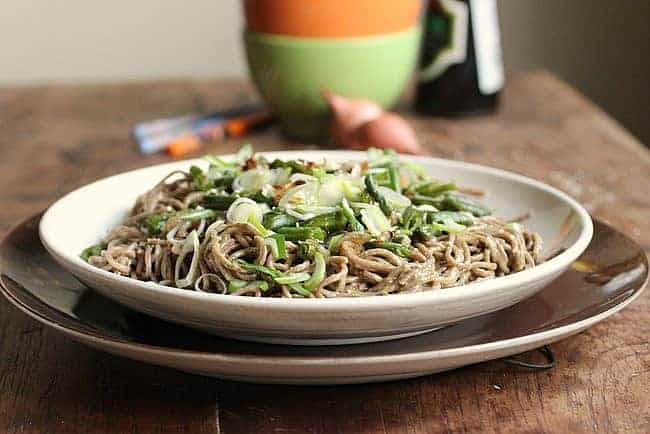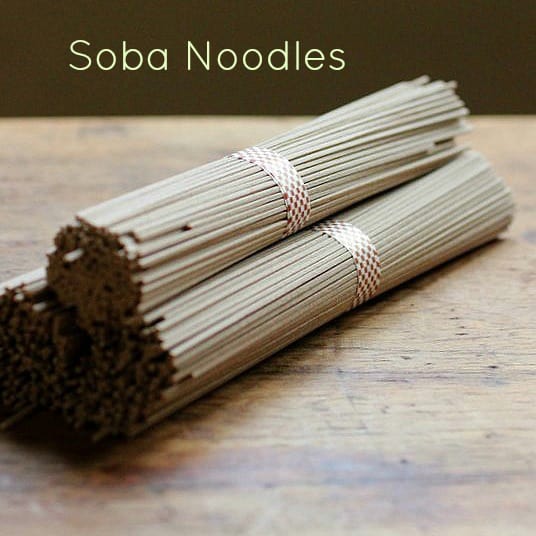 Anyway, these sesame noodle salad was my second attempt to start cooking asian food at home, in an attempt to stop the chow fan invasion. The first one was the szechuan pork and carrots, and let me tell you, both recipes leave the chicken and rice languishing in the fridge, no matter how nice the chinese lady is on the phone.
Discovering soba noodles happened after I started this blog, those rather ugly colored strings appeared everywhere, sounding interesting and something I should, no matter
what
, incorporate in my life if I wanted to be a food blogger. Much like kale or coconut oil. I'm a fan now, big time, buy them in bulk almost, after the first time I ran out of them, and realized I had to trek all the way to the chinese market to buy them. As I told you before, asian food is not our thing in this country. And besides, they come in the neatest, prettiest bundles ever, all tied with a cute checkered paper – how can you not want to buy them?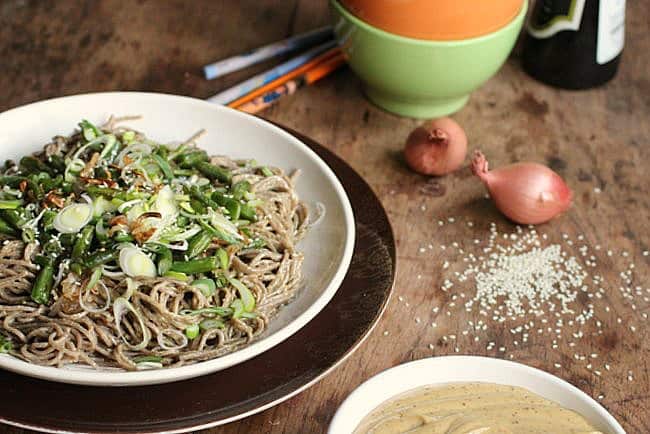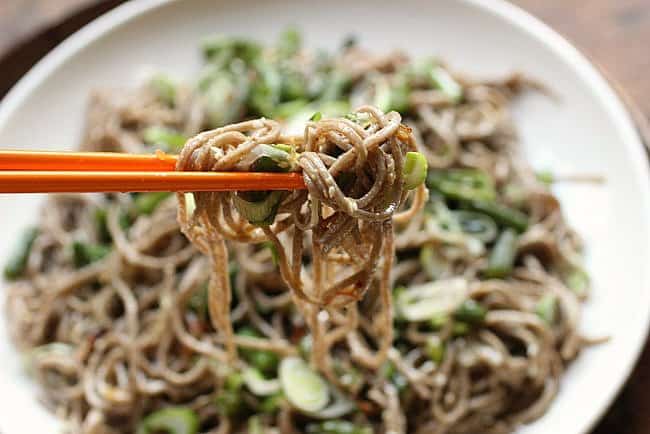 There are two parts to this recipe. One is, obviously, the sesame asian noodle salad, just as you see it in the pictures, with fried shallots, green beans and onions on top of soba noodles smothered in homemade sesame mayonnaise, and the other is the mayo itself. Oh boy! Probably the best I'v ever made. Being the sesame lover that I am, it was one of those recipes that first caught my eye and I went right into the kitchen and made it. Definitely worth a gold star.
And the cold noodle salad? Worth as many gold stars as you want.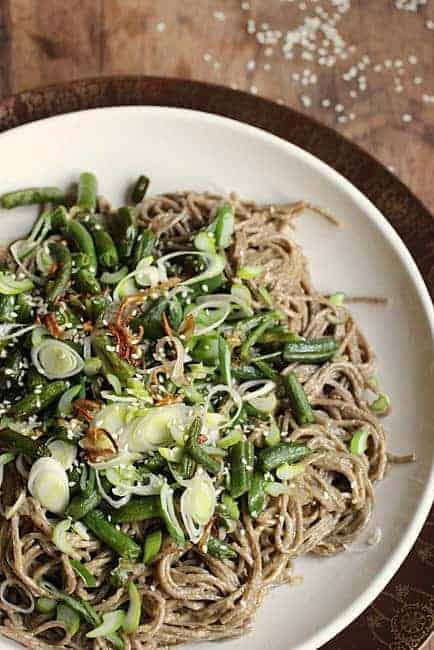 Print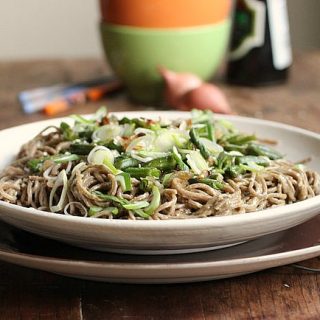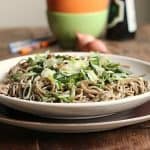 SESAME ASIAN NOODLE SALAD
Yield:

4

servings

1

x
---
Scale
Ingredients
For the sesame mayonnaise:
1

egg

2

egg yolks

2 ½

Tbs  rice vinegar

2 ½

Tbs soy sauce

3

Tbs good mustard (I used ancient)

¼ cup

toasted sesame oil

1 cup

olive oil

1 ½ cup

s  canola oil

1 teaspoon

  sriracha or similar
For the noodle salad:
1/2 cup

  sesame mayonnaise (recipe above)

4

portions soba noodles

¼ cup

  canola or peanut oil

2 cup

s  green beans (cut into pieces (you can use frozen, but defrosted))

1

large shallot (thinly sliced)

½ cup

  thinly sliced green onion
Sesame seeds (to garnish)
---
Instructions
For the sesame mayonnaise:
Put egg, yolks, vinegar, soy sauce and mustard in the bowl of a food processor and process 1 minute.
With the machine on the lowest speed, start adding the sesame oil in a very thin stream, followed by the olive oil in the same way. 
Finally add the canola oil, gradually but you don't need to be so careful since the mayonnaise will have emulsified by now.
Add sriracha and taste. Adjust seasonings accordingly.
Keep refrigerated.
Makes about 2 1/2 cups.
For the noodle salad:
Cook noodles in abundant salted water.
Meanwhile, heat oil in a skillet and add shallots and green beans. Cook for a few minutes, until most shallots are crispy. Transfer to a paper to drain while preparing the noodles.
Rinse noodles under cold water and transfer to a bowl, or to the same pot where you cooked them. Add the mayonnaise and mix. Add more if you want.
Transfer to a serving platter, and top with green beans, shallots, green onions and a sprinkle of sesame seeds.
---
adapted from The Silver Palate Cookbook, by Julee Rosso and Sheila Lukins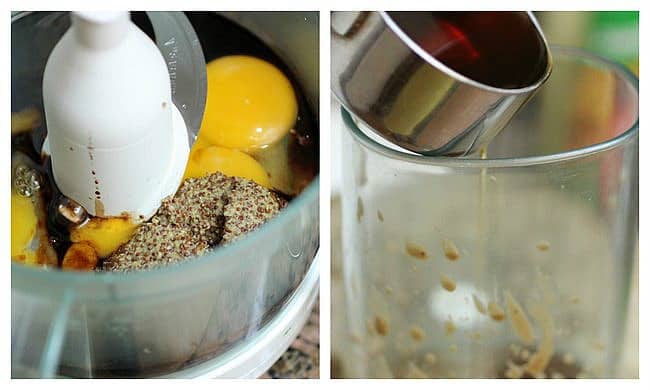 ---