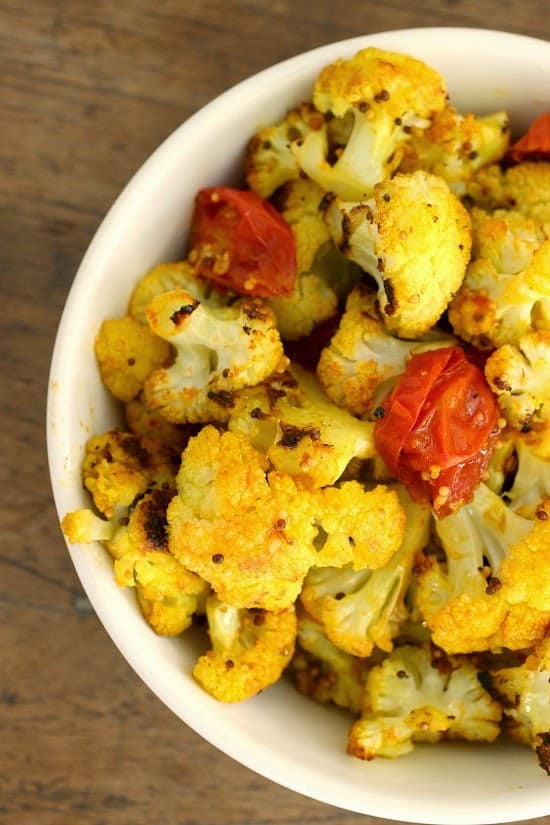 I joined the cauliflower bandwagon late in life, but recipes like this turmeric ginger cauliflower or the sensational
cauliflower pesto
from
this book
made me stay on it like I had been there forever.
Spring is amongst us, with longer days and a lot bright warmer days. I enjoy taking a walk in this perfect weather, sitting on a bench in the park; which I seem to be doing a lot lately. A good book, a crisp day, and I'm happy as a dog with two tails, reading or mentally arranging my next trip. And looking forward to a simple meal of turmeric ginger cauliflower, so easy to make and good for you.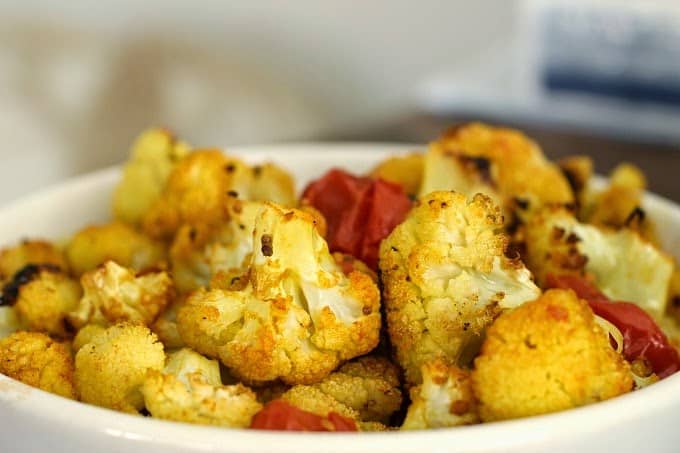 We had an amazing long weekend with pool weather days and very low humidity, which is like a monster that gets everybody cranky around here when it's high.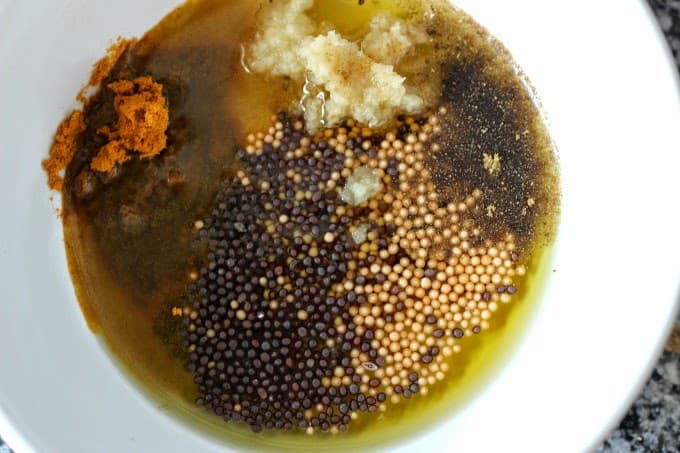 Exploring new dishes, I decided to cook myself some cauliflower, which is a vegetable that never really caught my attention. But the idea of those white florets colored by the rich yellowness of the turmeric kept appearing in my mind. And the rest of the ingredients I already had. Which is something that makes me proud since I always seem to be missing one or two key ingredients of a recipe.
I never make lists. I have such good memory that few things escape my mental list, especially food related. But, let's face it, I'm not getting any younger, or mentally sharper, so my always reliable memory sometimes decides to take a nap. So I buy this but forget that. And when I get home I'm back to square one, unable to complete the recipe.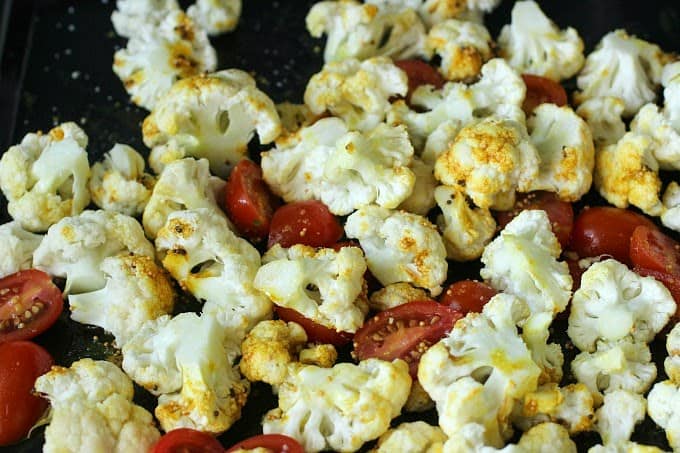 Anyway, I had everything to make this very nice roasted cauliflower, barely adapted from the original recipe. And I did. And I ate it for dinner. Just cauliflower. Most unusual in me. Gingery spicy, with mustard seeds exploding in my mouth with every bite. Where would the world be without spicy food?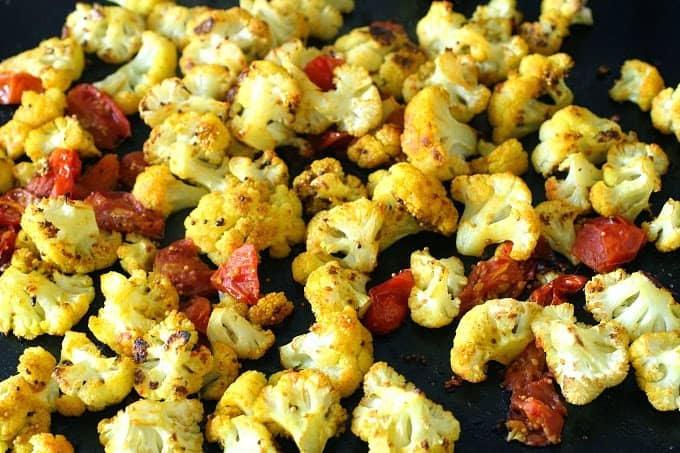 If you need to up or vary your side dish game - you know, lots of holidays coming soon - this is one recipe to add. Flavorful and healthy, you can't go wrong.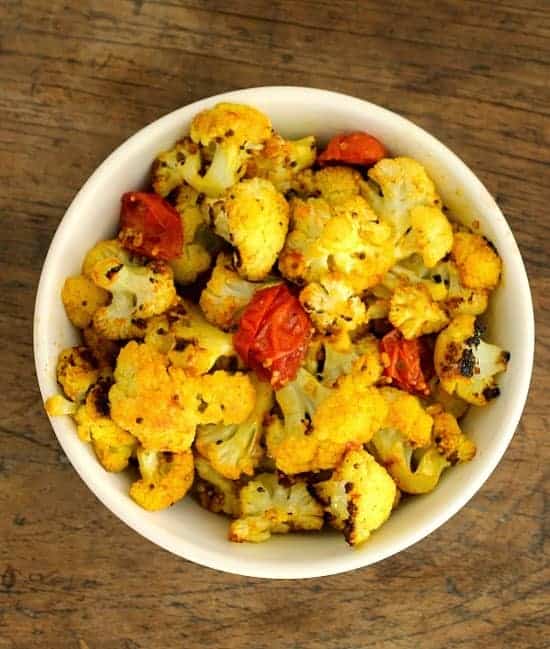 Print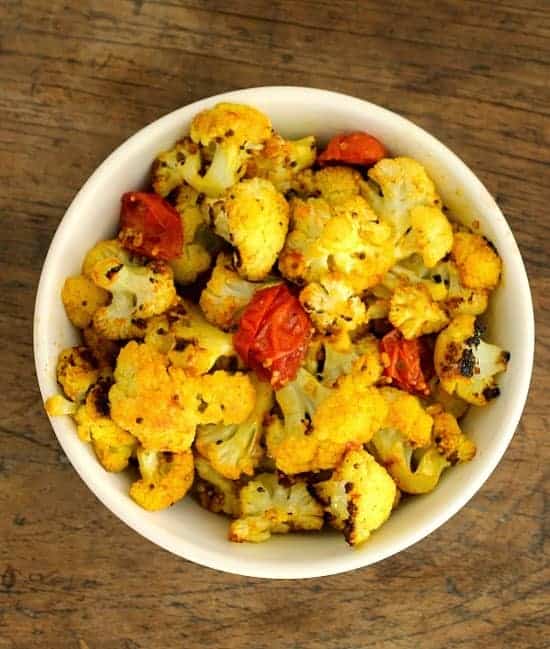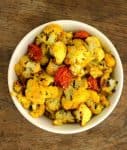 TURMERIC GINGER CAULIFLOWER
---
Scale
Ingredients
2

Tbs olive oil

1

medium tomato (seeded and finely chopped)

1

Tbs black and yellow mustard seeds

½

  jalapeño (seeded and minced)

1 teaspoon

minced peeled fresh ginger

1 teaspoon

turmeric

1

head cauliflower (cut into florets)
Salt (I use coarse salt)
---
Instructions
Preheat oven to 425ºF / 220ºC
On a small bowl, combine oil, tomato, mustard seeds, jalapeño, ginger and turmeric.
On a large baking dish toss the cauliflower florets with the flavored oil.
Season with salt and spread on an even layer.
Roast for about 25 minutes, or until lightly browned and barely tender.
Serve hot or at room temperature.
---
barely adapted from Sai Viswanath, via Food and Wine Annual Cookbook 2007
---