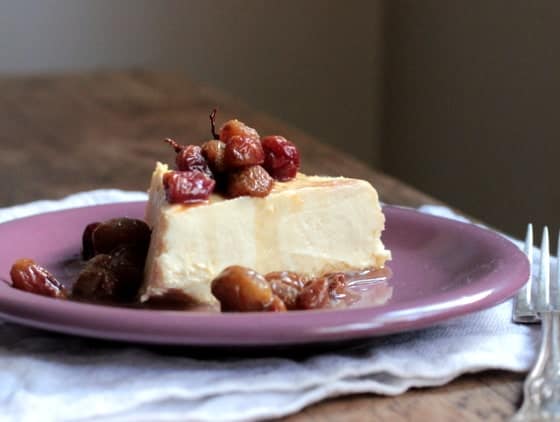 After 24 hours in the fridge
Some cold fronts made an appearance this week, requiring the heating system to be turned on, and socks to be worn to bed. Yes, I wear socks and gloves inside my house most of the winter, because no matter how well heated the house is, there's usually a big difference in temperature with the rest of my body, which is beyond my control, very 
John Malkovich
in
Dangerous Liaisons
, btw a fantastic movie, in my opinion, about human character.
.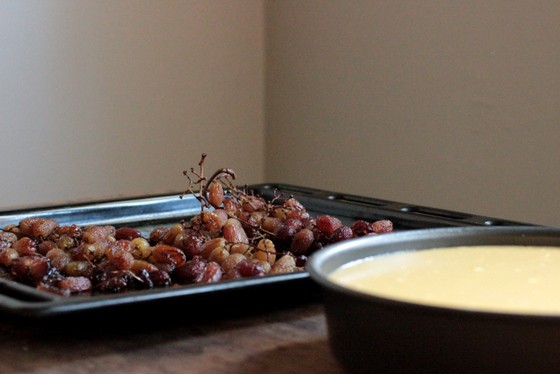 Good thing I remembered about this 8 hour cheesecake I have bookmarked since I bought the book, which was in 1999, the time when I discovered amazon shipped to argentina. I spent a few years buying whatever cookbook I could. No, seriously, I bought some 120+ cookbooks in two years.  The dollar exchange was very good to us at the time, so it was like entering their site and finding out all cookbooks are 3 bucks. How many would you buy?
.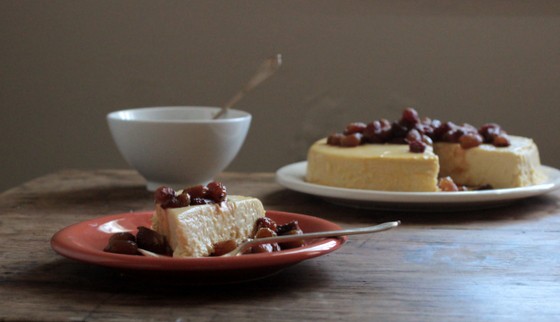 Back to our culinary concern here. You can say I'm a cheesecake baking addict and you would be right. You could say I'm a long and slow cooking addict and you would be on the right track.
So this was the recipe for today. Perfect in every way, not least the fact that I could try another version of a traditional cheesecake.
 .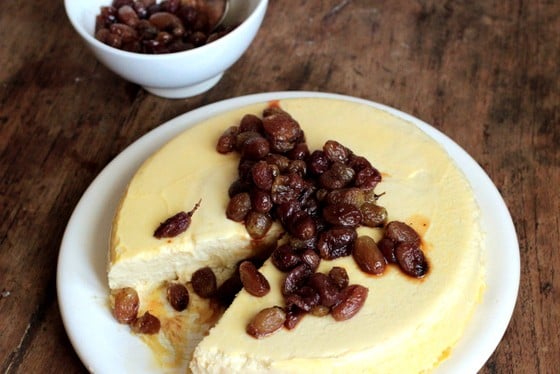 Yet this one is different. The flavor is as good as any of my other favorites. It doesn't have any starch, which is a big plus in my book and no out of the ordinary ingredients.
But there is one difference that makes it worthwhile to have a cheesecake in a very low oven for  8 hours, the texture. It's mind
blowing, like you can't imagine. Unctuous and creamy, a cross between silky panna cotta and the most expensive face cream you can buy.
No matter how many cheesecakes you made or how many recipes you have, you should make this one.
Try it at room temperature and then after 1 or 2 days in the fridge. The texture will still be ridiculously creamy. But if it's cold it's easier to serve. Top it with whatever you want, or leave it plain, but do make it.
Please, please, pretty please.
 .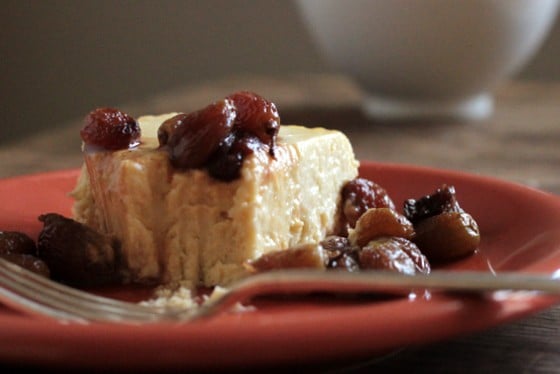 .
8 HOUR CHEESECAKE WITH ROASTED GRAPES
from
Cakes
, by Maida Heatter
The flavoring of the cognac and rum in this cheesecake is not very subtle, but can be omitted. I would use
some almond extract in addition to the vanilla. This cheesecake doesn't rise or crack, it bakes like a custard.
2 pounds (910g) cream cheese, at room tº
2 Tbs vanilla extract or paste
2 Tbs dark rum, such as Myer's
Preheat the oven to 200ºF / 95ºC. Butter or spray a 8 inch round cake pan with 2 or 3 inch sides, and a non-stick surface. Or butter the pan and line the bottom with wax paper. The cake won't rise at all, but the batter will fill just below the 2 inch mark.
Put the cake pan in a larger  baking tray that will hold 1-inch of water.
In a large bowl beat cream cheese with an electric mixer for 1 or 2 minutes, until very 
smooth. There should be no lumps at all. Gradually add the sugar, vanilla, rum 
and cognac and continue beating until perfectly smooth.
Add the eggs, one at a time, beating until each one is completely mixed before adding
the next one.
Pour the mixture into the prepared pan. Put the baking tray in the oven and, slowly, add very hot tap water up to 1-inch.
Bake for 8 hours. My oven has a 3 hour timer, so I had to check twice and set it again.
Halfway through the baking the batter will start to appear a bit firmer, just barely.
After the 8 hours of baking, turn the oven off and carefully transfer the cake pan to a wire rack. It will still be jiggly, like a flan. Let the cake stand there, untouched, until it cools completely.
Unmold onto the serving plate carefully, it is very soft.
Remember that you won't be able to move the cheesecake after you unmold it, so it will stay where it lands.
Cover with the roasted grapes and serve.
Or refrigerate for 4 hours or up to 3 days and serve. The texture will be firmer but still incredibly creamy. You can also freeze it, let it thaw in the fridge.
Preheat the oven to 350ºF / 180ºC.
Arrange grapes in a baking tray and roast for about an hour, until they are shriveled and sticky.
I left the clusters whole, but it's easier to separate the grapes before baking than
after. Your choice.
Put the roasted grapes in a saucepan with the wine, and cook over medium heat for 5 minutes, until syrupy.