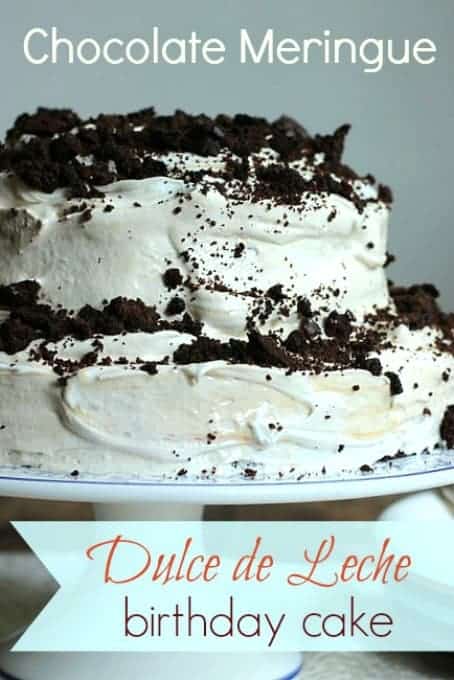 Not wanting to fall again in the 'I had big plans for a post last week but life got in the way', I'll just tell you that I wanted to bake a chocolate layer cake, a birthday cake, for one of my favorite baker's birthdays, Dorie Greenspan. Her day came and went and no cake on my part, because some of her other groupies did cook for her.
But the idea was already set in my mind and sometimes I need an excuse to bake a good, tall, filled, chocolate cake to appease my fat heart.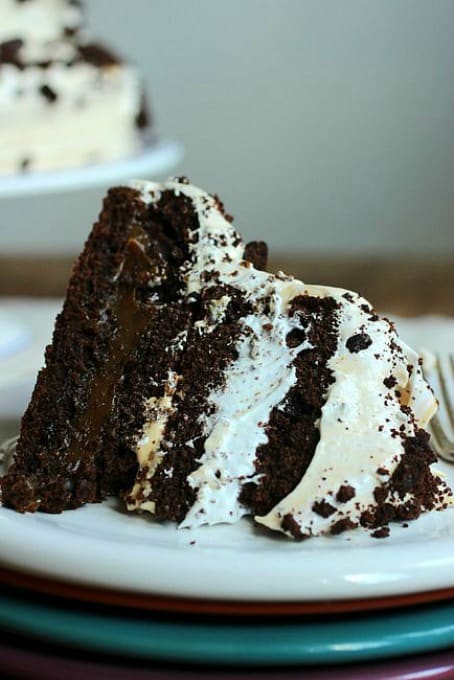 The excuse was a remainder from facebook with the list of my friend's birthdays for the next seven days – who knew I had signed for that option at one point, I certainly didn't – and it included two of my dearest and very much admired blogging friends, Alice the Hip Foodie Mom, and Liz That Skinny Chick (who) Can (certainly) Bake!. So the birthday cake list was getting bigger.
And of course there's my mom, whose birthday is tomorrow, my blue-eyed witch who definitely deserves a cake - she puts up with me after all. And if you must know, it's also my father's second wife's birthday (I know, the same day as my mom, so I suppose he's the one who should be spending hours in the shrink's office) and with whom I have a great relationship, even after many, many years.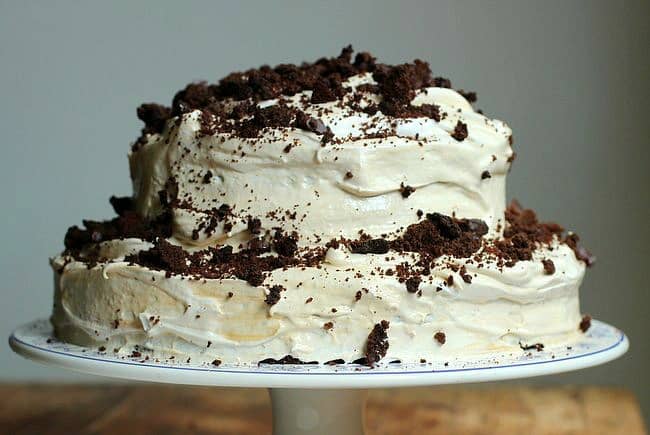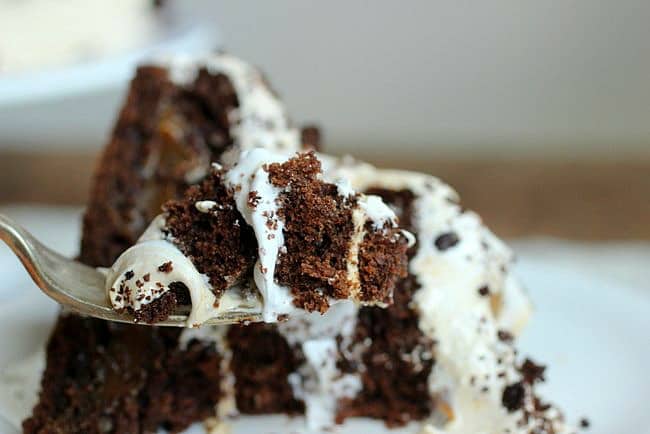 So that makes five of my favorite persons deserving a birthday cake, and that's what they're getting. In case you think I'm stretching it a bit, I mean, one cake for five celebrations, this is loaded, with two types of chocolate in the batter, meringue filling the top tier, and dulce de leche the bottom one. Oh, and I swirled extra milky jam with the meringue that frosted the four-layer thing. And that 'decoration' that looks like dirt? It's the piece of cake that I cut off the large one to even it out. They always find it amusing to develop an upwards mini bump, and if you want to make filled layers it's easier if they are smooth.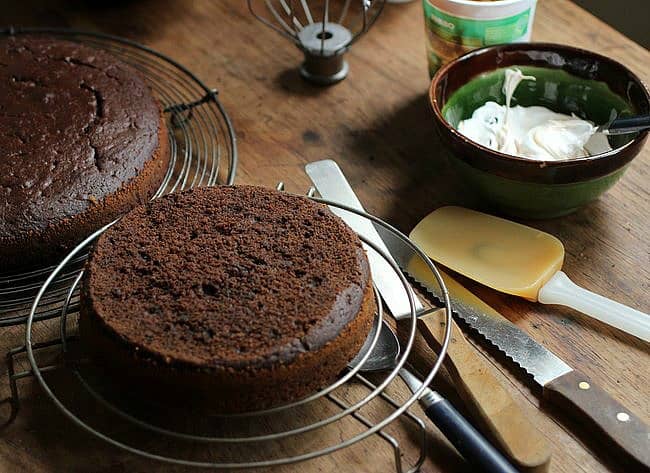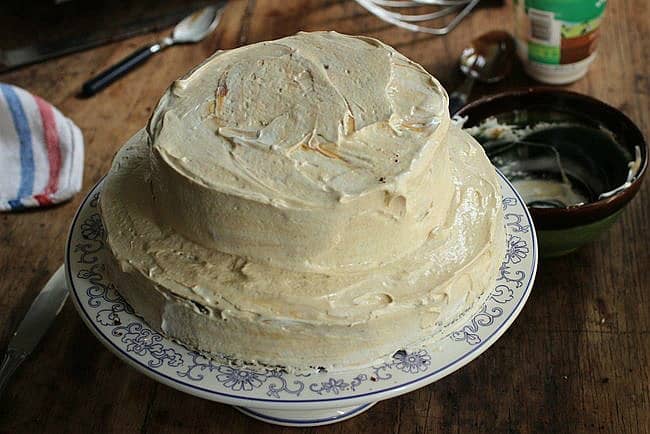 So pieces of this amazing chocolate cake recipe – from Dorie's cookbook, of course, it's her birthday – ended up being dried in the oven and used to make even more rustic a frosting that was already a mess and didn't even try to appear like the work of a pastry baker. Which I'm not, that much you guessed from the first picture, didn't you?
But it's almost Halloween so let's pretend it looks like dirt.
I always dry out leftover cake and then use them for dusting cake pans, especially bundt cakes, or add it to crumbles.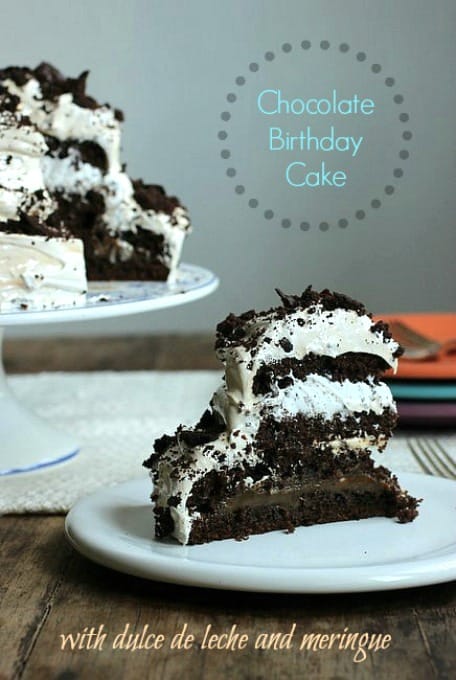 About the two different sized pans. The cake slice looks like a steam boat, or maybe a tractor. But the thing is that if you want more than two layers - I wanted 4 - you need two pans. And my oven doesn't fit two 9-inch pans (the nerve I know), so I used a smaller one. Go ahead and make it a one size cake if you want. It's easier to frost and make it look prettier, that's for sure.
So happy – belated in some cases - birthday to Dorie, Alice, Liz, Carola (my mom) and Nany (my ex-stepmom!). You make my life better, even if I've never met you in person, so here's a birthday layer cake in the hope to make your day sweeter.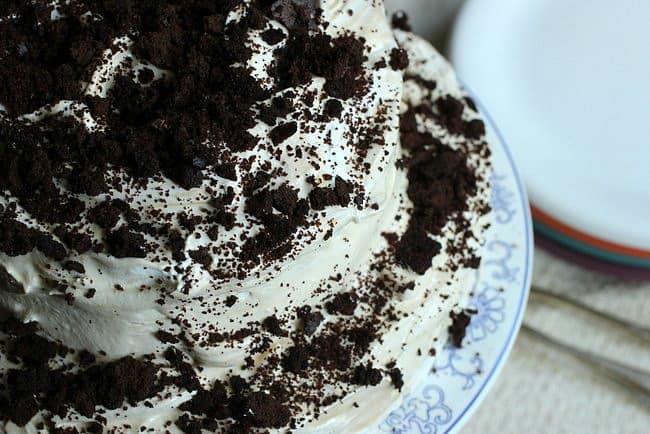 And I hope – can't promise guys, my crazy life prevents me from it – to make and post a real birthday cake every  month because I want to celebrate all my friend's birthdays!. I just wish you could stop by and have a piece of cake with me. Now, wouldn't that be great?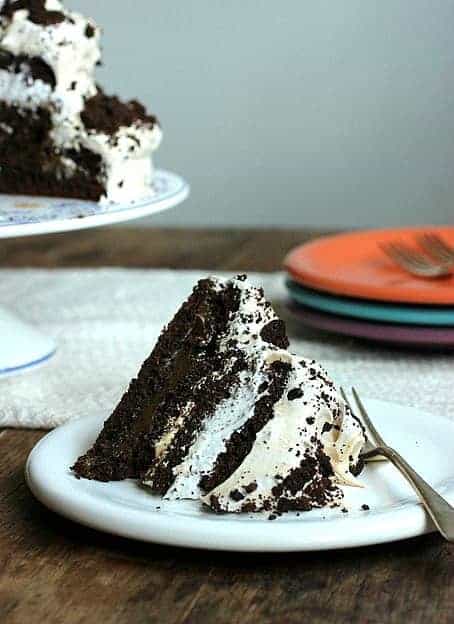 Print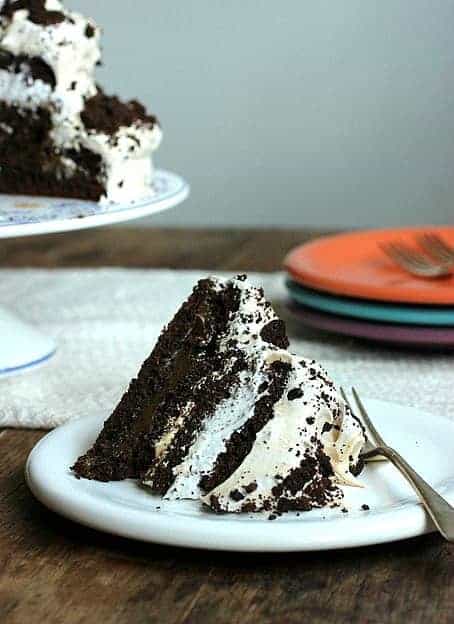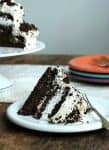 Chocolate meringue dulce de leche birthday layer cake
Author:

Paula Montenegro

Yield:

16

servings

1

x

Category:

baking, Cakes

Cuisine:

International
---
Description
The filling and frosting will be enough if you use two 8 or 9-inch pans.
I make swiss meringue because it's quite easy and stays rather soft, which I particularly like. This makes it harder to have a perfect frosting, which I don't mind, but if you do, consider making Italian meringue (which involves a syrup and a thermometer). Here's a tutorial.
---
Scale
Ingredients
For the devil's food chocolate cake:
1 1/3 cups

all purpose flour

½ cup

unsweetened cocoa powder

¾ teaspoon

baking soda

½ teaspoon

baking powder

¼ teaspoon

salt

10

Tbs 150g unsalted butter, room tº

½ cup

dark (or light brown sugar)

½ cup

sugar

3

large eggs (at room tº)

1 teaspoon

vanilla extract

2 oz

60g unsweetened chocolate, melted and cooled

½ cup

natural yogurt (or buttermilk or whole milk)

½ cup

boiling water

4 oz

. 120g chopped milk chocolate
For the swiss meringue:
4

egg whites

1 cup

sugar

2 ½ cups

dulce de leche (about

700g

)
---
Instructions
For the devil's food chocolate cake:
Preheat oven to 350ºF /180ºC. Butter an 9-inch and a 6-inch cake pans with removable bottoms. Dust with breadcrumbs.
Sift together flour, cocoa, baking powder and soda, salt.
In a large bowl beat butter until creamy, about 1 minute. Add sugars gradually and beat for 2 minutes after adding the last part.
Add eggs, one at a time, beating well after each addition. Add vanilla and unsweetened chocolate. The mixture will look curdled, that's fine.
Add the dry ingredients in 3 parts, alternating with the yogurt in 2 parts. Mix just until well combined.
Slowly add boiling water and mix just until combined.
Add the milk chocolate with a spatula, and divide between pans, using a bit more in the large one.
Bake for about 40 to 45 minutes, until a tester inserted in the middle of both cakes comes out clean. The smaller one will take a few minutes less probably.
Let cool completely on a wire rack before filling and frosting. It can be made the day before and kept wrapped in plastic.
For the meringue:
Put a pan with water over medium heat. On top of it, put the metal bowl from the mixer with the whites and sugar. The water should not touch the bottom of the pan.
Mix with a hand whisk, and let the water boil. The mixture will be thick at first but will liquefy as it warms. In a few minutes it will be warm to the touch (use your pinky finger to test).
Transfer to the mixer and whip until stiff and glossy, about 5 minutes. You should have rather stiff peaks.
To assemble the cake, cut both cakes in half.
Dab the cake plate with a bit of dulce de leche and place one of the large layers on top; that way the cake won't move.
Fill with a thick layer of dulce de leche, about ¾ of the amount, spreading evenly but not reaching the edges completely. Top with the other large layer, pressing gently. The dulce de leche will fatten towards the edges.
Add some meringue on top of the cake making a circle as big as the layers that you haven't used yet. Place one of those layers on top, and fill with meringue, not reaching the edges completely.
Mix the rest of the dulce de leche with the meringue you have left, swirling just a few times to have a marble effect. (As you can see I didn't quite get that effect, but not for lack of trying…).
Add a thin layer of meringue to all of the cake and then add a thicker one. However you can. The meringue is soft for having a perfect frosting.
Sprinkle with the chocolate crumbs.
---
cake barely adapted from Baking from my Home to Yours, by Dorie Greenspan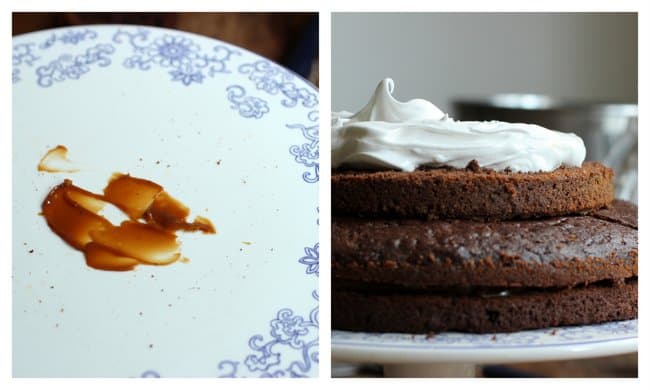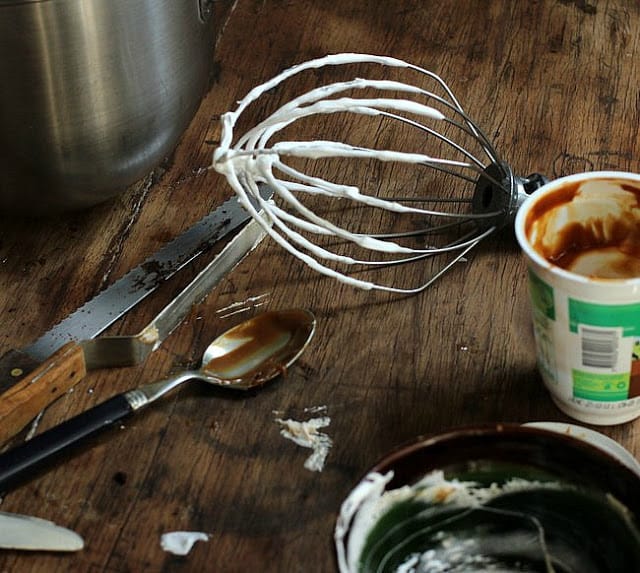 ---