A chocolate layer cake filled with dulce de leche is magic and you should try it! I went a step further and added swiss meringue to the mix. The result is chocolaty and sweet and delicious. A birthday cake you'll want to make over and over again.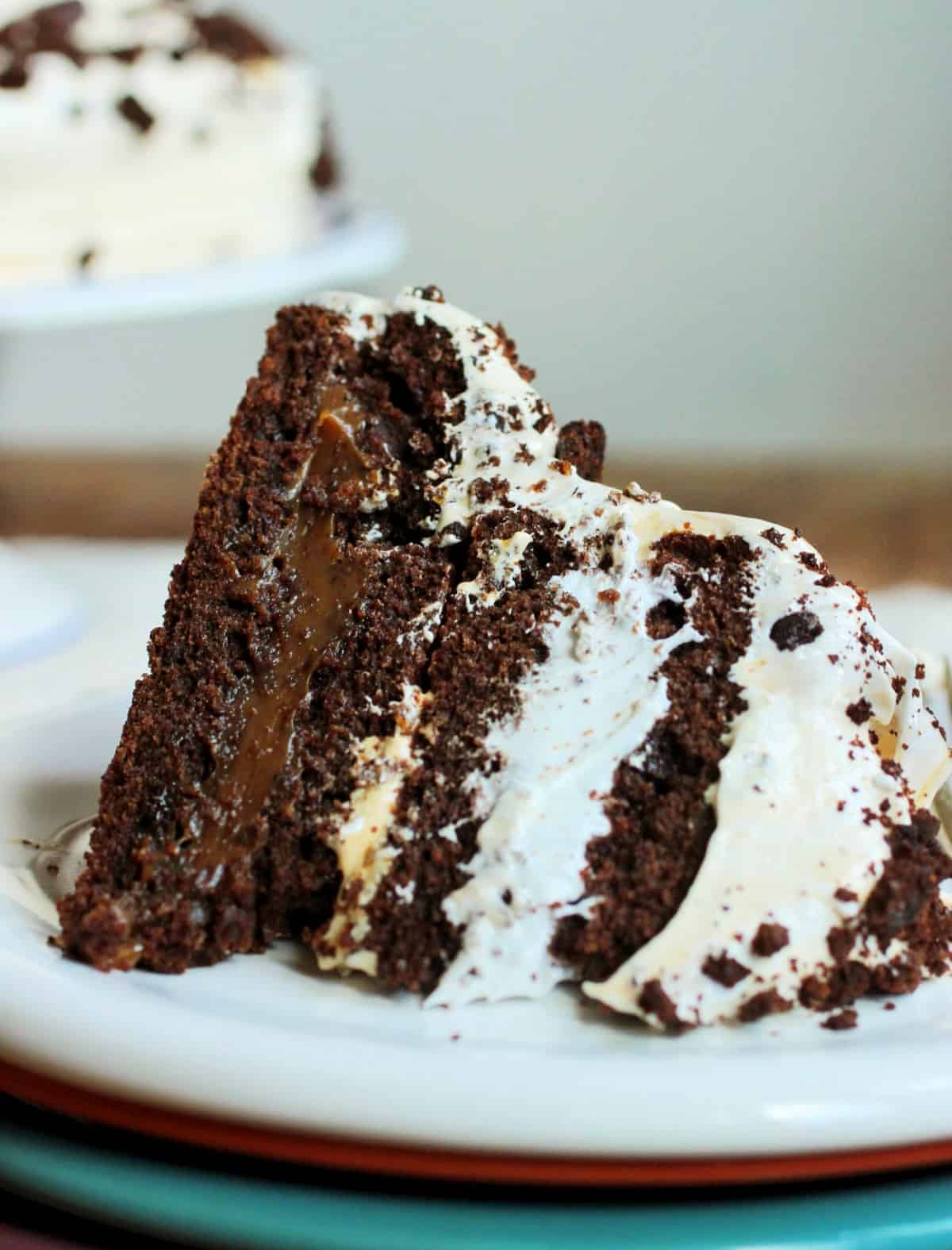 As an Amazon Associate, I earn from qualifying purchases. Please read my disclosure policy.
Originally published in November 2013, this post has been updated with text and images to serve you better. The recipe remains the same.
A tall, scrumptious, chocolatey cake, filled with dulce de leche and meringue is what we all need right now. I'm hoping you agree because this is one large cake recipe!
When I started this blog, a gazillion years ago it seems, for a few months I did virtual birthday cakes for my fellow food bloggers. It lasted several months and there are some great recipes to prove it.
For an easy and quick chocolate icebox cake, you should try the Chocotorta recipe, a simple dessert with wafers and dulce de leche.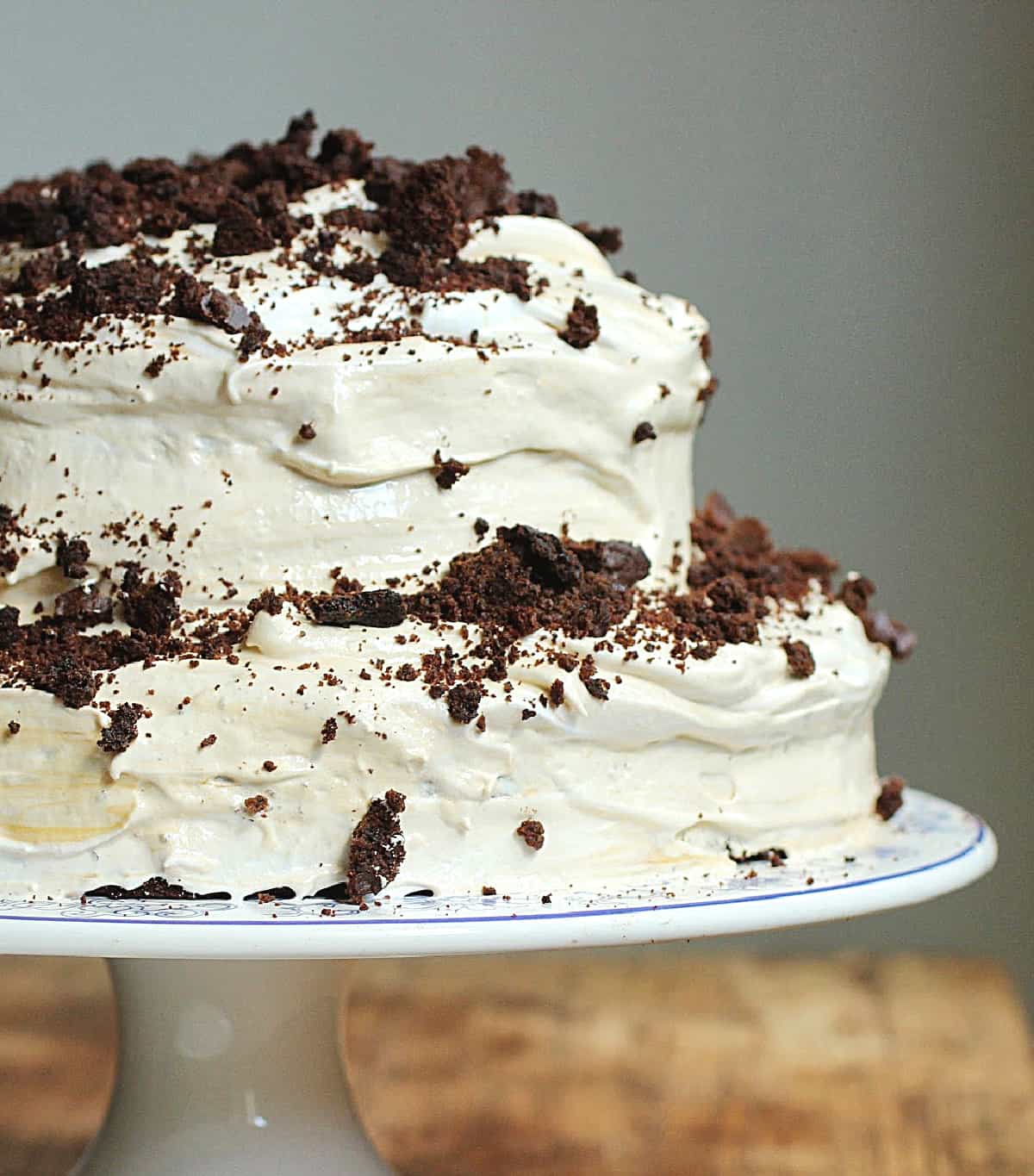 Chocolate layers
This is one fantastic chocolate cake recipe.
Besides some obvious ingredients, like cocoa powder, it has yogurt and some milk chocolate in the batter which are two ingredients not normally associated with regular chocolate layer cake recipes. The result is moist, tender, full of chocolate, and very balanced in sweetness.
About the two different-sized pans. But the thing is that if you want more than two layers - I wanted 4 - you need two pans.
And my oven doesn't fit two 9-inch pans (the nerve I know), so I used a smaller one. So a best practice would be to use 2 8-inch round pans. Go ahead and make it a one-size cake if you want. It's easier to frost and make it look prettier, that's for sure.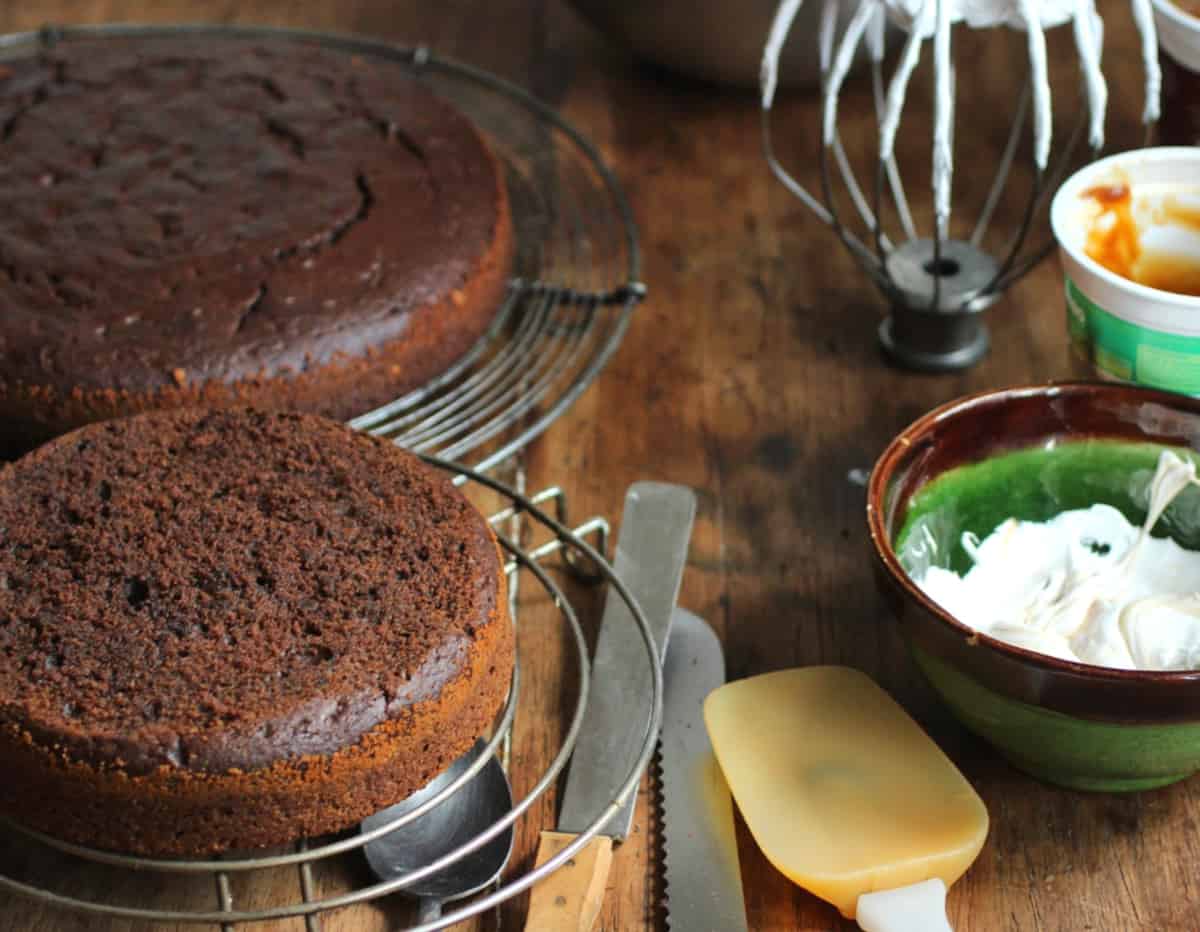 The filling
Here I used my favorite cake filling in the world: dulce de leche. If you never tried it you should, especially with chocolate cake. The combination is magic.
Dulce de leche: it's a sweet milk jam - a caramel-like mixture made by cooking milk and sugar for a while - originally from Argentina, my home country. We consume it like crazy here and there are many recipes in this blog that make it shine, like the Dulce de Leche Brownies or the best Alfajores ever, and also the Walnut Alfajores.
Swiss meringue: it's my favorite type to make and I used it for both the filling and the frosting, some of it swirled with dulce de leche. Because why stop at one good thing, right? Let's have both together.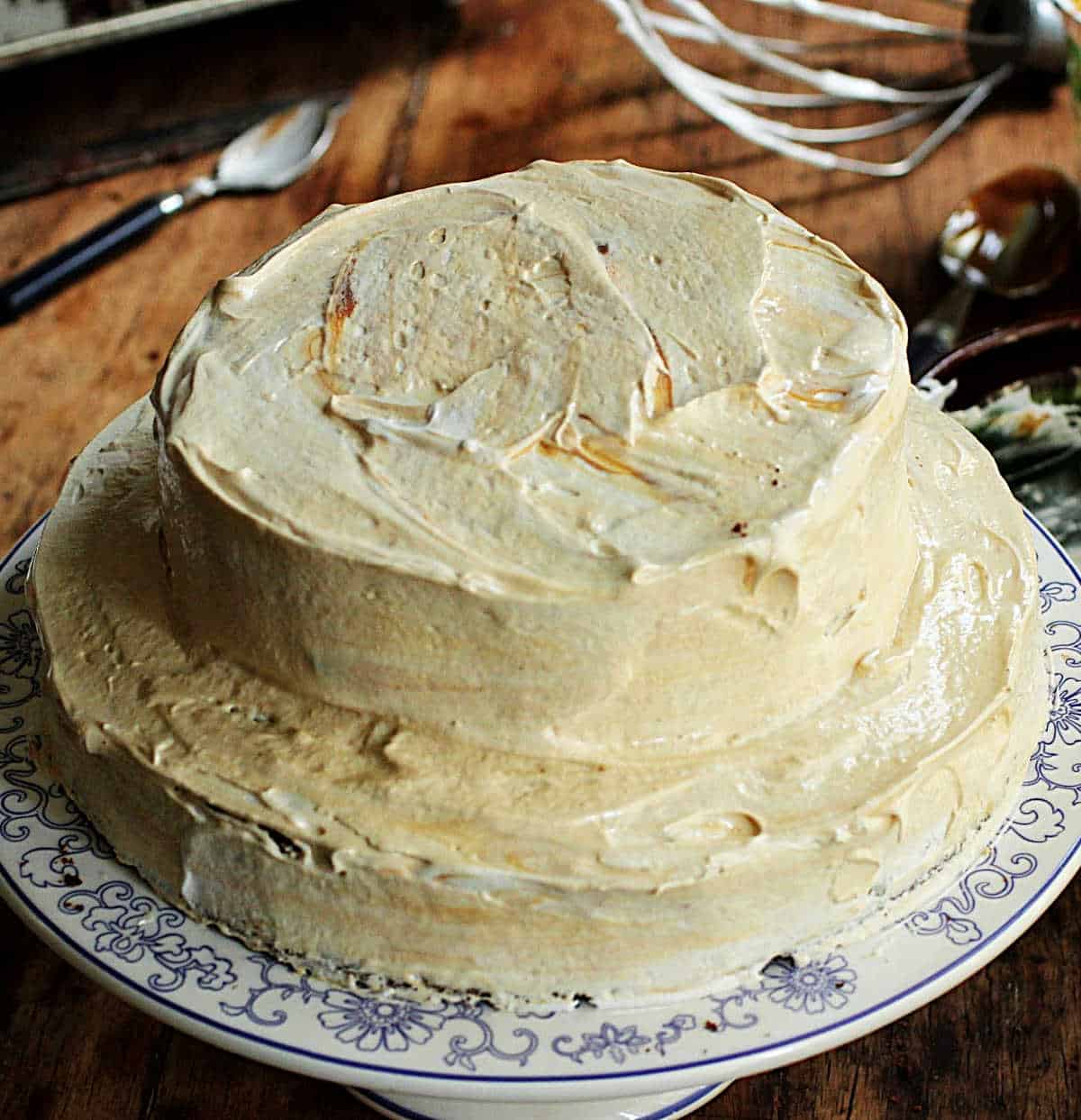 Bread crumbs
And that 'decoration' that looks like dirt?
I cut off the top of the larger cake layer to even it out. They always find it amusing to develop an upwards mini bump, and if you want to make filled layers it's easier if they are even.
So the pieces ended up being crumbled and dried in a low oven and used to make even more rustic frosting that was already a mess and didn't even try to appear like the work of a pastry baker who decorates. I'm all about the recipes.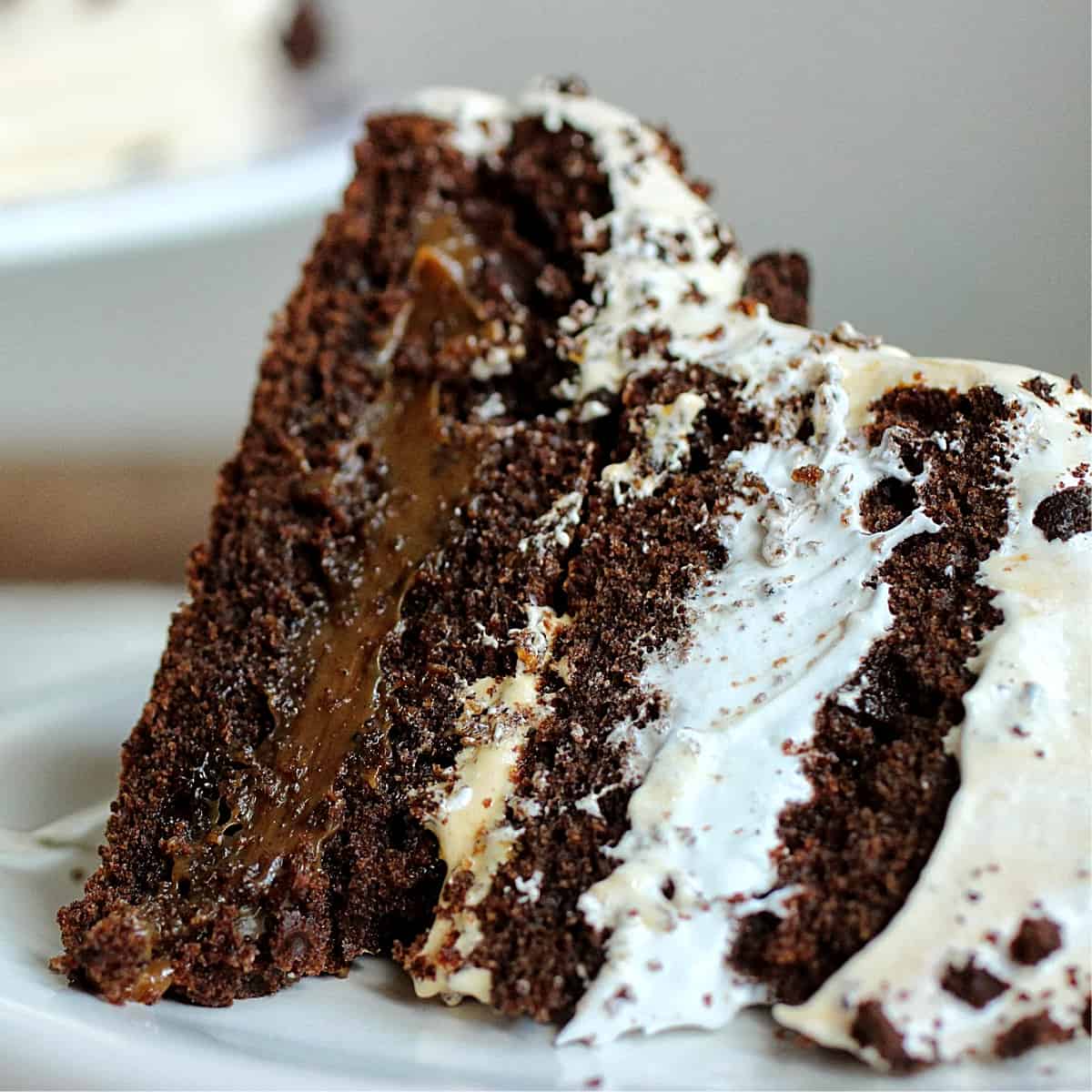 Make-ahead
Cake: the layers can be made in advance and kept, well wrapped, in the refrigerator for 3 days or frozen for up to a month.
Dulce de leche: the best option is to buy it. Choose the 'pastry dulce de leche' which is thicker and made especially for filling. The label should have the words repostero (Spanish for pastry and baking). I use Vacalin dulce de leche repostero or Veronica dulce de leche repostero.
Meringue: it can't be made in advance. It should be used immediately so it stays fluffy and wonderful.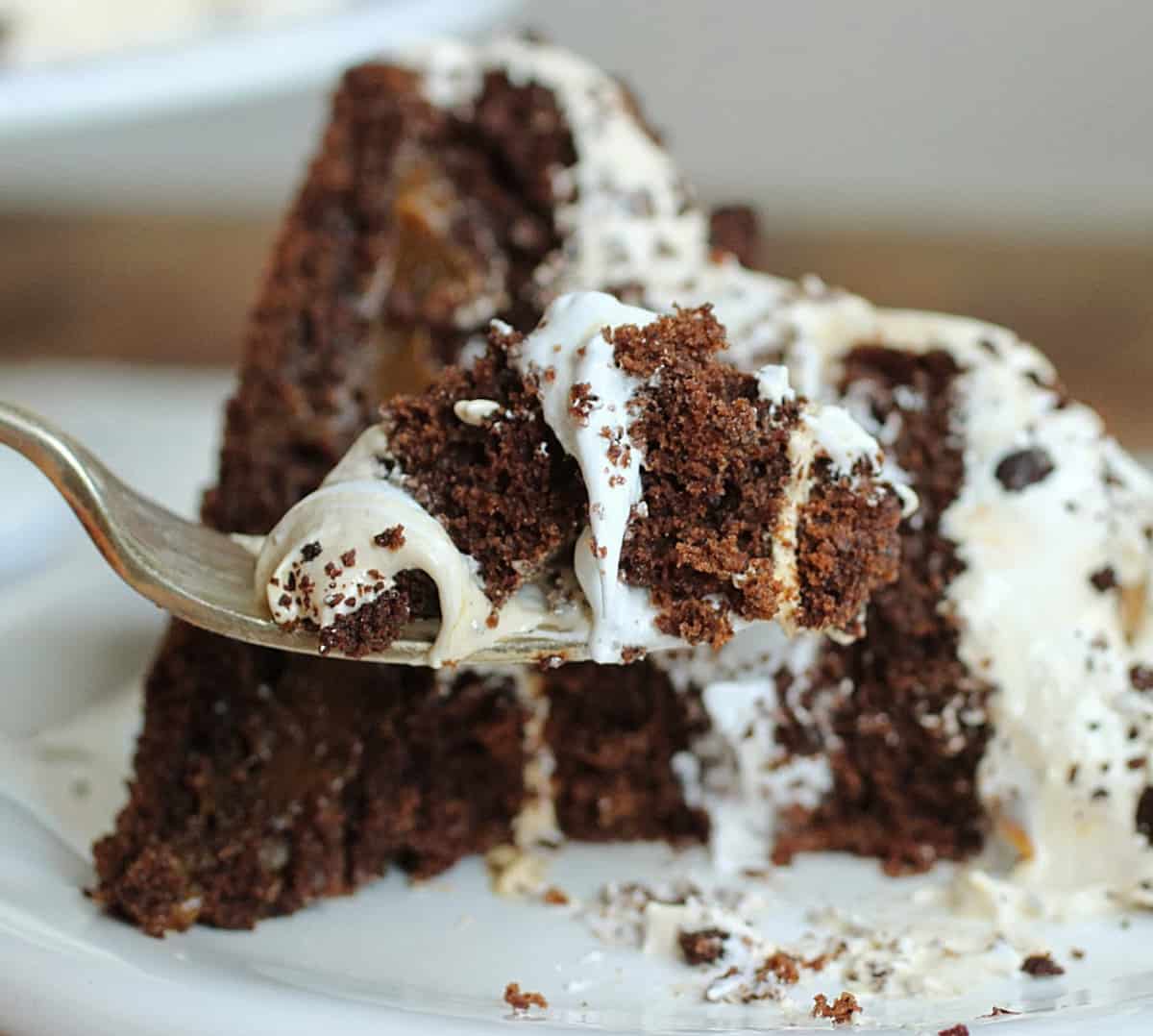 ---
Related recipes you might like:
---
Let me know in the comments below if you made this recipe and loved it and if you had issues so we can troubleshoot together. I love to hear what you think, always. Thanks for being here. It's much appreciated.
You might also consider subscribing to our FREE email series to Boost your Home Baking Skills! And our regular newsletter.
And let's connect via Facebook, Instagram, and Pinterest.
Print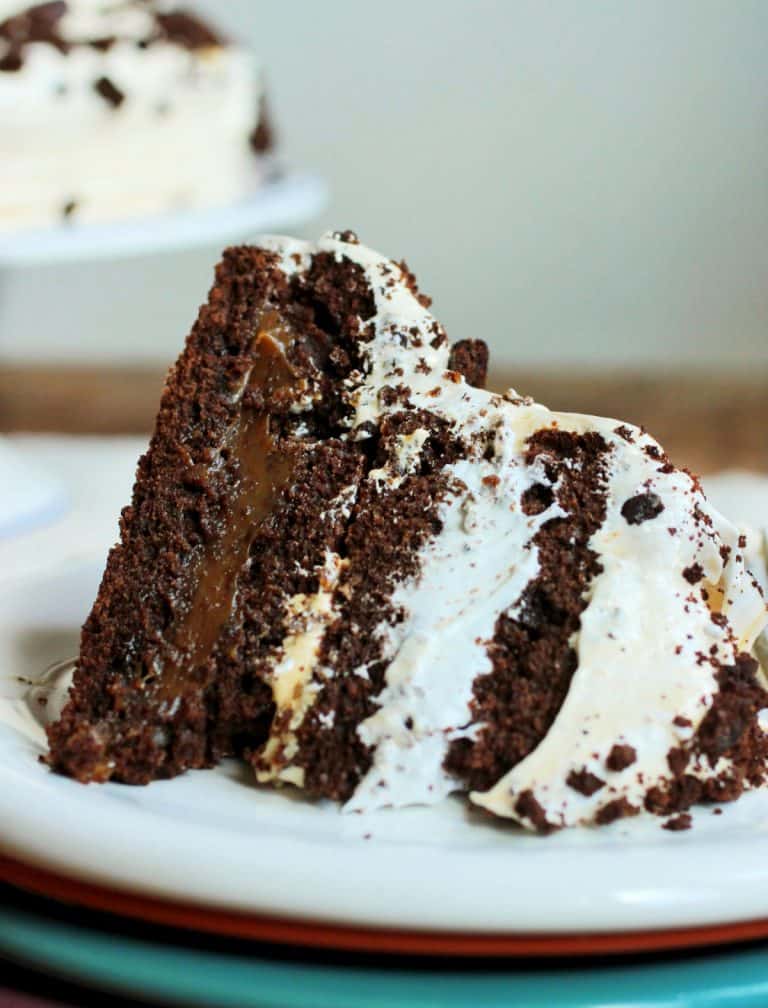 Chocolate Cake with Dulce de Leche
A chocolate layer cake filled and frosted with dulce de leche and meringue. A stunner! And a birthday cake you'll love.
Total Time:

3 hours 20 minutes

Yield:

16-20 servings
For the devil's food chocolate cake:
1 ⅓

cups

all-purpose flour

½

cup

unsweetened cocoa powder

¾ teaspoon

baking soda

½ teaspoon

baking powder

¼ teaspoon

salt

10 tablespoons

(

150g

) unsalted butter, room temperature

½

cup

(100g) brown sugar

½

cup

(100g) white sugar

3

large eggs, at room temperature

1 teaspoon

vanilla extract

2

oz

(60g) unsweetened chocolate, melted and cooled

½

cup

natural yogurt (or buttermilk or whole milk)

½

cup

boiling water

4

oz

. (120g) milk chocolate, chopped
For the swiss meringue:
4

egg whites

1

cup

(200g) sugar

2 ½

cups

dulce de leche, about 700g (see Notes for favorite brands)
Instructions
For the devil's food chocolate cake:
Preheat oven to 350ºF /180ºC.
Butter a 9-inch and 6-inch (or two 8-inch) cake pans with removable bottoms. Dust with breadcrumbs.
Sift together flour, cocoa, baking powder and soda, salt.
In a large bowl beat butter until creamy, about 1 minute. Add sugars gradually and beat for 2 minutes after adding the last part.
Add eggs, one at a time, beating well after each addition.
Add vanilla and unsweetened chocolate. The mixture will look curdled, that's fine.
Add the dry ingredients in 3 parts, alternating with the yogurt in 2 parts. Mix just until well combined.
Slowly add boiling water and mix just until combined.
Add the milk chocolate with a spatula, and divide between pans, using a bit more in the large one.
Bake for about 40 to 45 minutes, until a tester inserted in the middle of both cakes, comes out clean.
Let cool completely on a wire rack before filling and frosting. It can be made the day before and kept wrapped in plastic.
For the meringue:
Put a pan with water over medium heat.
On top of it, place the glass or metal bowl from the mixer with the whites and sugar. The water should not touch the bottom of the pan.
Mix constantly with a hand whisk. The water will start to boil. Don't let water get into the bowl.
The mixture will be thick at first but will liquefy as it warms. This is your cue to remove it. It will also be warm to the touch (use your pinky finger to test).
Transfer to the mixer (or mix with a hand-held electric beater) and whip until stiff and glossy, about 5 minutes. You should have rather stiff peaks.
To assemble the cake:
Cut both cakes in half. If you want to, dab the cake plate with a bit of dulce de leche in the middle and place one of the large layers on top; that way the cake won't move.
Fill with a thick layer of dulce de leche, about ¾ of the amount, spreading evenly but not reaching the edges completely. Top with the other large layer, pressing gently. The dulce de leche will fatten towards the edges.
Add some meringue on top of the cake making a circle as big as the layers that you haven't used yet. Place one of those layers on top, and fill with meringue, not reaching the edges completely.
Mix the rest of the dulce de leche with the meringue you have left, swirling just a few times to have a marble effect. (As you can see I didn't quite get that effect, but not for lack of trying…).
Add a thin layer of meringue to all of the cake and then add a thicker one. However, you can. The meringue is soft for having a perfect frosting.
Sprinkle with the chocolate crumbs.
Notes
Cake: the layers can be made in advance and kept, well wrapped, in the refrigerator for 3 days or frozen for up to a month.
Dulce de leche: the label should have the word repostero (Spanish for pastry and baking). I use Vacalin dulce de leche repostero or Veronica dulce de leche repostero.
Cake pans: the recipe is enough for 3 8 or 9-inch layers, the former will be a bit taller. The filling and frosting will be enough if you use those pans.
Meringue: I make swiss meringue because it's quite easy and stays rather soft, which I particularly like. This makes it harder to have a perfect frosting, which I don't mind, but if you do, consider making Italian meringue (which involves syrup and a thermometer). Here's a basic Italian meringue recipe.
Author:

Paula Montenegro

Prep Time:

30 minutes

Cooling time:

120 minutes

Cook Time:

50 minutes

Category:

Cakes

Method:

Baking + Whipping

Cuisine:

International
Keywords: chocolate dulce de leche cake
Adapted from Baking from my Home to Yours, by Dorie Greenspan