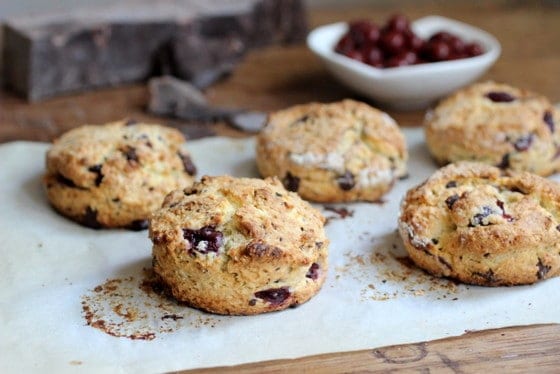 After a huge storm which flooded many areas of this city last week, including my neighborhood, we're finally having what can be referred to as wonderful spring days. Perfect way to start the week.
So many 
things happen around the world at all times. So much creativity it's 
mind-blowing. Take the common rice for example. Nothing particularly 
interesting about it. Take a look
at these
and you might change your mind.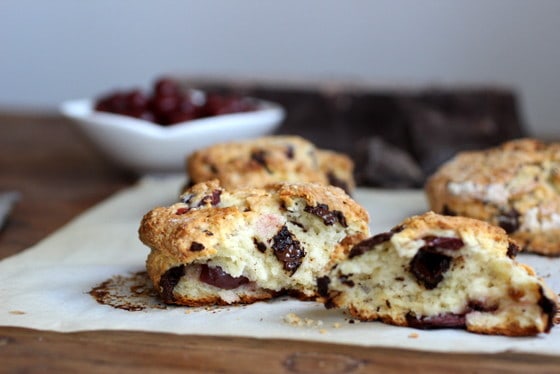 This is the strangest entry I ever found in wikipedia. I don't even know if I completely understand the explanation. How's that for feeling dumb?
20 people 
to immediately unfriend on facebook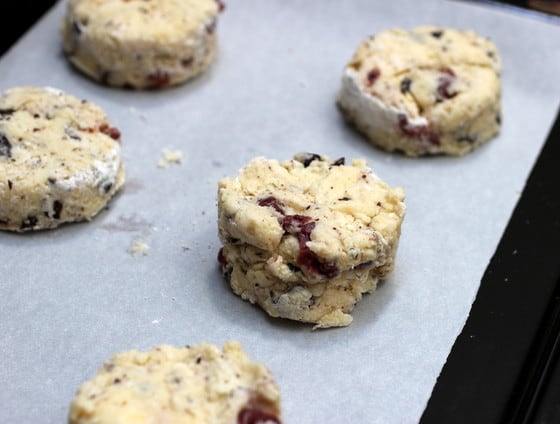 I dream of cranberries. I love them, their acid sweet flavor, beautiful deep color and the way they have of livening up any sweet or savory thing they get thrown into. But, the sad, sad story here is that they don't exist in this city. Not even after so many years of finally accepting muffins, cheesecake, peanut butter and other foreign stuff, they never showed up for the party.And we are having a Chocolate Party people, who wouldn't want to come, right?
So when the polls were closed and cranberries emerged the winner of the November challenge, let's say I was indeed challenged more than ever. The closest I had found were guindas which are referred to as sour cherries. They taste surprisingly like cranberries and have that deep red hue. But they only grow in cold climates, south of the country, and never make it to the city.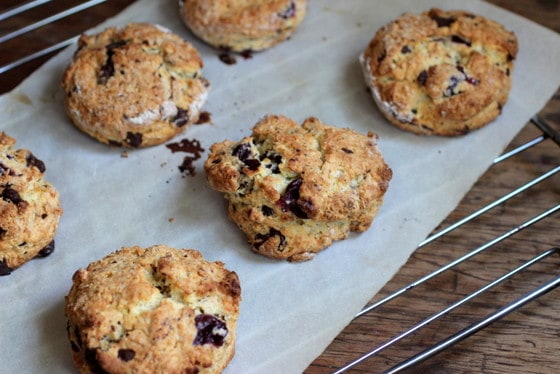 Then the other day, while I stopped at my favorite store where I buy every possible type of flour, nuts, food colorings, grains, etc I found jars of canned berries. And that included sour cherries.  So I went with those. The best possible substitution. I think Roxana, the mastermind behind this chocolate party, will accept my chocolate sour cherry scones as part of the party.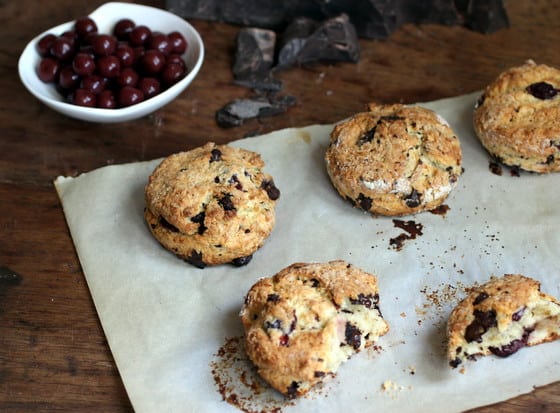 They turned out wonderful, not only the scones, but the pairing of chocolate with the berries. 
So yes, the whole scone turned out good, very good, a cross between breakfast and tea time. Or a snack. They are not too sweet and have those dark and somewhat sour stumbles when you bite into them.
Print Chocolate Sour Cherry Scones
Yield:

12

small scones

1

x
---
Scale
Ingredients
2 cup

s sifted all purpose flour (sift first then measure)

3 teaspoon

s baking powder

¾

  teaspoon salt

4

Tbs sugar

¼ cup

melted butter

1

egg (beaten)

3

Tbs buttermilk

½ cup

sour cream with ¼ teaspoon baking soda

½ cup

semi sweet chocolate chunks

½ cup

sour cherries (pitted)
---
Instructions
Preheat oven to 375ºF . Line a baking sheet with parchment paper.
In the bowl of a food processor put flour, baking powder, salt and sugar. Process a few times to mix. In a bowl mix butter, egg, buttermilk and sour cream with baking soda.
Pour over flour mixture and process with a few on/off pulses just until it begins to come together. Don't over mix.
Dump the whole shaggy mass onto the lightly floured work surface and fold it over itself a few times, enough to gather it all together but without kneading.
Pat the dough and cut rounds using a cookie cutter.
Put on the baking sheets and bake for 20 minutes, until they are golden. Let cool a bit on wire rack. Eat warm.
---
---