Crumbly and tender, these cherry scones come together in 40 minutes. They can be frozen and baked to order, so you eat warm, out-of-the-oven scones every time!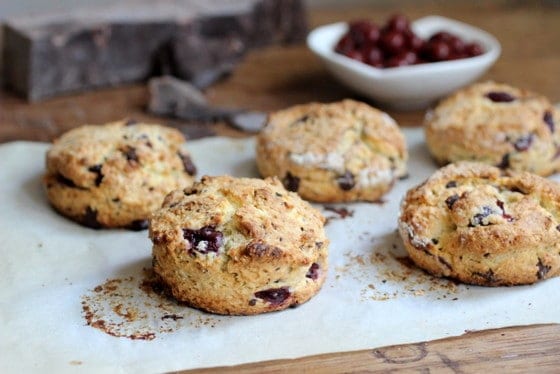 After a huge storm that flooded many areas of this city last week, including my neighborhood, we're finally having what can be referred to as wonderful spring days. The perfect way to start the week.
But the holiday season calls for berries, chocolate, and baking, doesn't it?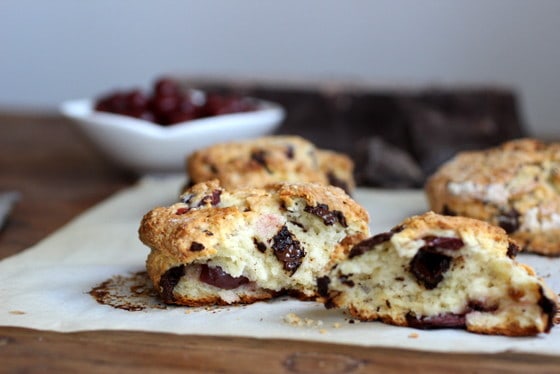 I dream of cranberries.
I love them, their acid sweet flavor, beautiful deep color, and the way they have of livening up any sweet or savory thing they get thrown into.
So when the polls were closed, and cranberries emerged as the winner of the November challenge, let's say I was challenged more than ever. The closest I had found were sour cherries. They taste surprisingly like cranberries and have that deep red hue. But they only grow in cold climates, south of the country, and never make it to the city.
Scones have very simple ingredients, but a few pointers should be followed if you want soft, tender ones that are nicely risen.
Tips for making scones
Very cold ingredients. I'm not kidding when I say frozen butter, at least very cold. And don't take the cream half an hour before mixing the scones. Butter, and cream, belong in the fridge until you need to scatter and pour them.
Handle the dough lightly. Don't overwork the dough. It needs to remain as cold as possible so the butter doesn't start to melt and you get that crumbly texture.
A rather high oven. They need that extra heat to rise however they can in spite of all that butter and cream. And if by any chance you forgot to turn the oven on before you start with the mixing, please don't leave the baking sheet with the cut scones waiting on the counter. Put them in the fridge or freezer for the ten or fifteen minutes it takes for the oven to reach its temperature.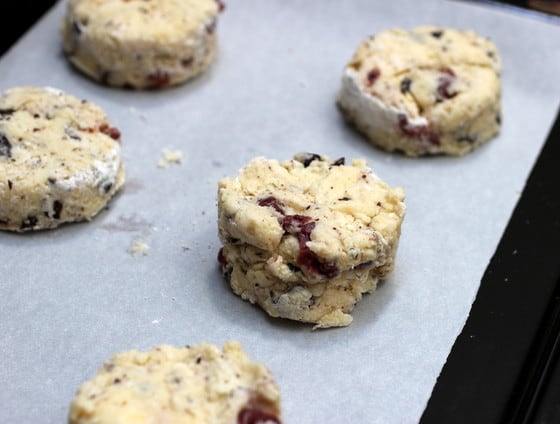 Freezing scones.
One of the best parts of making scones is that you can have them frozen, and unbaked until you need them.
Cut and put in a cookie sheet that fits into your freezer. Freeze in the tray until completely solid. You can transfer to a plastic bag until ready to use or pop the whole tray in a pre-heated 375°F oven. No need to defrost them.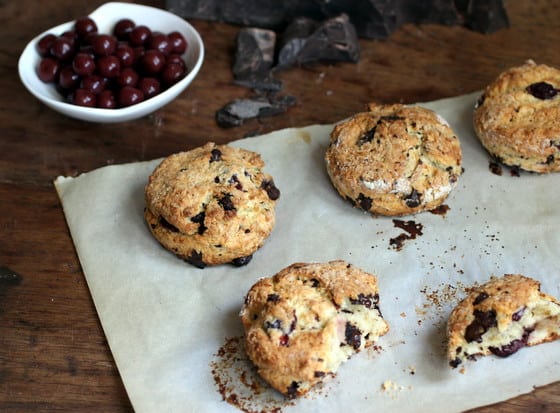 What type of chocolate should we use?
A good semi-sweet chocolate bar cut into chunks is my first option. Or use the packaged chocolate chunks. I prefer them to chips because they are larger and melt better, but you can use your favorite chocolate chip if that's all you have.
They turned out wonderful, not only the scones but the pairing of chocolate with the berries.
So yes, the whole scone turned out good, very good, a cross between breakfast and tea time. Or a snack. They are not too sweet and have those dark and somewhat sour stumbles when you bite into them.
---
Related recipes you might like:
---
Let me know in the comments below if you made this recipe and loved it and if you had issues so we can troubleshoot together. I love to hear what you think, always. Thanks for being here. It's much appreciated.
You might also consider subscribing to our FREE email series to Boost your Home Baking Skills! And our regular newsletter.
And let's connect via Facebook, Instagram, and Pinterest.
Print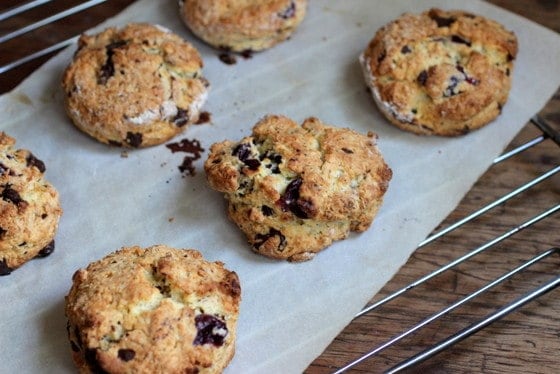 Chocolate Sour Cherry Scones
Crumbly and tender, these scones come together in 40 minutes.
Total Time:

40 minutes

Yield:

12 small scones
2 cups

all-purpose flour

3 teaspoons

baking powder

¾

teaspoon salt

4

Tbs sugar

¼ cup

butter, melted

1

egg

3

Tbs buttermilk. cold

½ cup

sour cream, cold

¼ teaspoon

baking soda

½ cup

semi-sweet chocolate, in chunks

½ cup

sour cherries (pitted), fresh or frozen
Instructions
Preheat oven to 375ºF/190°C.
Line a baking sheet with parchment paper.
In a bowl mix sour cream with baking soda.
In the bowl of a food processor put flour, baking powder, salt, and sugar.
Process a few times to mix. In a bowl mix butter, egg, buttermilk, and sour cream with baking soda.
Pour over flour mixture and process with a few on/off pulses just until it begins to come together. Don't over mix.
If making by hand put dry ingredients in a large bowl. Mix wet ingredients in another bowl and add. Mix with a fork until it becomes a shaggy mass. Continue as instructed below.
Transfer the shaggy mass to a bowl and add the chocolate and cherries. Lightly mix with a fork to distribute.
Dump the dough onto the lightly floured work surface and fold it over itself a few times, enough to gather it all together but without kneading. Don't overwork. It will be irregular and spots will be dry.
Pat the dough and cut rounds using a cookie cutter.
Put on the baking sheets, freeze for 10 minutes, and then bake for 20 minutes, until they are golden.
Let cool a bit on a wire rack.
Eat warm.
Notes
You can substitute the sour cherries for same amount of cranberries or raisins.
Freezing: freeze the scones, unbaked, until ready to bake. Tranfer directly, without defrosting them, to a preheated 375°F oven.
Author:

Paula Montenegro

Prep Time:

20

Cook Time:

20

Category:

Scones & Biscuits

Method:

Baking

Cuisine:

International
Keywords: cherry scones, cherry chocolate scones
Adapted from Ann Pillsbury's Baking Book, 1950 edition