A coconut dough filled with dulce de leche and a super easy lemon cream (made in the microwave!). Beautiful pie recipe for a brunch, Easter table, mother's day, or because you have a sweet tooth!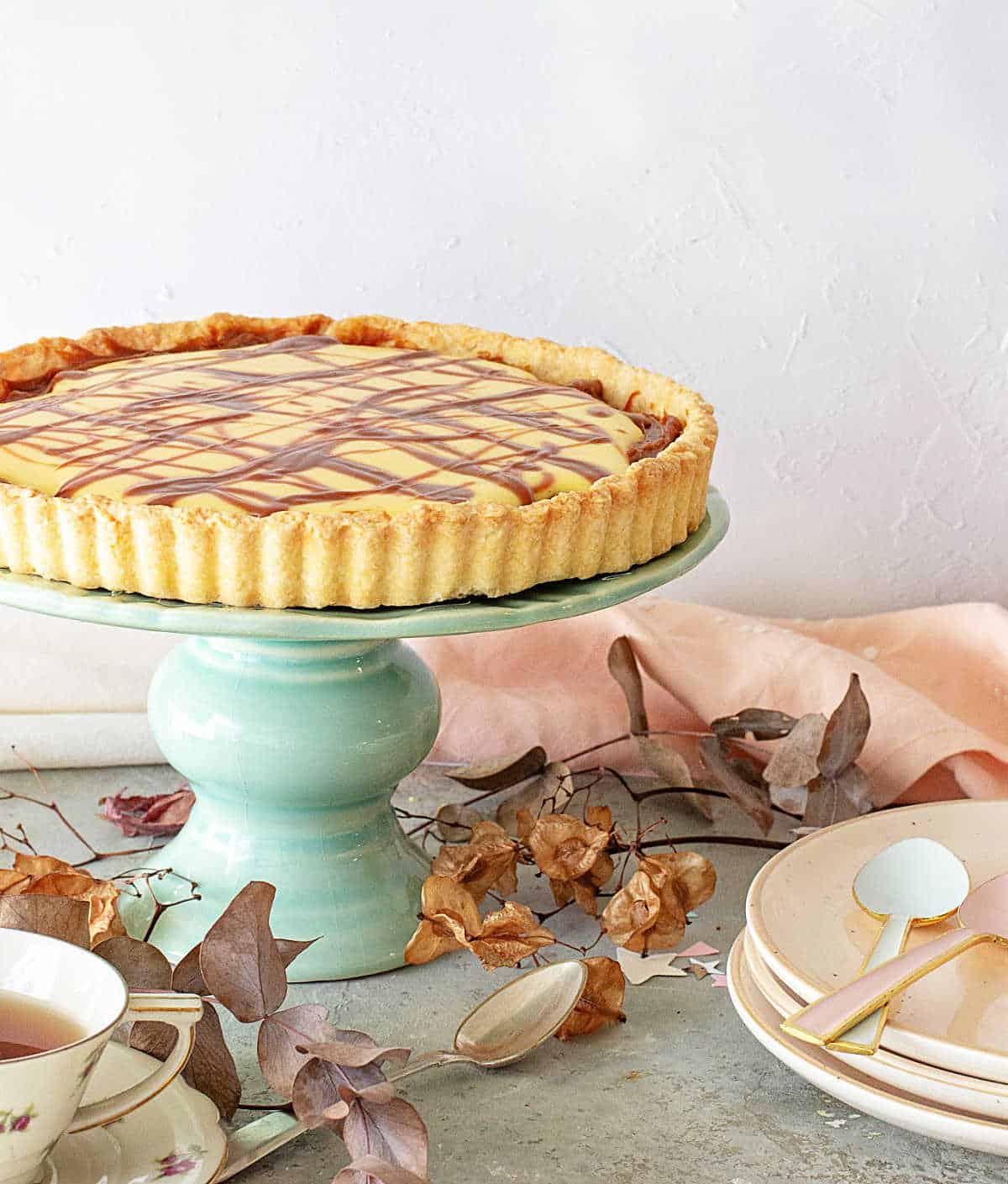 As an Amazon Associate, I earn from qualifying purchases. Please read my disclosure policy.
I know most of you are enjoying spring, so I made this coconut lemon tart especially for you.
First of all, the crust is the coconut part of the recipe. It has shredded coconut in the sweet dough and is really easy to make.
Coconut can have a weird smell while baking (it reminds me of soap, at least the one I buy) but when toasted it's outstanding.
It also has a layer of dulce de leche in the middle so I think it deserves a special pedestal, like the cake stand it sits on.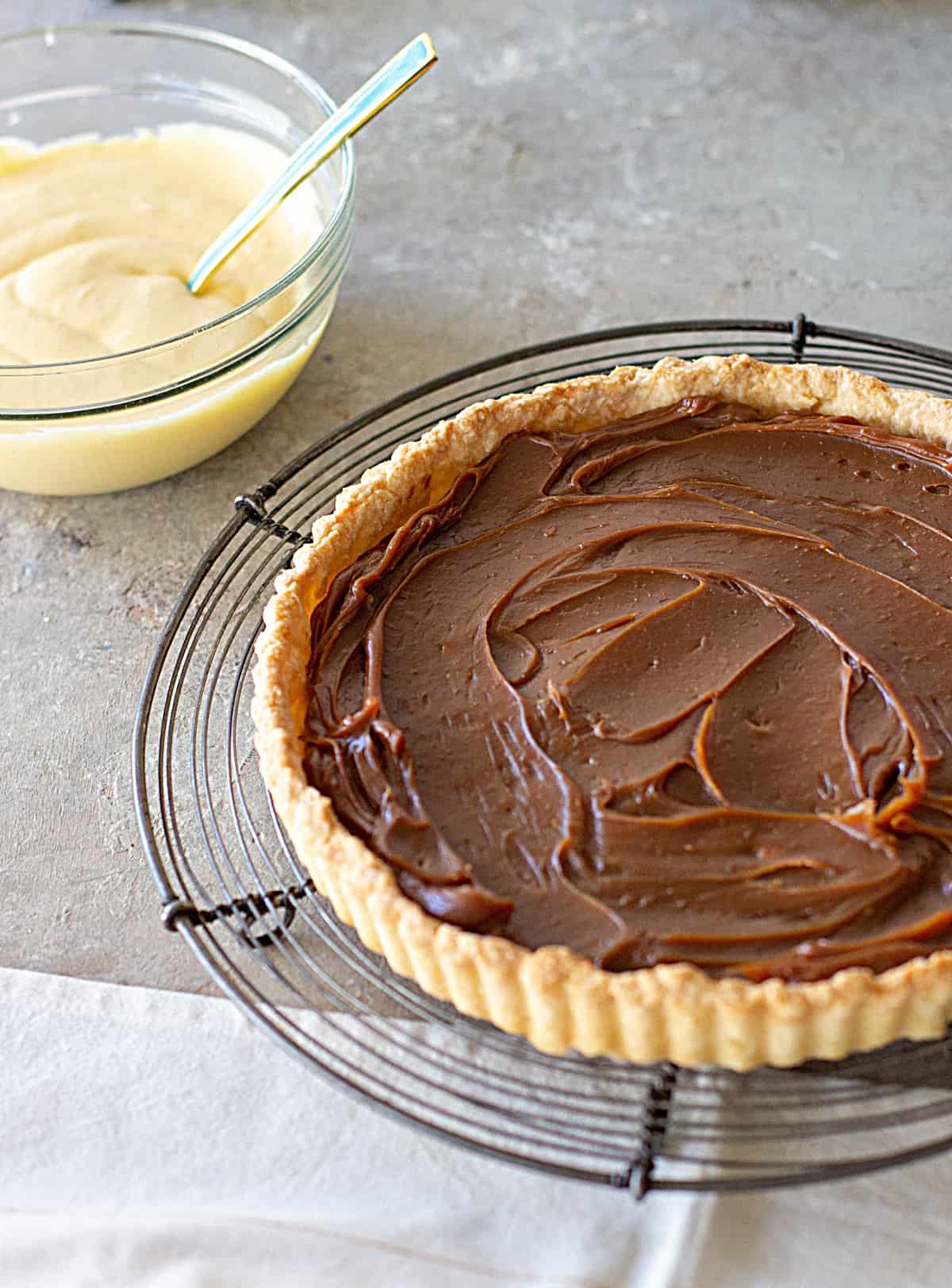 The other great thing about this dessert is that the lemon cream is made in the microwave. It takes a few minutes and the results are outstanding! Never, ever will I go back to making a custard on the stove.
I had heard of pastry cream being made in the microwave in, literally, 3 minutes plus what it took to measure the ingredients. So I made this lemon cream the same way since it's basically a lemon pastry cream with cornstarch and cream instead of flour and milk.
So delicious you want to eat it with a spoon, which I might or might not have done...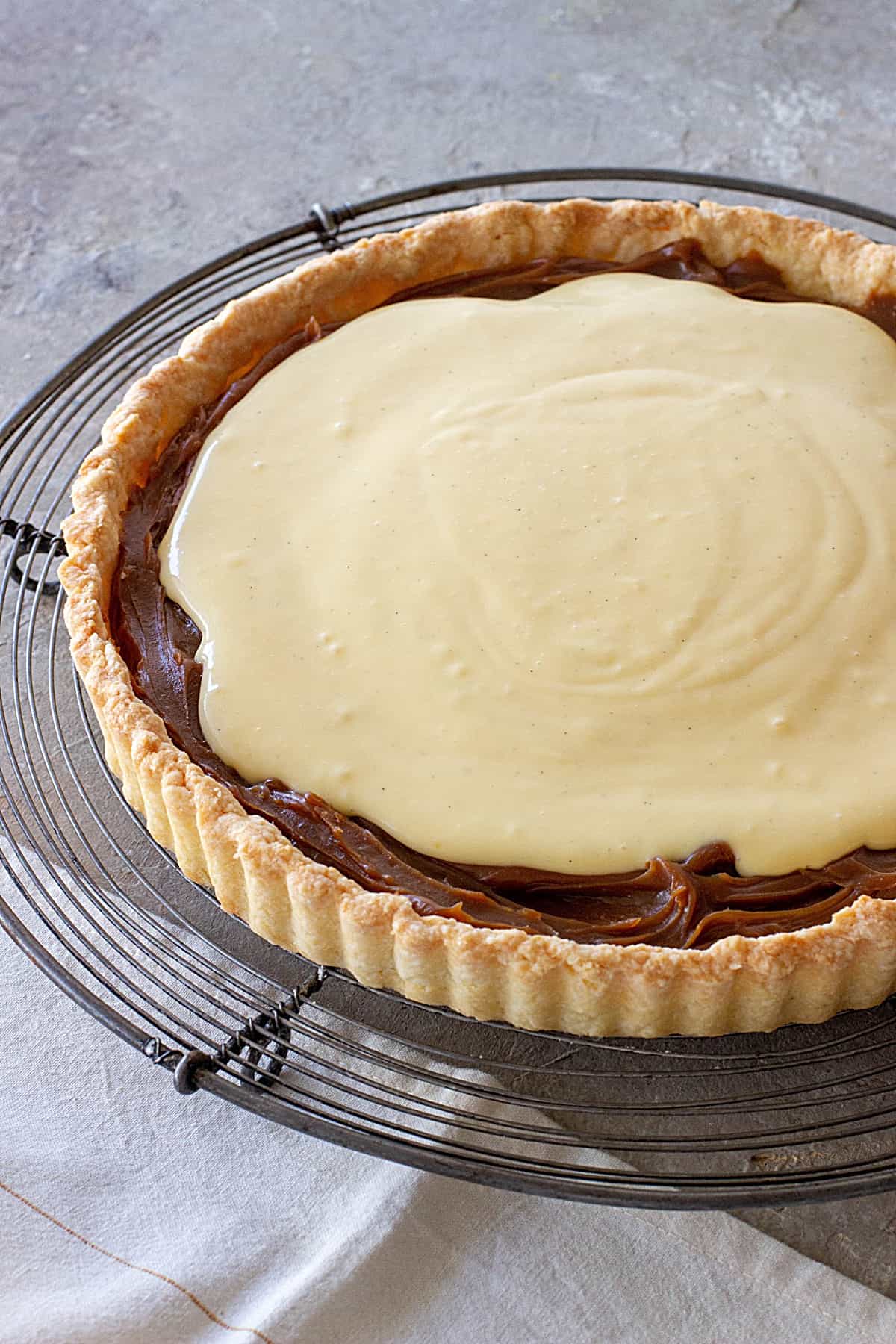 I know many of you think making pie dough is very complicated. As with many recipes, it's a lot about details and practice.
Maybe you'll get it right the first time, maybe you won't. But I urge you to try to make pie dough from scratch. It's the only way to master it. You should've seen my first apple pie! That horrible tough dough is still embedded in my mind.
Tips for making pie dough
Don't overwork the dough. When making the dough ball, after the wet ingredients have been added (eggs, milk, water, a combination, etc.) don't knead it as you would bread for example. The dough must come together and be soft and not have dry spots, but stop when that is achieved.
Resting time. Make sure the dough rests in the refrigerator for at least 1 hour before rolling it. It really needs this time to relax the gluten and become more malleable as well as develop a better texture when baking. Don't skip this step!
Rolling and lining the pan. Use extra flour when rolling only if needed; you don't want to dry it out as it will be hard to reverse. When lining the pan don't stretch it to reach the sides. If the dough is stretchy and shrinks a bit when rolling simply give it a few minutes. It will relax and you'll be able to roll it a few more inches.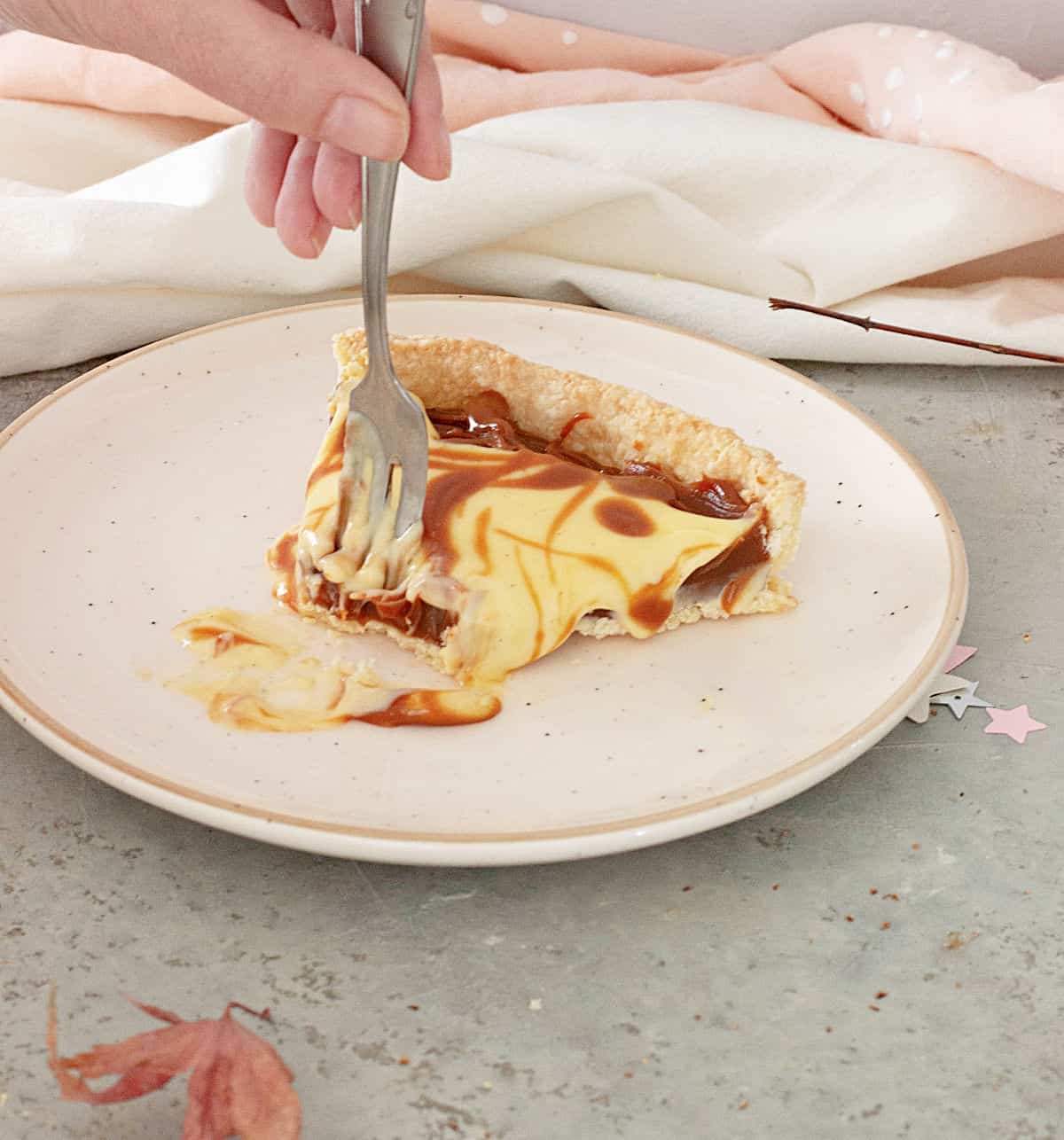 Have you ever tried dulce de leche and coconut? It's one of the most magic combinations ever!
But first, have you ever tried dulce de leche? I know it's becoming more popular, but also that many of you never had the pleasure. So I'll leave you this link in case you're wondering what is dulce de leche?
What ingredients go well with dulce de leche?
Coconut is one of the best. The combination will blow your mind.
Chocolate is another great ingredient to pair with this milky jam, especially a layer cake. Fill your next birthday chocolate cake with dulce de leche and let me know how it goes.
Vanilla works wonders too, especially in desserts like flan or layer cakes.
You can buy it online, of course.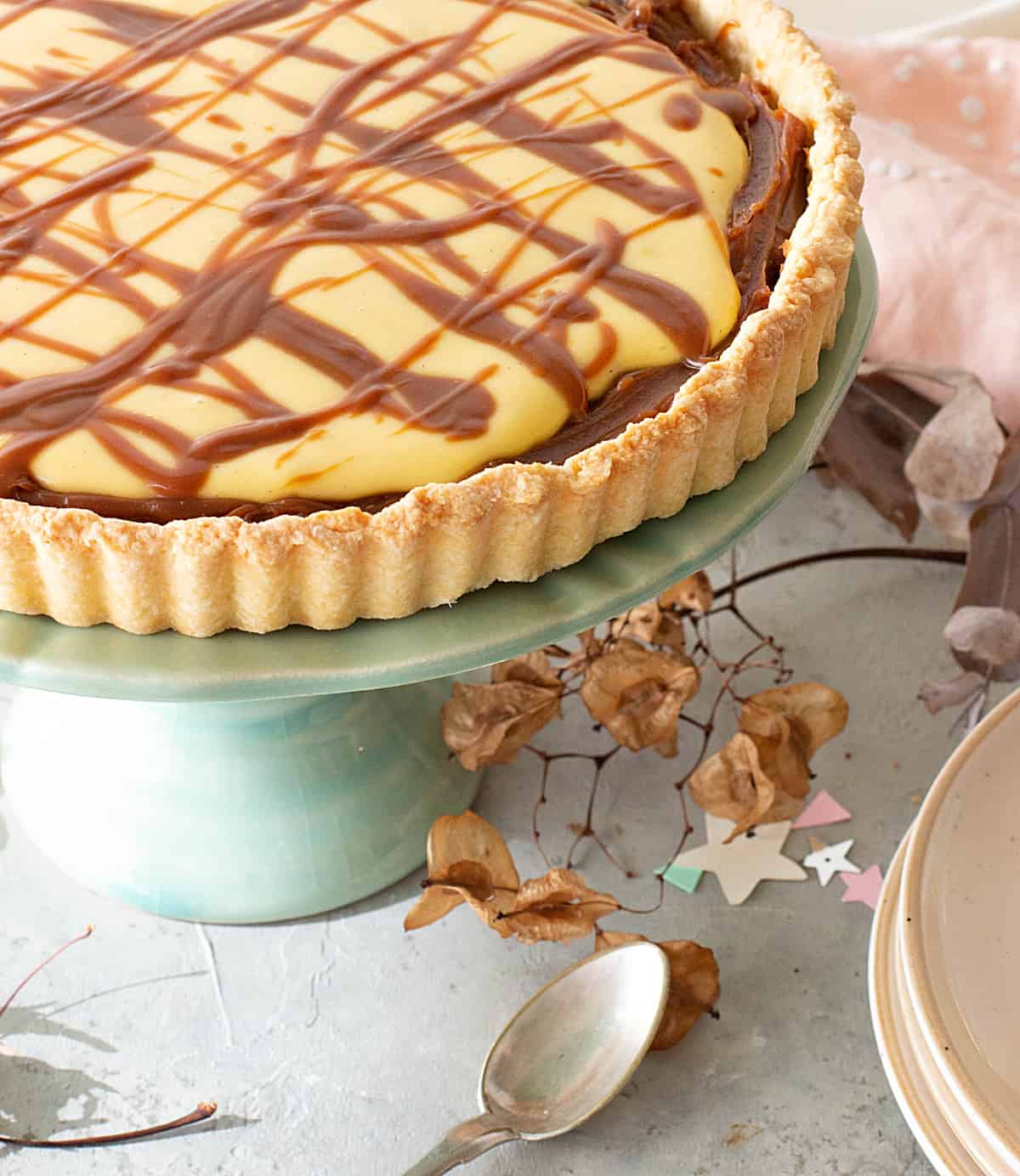 So, we have a baked coconut tart shell, a layer of creamy and sweet dulce de leche and a lemon cream.
Let me tell you, again, that this lemon cream is made in the microwave in 5 minutes tops. A few minutes you guys! And you have a luscious lemon-flavored cream that you will want to eat by the tablespoon. That's how good it is.
The recipe is similar to pastry cream and you'll want to make it again and again and use it everywhere. Or eat it with a spoon.
Maybe I overdid it with the amount of dulce de leche, because, you know, I'm the hugest fan being from Argentina and all. You should see my recipe archives if you're a fan too. So I think you should be a little more restrained, it will be good for the balance of flavors as the lemon cream and coconut in the dough will shine more. And that will be very good for the overall experience.
Don't be put off by the long recipe, I just wanted to be thorough with the details. It comes together much faster than you might think. And it disappears from the table even faster.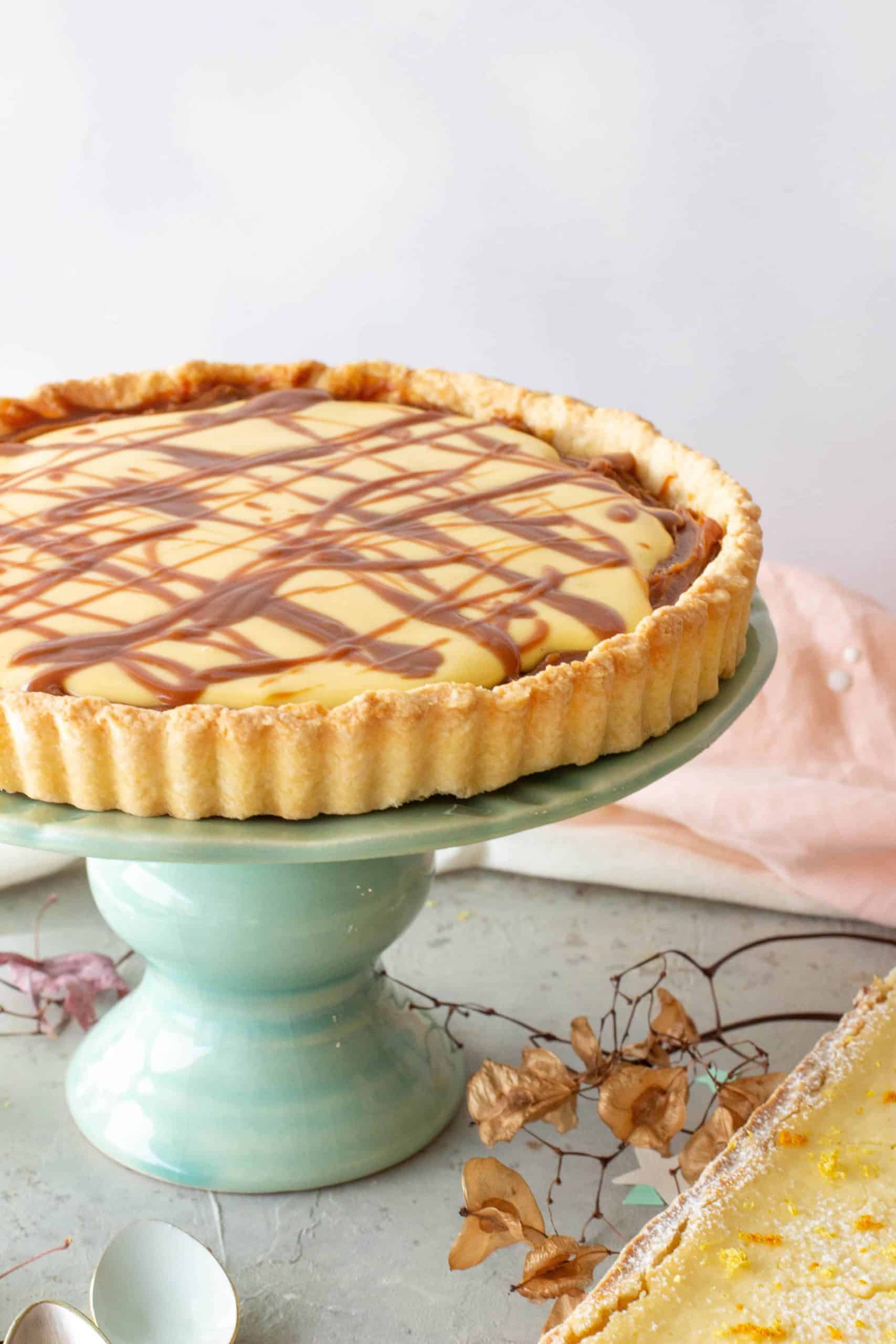 ---
Related recipes you might like:
---
Let me know in the comments below if you made this recipe and loved it and if you had issues so we can troubleshoot together. I love to hear what you think, always. Thanks for being here. It's much appreciated.
You might also consider subscribing to our FREE email series to Boost your Home Baking Skills! And our regular newsletter.
And let's connect via Facebook, Instagram, and Pinterest.
Print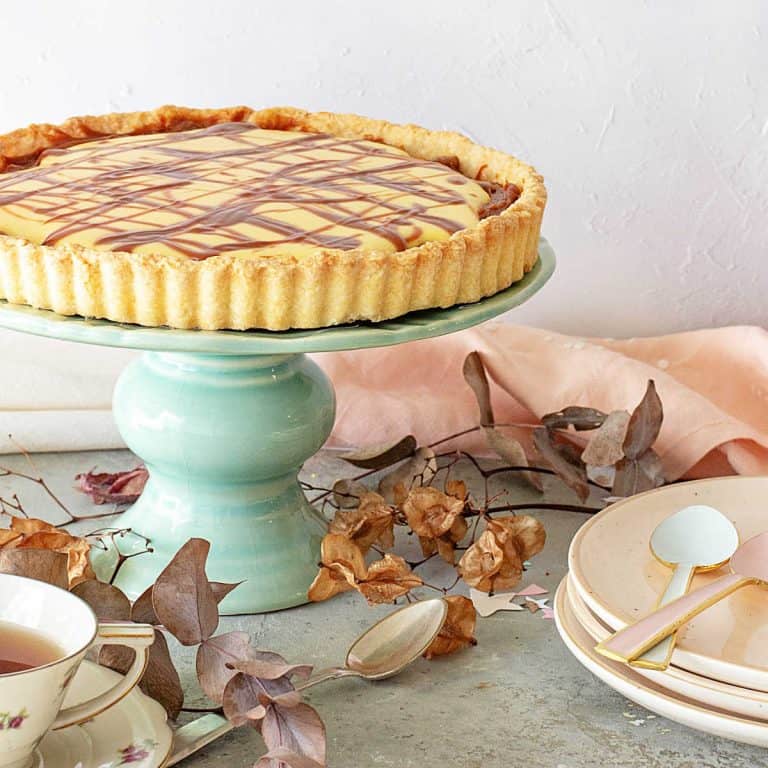 Coconut Lemon Tart with Dulce de Leche
A gorgeous tart with a coconut crust, a layer of sweet dulce de leche and a lemon pastry cream made in the microwave.
Total Time:

2 hours 15 minutes

Yield:

8 servings
For the crust:
1

cup

(130g) all-purpose flour

¾

cup

(60g) unsweetened shredded coconut

6 tablespoons

(

90g

) unsalted butter, in pieces and cold

2 tablespoons

(

25g

) sugar

1

egg yolk
For the lemon cream:
⅓

cup

(65g) sugar

3 tablespoons

cornstarch

4

large egg yolks

1

cup

(240g) cream
Juice of

1

lemon

6 tablespoons

(

90g

) unsalted butter, melted or at room temperature
To assemble:
1

cup

dulce de leche (see note)
Extra dulce de leche or coconut flakes for decoration
Instructions
For the crust:
Food processor: in the bowl of a food processor mix flour with coconut and sugar.
Add cold butter and pulse a few times until the butter is the size of peas.
Add yolk and pulse just until it starts to come together. Don't let it become a ball of dough.
If the dough is too dry add a tablespoon of water, but only if necessary.
By hand: in a large bowl mix flour, coconut, and sugar.
Add butter and mix with a dough cutter or with your hands, breaking the butter pieces until they are the size of peas. Be careful not to let the butter start to melt. If that happens, pop the bowl for ten minutes in the fridge before continuing.
Add yolk and mix with a fork until it starts to come together.
If the dough is too dry add a tablespoon of water, but only if necessary.
For both methods: either way, you mix it, turn the dough onto the clean counter.
Gather it together and give it some turns until no dry spots are left. It should be soft but don't overdo it. Just until you have a ball.
Wrap in plastic and refrigerate for 1 hour or up to 1 day.
You will use an 8-inch tart pan with removable bottom.
Rolling the dough:
On a clean counter, roll it to about ⅓ inch thick and a few inches wider than the pan. Add some flour if the dough is too wet to roll, but you probably won't need it.
Gently line the pan with the dough, being careful not to stretch it but making sure you cover the whole surface, bottom, and sides.
Prick the bottom a few times with a fork and freeze for 30 minutes.
Turn the oven to 350ºF /180º C.
Cover the frozen dough with a large piece of aluminum foil and add some weight (uncooked rice, beans, flour, pie weights) and bake for 15 minutes.
Carefully remove the foil and bake until dry and golden.
Let cool completely on a wire rack.
For the lemon cream:
Mix sugar, cornstarch, yolks and cream in a glass bowl.
Heat in the microwave on high for 30 seconds. Remove and whisk well. Nothing will appear to happen.
Repeat another 30 seconds and whisk.
Repeat once more if necessary, until you see that it has thickened in some areas.
Whisk vigorously until creamy and heat in 10-second spurts until you whisk it and it thickens uniformly.
Add the butter and lemon juice and whisk until it is creamy.
Be careful not to burn it.
Immediately put a piece of plastic wrap or similar touching the whole hot surface. This will prevent it from developing a thick crust.
Can be made 2 days ahead and kept in the fridge.
To assemble:
Put the baked coconut crust on the serving plate.
Add a layer of dulce de leche, spreading carefully.
Add the lemon cream on top at the last minute.
Drizzle with some heated dulce de leche or decorate with toasted coconut flakes.
Notes
Organization: read the recipe first and make sure you have ingredients at the right temperatures, equipment needed, and enough workspace. This will make the process so much easier!
Make ahead: the pie dough can be made up to 3 days before and kept refrigerated. The crust can be baked the day before and kept at room temperature. The lemon cream can be made 2 days before and kept, well covered, in the refrigerator.
Dulce de leche: you can easily buy it online. I use

dulce de leche repostero Vacalin

.
Author:

Paula Montenegro

Prep Time:

20 minutes

Pie crust making:

90 minutes

Cook Time:

25 minutes

Category:

Pies and Tarts

Method:

Baking

Cuisine:

International
Keywords: coconut lemon tart