And just like that, tailgating time is here again. Though I don't watch football nor live in the US, I know very well what it's like to gather for whatever big game or championship is going on, whether it's soccer, hockey or even golf at one point in my life, there's an excitement surrounding the possibility of your team scoring a big win, and it usually goes hand in hand with the munchies. And not just any food. This is not the time for those carrot sticks with hummus, this is the time when pigging out on scones dripping with two kinds of cheeses is almost encouraged? The Sunday Supper team has a list of recipes to knock you out and make tailgating memorable, hosted by Lane of Supper for a Steal.
Enter these double cheese dill scones, so good you'll want to make them all the time.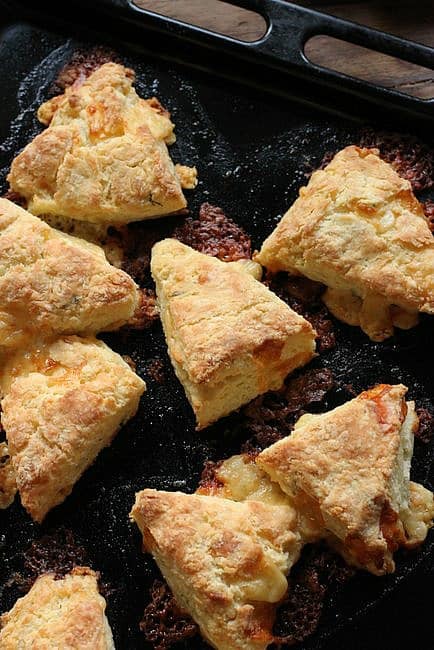 I've been baking them for a few years now, since the time when I used to have a coffee shop. Scones ranked high on my list of things to serve, and let me tell you these became quite famous among the regular crowd. It's fair to say my Irish descendency made it impossible for me not to learn how to make plain ones at an early age, as I already told you when I made the double chocolate ones. 
And considering no one achieved the level of perfection my great-grandmother did, I simply went on to look for my own recipes, finding even better ones along the way – granny is probably twitching in her 100+ year old grave – which included interesting variations like apricot cashew and fresh strawberry.
The only type of cheese scone I had seen around were similar to these parmesan ones, sans the green onions, and they were not what I wanted to serve. I was interested in being able to bite cheese, not have only cheese flavor.
So when it was time to look for my own cheese scone, I went straight to a recipe I'd had my eye on what seemed like forever, since first buying this book right before the turn of the last century (the end of the 90's, how old do you think I am?!), when food blogs were barely the beginning of an idea and Amazon sold mainly books.  I had used it so much, it was stained as I think all good cookbooks should be and the dust jacket all torn – a bonus since I really came to hate them in the following years. But as we foodies know very well, Ina's recipes are, shall we say rich? too much? loaded?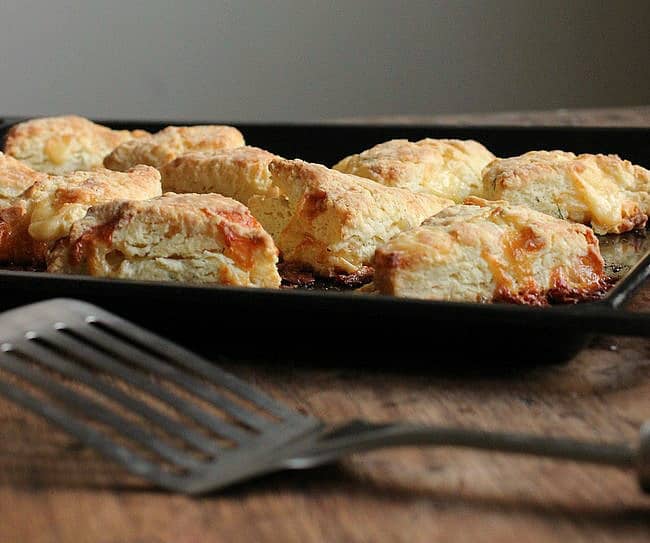 At first it didn't bother me a bit, those golden triangles were flying off the wooden board I put them on. But a few weeks later, a regular customer came to me and commented that he had to stop at one because they were too heavy to have in the morning. Too heavy? They were little bombs, tons of double cream, eggs and a humongous amount of butter.
So I streamlined them. A little. Not too much. Enough for my regulars to buy two instead of one if they so wished. And what did I get? Probably the best scone ever, with a buttery flavor, two types of cheese – each one doing its own thing, one sharp and one melty – a flaky dough that rises and an eye-catching golden top with crunchy bits of cheese around it.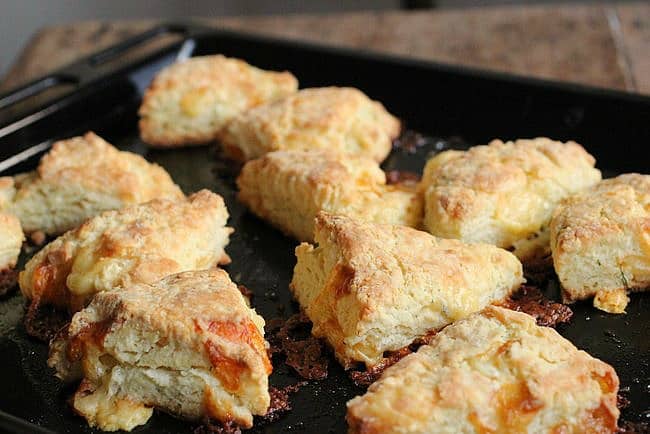 When you sell food, the visual aspect is very important, so I was somewhat concerned about that cheese melting in the oven and turning dark and crispy around the scones, because, well, they looked too rustic and homey. It ended up being the main reason the cheese scones were a hit, they had to have those cheesy bits or customers would complain. And as we all know, the customer is always right.
I used to serve one of these cheese dill scones, warm, with a bowl of soup (pumpkin or leek/potato) and a small green salad.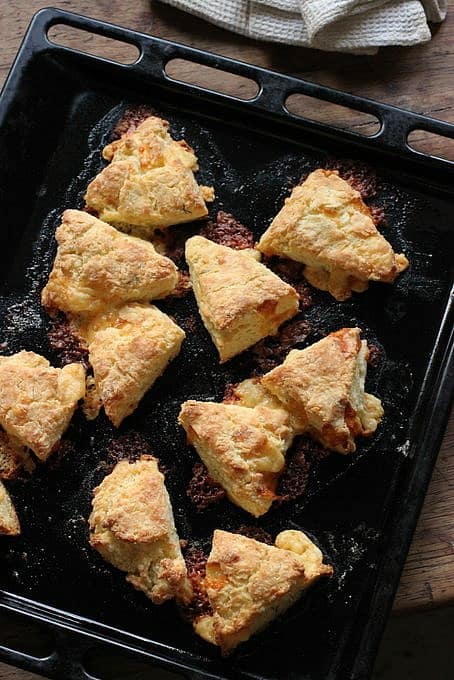 Print
Double cheese dill scones
---
Description
I wrote extra large egg because you should use the biggest one you can find. If the dough is too dry and doesn't want to come together, even as a shaggy mess, add a few tablespoon more milk. All ingredients should be as cold as possible, and avoid kneading the dough. The mix of cheeses can vary but I find that a hard one (fontina) and a very melty one (mozzarella) give the best results.
---
Scale
Ingredients
1 1/3 cup

300g unsalted butter, cold

4 cup

s 560g all purpose flour

2

Tbs sugar

2

Tbs baking powder

2 teaspoon

s salt

1

extra large egg

1/3 cup

sour cream

2/3 cup

whole milk

10 oz

semi hard cheeses (I use mozzarella and fontina)

2

Tbs coarsely chopped fresh dill
---
Instructions
Preheat oven to 375ºF / 190ºC
Cut cheeses into bite size pieces.
In a small bowl lightly mix egg, sour cream and milk.
In the bowl of a food processor, mix flour, sugar, baking powder and salt. Add cold butter, cut into cubes and pulse until you have a coarse mixture, the butter the size of peas.
Transfer to a large bowl, add wet ingredients and mix with a fork until you have a shaggy mass with some dry patches. Add cheeses and dill and mix some more but just to combine.
Dump onto a lightly floured counter, and form into a rough rectangle. It doesn't matter if it's very irregular and has a dry bit here and there.
Cut scones into triangles with a kitchen knife or dough scraper, or use a round cookie cutter (dip it in flour and make one clean press down, don't rotate it left and right when cutting, as it will prevent the scones from rising properly). 
Transfer to a greased baking pan or lined with parchment paper.
Bake for about 25 to 30 minutes, until golden, dry and cheese has melted and crusted.
Cool for 5 minutes and eat warm.
Store leftovers in the fridge, wrapped in foil. Rewarm for 5 or 10 minutes before eating.
You can freeze the unbaked scones for 1 month, wrapped in foil. Bake the frozen as directed above.
---
adapted from The Barefoot Contessa Cookbook, by Ina Garten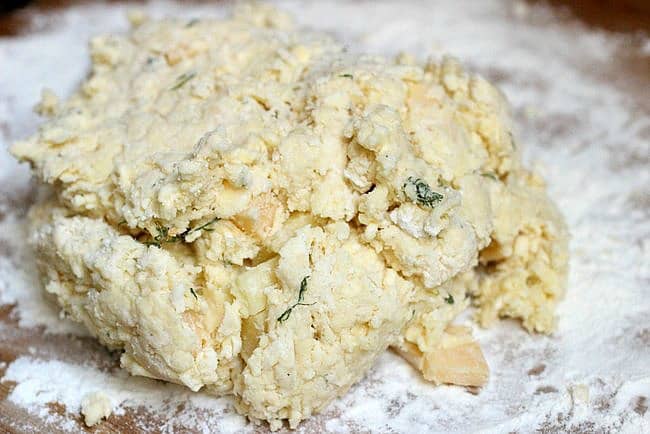 Our 50+ tailgating recipes: Warm Ups (Appetizers):
Game Time (Main Dishes and Sides):
Overtime (Drinks and Desserts):
Join the #SundaySupper conversation on twitter each Sunday. We tweet throughout the day and share recipes from all over the world. Our weekly chat starts at 7:00 pm EST. Follow the #SundaySupper hashtag and remember to include it in your tweets to join in the chat. Check out our #SundaySupper Pinterest board for more fabulous recipes and food photos.
Would you like to join the Sunday Supper Movement? It's easy. You can sign up by clicking here → Sunday Supper Movement.
---