Oh my, these killer brownies.. almost candy-like a day or two later, and with so many add-ons, I almost lost count.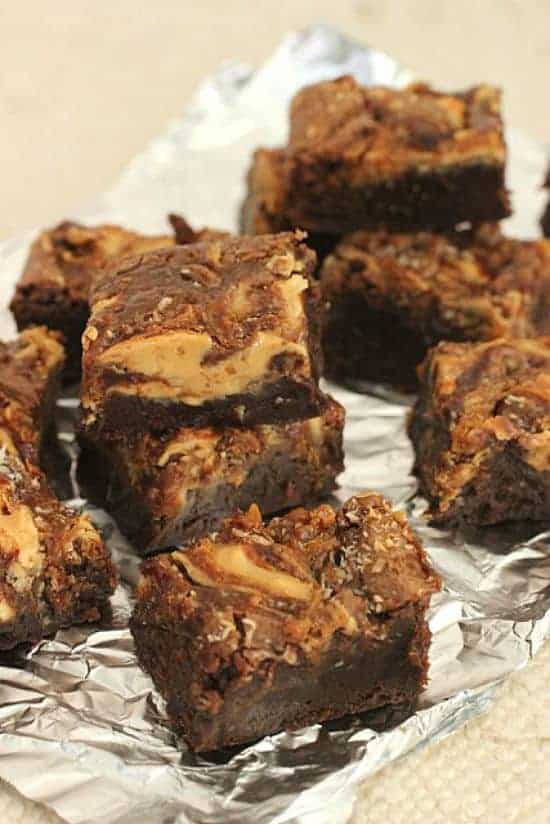 When I'm preparing lunch or dinner I usually try new things depending on what I want to eat. Depends on my mood, the weather, if I'm eating alone, you know, things like that.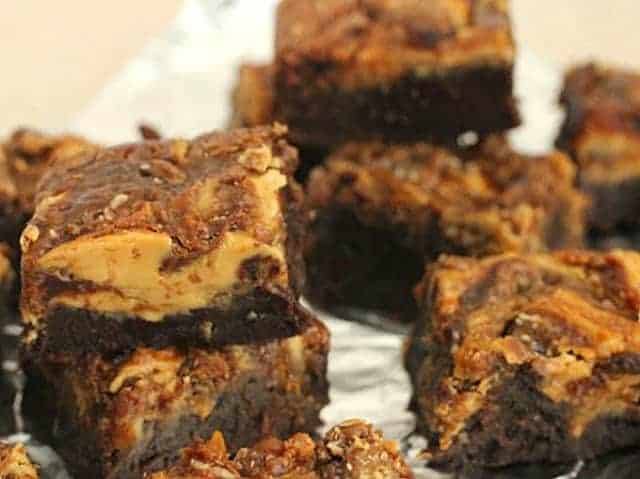 Baking is a different thing. I hardly bake something that I want to eat. Don't get me wrong, I end up eating it, but I don't choose the recipe because of that, I choose it because I want to bake with a particular ingredient or method. It might be that I want to use some fresh seasonal fruit or share a specific recipe with you, or are just in the mood for lemony things.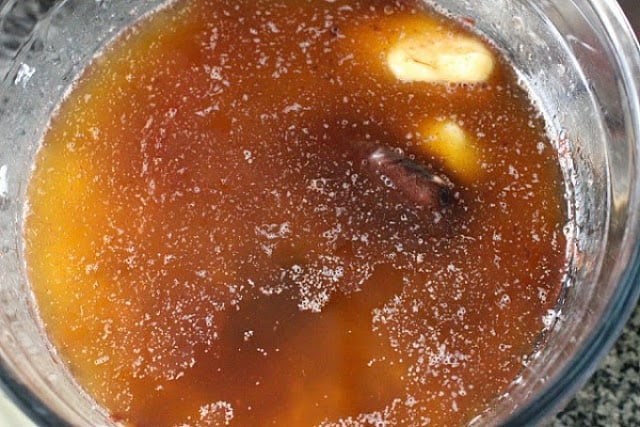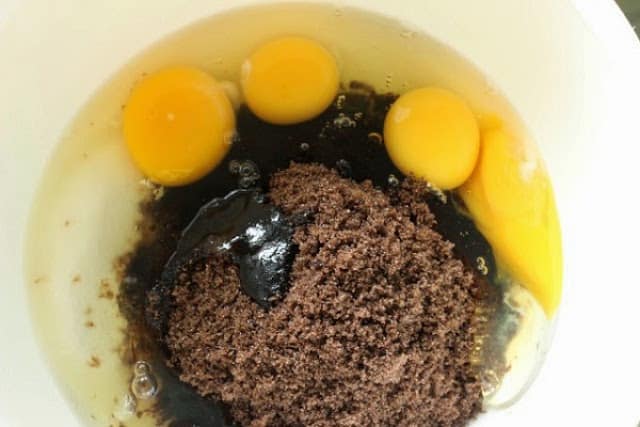 I guess it's fair to say I don't have many sweet cravings that get me running to the kitchen.
But, when I do get a sweet craving it usually has to do with chocolate. And nothing but dark chocolate will do. Like this addictive chocolate cake made with wine, or the easiest one-bowl fudge brownies muffins (have you tried them yet?).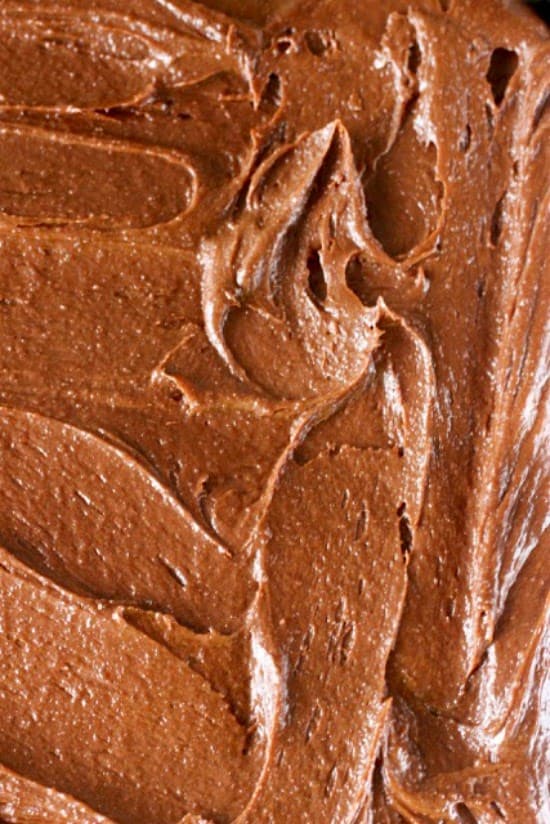 Enter these brownies, that had been bookmarked for a while now. I decided to make them and use up some homemade peanut butter. I had just made these
 incredible
coconut chocolate bars
, which, for the record, I have made several times and are now, unquestionably, at the top of my list and has made me obsessed with the combination of coconut and chocolate.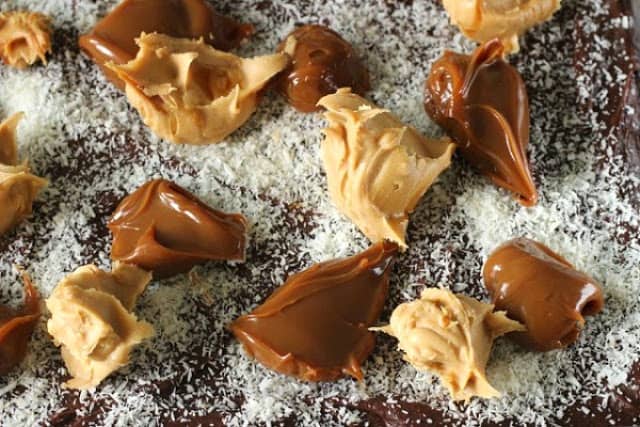 This recipe fits the bill with very dark chocolate, peanut butter, and coconut. So I happily spent an afternoon baking, trying to take some decent shots – being chocolate a tough cookie to photograph when you don't really know what you're doing with a camera -, and ended up tasting them while still slightly warm.
They skyrocketed to the top of the list, sharing a place with a few others. My top of the list is never about just one recipe, that's a utopian idea.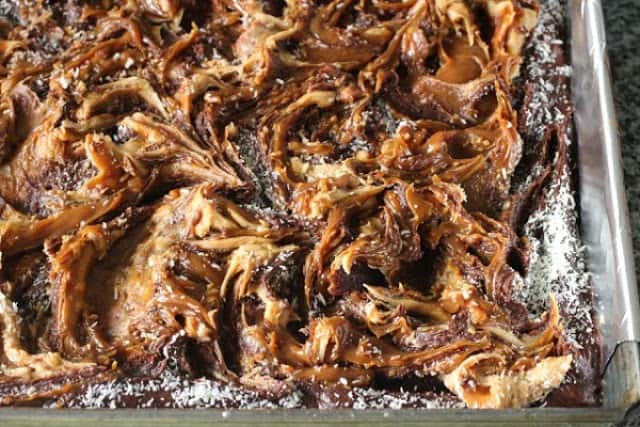 They were incredibly rich and chocolaty and peanut-y right from the first warm bit. but, there's a bonus because they totally changed its texture over the next few days.
They hardened a bit and, since they do have a lot of sugar (who are we kidding right?), ended up being something like candy brownie bites.
Maybe that should've been the name.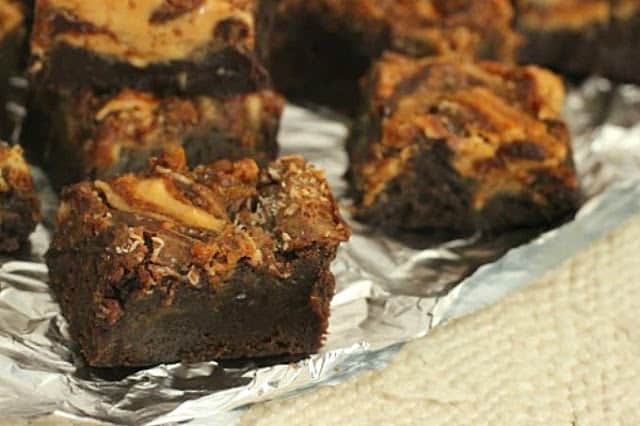 Anyway, I like my chocolate straight up, as dark as possible, so I might ask what made me eat a little piece of these every day until I gave them away? They're fantastic, sugar and all. And they get even better the next day, and the next, and…until you give them away or freeze them.
Print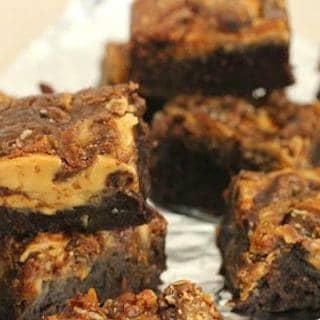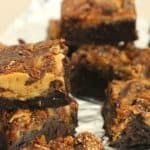 Killer Brownies
Yield:

9

large brownies

1

x
---
Scale
Ingredients
9 oz

  250g high quality dark/semisweet chocolate (I use Callebaut 70%)

1 cup

+ 2 Tbs  (250g unsalted butter)

4

eggs

½ teaspoon

salt

1 ¼ cup

s  250g dark brown sugar

1 ¼ cup

s  250g superfine sugar

1 ¾ cup

s  250g all-purpose flour, sifted

1/3 cup

  30g shredded coconut

2/3 cup

  60g walnuts, coarsely chopped

¾ cup

  100g peanut butter (crunchy or smooth)

¾ cup

  100g dulce de leche
---
Instructions
Preheat oven to 350º F / 180º C.
Grease a 9-inch (23 cm) round or square baking pan and line bottom with parchment paper or aluminum foil.
Melt chocolate and butter over boiling water, making sure the bottom of the pan doesn't touch the water. Remove from heat and reserve.
Put eggs, salt and both sugar in a large mixing bowl and stir with a wooden spoon until combined.
Pour the warm chocolate mixture into the egg mixture. Stir until well mixed.
Fold the flour into the chocolate mixture and stir just until well combined. Do not over mix.
Transfer the mixture to the prepared pan and immediately scatter the coconut and walnuts on top.
Push them down with a spatula or wooden spoon and cover them a bit with the brownie mixture.
Scatter dollops of peanut butter and dulce de leche on top of walnuts and swirl lightly with the tip of a knife. It is messy, don't be concerned if everything sort of gets mixed together.
Bake in the preheated oven for 15 minutes; turn the tº down to 160º and bake for an additional 15 to 20 minutes. This depends a lot on your oven. It might take more time. 
Do not over bake them, they should be a bit jiggly when you shake the pan.
Remove from the oven and cool on wire rack. Unmold and cut into squares.
---
---