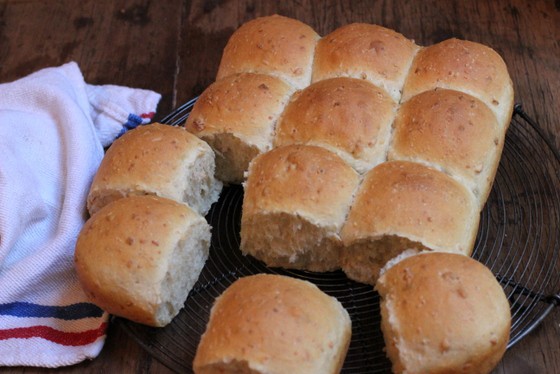 I'm somewhat late for this month's edition of Twelve Loaves, the group started by Lora who turned one last month (remember the cinnamon sugar challah?), but my excuse is simple really. This is my third recipe for it but the first I can post.
Let's go back to last week. We had settled a long time ago that the June theme would be summer buns. What are summer buns exactly? I don't know. Whatever buns remind you of summer, or you eat during the summer.
Well, the title Hawaiian rolls fit perfectly and I was so so so so so so so so intrigued by the rolls everyone talks about all the time, even the food trucks when I binge on eat street marathons and have this aura of the best thing out there in the bread aisle of the supermarket, it was a no-brainer, I would make the copycat Hawaiian rolls I had pinned in my recipes-to-try Pinterest board. FYI, the pin is not there anymore.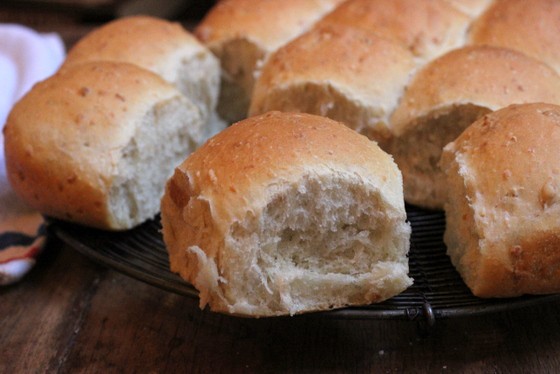 It turns out the recipe sounded like a standard butter and egg bread with pineapple juice, but what I got were very dried awful little things. So pasty they brought flashbacks of me attending mass and having the host stuck to my palate while I was trying to think of something appropriate because my mind wandered to very mundane stuff and no one had explained to me what I should be thinking at a moment like that. I was in grade school.
But you get the idea of how not suitable for posting those rolls were. Then I made these buns I'm posting today. All proofed and wonderful with their macadamias, as they were about to go into the oven they found the kitchen floor first. Well, it serves me well for talking on the phone while shoving the tray into the oven. Or trying to.
Later, I remembered I had gone into the shower with my socks still on, so clearly it wasn't one of my sharpest days.
But finally, we are here, with the same wonderful rolls, studded with toasted macadamias and shredded coconut. Summer buns indeed.
This is barely adapted from a wonderful bread book that has nothing but lovely recipes and pictures. Because besides having amazing recipes, which is no surprise coming from Beth Hensperger, this is a pretty book, literally. The recipes are by month and season and it's just gorgeous. So many ones have been dog-eared for years, I'm finally using it more in the last months.
The whole wheat mountain bread and almond and ginger kulich both come from this book. And now you trust this recipe is every bit as good as the other two. In case you didn't notice in the list on the right side of this blog, the mountain bread is my #1 ranked recipe ever.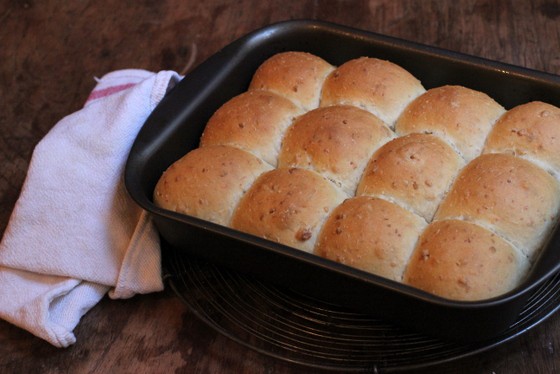 The nice part of this bread, at least for me, is that it's a savory bread with some crunch and unexpected flavors. Or hints of flavors. The macadamias and coconut are an aftertaste, very present but at the same time not completely there.
I can't imagine a better summer bun for an outdoor meal if you're looking for something different. I haven't done anything with them yet, filling-wise, because well, you know, I had some issues getting to finally posting this, but I'm thinking some thinly sliced pork tenderloin with chutney, or grilled pineapple with ham.
Or the carnitas I'm cooking right this very minute, which will be ready in about two hours.
I have a feeling this last idea will be my dinner tonight, with some added avocado, so I'll let you know how that sandwich goes.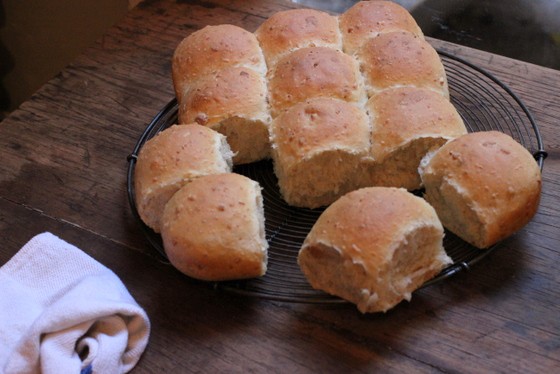 Print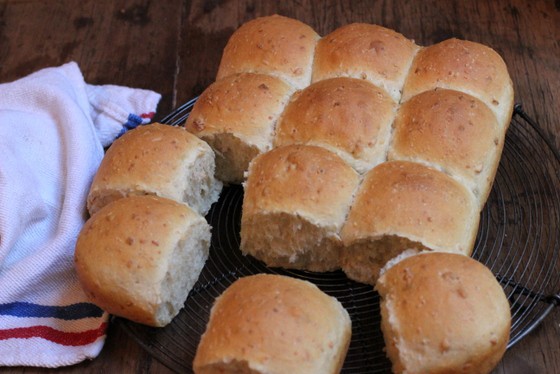 Macadamia Coconut Buns
Author:

Paula Montenegro

Cook Time:

25 minutes

Total Time:

25 minutes

Yield:

18

buns

1

x

Category:

Bread

Method:

Baking

Cuisine:

International
---
For the sponge:
1

Tbs active dry yeast
Pinch of sugar

1 ½

cups

bread or all purpose flour

2

cups

warm water
For the bread:
4

to

4 ½

cups

bread or unbleached flour

3

Tbs vegetable oil

1 teaspoon

salt

¾

cups

chopped toasted macadamia nuts

¾

cups

toasted shredded coconut or flakes (or a mix of both like I used)
---
Instructions
For the sponge:
In the bowl of the stand mixer (or large bowl if doing this by hand), put water and sprinkle sugar and yeast over. Add flour and mix well with a wooden spoon until most lumps are gone. Some will remain. You can do this with the paddle attachment, but I think it's too much trouble.
Cover with a clean, dry kitchen towel and let stand until bubbly and puffed, about 35 to 50 minutes.
For the bread:
To the sponge, add 1 cup flour, oil, salt, coconut and macadamias.
Attach to the mixer and, using the dough hook, starting mixing everything, adding 2 ½ more cups of flour, ½ cup at a time. The dough will never be very smooth because of the nuts, so check with your finger after 3 or 4 minutes of kneading. It should be soft but not sticky. If needed add ½ to 1 more cups flour. But don't end up with a dry dough. I used 4 cups total in my recipe.
If kneading by hand, do so for 5 to 7 minutes on a clean surface, lightly flouring as necessary after the dough comes together.
Transfer dough to a greased deep bowl, turn to grease on all sides, cover with plastic wrap and let stand in a warm place until doubled, about 1 ½ to 2 hours.
Dump the whole thing onto a lightly floured counter, and divide into 17 or whatever amount of pieces you want. You can also weigh the whole dough and weigh each piece to have very even buns; I never bother to do that.
Shape each piece into a sort of ball, and then cover it with the palm of your hand, and moving your hand clock wise to your right, shape them into balls, as tight as you can.
Grease a pan, and put the dough balls next to each other, barely touching. Cover with a clean, dry towel and let rise until almost doubled, about 30 to 40 minutes.
Preheat the oven to 400ºF about 20 minutes before baking.
Bake for 20 to 25 minutes, until tops are dry and golden, and buns sound hollow when tapped on the bottom.
Let cool on wire rack.
---
Adapted from Bread for all Seasons, by Beth Hensperger