Very fluffy and with a unique flavor, these buns are good to accompany stews and chilis, make sandwiches, brunch, or with afternoon tea. They keep for several days and can be frozen.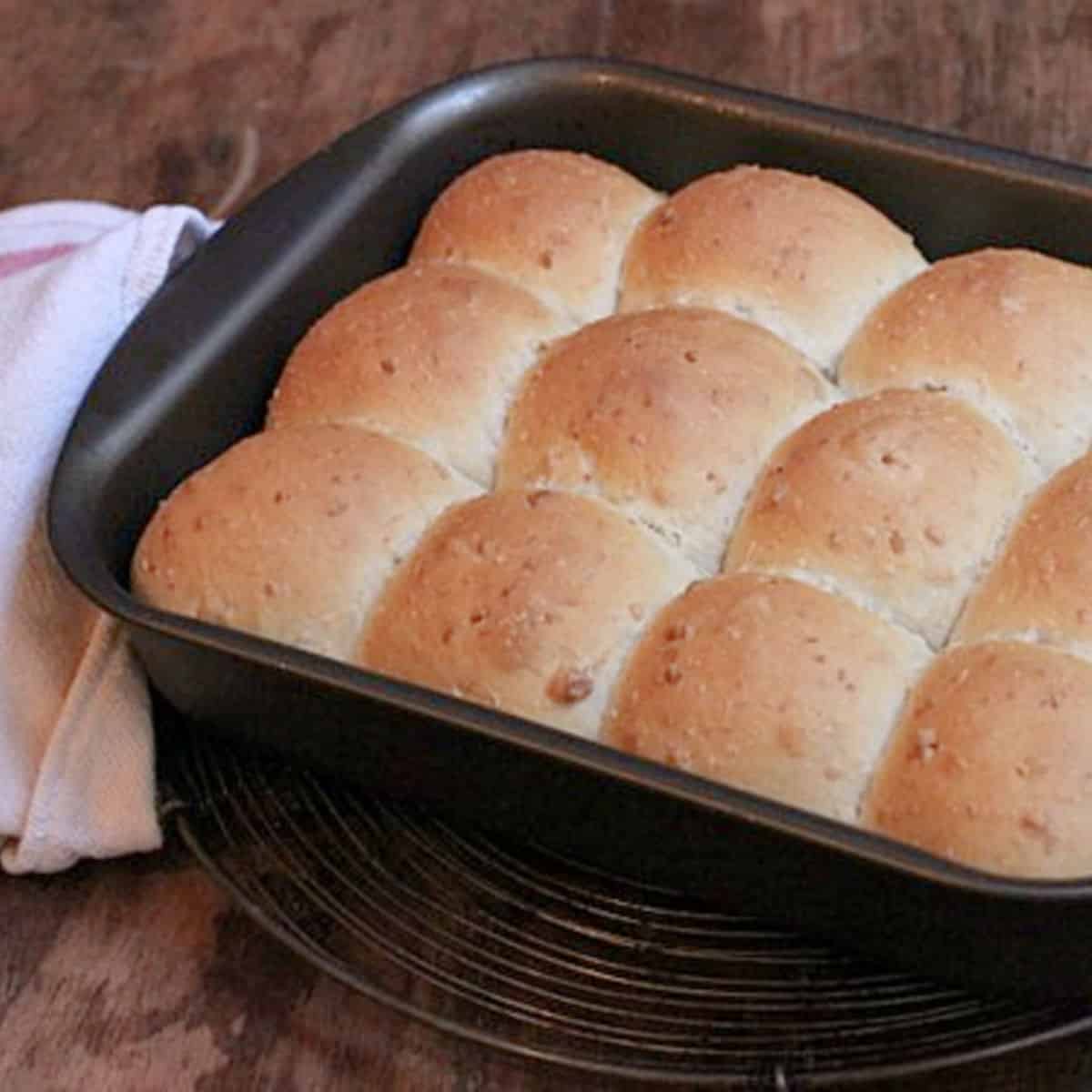 I love homemade small buns and regularly make these simple bread rolls with beer to eat with meals.
These are not so neutral but more on the sweet side. Not exactly the usual Hawaiian rolls from the supermarket, though they can be used as such.
We love coconut and though we usually use them for sweet bakes like chocolate coconut cake or coconut lime cake, coconut buns are just sweet enough and very popular.
They're sweeter and have the crunch of ground macadamia nuts, that you can omit if you just want to make coconut buns.
Coconut: use the shredded unsweetened type. Unless you want very sweet buns, then you can use sweet coconut.
Macadamia nuts: they go great with coconut, but walnuts or pecans can also be used.
Bread flour: it has more gluten than all-purpose flour and lends a more rustic texture. So it's always the first choice when making this recipe. But you can use all purpose if that's all you have and you'll get very good results.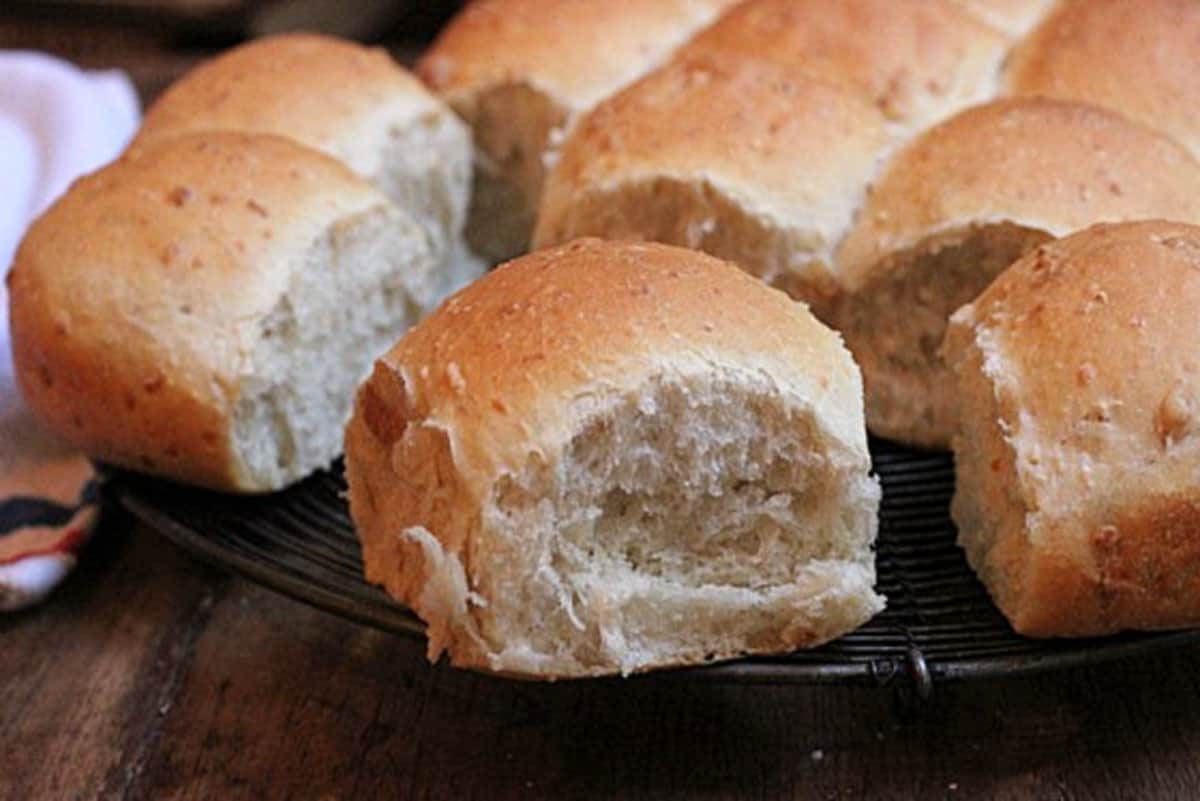 It's a straight dough which means we use dry yeast, and involve making a sponge first. The dough is easy to work with and can be made in the stand mixer with the dough hook if you don't want to involve ten minutes of arm muscle kneading them by hand.
Resting the dough
Homemade bread usually involves a lot of resting or proofing time, where the bread dough rises and the yeast creates a structure together with the gluten that developed during kneading.
Respect these times and make sure the dough doubles or rises as specified in the recipe. This will ensure fluffy, well baked rolls.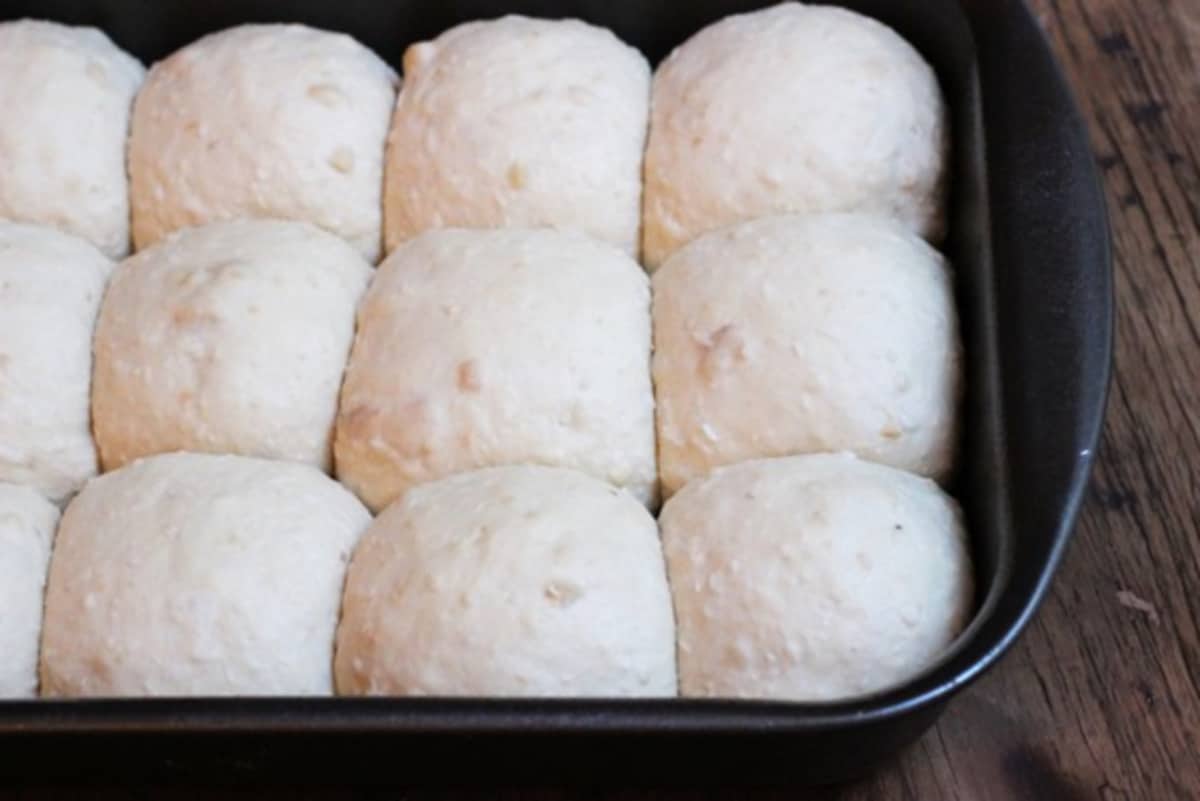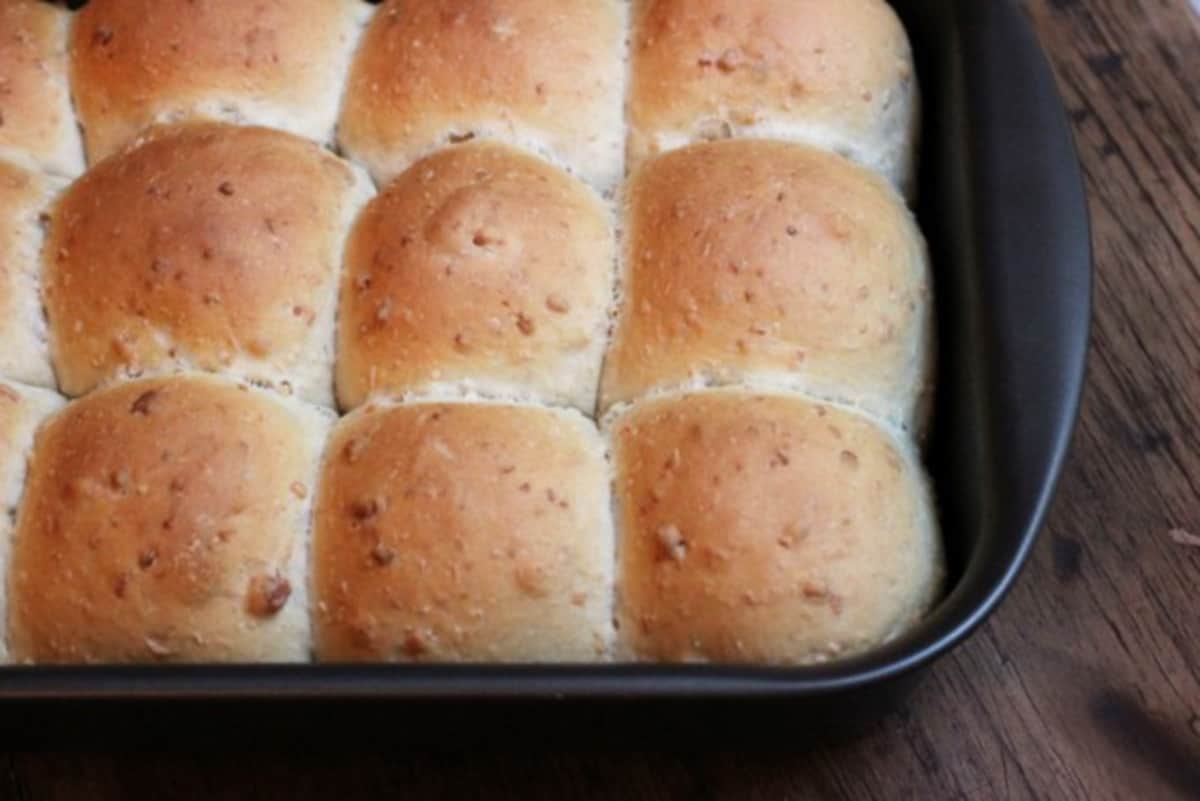 This recipe is adapted from a wonderful bread book that has nothing but lovely recipes and pictures.
The whole wheat mountain bread also come from this book. And now you trust this recipe is every bit as good as the other two. In case you didn't notice in the list on the right side of this blog, the mountain bread is my #1 ranked recipe ever.
The nice part of this bread, at least for me, is that it's a savory bread with some crunch and unexpected flavors. Or hints of flavors. The macadamias and coconut are an aftertaste, very present but at the same time not completely there.
I'm thinking some thinly sliced pork tenderloin with chutney, or grilled pineapple with ham would go wonderfully with them. Or the carnitas recipe I'm cooking right this very minute, which will be ready in about two hours.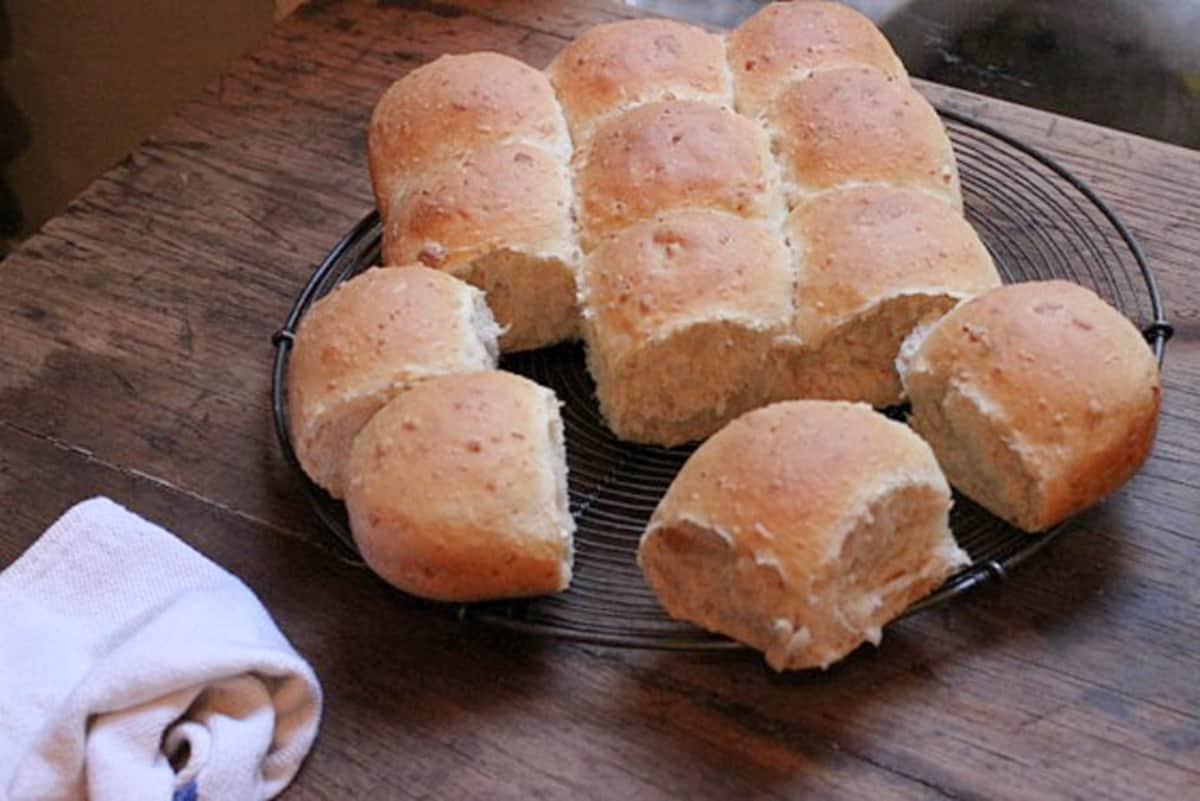 ---
Related recipes you might like:
---
Let me know in the comments below if you made this recipe and loved it and if you had issues so we can troubleshoot together. I love to hear what you think, always. Thanks for being here. It's much appreciated.
You might also consider subscribing to our FREE email series to Boost your Home Baking Skills! And our regular newsletter.
And let's connect via Facebook, Instagram, and Pinterest.
Print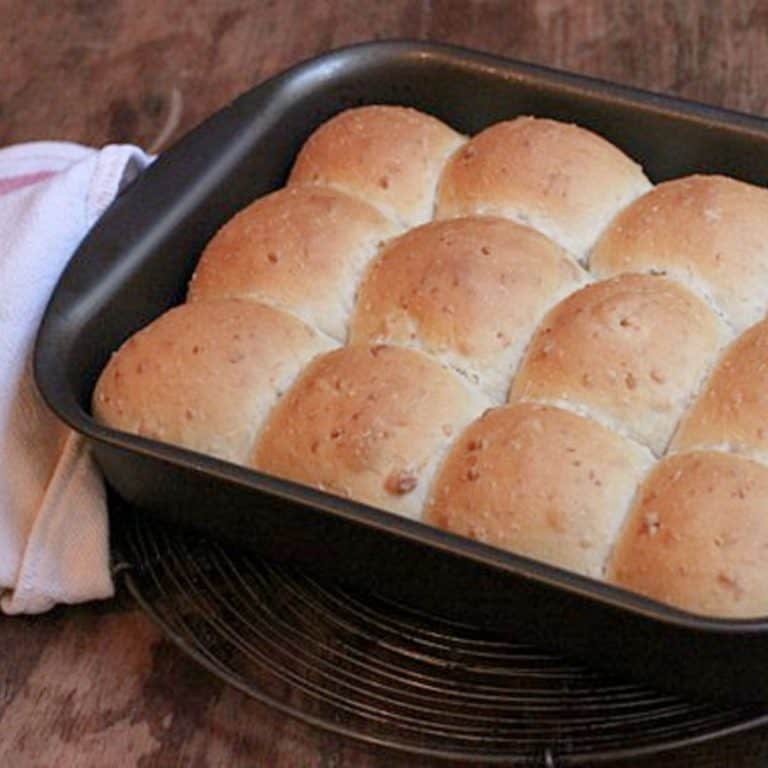 Macadamia Coconut Buns
Very fluffy and with a unique flavor, these buns are good to accompany stews and chilis, make sandwiches, brunch, or with afternoon tea. They keep for several days and can be frozen.
Total Time:

7 minute

Yield:

18 buns
For the sponge:
1 tablespoon

active dry yeast
Pinch of sugar

1 ½

cups

bread or all purpose flour

2

cups

warm water (not hot)
For the bread:
4

to

4 ½

cups

bread or unbleached flour

3 tablespoons

vegetable oil

1 teaspoon

salt

¾

cups

chopped toasted macadamia nuts

¾

cups

shredded coconut (you can lightly toast it before adding it, make sure it's at room temperature)
Instructions
For the sponge:
In the bowl of the stand mixer (or large bowl if doing this by hand), put water and sprinkle sugar and yeast over. Add flour and mix well with a wooden spoon until most lumps are gone. Some will remain. You can do this with the paddle attachment, but I think it's too much trouble.
Cover with a clean, dry kitchen towel and let stand until bubbly and puffed, about 35 to 50 minutes.
For the bread:
To the sponge, add 1 cup flour, oil, salt, coconut and macadamias.
Attach to the mixer and, using the dough hook, starting mixing everything, adding 2 ½ more cups of flour, ½ cup at a time. The dough will never be very smooth because of the nuts, so check with your finger after 3 or 4 minutes of kneading. It should be soft but not sticky. If needed add ½ to 1 more cups flour. But don't end up with a dry dough. I used 4 cups total in my recipe.
If kneading by hand, do so for 5 to 7 minutes on a clean surface, lightly flouring as necessary after the dough comes together.
Transfer dough to a greased deep bowl, turn to grease on all sides, cover with plastic wrap and let stand in a warm place until doubled, about 1 ½ to 2 hours.
Dump the whole thing onto a lightly floured counter, and divide into 17 or whatever amount of pieces you want. You can also weigh the whole dough and weigh each piece to have very even buns; I never bother to do that.
Shape each piece into a sort of ball, and then cover it with the palm of your hand, and moving your hand clock wise to your right, shape them into balls, as tight as you can.
Grease a pan, and put the dough balls next to each other, barely touching. Cover with a clean, dry towel and let rise until almost doubled, about 30 to 40 minutes.
Preheat the oven to 400ºF about 20 minutes before baking.
Bake for 20 to 25 minutes, until tops are dry and golden, and buns sound hollow when tapped on the bottom.
Let cool on wire rack.
Notes
Use walnuts, pecans, or cashew nuts instead of macadamias.
Freeze baked buns well wrapped up to a month.
Author:

Paula Montenegro

Prep Time:

30 minutes

Resting time:

2 ½ hours

Cook Time:

25 minutes

Category:

Bread

Method:

Baking

Cuisine:

International
Adapted from Bread for all Seasons, by Beth Hensperger