This creamy pie is a mix of sweet custard and soft pumpkin. The result is a fantastic filling and, therefore, pie. The base is an easy graham cracker crust that can be replaced with a classic flaky dough. Make it as soon as the season begins. It's a big yes for the holidays.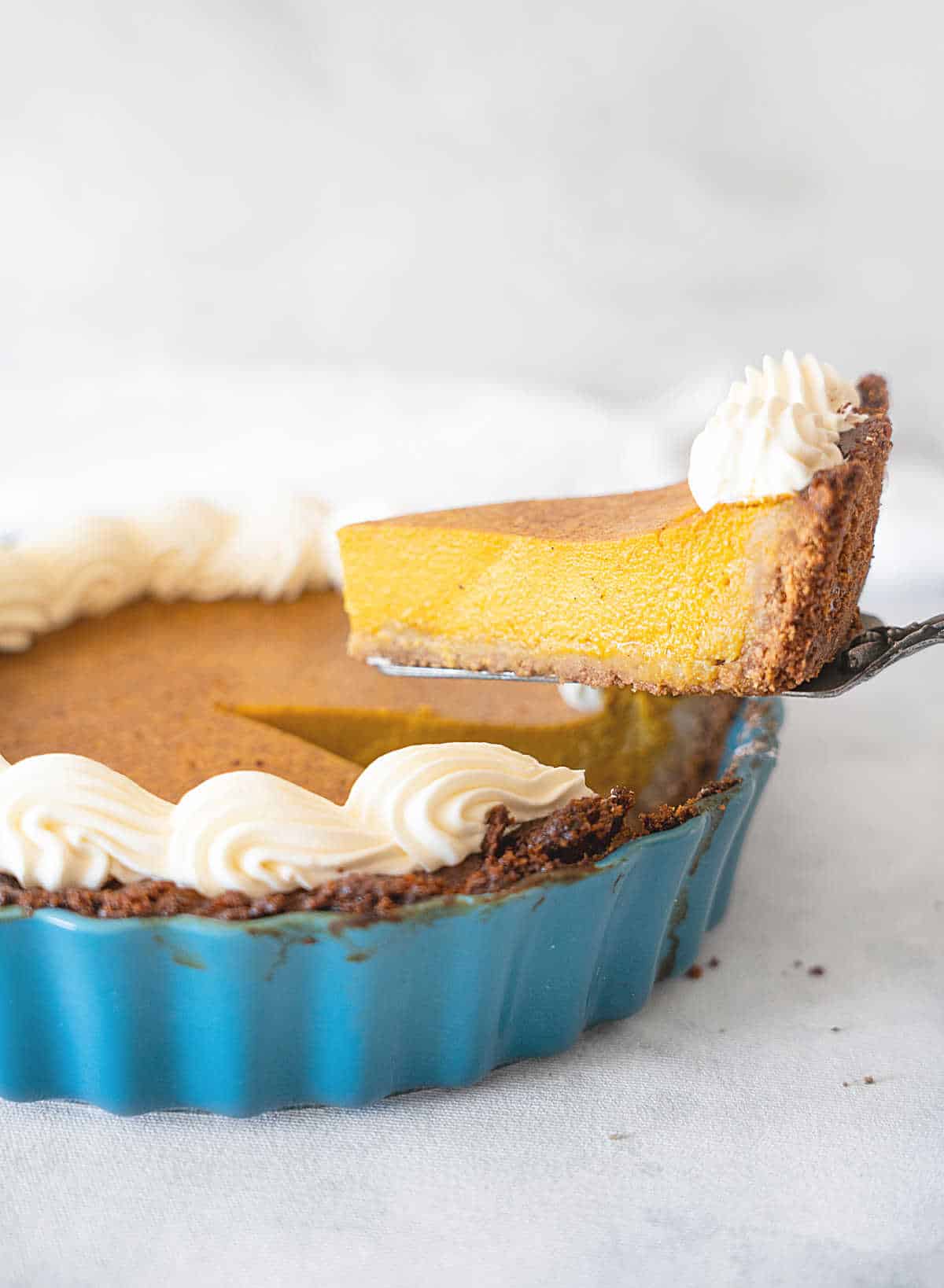 A new pumpkin pie that turned out to be so delicious, I'm including it in every holiday dessert table this year and in the pies with graham cracker crust roundup.
It's lighter and softer than our simple pumpkin pie, but just as easy.
Minimal skills required: the crumb crust and onw-bowl filling make this recipe a great one for beginner pie bakers.
Spiced and flavorful: you have enough pumpkin flavor in every vanilla custardy bite. A change from the usual dense traditional pie.
Crowd-pleaser: whether you're looking for a new dessert or just love to feature different pumpkin pies, this is a winner with adults and kids.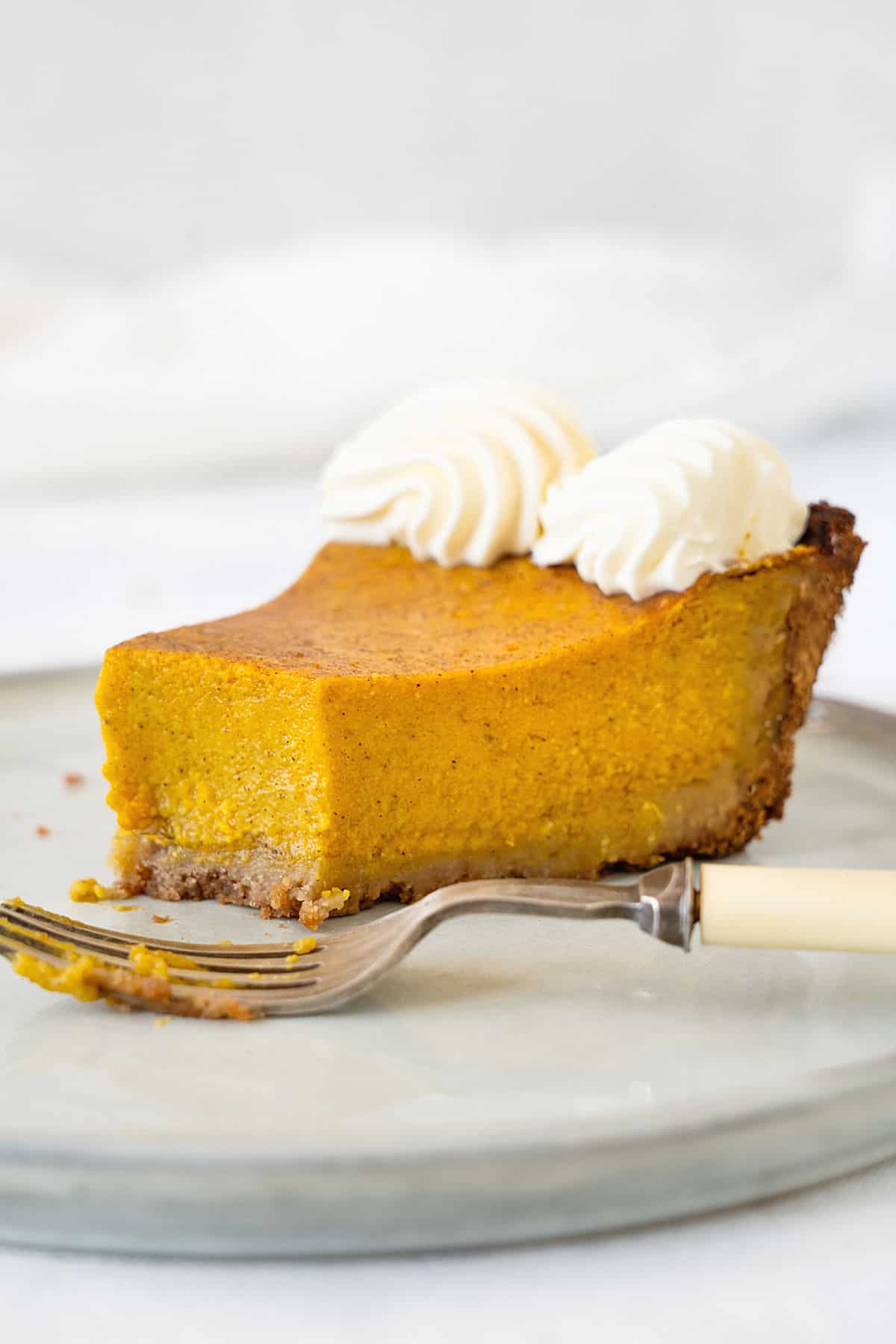 Ingredient list
See the recipe card towards the end of this post for quantities.
Easy graham cracker crust
This is a simple crumb crust, similar to the one used for the popular cheesecake pie.
Graham crackers are traditional cookies found mostly in the US with a honey and an earthy, sweet flavor. They are amazing for cheesecake and pie bases.
Food processor: you need fine crumbs, so using a processor is the best choice to save you time and make it easier. It will ensure an even crust that can be easily patted on a pie pan.
No food processor for the crumbs? Use a rolling pin, put the crackers in a large Ziploc bag, leaving a small opening (or directly on the counter, but make sure there's a lot of space as bits will spread around), and roll them until you crush them completely and have a fine mixture. It will take several minutes, but it can be achieved.
No need to pre-bake the crust as the custard pie filling has to be baked.
Check out our homemade graham cracker crust post with images and a video.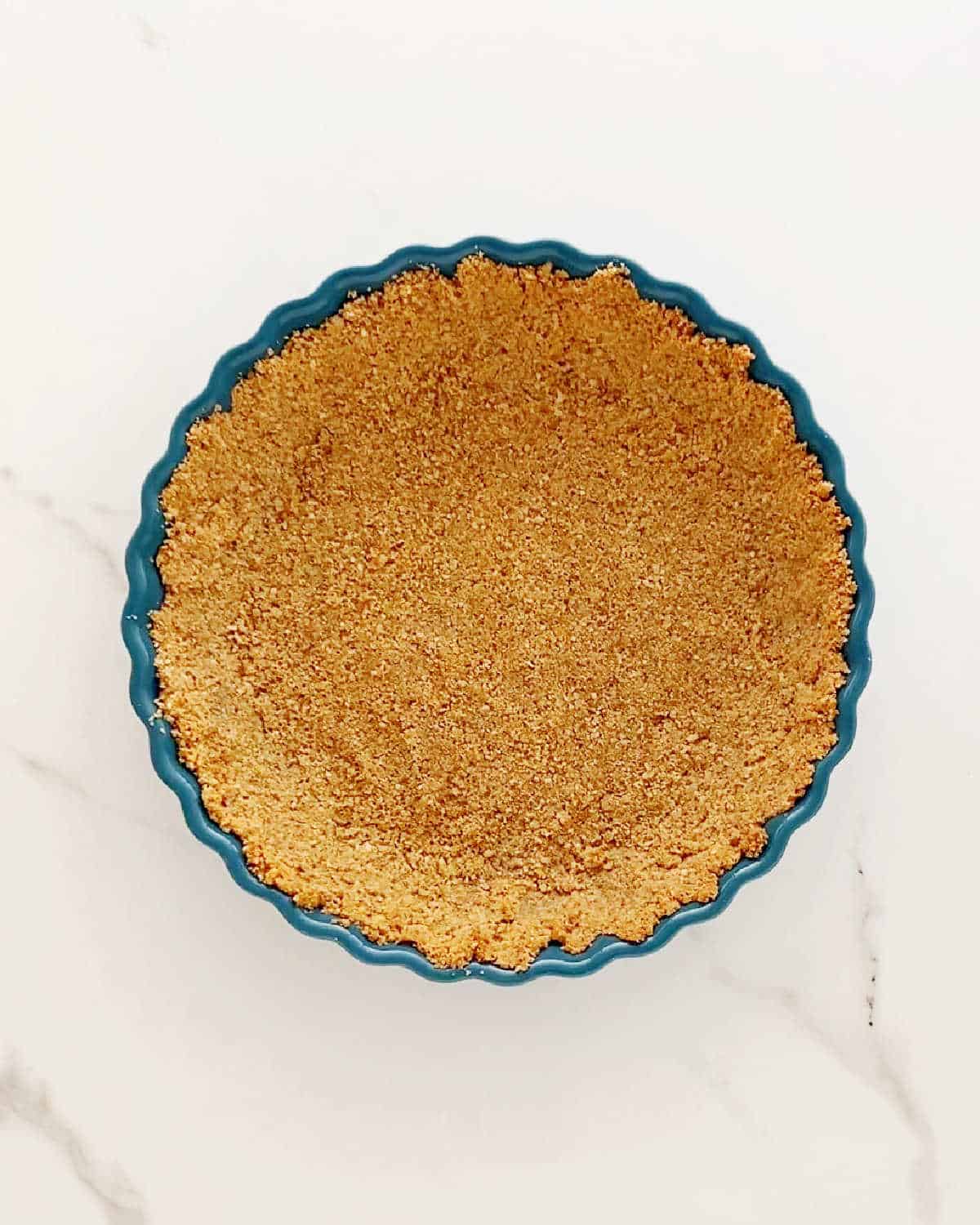 How to make the creamy pumpkin filling
This is a super easy pie filling! Just mix the ingredients, and that's it. A hand mixer or whisk and a bowl are all you need.
Don't beat the custard mixture. You need to stir or whisk it more than beat it. There's no need to incorporate air, resulting in the filling puffing up too much when baked. It does rise a bit during baking, and that's normal, but we want it to stay creamy.
Vintage Kitchen tip: make sure the ingredients are at room temperature, as that will ensure they integrate well and create a smooth filling.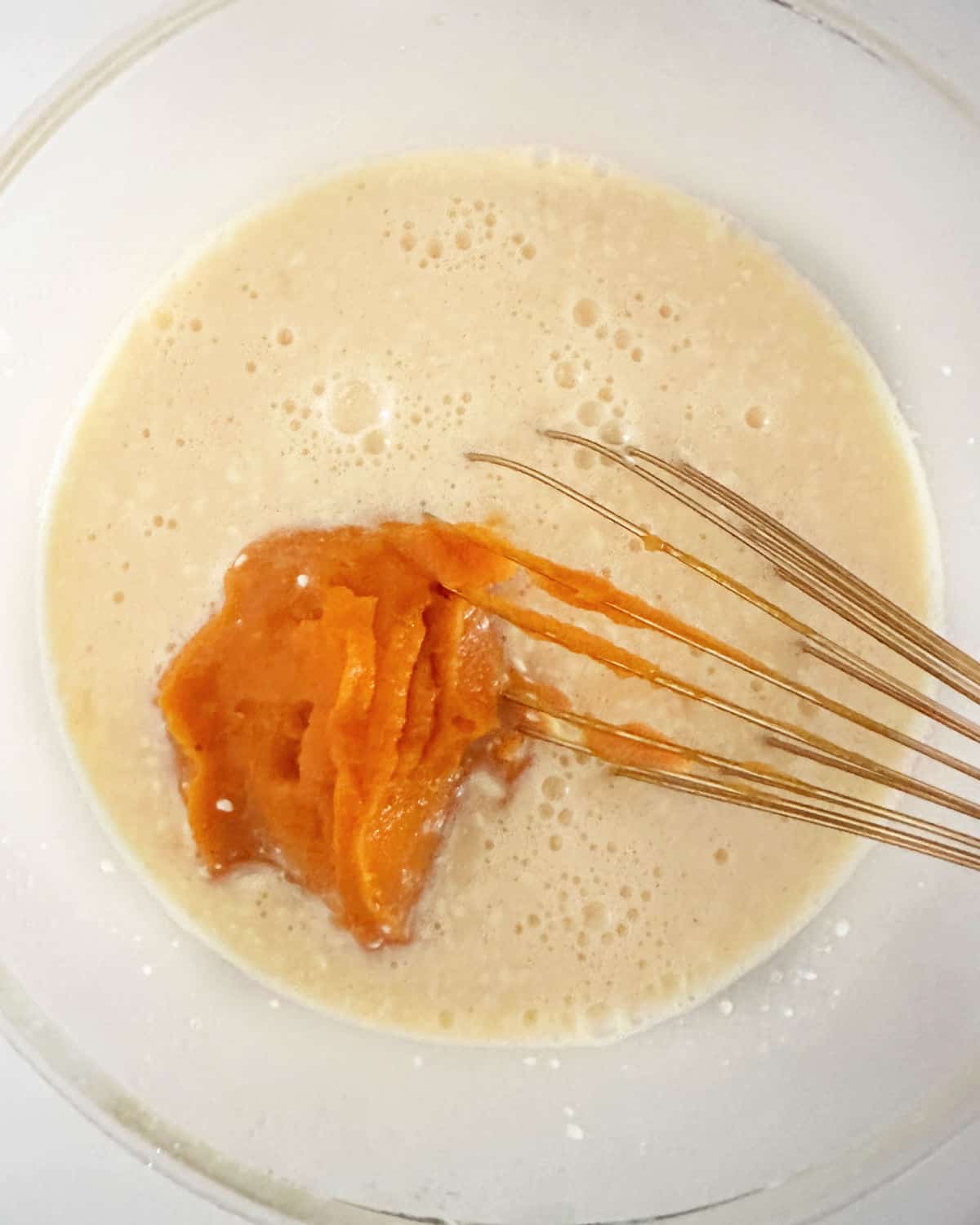 Baking
The filling reaches the top of the pie crust without overspiling. Sometimes, there's a small amount of leftover filling, which is fine.
When is the pie done? Start checking 5 minutes before the given time in the recipe card's instructions. The center should still jiggle a little. It will firm up as it cools down and then when it's refrigerated.
Chilling: for smoother results, let the pie cool, cover, and refrigerate for several hours (or up to 2 days) before serving.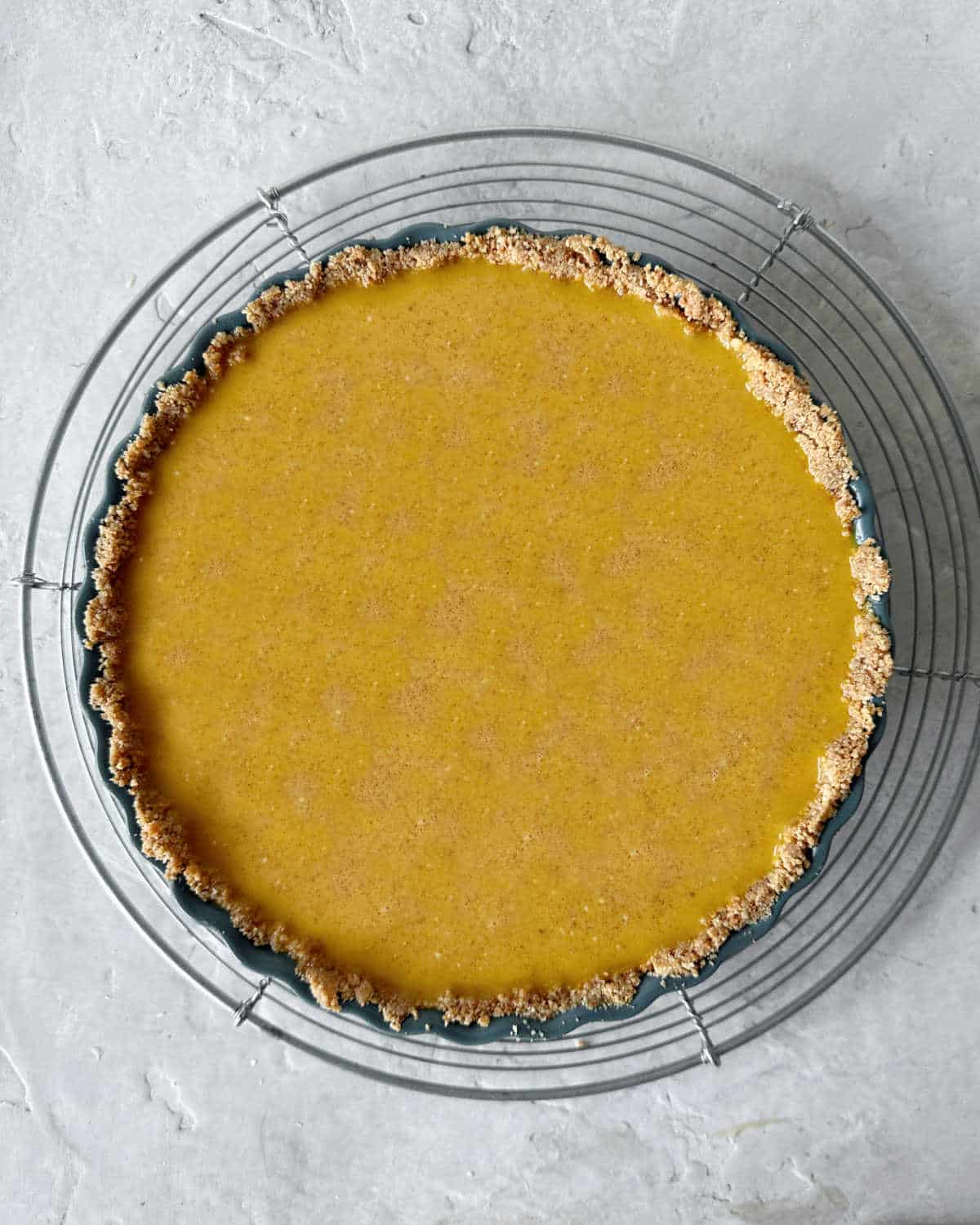 Whipped cream topping
Though this is a great pie to eat plain, a whipped topping adds to the creamy texture of the pie. It can be made ahead so you don't have to be beating at the last moment.
We use a piping bag and make a ring around the edges. But you can mound it at the center of the pie (like in this pumpkin pie), pipe rosettes like in the sweet potato pie, or add a dollop to the served slice on the plate.
How to make a more stabilized whipping cream: use a tablespoon or two of cream cheese. It thickens the mixture and is easier to pipe.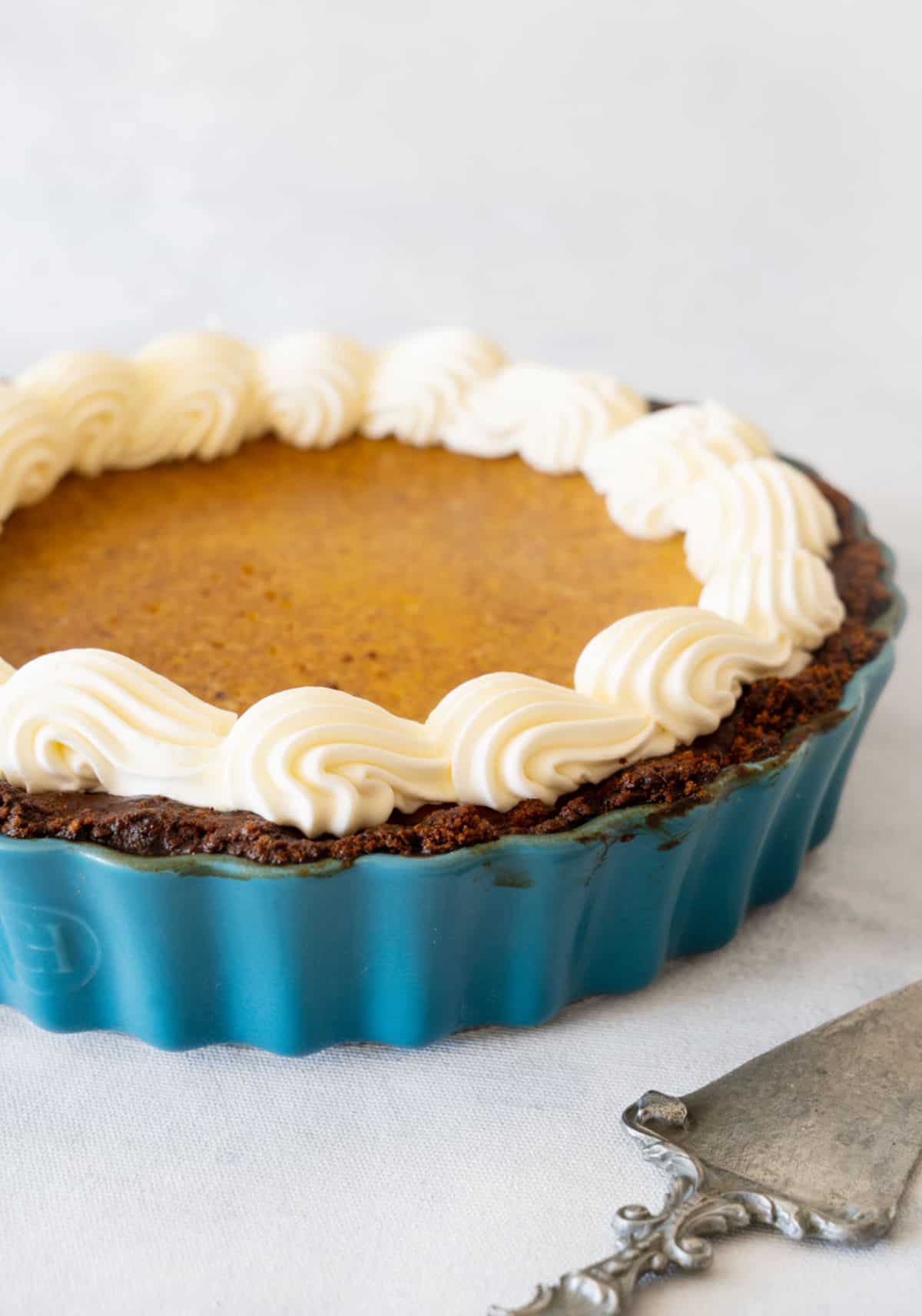 Serving
This pie can be eaten at room temperature or somewhat cold. I don't recommend it straight from the fridge as the flavors are a bit lost when it's very cold.
But most of you already know how you like your pumpkin pies, don't you?
Add some pumpkin spice cookies to the plate and sprinkle the cream topping (if using) with pumpkin pie mix or cinnamon.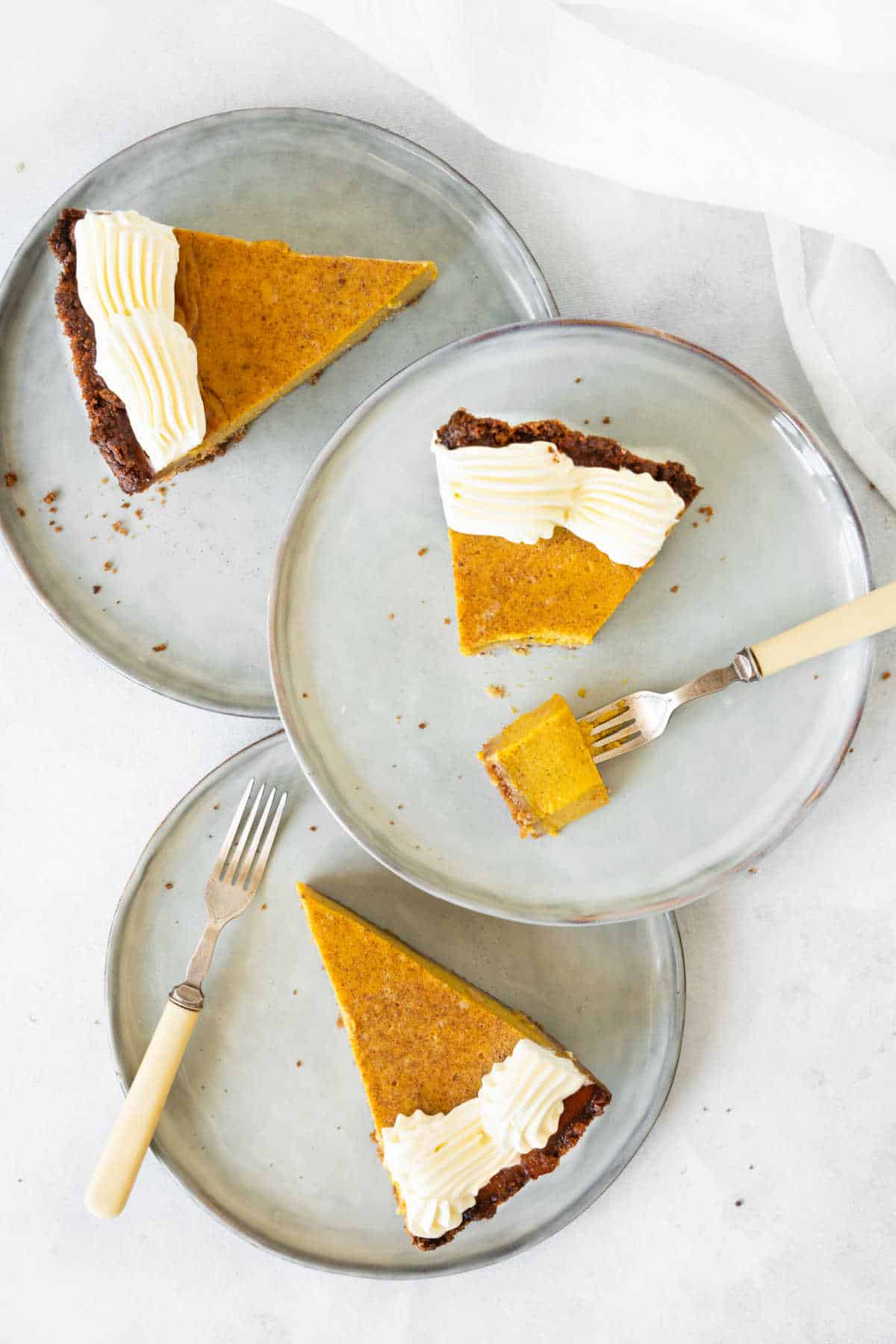 Storing
At room temperature: it keeps well, covered in plastic wrapped or under a cake dome, the day it's made and before you add the whipped cream, if you're using it.
Refrigerating: once you add the whipping cream, keep it in the fridge and cover it (without crushing the topping too much) to prevent it from drying out quickly. I use plastic wrap, but you can use aluminum foil or a pie container with a lid that fits in your fridge.
Freezing: wrap the cooled pie (without the topping) in plastic, then aluminum foil. Place it in an airtight container or a resealable freezer bag. Be sure to label it with the date. It can be frozen for up to a month. To thaw, transfer it to the refrigerator for several hours or overnight. Do not thaw it at room temperature. It's always a good idea not to subject the pie to go from one extreme temperature to another.
---
Related recipes you might like:
---
Let me know in the comments below if you made this recipe and loved it and if you had issues so we can troubleshoot together. I love to hear what you think, always. Thanks for being here. It's much appreciated.
You might also consider subscribing to our FREE email series to Boost your Home Baking Skills! And our regular newsletter.
And let's connect via Facebook, Instagram, and Pinterest.
As an Amazon Associate, I earn from qualifying purchases. Please read my disclosure policy.
Print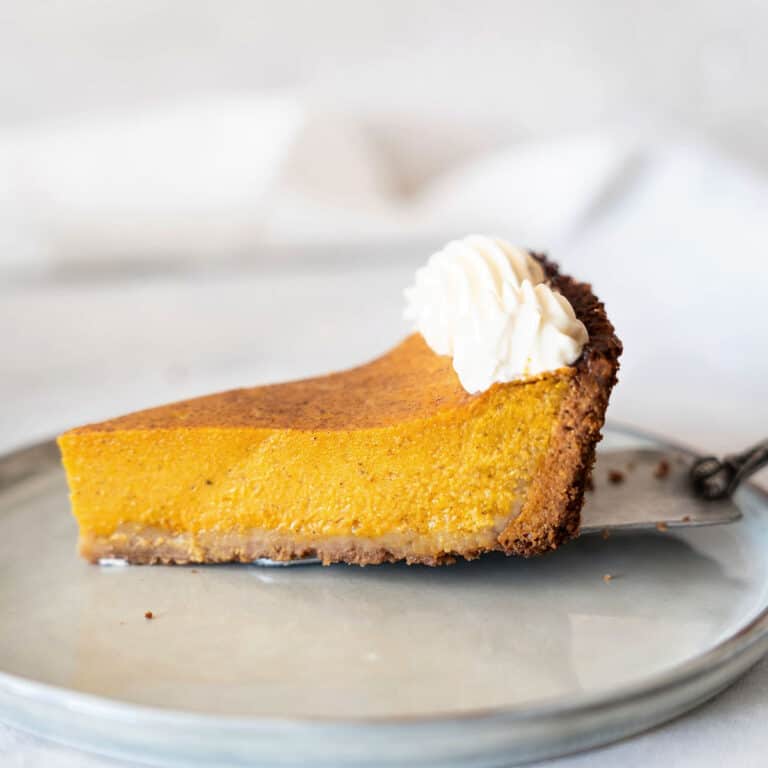 Pumpkin Custard Pie
This simple and creamy pie is a mix of sweet custard and soft pumpkin. The result is a fantastic filling and, therefore, pie. The base is an easy graham cracker crust that can be replaced with a classic flaky dough. Make it as soon as the fall season begins. It's a big holiday yes (especially the Thanksgiving feast) and a wonderful alternative to the traditional pumpkin pie.
Total Time:

2 hours 55 minutes

Yield:

8 servings
For the graham crust:
1 ¾

cups

ground graham crackers

2 tablespoons

brown sugar

8 tablespoons

(

½ cup

) unsalted butter, melted
For the pumpkin custard filling:
3

eggs

½

cup

sugar

1 teaspoon

vanilla

⅛ teaspoon

salt

1 ½

cups

whole milk

⅓

cup

cream

1

cup

pumpkin puree

2 teaspoon

pumpkin pie spice
For the whipped cream:

1

cup

double, heavy, or heavy whipping cream

1 ½ tablespoons

sour cream or cream cheese

3 tablespoons

powdered sugar
Instructions
Turn on the oven at 350°F/180°C.
For the graham cracker crust:
Combine ground cookies with sugar in a medium bowl.
Add the melted butter and stir until it looks like wet sand.
Pat on a 9-inch pie plate (24cm), covering the bottom and sides. Begin pressing at the sides and angle where the bottom meets the sides, then press to cover the bottom.

Refrigerate while making the filling.
For the pumpkin creamy filling:
Put eggs in a large bowl and add the sugar. Stir or lightly beat just to incorporate with a fork or whisk.

Add the pumpkin puree, vanilla, salt and spice mix. Mix well until integrated.

Slowly add milk and cream, stirring constantly without beating, until you have a smooth and fluid mixture.

Place the pie shell in the preheated oven and slowly pour the pumpkin mixture. You can do this right next to the oven but be very careful when transporting it to the oven as it's very liquid and it spills easy.

Bake for about 40 minutes, until it's almost completely set and the top is golden brown. It will continue to solidify as it cools. If the edges of the pie are browning too quickly, loosely cover with foil and continue baking until done.
Cool to room temperature on a wire rack, cover and refrigerate for a few hours before serving. You can make it 2 days ahead and keep refrigerated, always well covered to prevent dryness.
For the whipping cream:
Beat cold cream with sour cream/cream cheese and powdered sugar in a medium bowl.
Consistency of the cream: I like it to be thick but soft, so I whip it to medium peaks. But you can go all the way and beat it to firm peaks, similar to chantilly cream.
Be careful it doesn't curdle. It's what happens if it's overbeaten. You might want to beat with an electric mixer until you're almost there and then end it by hand with a whisk. It's hard to overbeat a preparation with a manual whisk.
Notes
Organization: read the recipe first and ensure you have ingredients at the correct temperature, equipment, and enough workspace. This will make the process so much easier.
Baking time: consider that all ovens and pans are different, even if they look similar. The baking time in my recipes is as accurate as it can be, but it might take you more or less time. You can use a thermometer (like the

OXO oven thermometer

) to check that your oven is at the right temperature. I recommend you keep track of how your oven works and what tiny details you might need to adjust.
Pumpkin puree: use

canned fresh pumpkin

or make

homemade pumpkin puree

. Please don't mistake it for pumpkin pie filling, which is a different product.
Author:

Paula Montenegro

Prep Time:

15 minutes

Cooling + refrigeration time:

2 hours

Cook Time:

40 minutes

Category:

Pies & Tarts

Method:

Baking

Cuisine:

American
Keywords: pumpkin custard pie