Turkey thighs are a great alternative to a whole roasted turkey if you don't need to feed a big crowd. They're flavorful and juicy, with a delicious, slightly crispy skin. Serve them with turkey gravy made from their own juices for a fantastic holiday meal.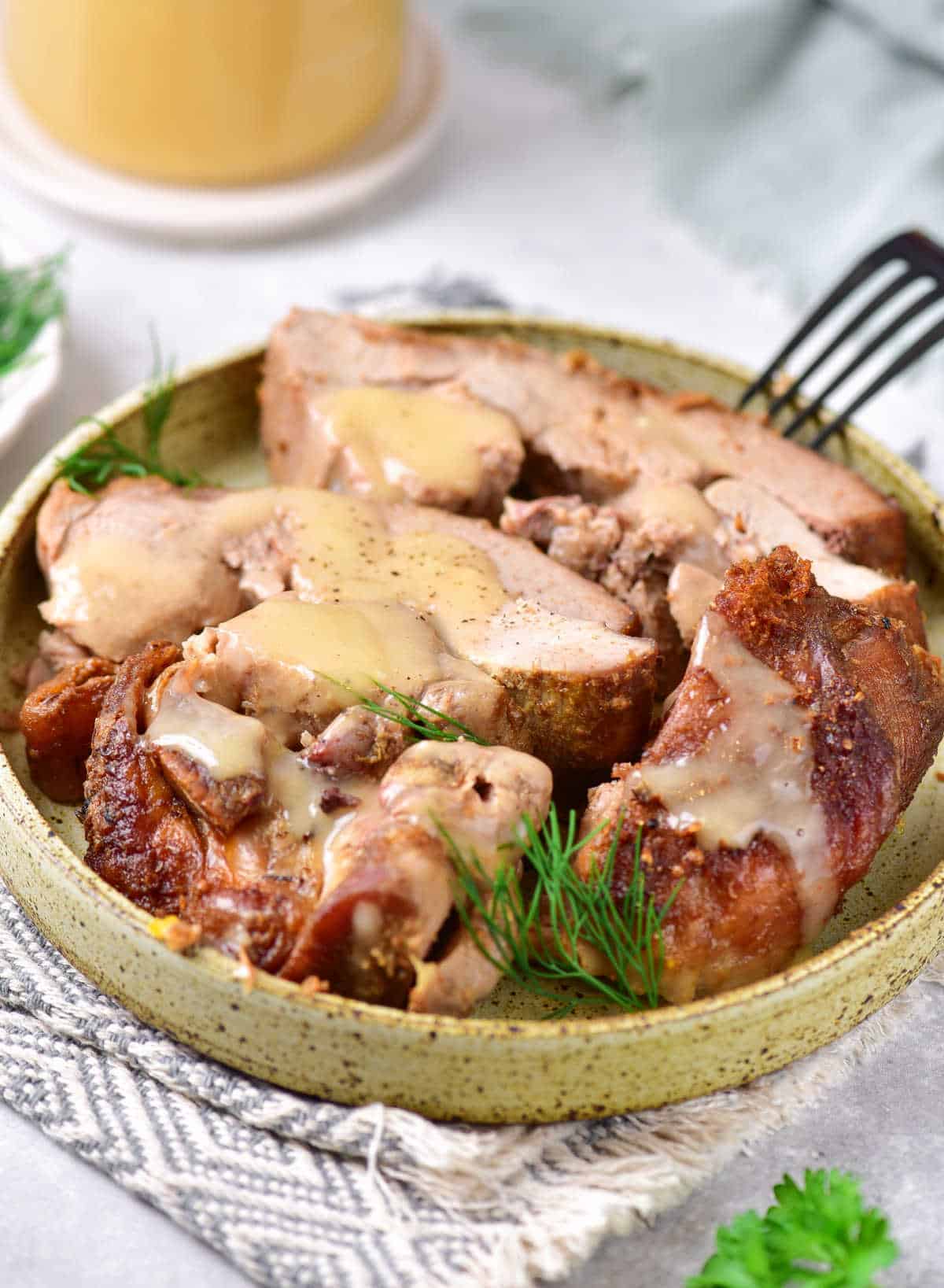 This is a perfect recipe for a small holiday celebration and also as a change for weeknights when you don't want to serve chicken or pasta again.
Roasted turkey thighs are rich, flavorful and versatile with seasonings. They fit in any oven and can be frozen.
Why make this recipe
Easier and faster: if you don't have to feed many this Thanksgiving, this is a great alternative to a whole turkey.
Perfect portions: They are just the right size for individual servings, making them ideal for smaller gatherings or family dinners.
Leftovers: they can be used in sandwiches, salads, soups, quiche, lasagna and other dishes.
Ingredient list
Turkey thighs: fresh or frozen.
Turkey broth (or chicken or vegetable).
Unsalted butter.
Salt: I like using kosher salt, but regular table salt works fine.
Garlic powder.
Onion powder.
Black pepper.
Paprika: use sweet, smoked, hot or a mix.
Ground coriander.
Ground cumin.
Chili powder.
Dried oregano.
Dried thyme.
See the recipe card towards the end of this post for quantities.
What can I serve with roasted turkey thighs?
You can pair roasted thighs with various side dishes, such as mashed potatoes or sweet potato puree, stuffing, roasted Brussels sprouts or other cruciferous vegetables, cornbread, cranberry sauce, or a cabbage salad. The choice of sides depends on your personal taste and the occasion.
How to make spiced Turkey thighs
The marinade is a mix of butter, spices and dried herbs.
This is where you can customize it to your and your family's palate. Or to adjust to what you have in your spice cabinet. You might find a new favorite mix.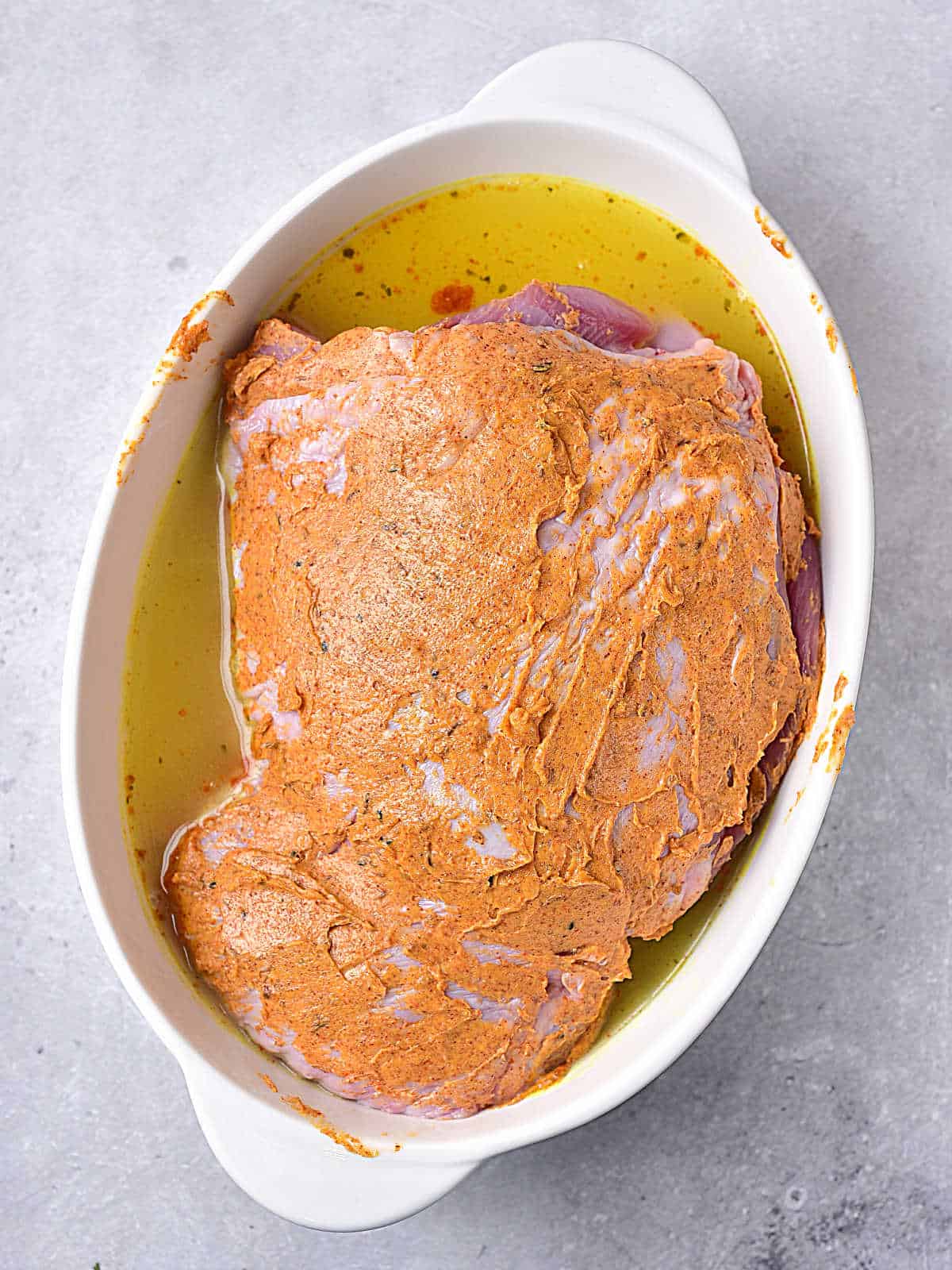 Combine soft butter with salt, pepper, spices and herbs. You can process it to make a smooth paste.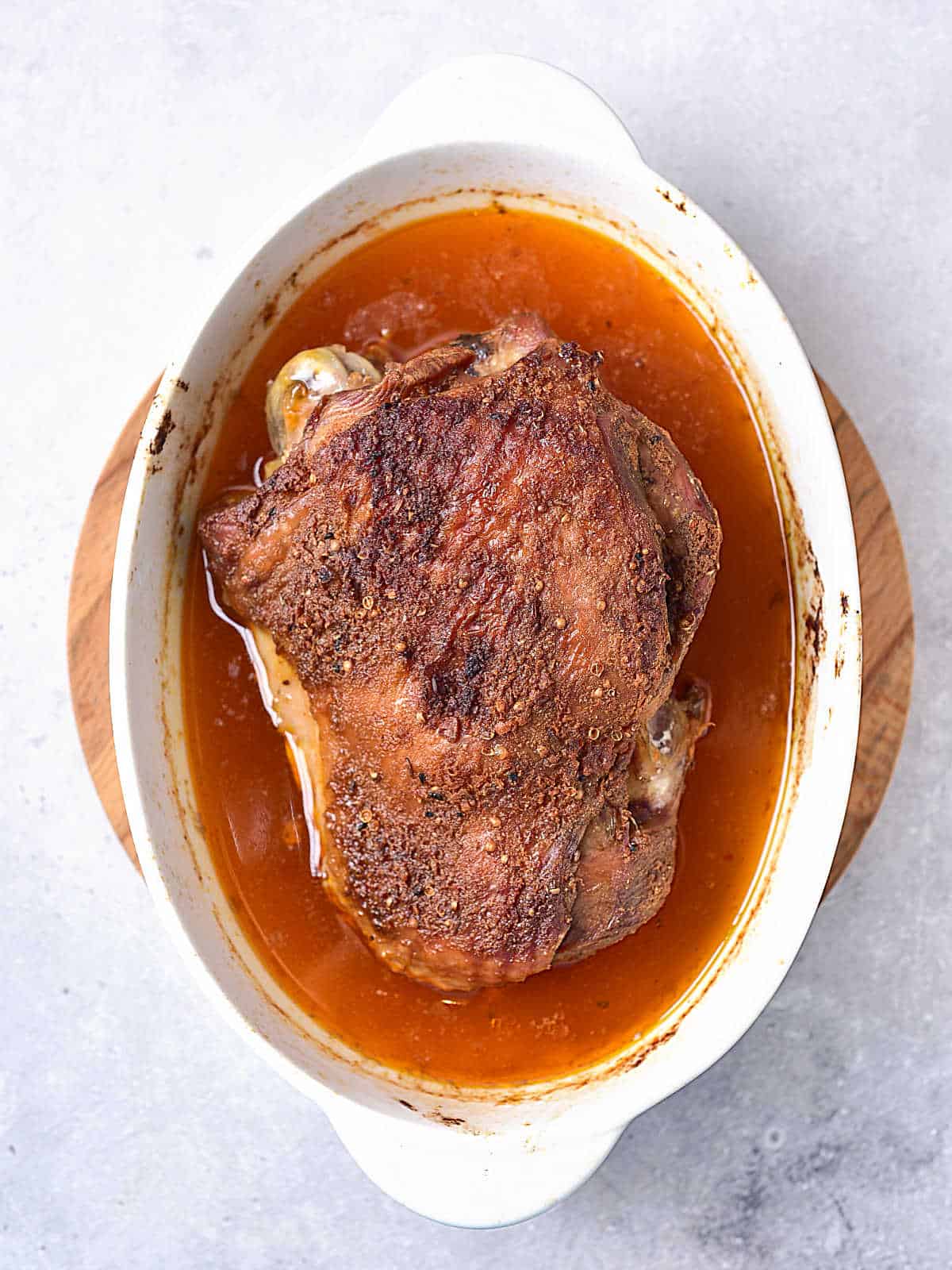 For a crisper skin, remove the foil that covers the dish and broil the thighs for the last 5-10 minutes.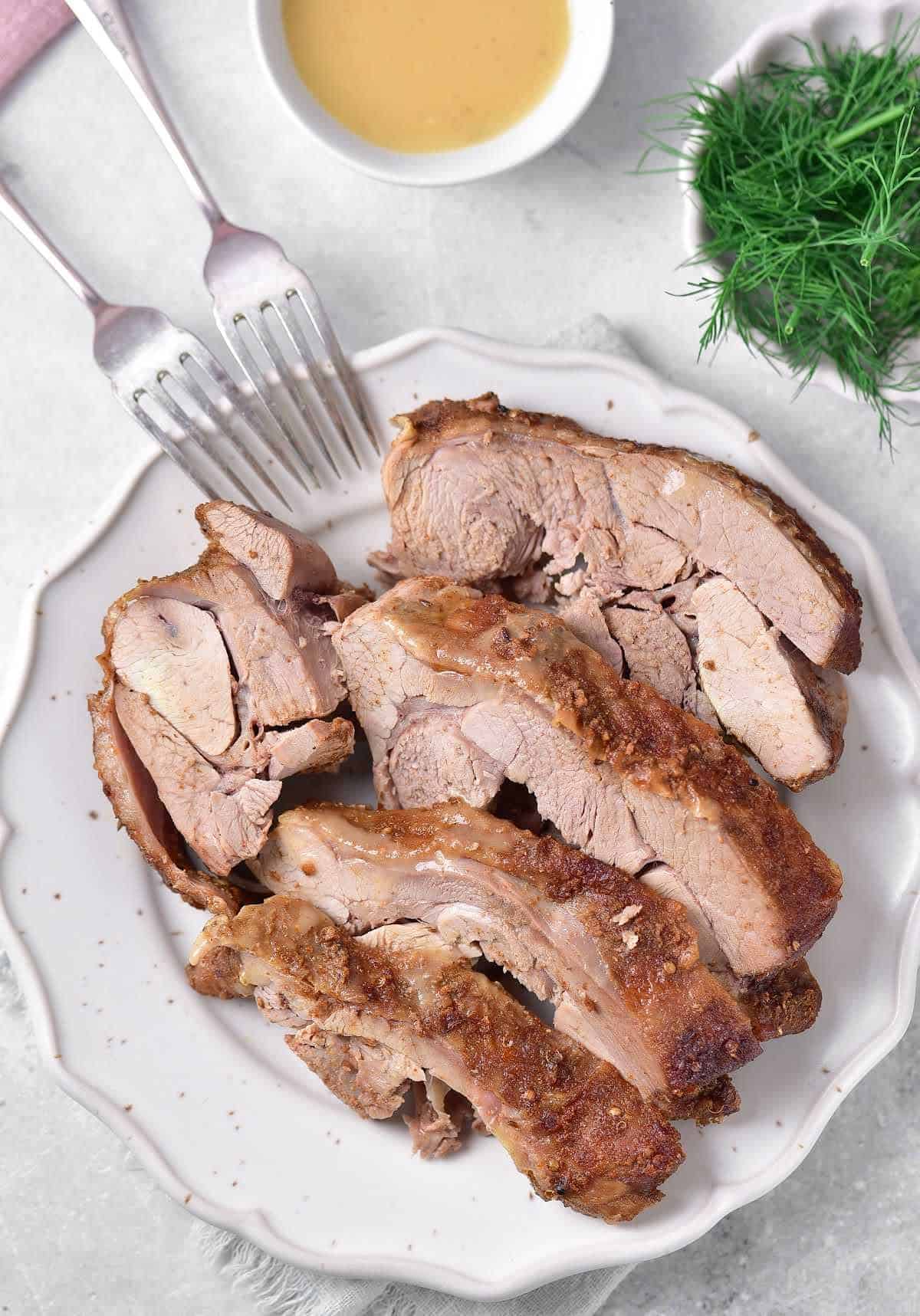 How to make turkey gravy
It's not hard to prepare, and you can easily achieve a lump-free gravy.
Turkey drippings: they'll be used as part of the liquid.
Broth: homemade or store-bought. We like turkey broth, but chicken or vegetable broth works well. See the Notes section on the recipe card to make turkey broth from scratch.
For more details, check the homemade turkey gravy recipe.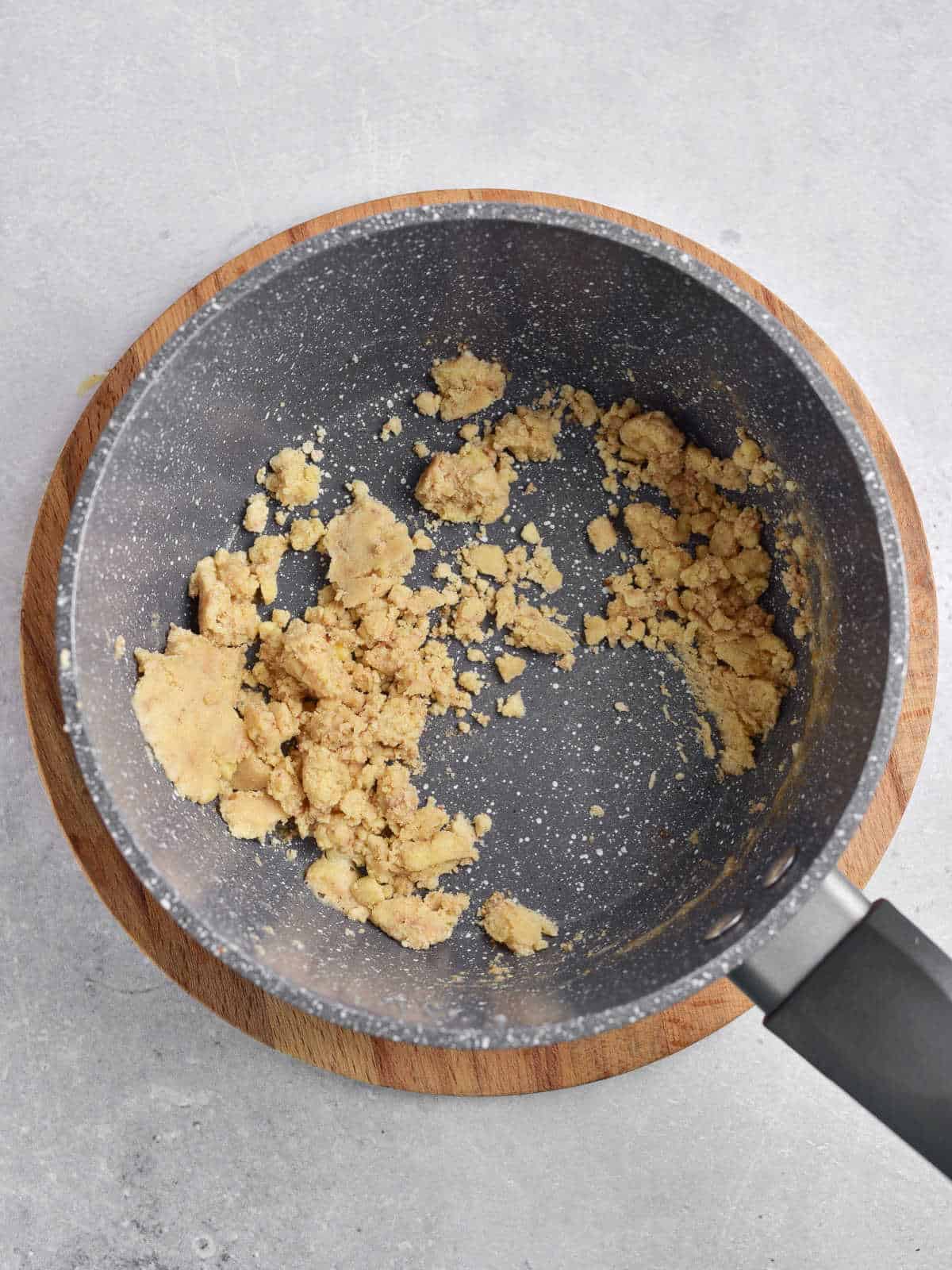 Make the roux: mix butter with flour and stir until it lightly browns. This is the base that will thicken the gravy.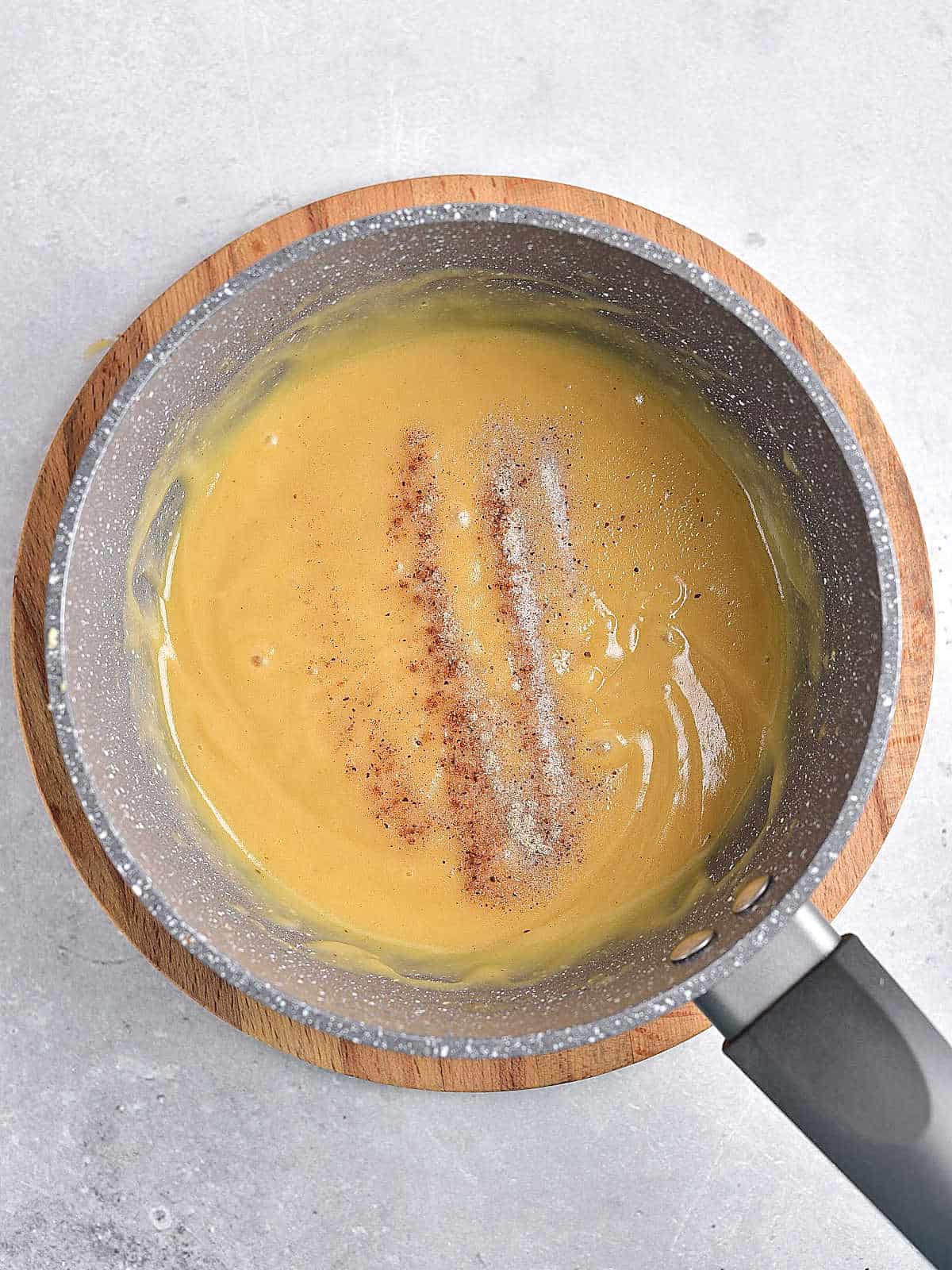 The liquids (turkey drippings and broth) are added gradually until a smooth sauce is achieved. It can then be spiced to your liking.
IMPORTANT: if making homemade turkey broth, plan to have it ready when the thighs are done. I recommend making it several hours or the day before.
Kitchen notes
Organization: read the recipe first and ensure you have ingredients at the correct temperature, equipment, and enough workspace. This will make the process so much easier.
Baking time: consider that all ovens and pans are different, even if they look similar. The baking time in my recipes is as accurate as it can be, but it might take you more or less time. You can use a thermometer(like the OXO oven thermometer) to check that your oven is at the right temperature. I recommend you keep track of how your oven works and what tiny details you might need to adjust.
How do I prevent turkey thighs from drying out? Cover them with foil during roasting to retain moisture and avoid overcooking them. Use a meat thermometer to ensure they reach 165°F (74°C) internally.
Uneven browning can occur if the turkey thighs are not placed in a single layer and are too crowded. Rotate the thighs in the oven and ensure there's enough space between them for even cooking.
Storage
Divide leftovers into portions: you can divide them into smaller portions to store more conveniently.
Refrigerate: store the container or bag in the refrigerator. Roasted turkey thighs can be safely refrigerated for 3-4 days.
Freezing: if you want to store them for an extended period, place them in an airtight container or freezer bag, ensuring they are well-sealed. For best results, use a vacuum-sealing system to remove excess air. Label the container or bag with the date.
---
Let me know in the comments below if you made this recipe and loved it and if you had issues so we can troubleshoot together. I love to hear what you think, always. Thanks for being here. It's much appreciated.
You might also consider subscribing to our FREE email series to Boost your Home Baking Skills! And our regular newsletter.
And let's connect via Facebook, Instagram, and Pinterest.
As an Amazon Associate, I earn from qualifying purchases. Please read my disclosure policy.
Print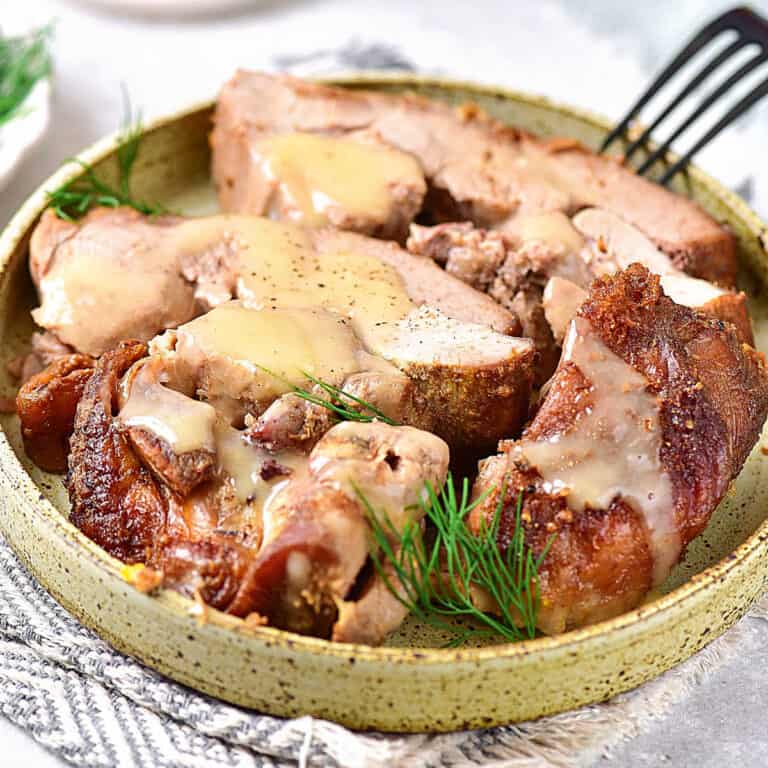 Roasted Turkey Thighs (with gravy)
Turkey thighs are a great alternative to a whole roasted turkey if you don't need to feed a big crowd. They're flavorful and juicy, with a delicious, slightly crispy skin. Serve them with turkey gravy made from their own juices for a fantastic holiday meal.
Total Time:

1 hour 15 minutes

Yield:

4 servings
For the turkey thighs:
2

large or 3 small turkey thighs (bone-in)

1

cup

chicken or vegetable broth

¼

cup

(4 tablespoons) unsalted butter

½ teaspoon

salt
Several grindings of black pepper

⅓ teaspoon

paprika

¼ tsp

granulated garlic

⅓ tsp

coriander

¼ tsp

onion powder

¼ teaspoon

chili powder

½ teaspoon

dried thyme and oregano
For the gravy:
2

cups

turkey broth

¼

cup

roasted turkey drippings

¼

cup

all-purpose flour

2 tablespoon

butter

¼ teaspoon

salt

¼ teaspoon

black pepper

⅛ teaspoon

nutmeg
Instructions
For the turkey thighs:
Preheat the oven to 375°F/190°C.
In a small bowl, mix soft butter with salt, spices and herbs.
Using your hands or a spatula, spread an even, thin layer of flavored butter on both sides of the turkey thighs.
Transfer the turkey thigh to a baking dish large enough to accommodate them without overlapping.
Add the broth around the meat.
Cover the dish loosely with aluminum foil and place in the oven.
Bake for about 30 minutes, reduce the oven to 325°F/160°C and roast for about 30 more minutes for the large thighs and 15 minutes for small ones. This time may vary. An instant-read thermometer should read 170°F/75°C.
To make the turkey skin crispy on top, remove the foil 10 minutes before the end. If necessary, broil for a few minutes. Reserve the juices for making the gravy.
Serve hot, sliced, with gravy.
For the homemade gravy:
Have the broth barely simmering over low heat.
Melt the butter in a saucepan, sprinkle the flour over and cook for 2 minutes over low heat, stirring constantly. The mixture will brown and thicken.
Slowly pour in the turkey drippings and a third of the broth as you stir with a whisk. Mix until all the flour lumps are broken up, and the mixture is smooth.
Add salt and spices and stir to integrate everything.
Pour the remaining broth, stirring constantly over low heat until you get the desired thickness. Add more broth if necessary, check seasonings and adjust if needed. You can use it immediately or let it cool down and refrigerate it for 2 days. If the gravy has cooled and thickened, reheat it over low heat before serving.
Notes
Homemade turkey broth: cook chopped carrot, celery and onion with a little oil in a pot until it starts to brown but not burn, about 3 minutes over medium heat. Add a turkey drumstick, 1 bay leaf, salt and a few black pepper cloves, cover with water and cook over medium heat for about 1 hour, until fragrant and concentrated. It should be well-seasoned but not strong. Adjust if necessary. Let it cool down, uncovered. Remove the turkey and use it for sandwiches, wraps, lasagna or whatever you want.
Should you use bone-in or boneless turkey thighs? It's a matter of personal preference. Bone-in thighs can add flavor and are juicier, while boneless thighs are easier to work with and can cook more quickly. We favor bone-in turkey.
Author:

Paula Montenegro

Prep Time:

15 minutes

Cook Time:

1 hour

Category:

Main dishes

Method:

Baking

Cuisine:

American
Keywords: roasted turkey thighs