I had big plans for today's post, as big as a three course meal ending in a dazzling dessert with berries like the mascarpone roulade. By the time I finished with the appetizer, this strawberry goat cheese tartine, I had no more energy for another round of cooking and photographing. It takes time you guys, and planning and je ne sai quoi, don't you agree? I need to feel it before it can translate into something blog worthy.
At least I managed to make stuff on toast, and we all know how good that is.
For those of you who are wondering where did the summer go? keep in mind some of us, are thinking where did my life go? I might not know where but let me tell you it's speeding ahead of me. I find myself trying to catch up with it constantly.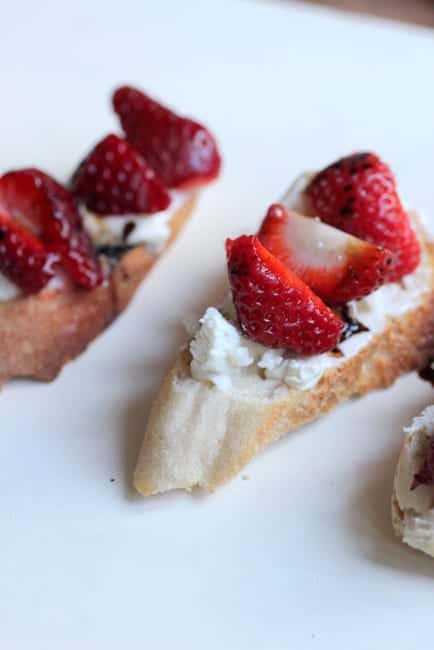 It's make-up week at the FFWD headquarters, and I'm taking advantage of it. Not in a grand style, like the full meal I had in mind, but with a fast, easy and super tasty appetizer that is not only different but packs a lot of flavor too. All good adjectives when it comes to food.
I'm very baffled by the fresh strawberries in the market the past couple of weeks or month even. They are good tasting. Very good tasting. And all red, which is usually summer strawberry territory. I distrust strawberries that are too big and too red, they usually taste like unsweetened strawberry tea, a mix of acid and bitter.
Well, who knew I would be popping strawberries like candy in the middle of winter? Just to be sure though, I roasted some of them, for leverage, in case the real deal fell short, but I ended up eating them alone because the fresh ones were amazing on top of the baguette slice and goat cheese.
There's not much to this appetizer, except to say that the first goat cheese I used was of the pungent kind, with a bitter aftertaste. I do like it a lot, especially in a quiche I make with caramelized onions, but for this tartine, it was too much. So round number two included a milder cheese and less of it. I couldn't find chevre, which is the ultimate soft goat cheese in my opinion, so I used chevrotin. I think feta would've been good too. Or even homemade ricotta.
What about the balsamic vinegar? It adds a good touch, and though it´s not mandatory as Dorie points out, I suggest you not miss it. The reduction of balsamic vinegar to syrup is a revelation, the sweet acrid waft as it cooks stayed in my nose for hours, similar to the way my kitchen smell when I make chutney. I don't know how I come back after adding balsamic syrup to the strawberry goat cheese tartine and to a salad. Maybe I don't. It's just so darn amazing.
Print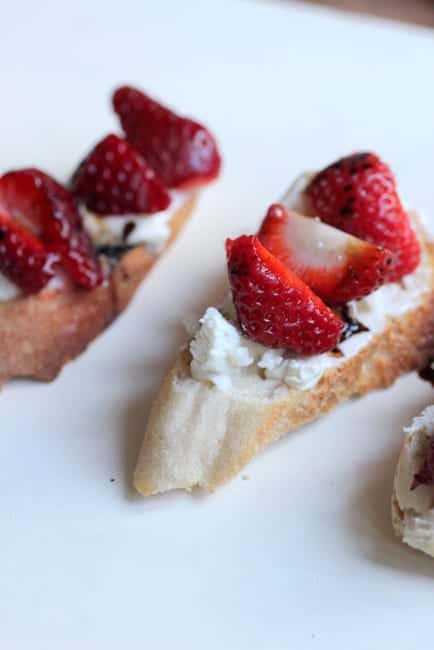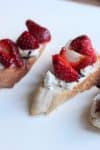 Strawberry goat cheeseTartine
---
Description
This is more an ingredient list than a recipe.
---
Baguette slices (toasted or fresh)
Fresh strawberries (hulled and sliced)
Soft goat cheese
Balsamic vinegar syrup
---
Instructions
Put the amount of balsamic vinegar you want, I used about 1 cup, in a small saucepan and let reduce over low heat. When it's syrupy remove and keep in a glass jar. I transferred it back to it's original bottle.
Put some goat cheese on each baguette slice, add some fresh strawberry slices on top and drizzle with balsamic syrup.
Eat immediately
---
from Around my French Table, by Dorie Greenspan
---