This is the only guide you need for making no-bake cheesecake, from bites to jars, to vegan and gluten-free, I share 65+ recipes plus tips to make them successful.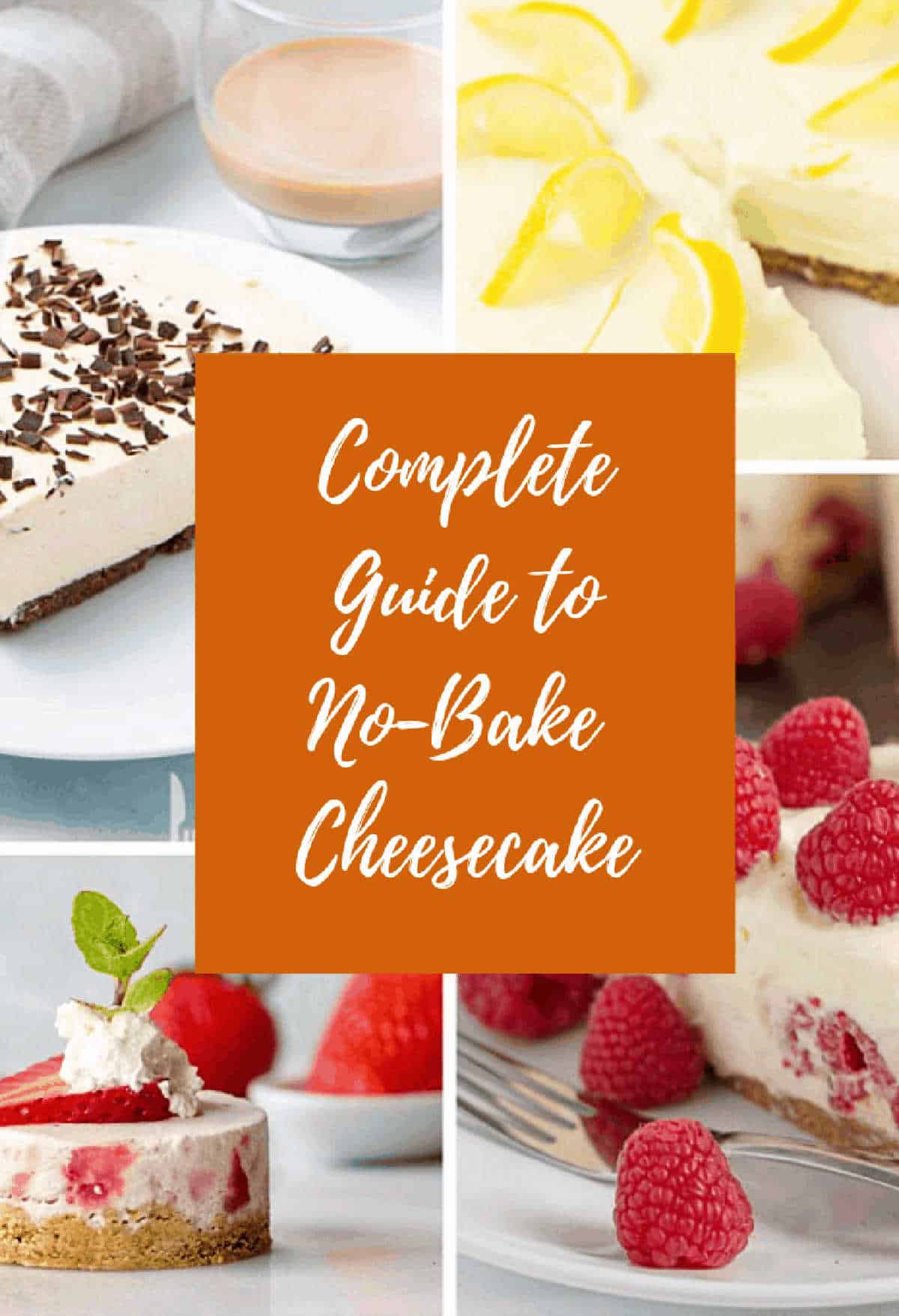 As an Amazon Associate, I earn from qualifying purchases. Please read my disclosure policy.
Differences between no-bake and regular (baked) cheesecake.
The differences are few, but the results are very different in my opinion.
Baked cheesecake
In traditional baked cheesecakes, the filling contains eggs (and maybe other thickeners) and it is baked. This is necessary to achieve the creamy consistency we all crave and love. Besides, eating raw eggs is not advisable.
It usually has more of a velvety texture, as in the Brown Sugar Cheesecake or the insanely creamy 8-Hour Cheesecake.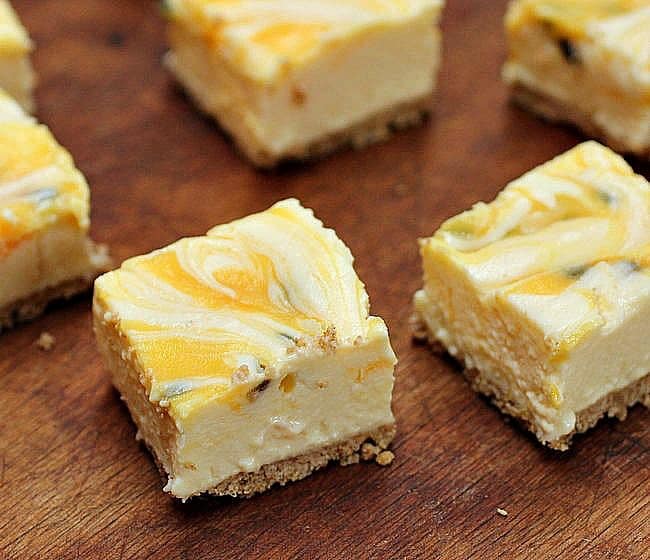 No-bake cheesecake
It's simply cheesecake that is not baked. That means you never have to turn on the oven to make it, though it does require hours of refrigeration.
Or even a quick stay in the freezer as I do with my beloved Passion Fruit Lemon No-Bake Cheesecake (image above).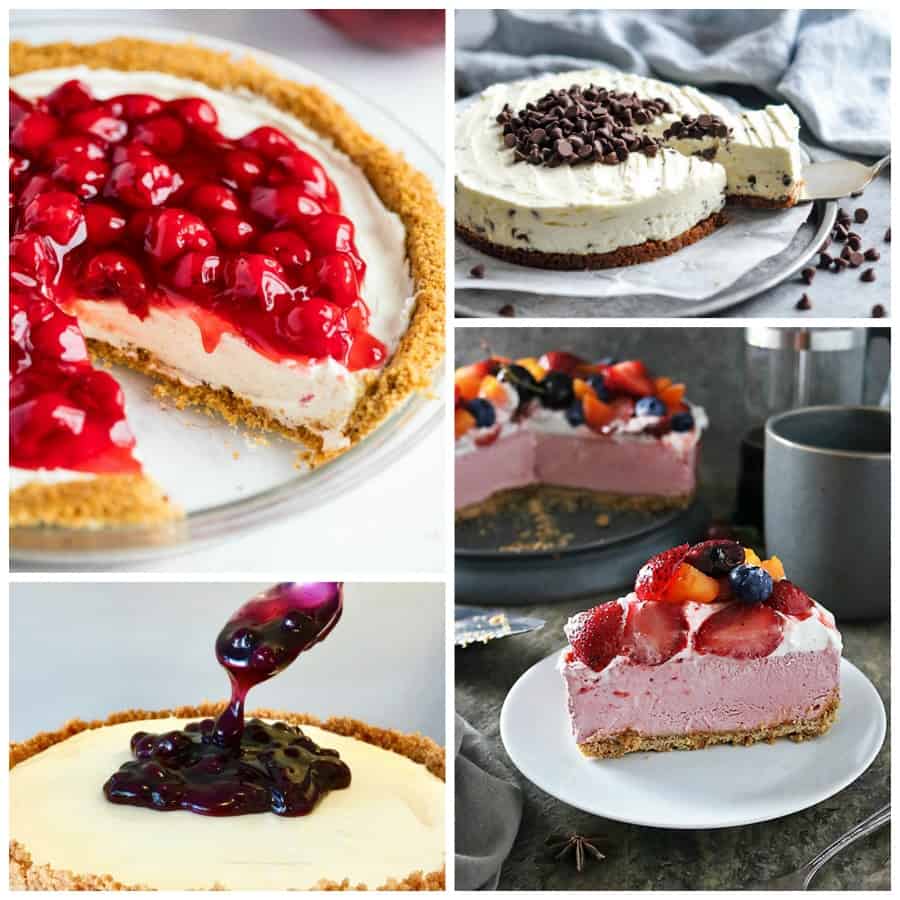 Clockwise from top left:
No-Bake Cheesecake
Chocolate Chip No-Bake Cheesecake
Vegan Strawberry Cashew Cheesecake
No-Bake Blueberry Cheesecake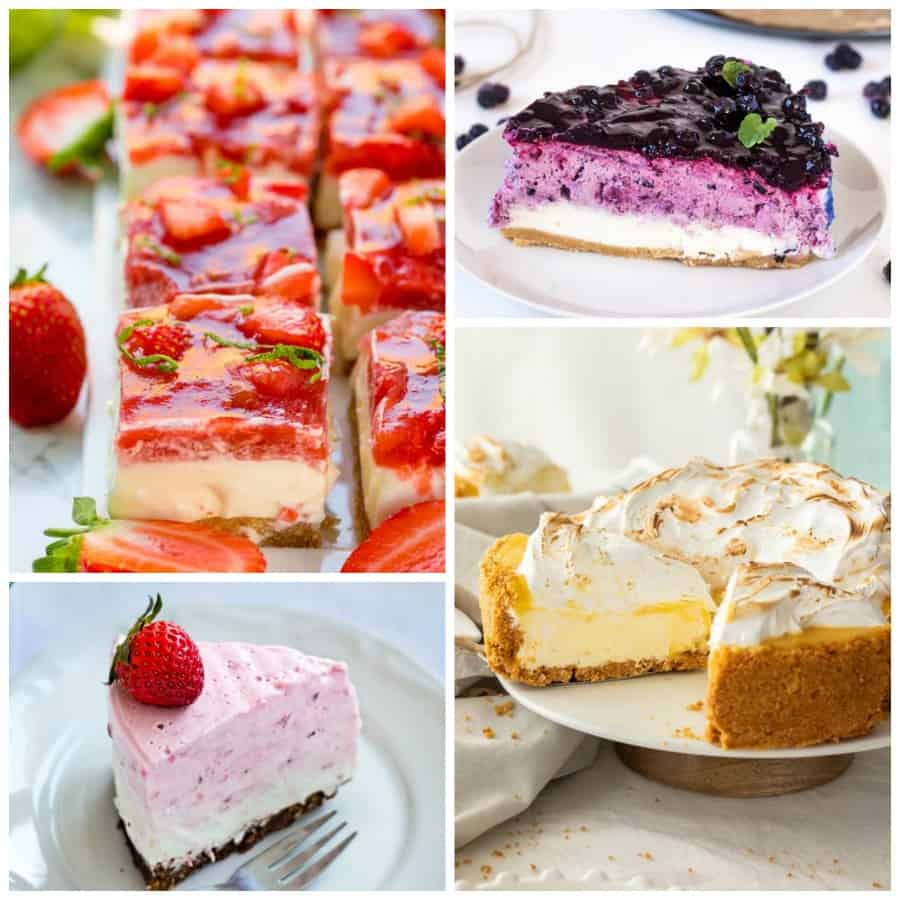 Clockwise from top left:
Strawberry Rhubarb Cheesecake Bars
Blueberry Lemon Cheesecake
No-bake Lemon Meringue Cheesecake
Strawberry Ombre Cheesecake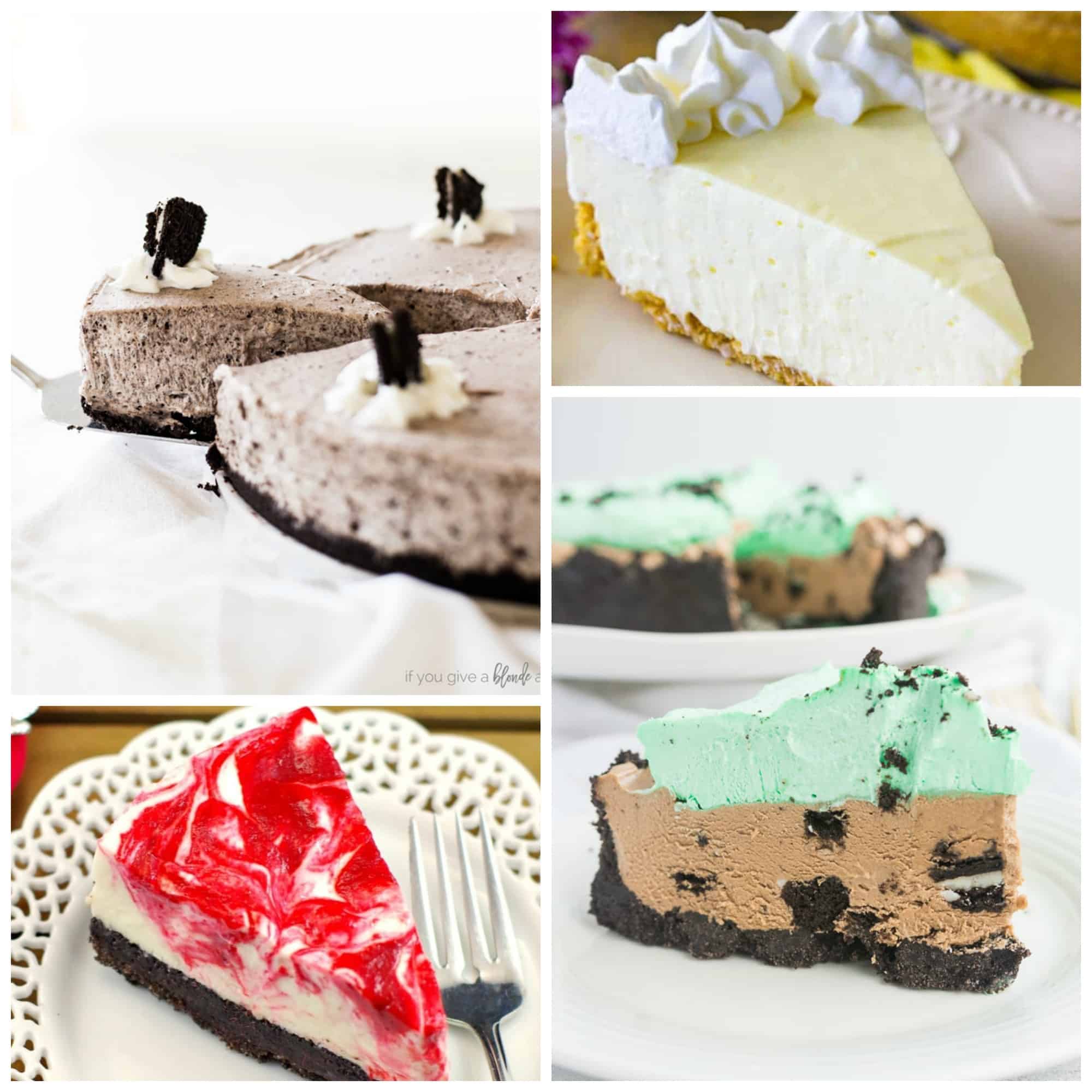 Clockwise from top left:
No-bake Oreo Cheesecake
No-Bake Lemon Cheesecake
Mint Mocha no-bake Cheesecake
Light Rhubarb Cheesecake
Crust ingredients
The crust is an important part of this type of cheesecake. As it is eaten raw, you have to be careful what you use (no raw eggs for instance).
The most common is the much-loved graham cracker crust, which consists of ground cookies combined with melted butter and sometimes sugar. It needs refrigeration time to solidify, so the easiest way is to pop the pan with the crust in the fridge while making the filling.
Alternatively, you can buy a pre-made cookie pie dough and make a cheesecake pie. But take into account that the amount of filling in a cheesecake pie is usually smaller than in a regular one.
In these modern times there are a ton of special diets cheesecakes, from vegan to gluten-free to dairy-free and so on. So crusts vary and you can probably find what adapts to you.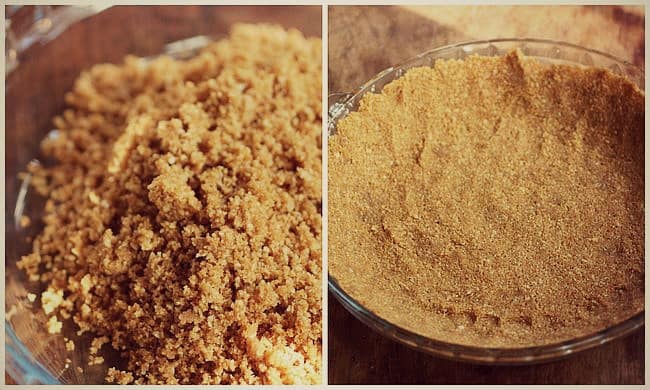 Tips for making a cookie crust
Plain cookies. I strongly suggest you use plain cookies (such as graham crackers), as filled ones are way more greasy and messy when mixed with the butter.
Sugar. You can add 2-3 tablespoons of sugar (I like brown sugar more than white) to the ground cookies before adding the butter.
Butter. It should be melted and the final mixture must be like wet sand (image above, left). If you have dry spots after mixing it well, add a tablespoon more of butter. If you don't have enough butter the crust will crumble, it will not solidify well, especially since you're not baking it.
Pie. If you're making a cheesecake pie or want to press the crust up the sides too (besides the bottom), make sure you press well the unions where the bottom meets the sides (image above, right). This is important so it doesn't break when you cut it. I recommend you start pressing the sides and the unions and work your way to the middle. It's easier so you don't run out of cookie mixture before securing the sides.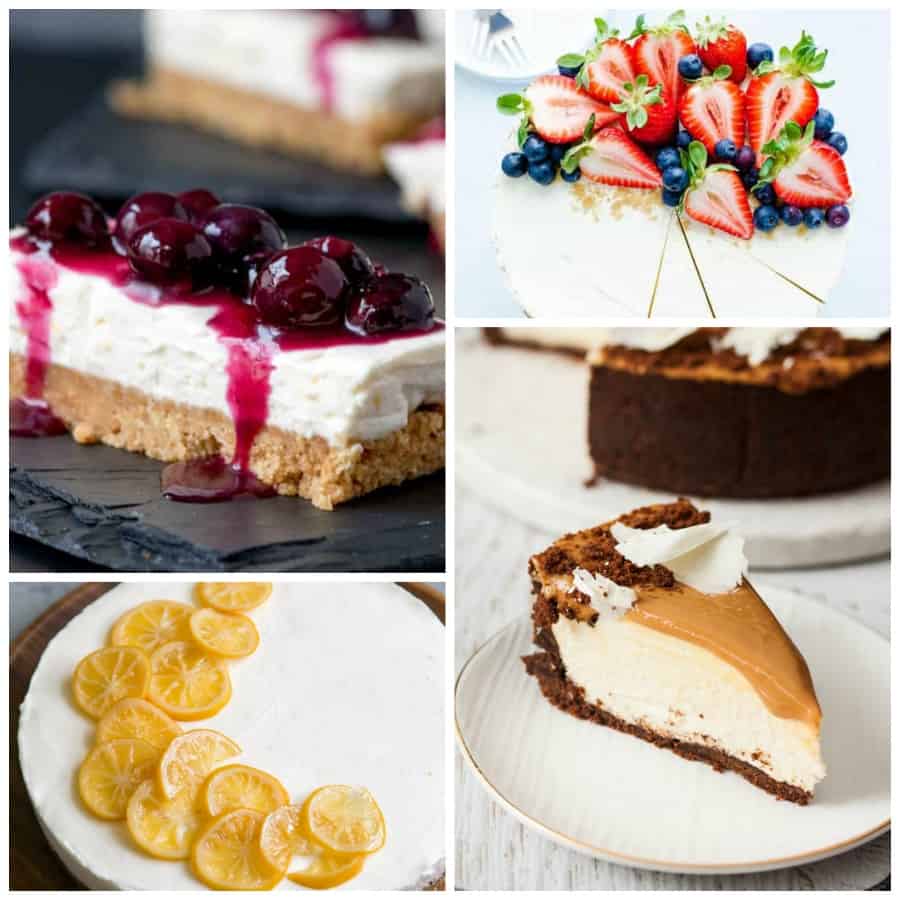 Clockwise from top left:
Blueberry Lemon Cheesecake Bars
Easy No-Bake Cheesecake Recipe
Dulce de Leche White Chocolate Cheesecake
No-Bake Greek Yogurt Cheesecake

Clockwise from top left:
Strawberry Nutella Cheesecake
Toblerone Cheesecake
Orange Creamsicle Cheesecake
Birthday Cake No-Bake Cheesecake
Filling ingredients
Cream cheese is the main ingredient in any traditional cheesecake. Full fat is the most used as it gives the cake a rich, creamy texture.
Whipping cream is in many cases a key ingredient in no-bake cheesecake, especially if not adding gelatin or other stabilizing agents. The cream is whipped before being added to the rest of the ingredients and gives extra structure.
Sugar, the white regular kind, is the main ingredient used to sweeten this dessert. Alternatives include brown sugar, coconut sugar, honey, condensed milk, agave, maple syrup, other syrups, other sugars, and other sweet ingredients I probably don't know to exist. In some special diet recipes, sugar is substituted by dates for example. So there are many alternatives depending on the recipe.
Sour cream or Greek yogurt is added to some cheesecakes to include that slightly tangy flavor that complements the richness of the cream cheese and whipped cream and the sweetness of the sugar.
Gelatin (unflavored) is a stabilizer that adds structure but not flavor and is used in many no-bake cheesecakes, especially commercial ones that need a longer shelf life. It allows the cheesecake to hold its shape better at room temperature. Using gelatin is an extra step that many don't want as it implies special attention to temperatures in order for the gelatin to work, and you can ruin the cheesecake if used wrongly or in larger quantities than needed.
Condensed milk is used as a sweetener (as mentioned above) but it also gives it some structure when used together with lemon and other citruses, especially after it's refrigerated. These recipes usually don't contain sugar as the condensed milk already has so much.
Special ingredients are used in recipes that target allergies or special diet needs. For example, vegan no-bake cheesecakes don't use dairy so the 'cheese' part is many times substituted by cashews. You'll find many recipes in the last section of this post.
I'm not adding eggs to the list because, nowadays, most are egg-free due to all the potential problems we know might come from eating raw eggs. But it can be an ingredient if you have your own hens or are confident where your eggs come from or buy pasteurized eggs. Here's a link with more info.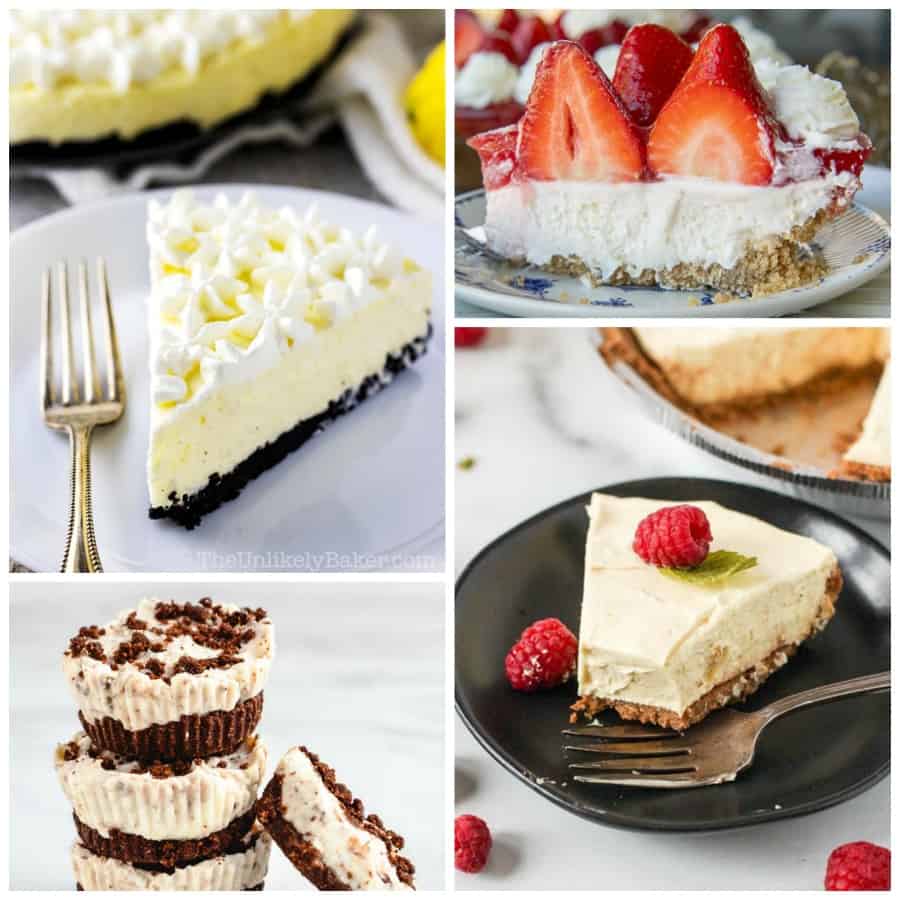 Clockwise from top left:
No-Bake Lemon Cheesecake
No-Bake Strawberry Cheesecake Pie
Gluten-free Vegan Lemon Cheesecake
Keto Oreo Cheesecake Bites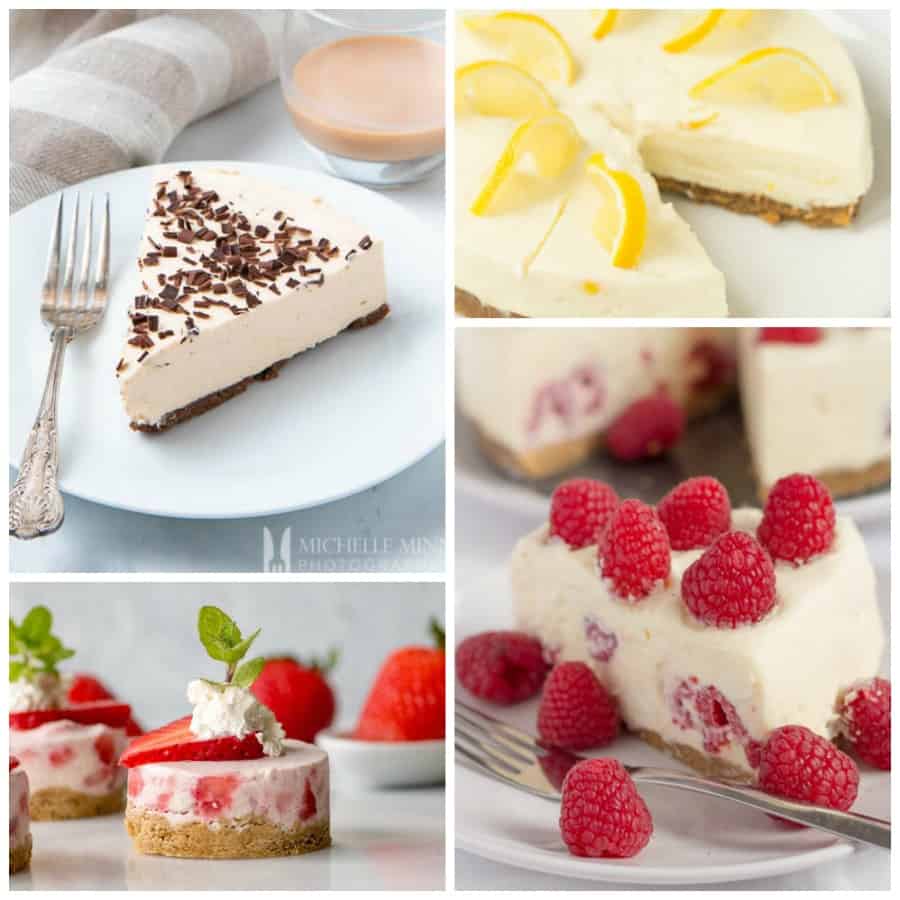 Clockwise from top left:
Amarula Cheesecake
Lemon Crunch Cheesecake
White Chocolate Raspberry Cheesecake
Gluten Free Mini Strawberry Cheesecakes
Special diets (vegan, gluten-free, keto)
There are many types of no-bake cheesecakes that are not traditional.
As I said before, nowadays there are many recipes specially made for allergies, and intolerances such as gluten or dairy-free, vegan, paleo, and the list goes on.
Below, and throughout this post, you have lots of links to recipes.
I don't have food allergies, or intolerances and eat a bit of everything, but there are many recipes here addressing those issues. This is by no means a source of medical o nutritional information about special diets. You should consult with a professional if you have questions about a recipe.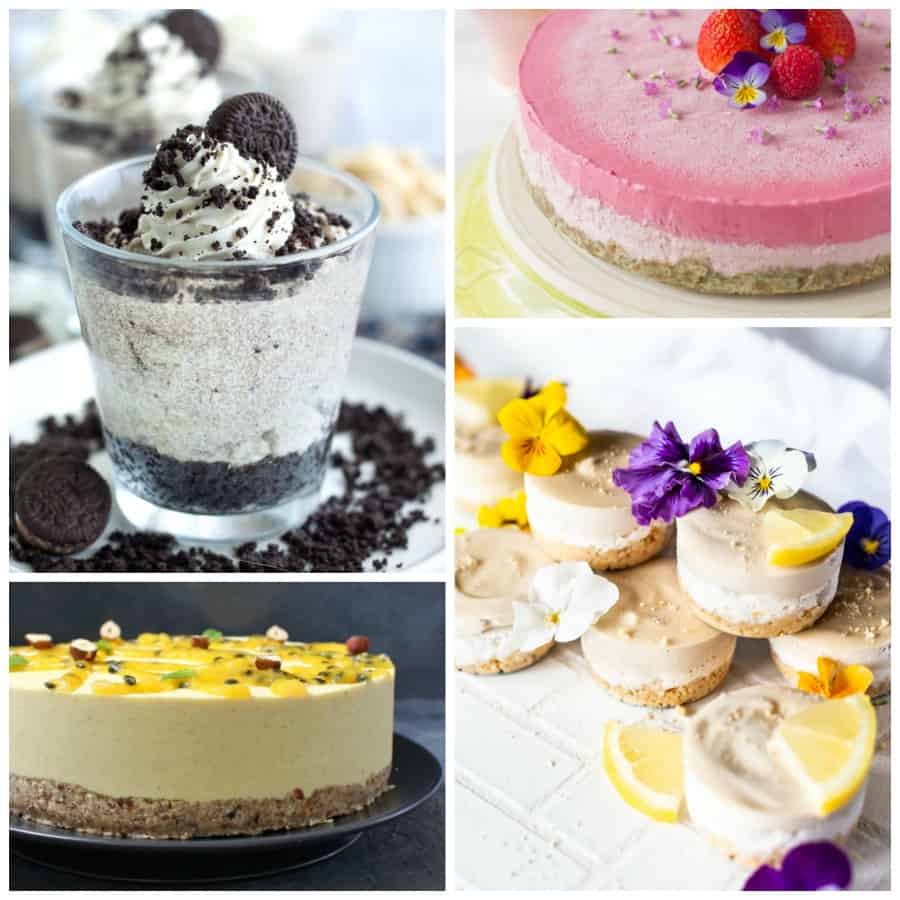 Clockwise from top left:
Vegan Oreo Cheesecake
Strawberry Raw Vegan Cheesecake
Mini Lemon Vegan No-Bake Cheesecake
Mango Vegan Cheesecake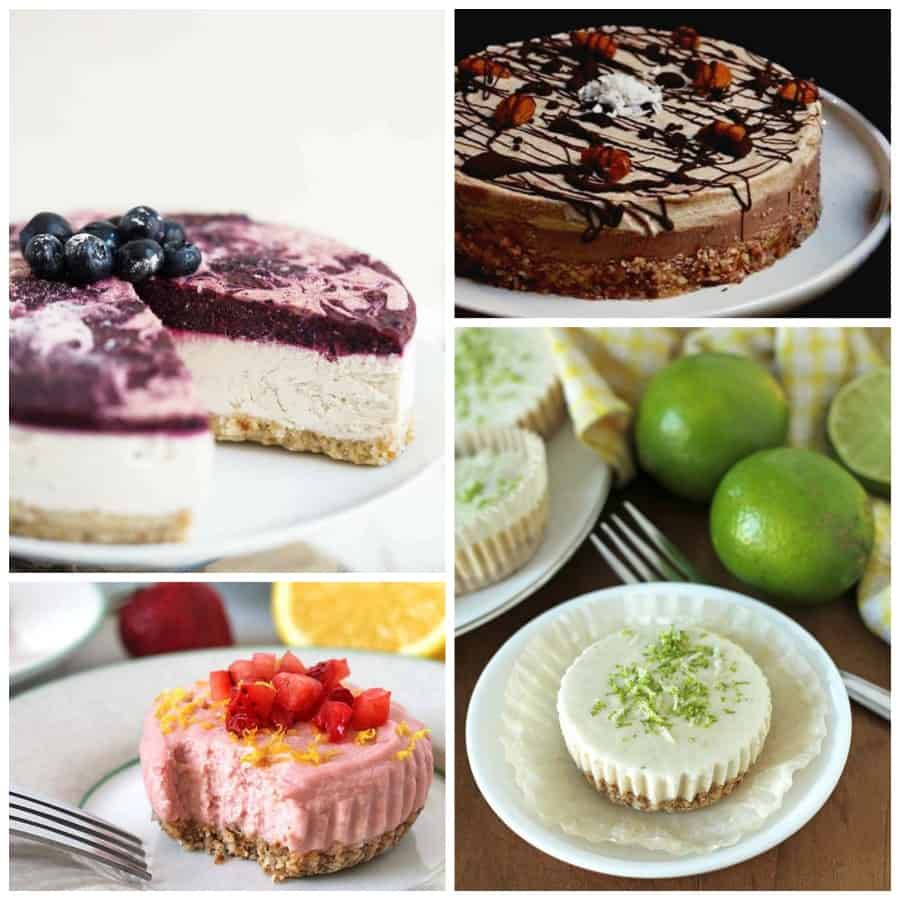 Clockwise from top left:
Raw Vegan Blueberry Cheesecake
Chocolate Coffee Cheesecake
Lime Cheesecake
Lemon-Strawberry Cheesecake Bites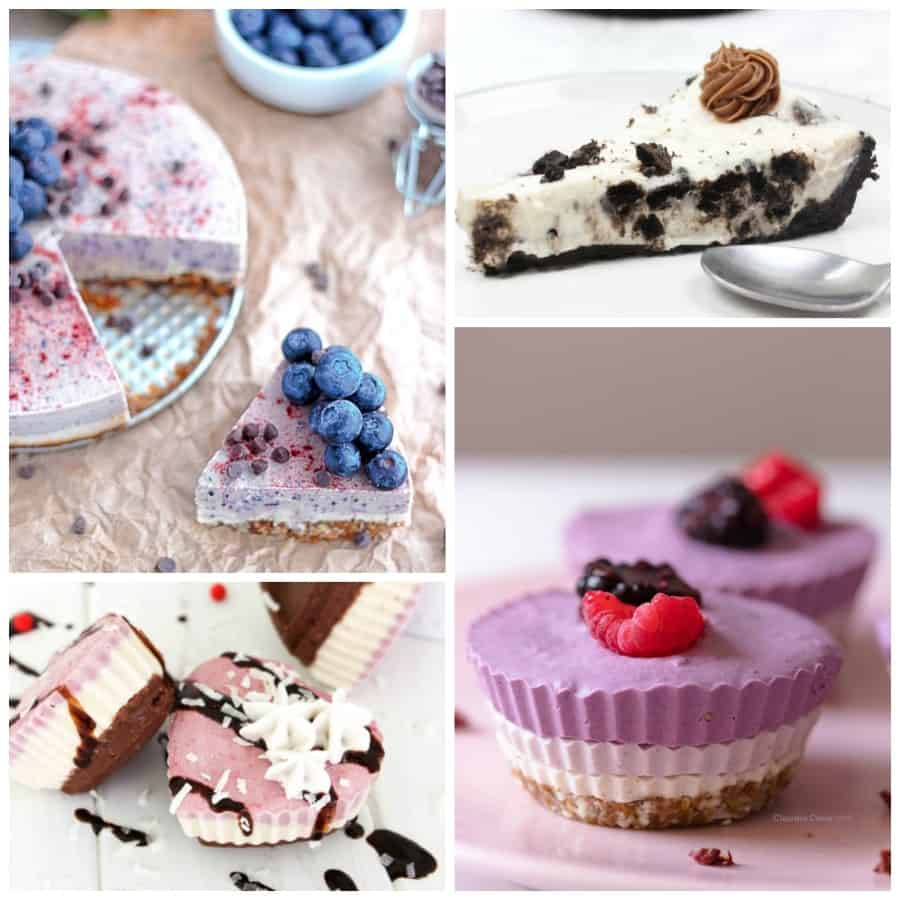 Clockwise from top left:
Vegan Blueberry Cheesecake
No-Bake Oreo Vegan Cheesecake
Tricolor Vegan Mini Cheesecakes
No-Bake Layered Vegan Cheesecake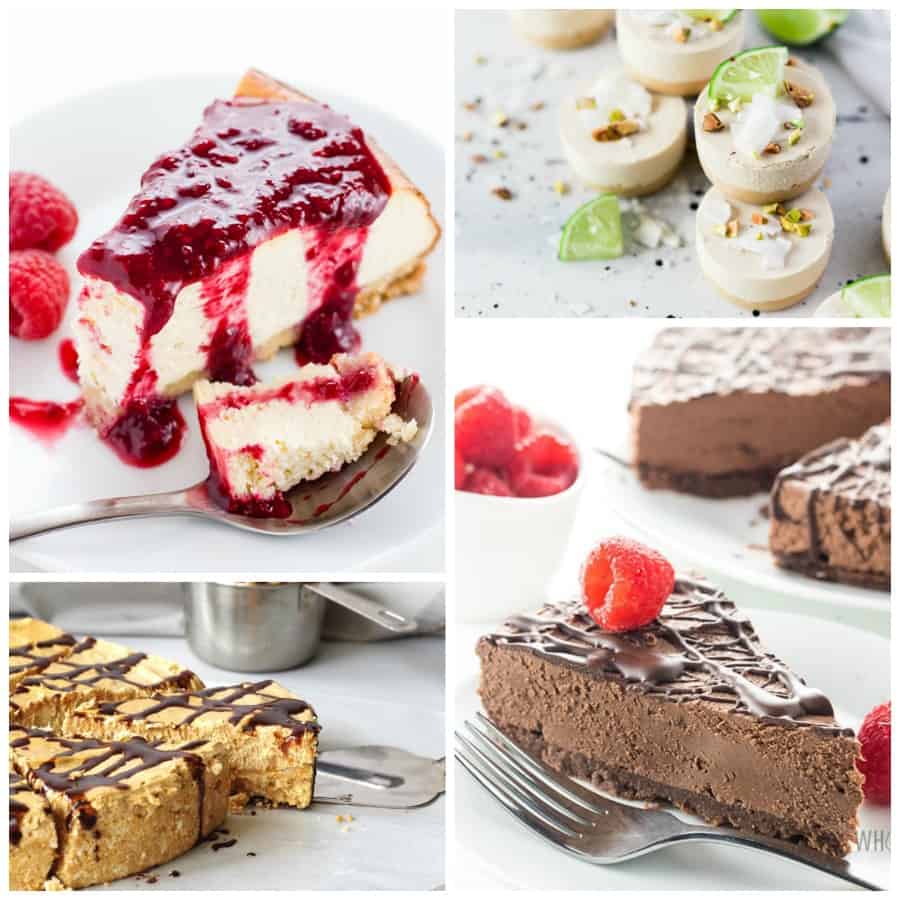 Clockwise from top left:
Low Carb Keto Cheesecake
Mini Vegan Key Lime Cheesecakes
Keto No-Bake Chocolate Cheesecake
No-Bake Gingerbread Cheesecake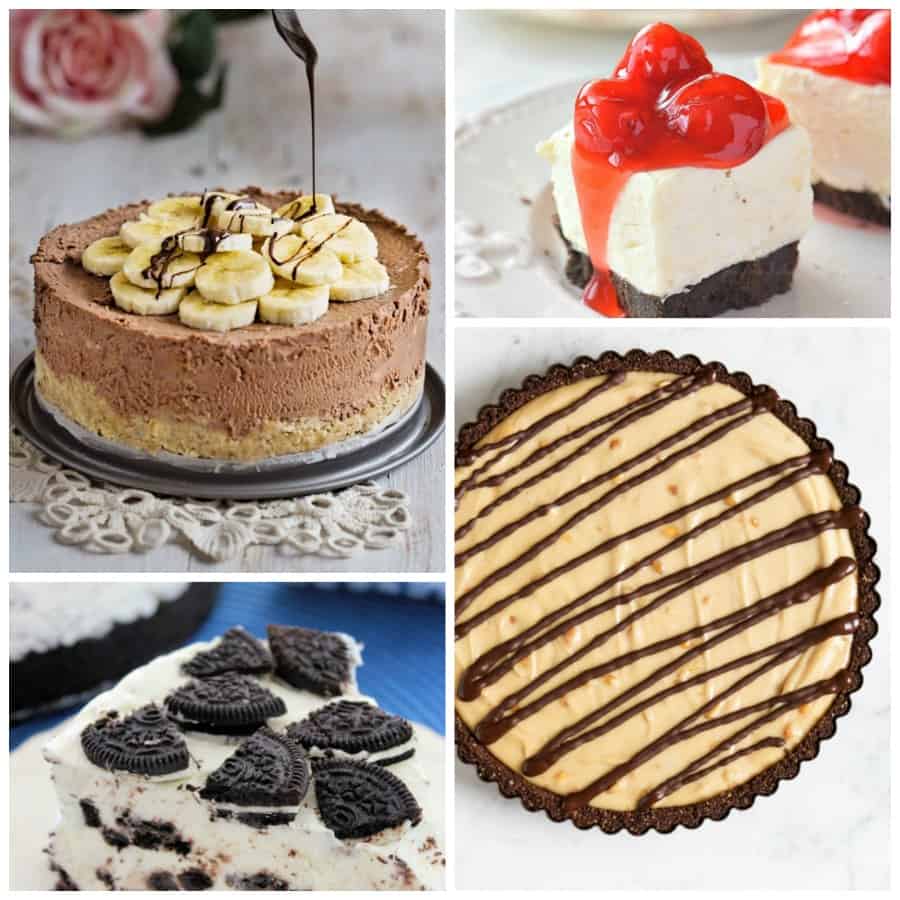 Clockwise from top left:
Chocolate Banana Mascarpone Cheesecake
No-Bake Cherry Cheesecake
Chocolate Peanut Butter Cheesecake
Easy Oreo No-Bake Cheesecake
No-bake cheesecake for a crowd
This is one of the best desserts, in my humble opinion, to make for a crowd, especially during the spring and summer months.
They can be served at graduations, birthdays, small weddings, and any other gathering that requires a no-fuss dessert that is a crowd pleaser.
With one basic recipe, you can change the crust and toppings and have several different flavors of no-bake cheesecakes.
Ideas to serve them
Jars and cups - they can be glass or acrylic. I use yogurt jars that I wash and sterilize again, but you can buy unused mason jars or acrylic bowls, sometimes in bulk.
Spoons - there are small plastic spoons that are used in catering for bite-sized desserts.
Mini muffins - use paper lined muffin pans to press the cookie dough and top with your favorite no-bake filling. Refrigerate and then peel the papers or serve them so that the guests peel them. Make sure you fill them halfway so they are 2-3 bites.
Small squares - make the cheesecake in a square pan and cut it into small squares. Be careful of the crust-filling ratio as you don't want too large pieces that might be difficult to eat. This depends a lot if you're guests have plates and forks available or not.
Store-bought mini pies - buy already baked pie dough (for individual portions) and fill with your choice of cheesecake. You can have one dough and different flavor fillings.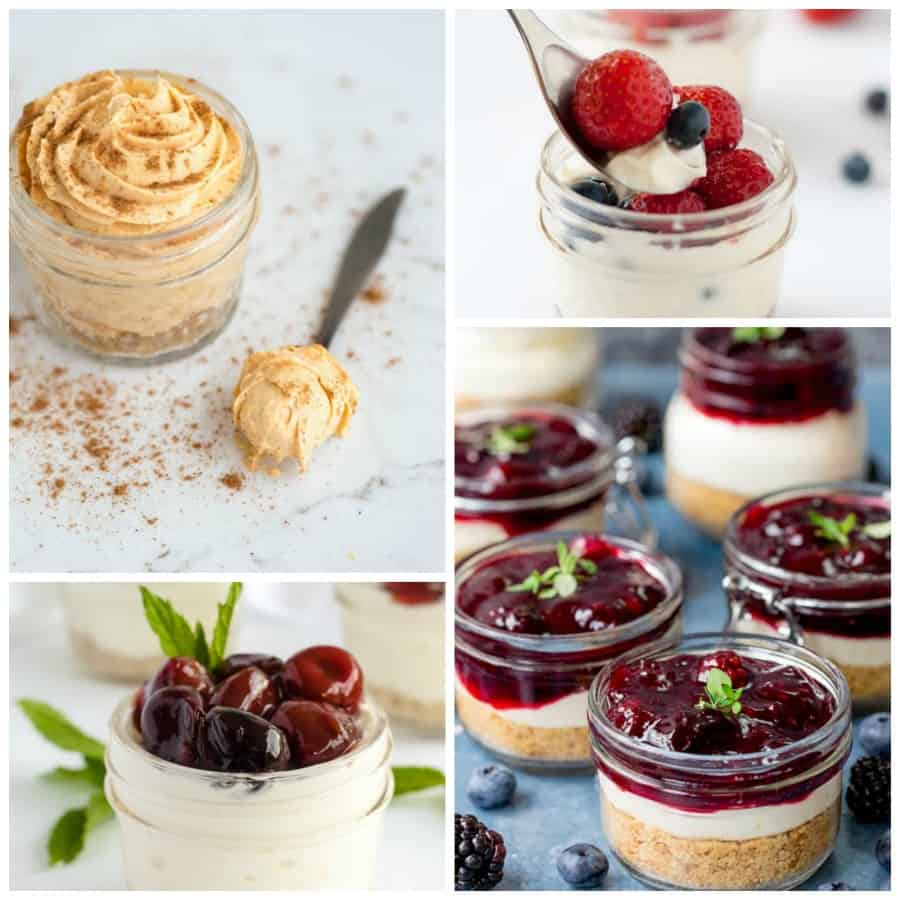 Clockwise from top left:
Mini Pumpkin Spice Cheesecake
Mason Jar No-Bake Cheesecake
Individual No-Bake Cheesecakes
Mini Cherry Almond Cheesecake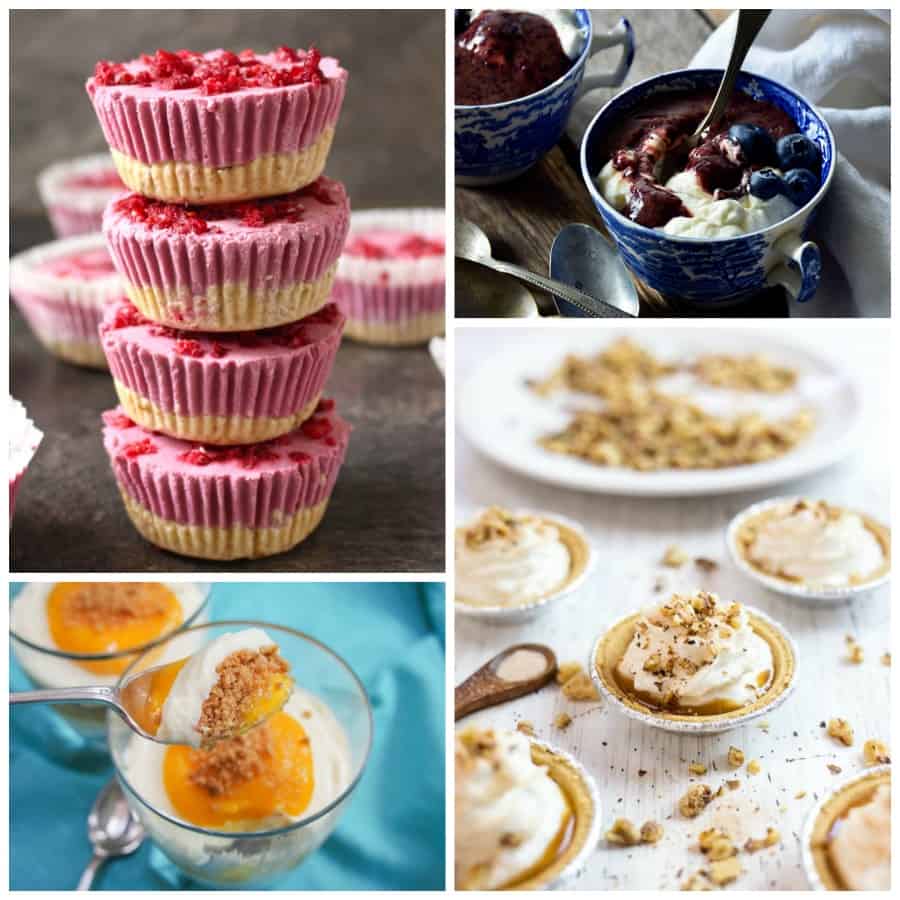 Clockwise from top left:
Raw Raspberry Cheesecake Cups
No-Bake Vanilla Cheesecake Mousse (Keto)
Mini Caramel Apple Pie Cheesecakes
Mango Cheesecake Parfait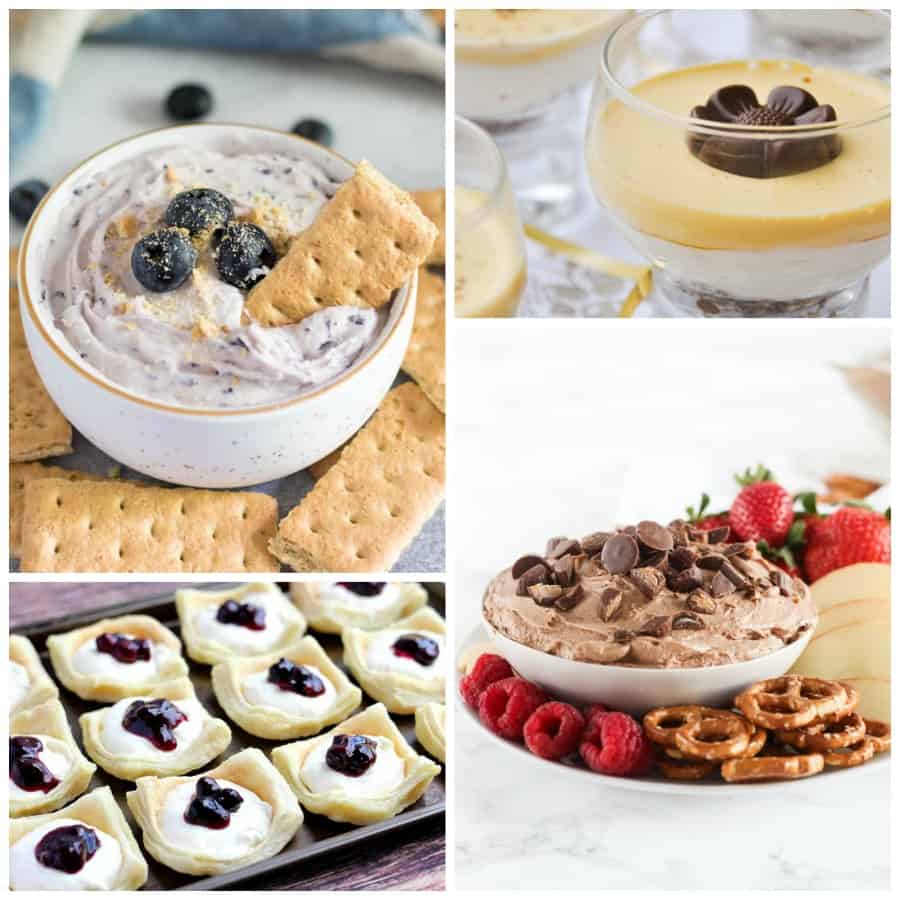 Clockwise from top left:
5-minutes Blueberry Cheesecake Dip
Mini Cheesecake with Zabaione
Healthy Peanut Butter Cup Cheesecake Dip
No-Bake Lemon Cheesecake Cups
Freezing
Cheesecake freezes wonderfully and no-bake is usually no exception. I say usually because, depending on the ingredients, it might not be as creamy as baked cheesecake that is frozen. That said, I make it in advance and freeze it, especially when preparing for special gatherings or holidays.
If you're freezing a whole cheesecake I recommend wrapping it up in plastic and then in aluminum foil. Alternatively, you can use containers that can be frozen (the lids usually are not as airtight as regular ones).
Sometimes no-bake cheesecake can freeze rock solid, it happens with this Blackberry Cheesecake Ice Cream, so you have to take into account the time it takes for it to become soft enough to eat. I have made that ice cream recipe as part of a frozen cheesecake dessert, so keep that in mind.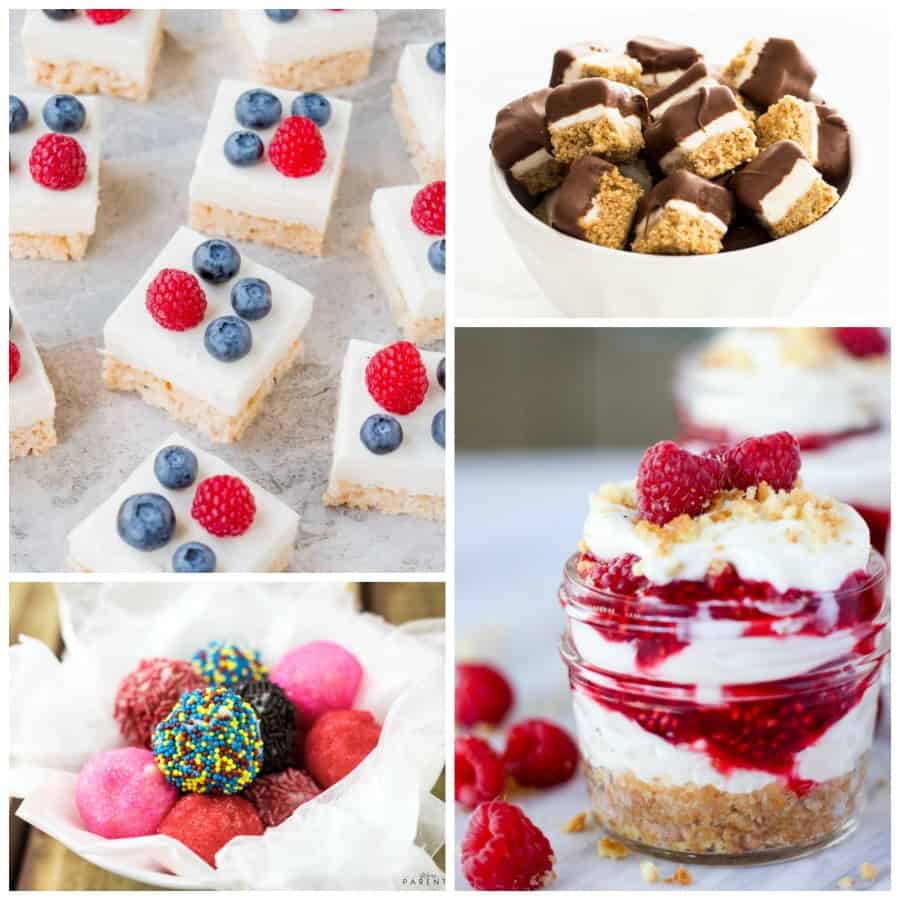 Clockwise from top left:
Cheesecake Rice Krispies Treat
Chocolate dipped No-Bake Cheesecake Bites
No-Bake Mini Raspberry Cheesecake
No-Bake Cheesecake Truffle Bites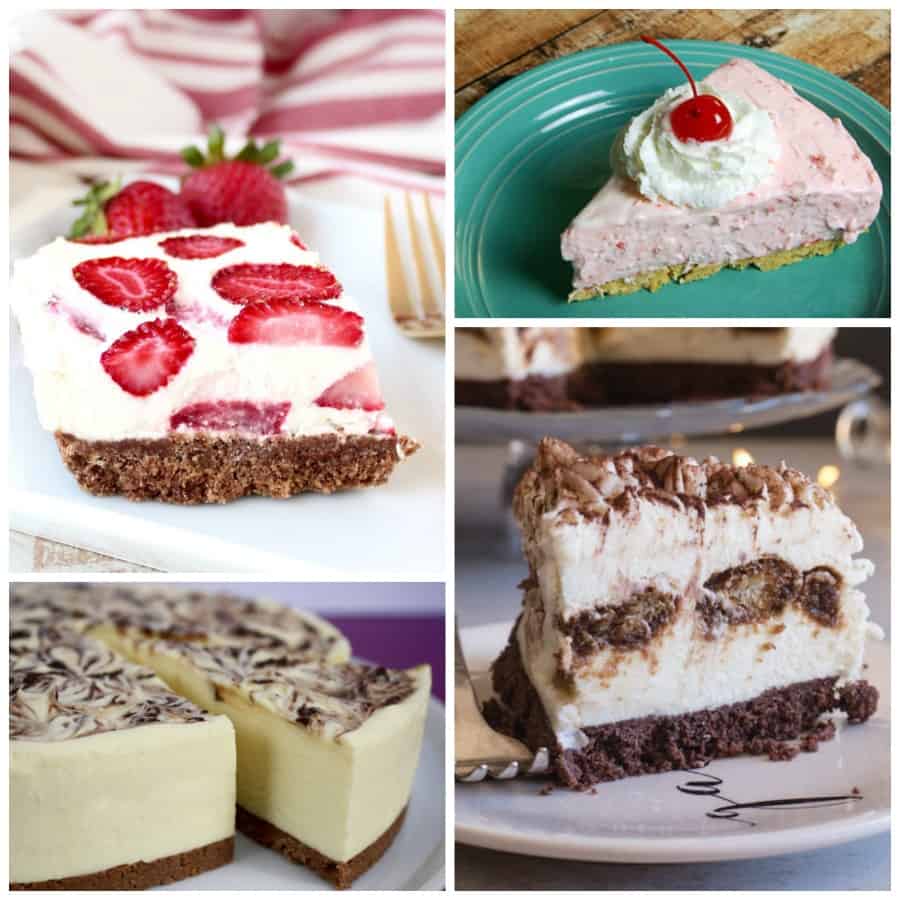 Clockwise from top left:
Frozen Strawberry Cheesecake Bars
Shirley Temple Cheesecake
Tiramisu No-Bake Cheesecake
White Chocolate Cheesecake
Variations on a no-bake cheesecake recipe
As with regular baked cheesecake, you can take a recipe for the no-bake version and easily flavor it with different ingredients.
Change the flavor of the crust. When making a cookie crust, you can change the type of cookie you use and add a whole new different flavor combination, even with a simple filling. I suggest you use plain cookies, not filled ones, as the latter tend to be too greasy and don't blend well with the butter.
Add zest to the filling. Citrus is a great, fast and easy way to add a different flavor. Use them on their own (I personally love tangerine), or make combinations, like triple citrus (lemon, orange, and lime) or lemon-lime. The amount of each depends on your personal taste.
Add liquors. Change the cookie crust to match or complement the liquor you want to use. For example, chocolate crust and coffee liquor, or gingersnap crust and orange liquor, or almond crust and limoncello (and some zest too).
Nuts. Use half the amount of ground nuts in the crust. I love graham crackers with almonds or walnuts. You can add toasted nuts in the filling too.
Toppings. Use different toppings to completely change the flavor of a regular cheesecake filling. From jams to curds to sauces with fresh fruits, the possibilities are many.
Sauces and toppings
These can dramatically change the flavor and appearance of a cheesecake.
Let me know in the comments below if you made this recipe and loved it and if you had issues so we can troubleshoot together. I love to hear what you think, always. Thanks for being here. It's much appreciated.
You might also consider subscribing to our FREE email series to Boost your Home Baking Skills! And our regular newsletter.
And let's connect via Facebook, Instagram, and Pinterest.