My favorite pastrami and gruyere cheese sandwich gets the VIP treatment with homemade violet mustard (amazing!) and a simple everyday rye bread you will love!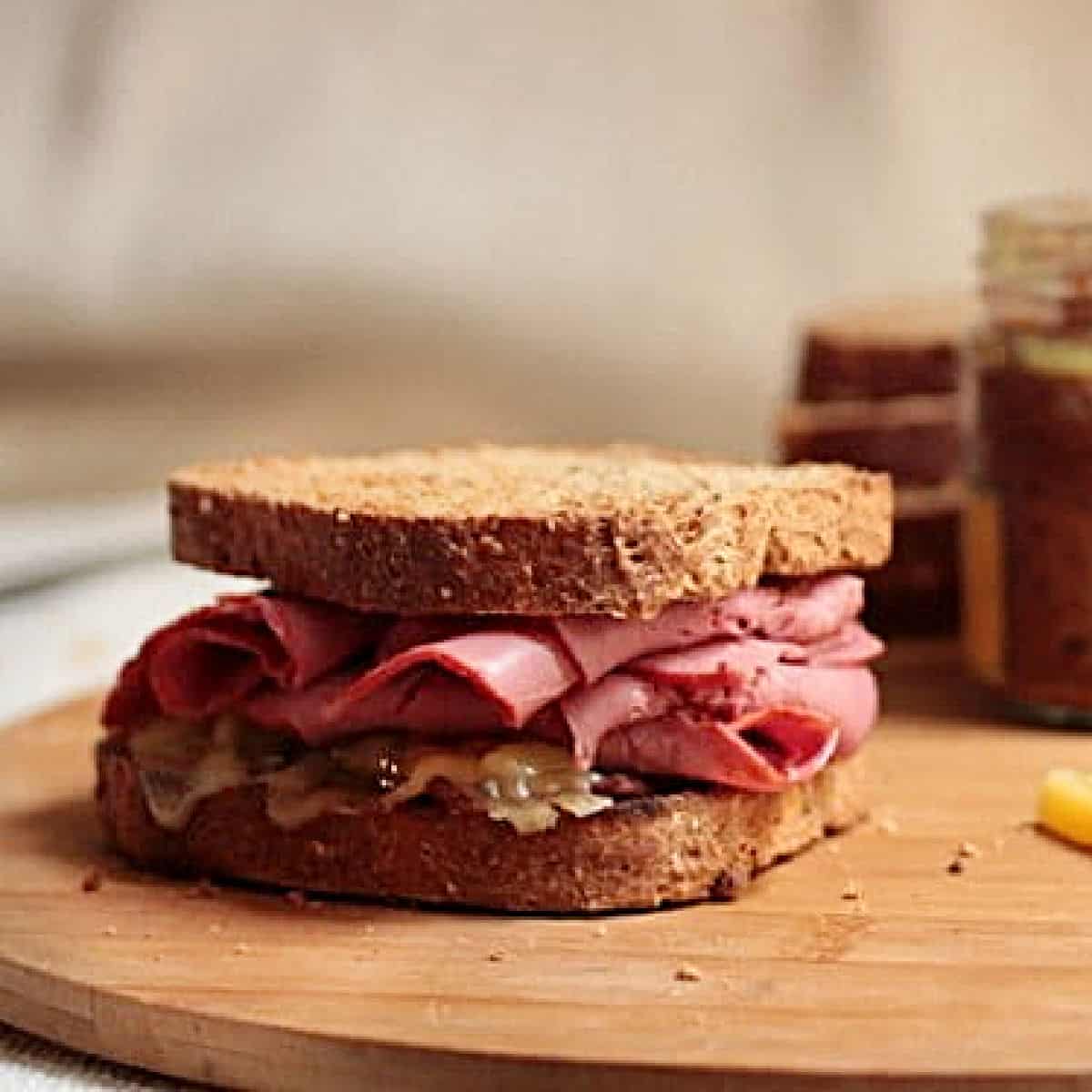 This pastrami gruyere sandwich took me back ages, back to the years I lived in California when I discovered wheat thins and graham crackers. I also ate pastrami for the first time.
A warm sandwich made with homemade pastrami, slices of melted gruyere cheese, and served on rye. So delicious, I remember it decades later.
What is pastrami?
It is a meat product, usually beef brisket, that is brined for several days and then slowly cooked (or braised, really) to achieve a super tender, pull-apart piece of meat.
It can be eaten warm or cold and is mainly used in sandwiches, one of the most famous being the Reuben.
I like it with mustard and gruyere cheese on rye. So, to spice things up, I made purple mustard, which became very popular.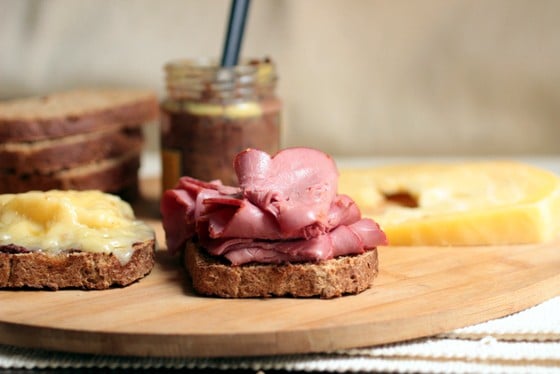 About rye bread
Rye flour is a huge favorite used in traditional Eastern European bread. It has a tangy flavor, especially if made with sourdough. They usually include caraway, kummel, and/or cumin seeds.
For today's sandwich, I wanted a simple bread, a straight dough bread that could be made in a day.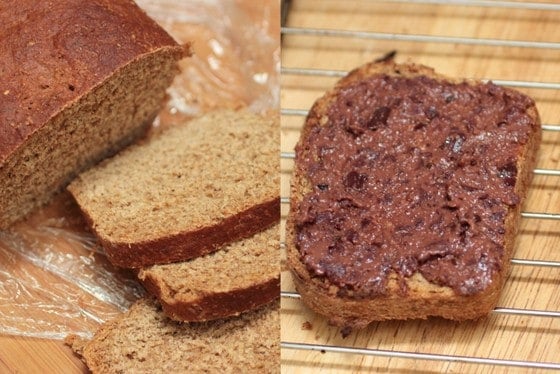 But somehow, they come together so well in this sandwich. I had been wanting to make a go-to rye bread for a long time now.
This is good, with caraway and cumin seeds, and is a straight dough method, so you don't need ferments or overnight stays in the fridge.
Just a regular loaf of bread with the slight tang of rye which is enhanced by buttermilk. And the seeds that impart that peculiar german quality to it.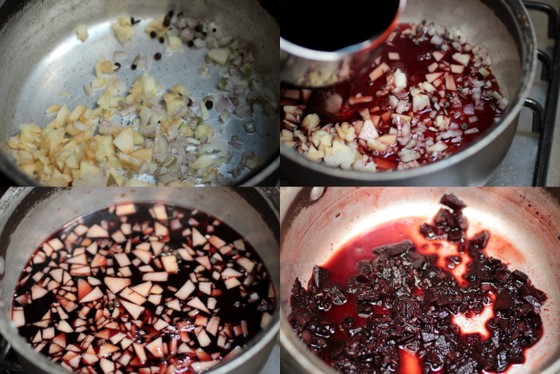 What is violet or red wine mustard?
This is just a type of mustard that appeared years ago. I don't know how it started, but there are many recipes online by now.
This red wine mustard is quite interesting.
First of all, it's the perfect way to use some leftover red wine. I usually use it to make one of my favorite cakes with it, like this red wine velvet cake, but this is another great alternative. And it keeps in the fridge for a long time.
Use it on cold roast beef, ham or whatever you like to put regular mustard on. You can make it smooth or chunky too.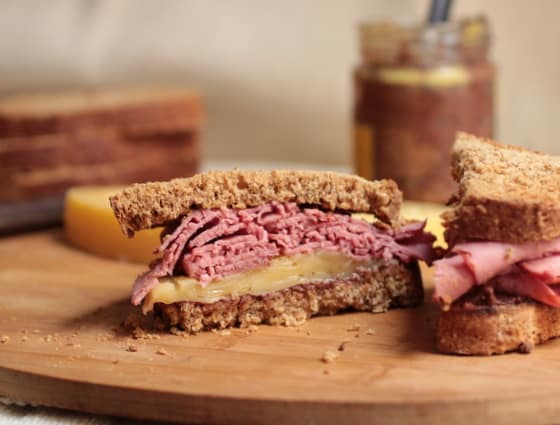 ---
Related recipes you might like:
---
Let me know in the comments below if you made this recipe and loved it and if you had issues so we can troubleshoot together. I love to hear what you think, always. Thanks for being here. It's much appreciated.
You might also consider subscribing to our FREE email series to Boost your Home Baking Skills! And our regular newsletter.
And let's connect via Facebook, Instagram, and Pinterest.
Print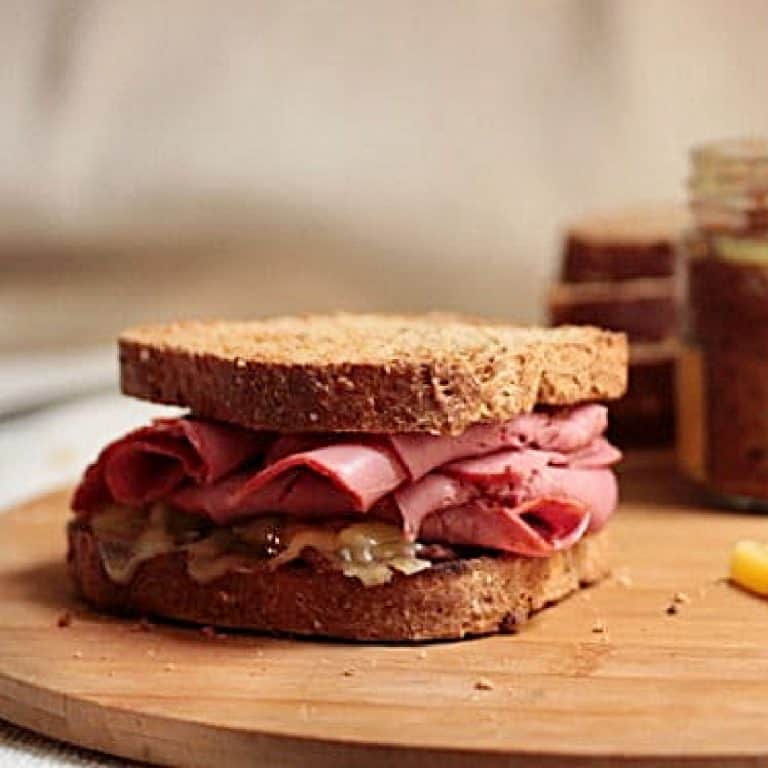 Pastrami Gruyere Rye Sandwich
A fantastic pastrami sandwich with homemade rye bread, melted gruyere cheese, and homemade red wine mustard.
Total Time:

20

Yield:

8 sandwiches
For each sandwich:
2

slices rye bread (recipe below)

5

oz

. (150g) pastrami

3.5

oz

(100g) gruyere cheese, thinly sliced

1

or 2 Tbs red wine mustard (recipe below)
For the rye bread:
1

cup

rye flour

1

cup

whole wheat flour

1

Tbs dry yeast

¼

cup

warm water

1

Tbs wheat germ

2 teaspoons

caraway seeds (crushed or coarsely ground)

1 teaspoon

fennel seeds (crushed or coarsely ground)

2 teaspoons

salt

¾

cup

buttermilk (at room tº)

2

Tbs malt syrup (or molasses)

1

Tbs honey

2

Tbs canola oil

1

cup

bread or all purpose flour (approximately)
For the red wine mustard:
1 ½

cups

red wine

1

shallot

1 teaspoon

whole black peppercorns

½

green apple

3.5

oz

(100g) dijon mustard
Salt

1

or

2

Tbs balsamic vinegar
Instructions
For sandwich:
Lightly toast bread in an electric oven or regular oven.
Spread one side with red wine mustard. Top with cheese and return for a few minutes to the oven until the cheese begins to melt.
Arrange pastrami slices on top of the other bread slice.
Top with the cheese slice. Eat.
For the bread:
Grease one 9x5 inch loaf pan. Set aside.
In a small bowl mix yeast and water and let foam for a few minutes.
In the bowl of the stand mixer, put rye and whole wheat flours, wheat germ, salt, buttermilk, honey, malt, oil, and yeast. Mix with a wooden spoon until it comes together.
Attach the dough hook and start mixing on medium-low speed until a shaggy dough is formed.
Add seeds and the bread flour, a few tablespoons at a time. Beat for 6 to 8 minutes, until the dough is elastic but not too stiff. If it's too sticky add a few more tablespoons of bread flour but don't overdo it. It needs to retain some stickiness.
Transfer dough to an oiled bowl, cover with plastic wrap, and let rise until doubled, about 1 hour. It can take more time depending on the tº of your kitchen.
On a lightly floured surface, pat the dough down, and then roll it tightly, pinching edges to seal.
Place in the prepared pan, cover with a clean kitchen towel, and let rise until doubled about 1 to 1 ½ hours.
About 20 minutes before baking, preheat oven to 375ºF / 190ºC.
Bake for 35 to 40 minutes, until golden brown and the bottom sounds hollow when tapped.
Let cool completely on a wire rack before cutting.
For red wine mustard:
Chop shallot and peel, core and chop apple. In a medium saucepan, mix red wine, peppercorns, shallot, and apple. Let boil until the wine is almost completely reduced.
Process together with the mustard or use an immersion blender. Or leave it very chunky.
Add balsamic vinegar and salt to taste.
Keep refrigerated.
Author:

Paula Montenegro

Prep Time:

20 minutes

Rising time:

2 ½ hours

Cook Time:

40 minutes

Category:

Bread

Method:

Baking

Cuisine:

American
Keywords: pastrami sandwich on rye bread
Bread adapted from Bernard Clayton's New Complete Book of Breads; mustard recipe from Roberto Petersen