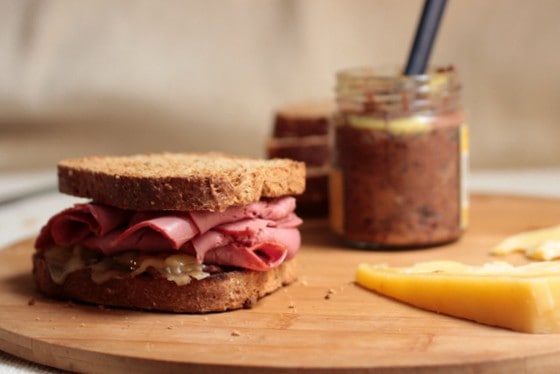 This pastrami gruyere sandwich took me back ages, b
ack to the 
years I lived in California, when I discovered wheat thins and
golden grahams cereal
, I also ate pastrami for the first time. Later in life I would discover 
it here, though I never got into eating it.
But during those two years, I travelled back and forth from
Buenos Aires
to
Los Angeles
a lot. It was a long trip, involving some fourteen hours to LA, due to stops in
Peru and Mexico, a domestic flight to San Francisco, and then a car to
Palo Alto
. So it's fair to say that between leaving my house in the southern hemisphere and arriving to the one in the northern, a whole day was spent, during which I ate very little. So little that I always arrived to my final destination very, very hungry.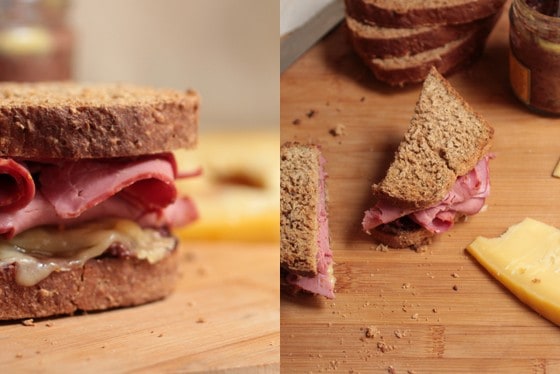 I have a habit of not eating much on planes. It has nothing to do with the food itself, though it adds to it since it's only good to quell the hunger, and through the years it's getting worse. And scarce, both in amount and flavor. I just don't like to eat on planes. Period.
So these day-long flights had me fantasizing about good food for hours. I would think a lot of eating what we here call 'grilling sausages', which are thin and shaped into a spiral. I don't know why, but I always landed thinking about them, probably because of the salt.
When I'm really hungry I need salt.
Many times, before arriving to Palo Alto, we would stop at some deli or coffee shop, I don't remember it now otherwise I would give you the name, and eat a warm pastrami and gruyere sandwich with mustard. Imagine my food-deprived-self
reaction to those first bites. Pure bliss.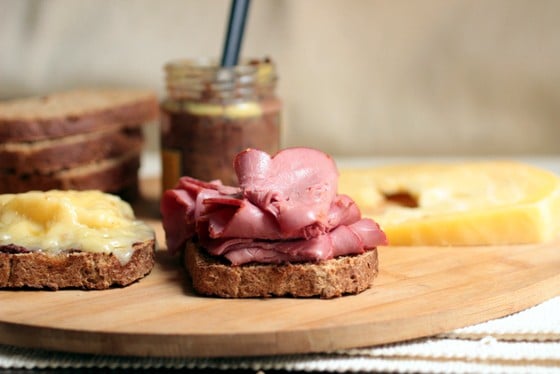 So whenever 
I see pastrami, I always think of this sandwich, which I tried to spruce up a 
bit with red wine mustard, a recipe I saw
a friend of mine
make on tv a few 
months ago. And of course I made a rye bread with caraway and cumin seeds. Both
are worth a post of their own.
But somehow they come together so well in this sandwich. I had been wanting to make a go-to rye bread for a long time now. This is good, with caraway and cumin seeds and
is a straight dough method, so you don't need ferments, or overnight stays in the fridge. Just a regular loaf of bread with the slight tang of rye which is enhanced by buttermilk. And the seeds that impart that peculiar german quality to it.
With this bread book I made the mistake of judging it by the amount of pictures inside (none) and waited ten years to finally start using it (ridiculous I know). It's full of fantastic recipes for every bread you might want; this is just the first I share with you.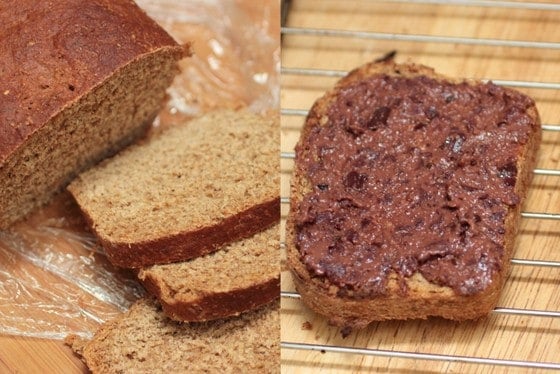 The red wine mustard is quite interesting. First of all it's the perfect way to use some leftover red wine. I usually make cake with it, like this red wine velvet cake, but this is another great alternative. And it keeps in the fridge for a long time. Use it on cold roast beef, ham or whatever you like to put regular mustard on. You can make it smooth or chunky too.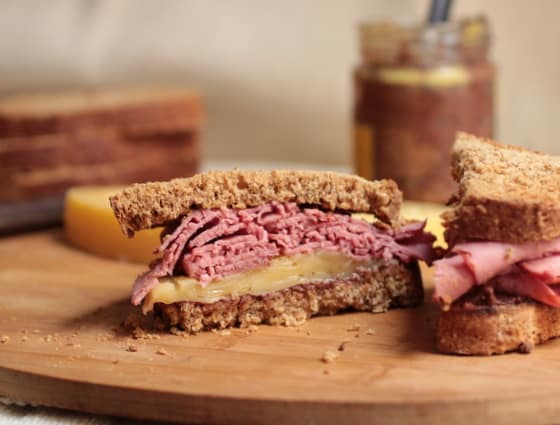 Print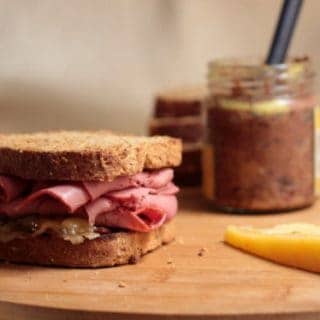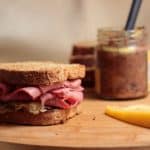 PASTRAMI GRUYERE ON RYE WITH RED WINE MUSTARD
Yield:

8

sandwiches

1

x
---
Scale
Ingredients
For each sandwich:
2

slices rye bread (recipe below)

5 oz

. 150g pastrami

3.5 oz

100g gruyere cheese, thinly sliced

1

or 2 Tbs red wine mustard (recipe below)
For the rye bread:
1 cup

rye flour

1 cup

whole wheat flour

1

Tbs dry yeast

1/4 cup

warm water

1

Tbs wheat germ

2 teaspoon

s caraway seeds (crushed or coarsely ground)

1 teaspoon

fennel seeds (crushed or coarsely ground)

3/4 cup

buttermilk (at room tº)

2

Tbs malt syrup (or molasses)

1

Tbs honey

2

Tbs canola oil

1 cup

bread or all purpose flour (approximately)
For the red wine mustard:
1 ½ cup

s red wine

1

shallot

1 teaspoon

whole black peppercorns

½

green apple

3.5 oz

100g dijon mustard
Salt

1

or

2

Tbs balsamic vinegar
---
Instructions
For sandwich:
Lightly toast bread in an electric oven or regular oven.
Spread one side with red wine mustard. Top with cheese and return for a few minutes to the oven until the cheese begins to melt.
Arrange pastrami slices on top of the other bread slice.
Top with the cheese slice.
Eat.
For the bread:
Grease one 9×5 inch loaf pan. Set aside.
In a small bowl mix yeast and water and let foam for a few minutes.
In the bowl of the stand mixer, put rye and whole wheat flours, wheat germ, buttermilk, honey, malt, oil and yeast. Mix with a wooden spoon until it becomes to come together.
Attach the dough hook and start mixing on medium low speed until a shaggy dough is formed.
Add seeds and the bread flour, a few tablespoons at a time. Beat for 6 to 8 minutes, until the dough is elastic but not too stiff. If it's too sticky add a few more tablespoons of bread flour, but don´t overdo it. It needs to retain some stickiness.
Transfer dough to an oiled bowl, cover with plastic wrap and let rise until doubled, about 1 hour. It can take more time depending on the tº of your kitchen.
On a lightly floured surface, pat the dough down, and then roll it tightly, pinching edges to seal.
Place in the prepared pan, cover with a clean kitchen towel and let rise until doubled, about 1 to 1 1/2 hours.
About 20 minutes before baking, preheat oven to 375ºF / 190ºC.
Bake for 35 to 40 minutes, until golden brown and bottom sounds hollow when tapped. 
Let cool compeltely on wire rack before cutting.
For red wine mustard:
Chop shallot and peel, core and chop apple. In a medium saucepan, mix red wine, peppercorns, shallot and apple. Let boil until the wine is almost completely reduced.
Process together with the mustard or use an immersion blender. Or leave it very chunky.
Add balsamic vinegar and salt to taste.
Keep refrigerated.
---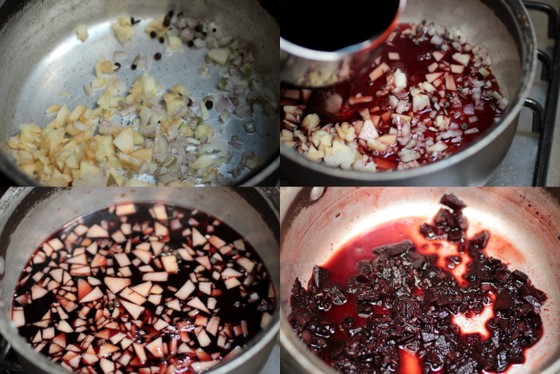 ---