A great way to use leftover bread, this dessert has layers of fruit and sweet croutons. It's great served warm with cream or ice cream.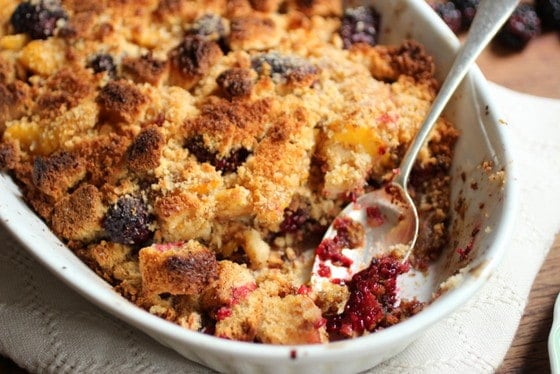 I'm finally mentally settling into summer vacation mode and these past few days, after a few sweltering ones last week, seem to agree with my mood.
My mom came over and we baked up a storm. I'm trying to get rid of an excessive amount of ingredients that decorate my pantry, from flours to nuts to dried fruit. Everything is being stored in jars, for the first time, and it makes a huge difference in how it keeps.
One thing I made, and am so happy with it, is the homemade amaretto I told you about last week. I´m never buying it again, I don't care if it comes from Saronno, it's too ridiculously expensive.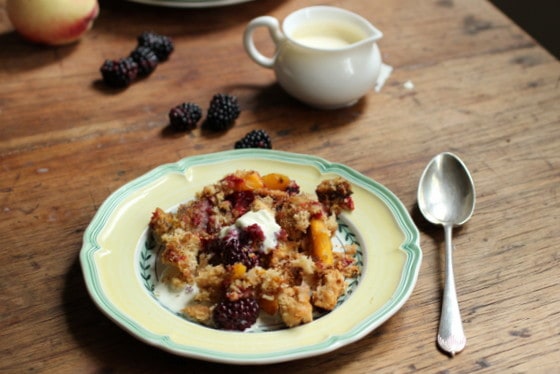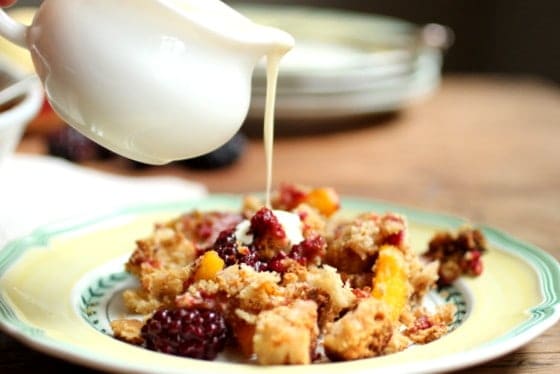 In the meantime here are some worthy-of-pinning recipes I found: a creamy banana maple walnut ice cream, a butternut squash soup with apple cider, an eggplant and pasta cake to.die.for, the perfect hot dog with pineapple and bacon, orange spiced chickpeas to eat all day, the sweetest Nutella shortbread and salted caramel sauce to use on everything.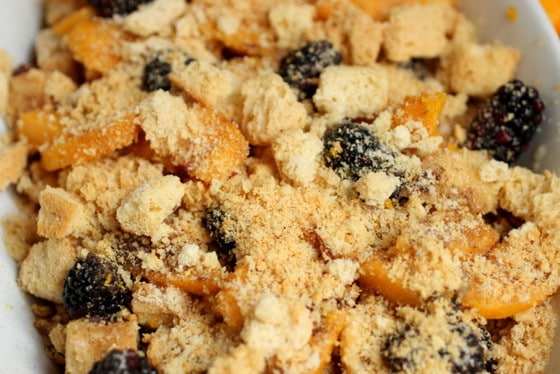 Just as I can say I stretched the finnish pulla to the max with the stuffed french toast and caramelized apple bread pudding I can say the pandoro, that unbelievably good-tasting golden sweet bread was put to good use with this peach and blackberry brown betty. Like using the whole chicken, there was nothing left unused.
First came the pandoro, and then came the inevitable leftover bread, because a girl can only eat so much and I could not give as a gift the one with a missing slice, because of the picture that was taken and also because I ate it. And then another slice.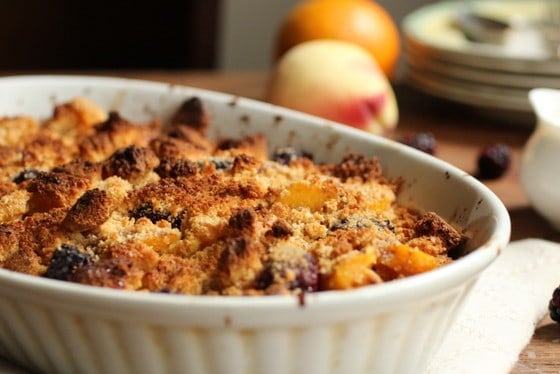 Besides this recipe today, I have oven-dried ground pandoro crumbs tightly stored in a tin. They will get used, I'm not sure when.
As for these croutons, my first idea was to use them over ice cream, to add some crunch. Then I thought about a fruit gratin. But I still didn't quite know how to put that together in a way that I was satisfied with the result.
My second idea was a bread pudding, but my favorite of favorites, the one with caramelized apples posted last week, I had already made for Christmas, then there was the orange almond with french bread and Julia Child's cinnamon toast bread pudding. There were enough puddings already, don't you think?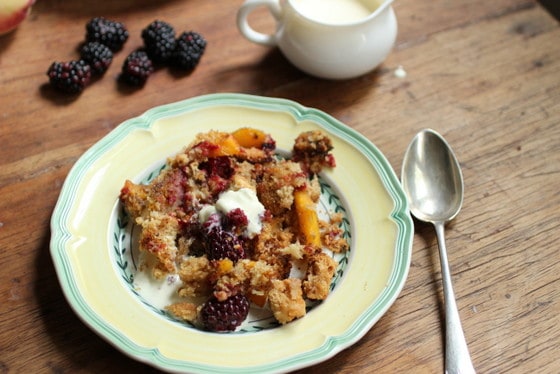 Enter the brown betty, the sophisticated version, with fresh white and yellow peaches and juicy, dark blackberries. What was probably a very cheap way to use leftover bread and cheap fruit in the past turned my summer fruit and leftover holiday bread into a dessert that I might actually want to make a pandoro, especially for.
I've always been intrigued by some names like buckle or betty or, many years ago, cobbler. To me, they gave nothing away as to what the dessert might be and they all included fruit. Now I only have the buckle left to tackle.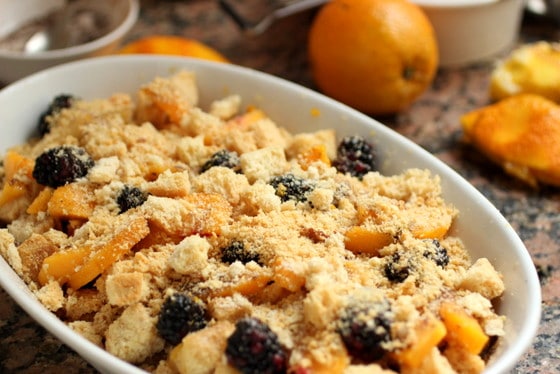 By the way, I'm also stretching the fresh summer fruit into everything I can possibly make, something I never did before this blog was born.
It started with the fresh cherry custard pie, then the sweet, incredible surprise of brown sugar ice cream with caramelized fruit made in the wok, and on to a chocolate raspberry pie, a gluten-free plum hazelnut upside down cake, the peach chutney, a fig honey compote (for a guest post coming soon), fig jam with tequila and some peaches in vanilla syrup that I canned two days ago.
I can rest now.
Print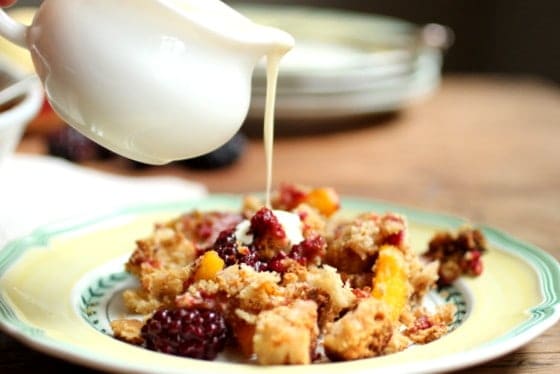 Blackberry Peach Brown Betty
A beautiful, old fashioned dessert with fresh fruit and stale sweet bread.
Total Time:

1 hour 5 minutes

Yield:

8 servings
4

cups

about Pandoro or challah croutons

1 ½

pound

fresh peaches, I used 3

1 ½

cups

fresh blackberries

¾

cup

packed light brown sugar

1 teaspoon

cinnamon

¼ teaspoon

freshly ground nutmeg
Pinch of salt
Zest of

1

orange
Zest of

1

lemon
Juice of

2

oranges

2 tablespoons

water
Fresh cream (to serve)
Instructions
Preheat oven to 325º.
Peel and cut peaches in slices. Mix sugar, cinnamon, nutmeg and salt in a small bowl.
In another small bowl mix orange juice and water.
You will make 3 layers of croutons and 2 layers of fruit mixed with the sugar, juice and zest, so divide accordingly.
Put ⅓ of the croutons in the bottom of a pyrex dish. Place half of the fruit on top, sprinkle with half the sugar and half each of the zests, and finally pour half the juice with a spoon all over the fruit.
Repeat with croutons, fruit, sugar, zest and juice ending with a layer of pandoro croutons.
Bake for 35 to 45 minutes or until very golden and easily pierced with a knife.
Let cool a bit and serve hot or warm with cold cream.
Keep refrigerated, covered with plastic wrap, for 2 or 3 days.
Notes
Bread: I used pandoro croutons, which I make by dicing leftover bread and baking it in a single layer, in a low oven, 220º, for about 1 hour or as long as it needs to dry and become golden. Bake the bread slowly so the croutons stay dry and crunchy. You don't want toasted on the outside and soft on the inside. You can easily substitute challah, brioche or any other sweet egg bread. Or even cinnamon bread.
Author:

Paula Montenegro

Prep Time:

20 minutes

Cook Time:

45 minutes

Category:

Desserts

Method:

Baking

Cuisine:

American
Adapted from Joy of Cooking, by Irma and Marion Rombauer