From appetizers to layer cakes, if you're still wondering what to make to celebrate this holiday, I got you covered with amazing recipes. Check them out!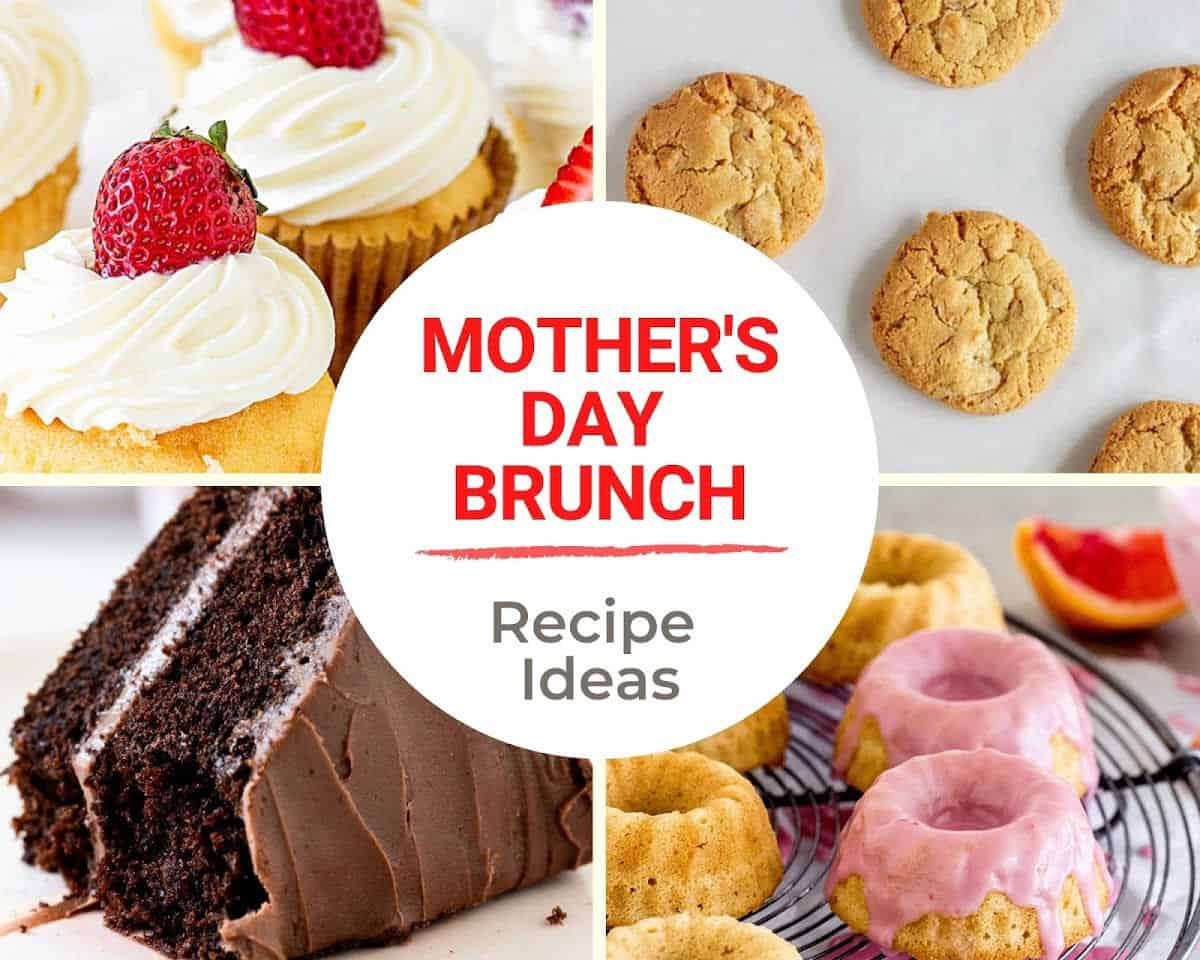 This post is updated every year with the most relevant content.
I find that this is the perfect event for a great display of easy recipes, full of spring colors and bursting flavors.
Setting the table: I like to take the time to think about what color palette I want that goes with the food. Mother's day can take any color you want but I always think about light and sunshine (hopefully) since Spring is in full swing. So make sure your plates, linens, and flowers match the spirit you want for the brunch.
THE RECIPES
The great thing about baking is that most recipes are good to eat year-round. We are not as eager to bake in the scorching summer, but spring and fall are perfect occasions. And a holiday is the perfect excuse.
These are, hands-down, my favorites for a Mother's Day brunch table. You can make several of them ahead and keep refrigerated or frozen. There's a guide to Freezer Baking & Desserts that might come in very handy.
SAVORY
No brunch table can start unless there are great savory recipes, right? I have to confess that savory baking is one of my favorite things. And eating the results is a big part of why I love it, lol.
---
SCONES, MUFFINS & BREAD
---
BARS & COOKIES
There are some traditional recipes below that I love to include on a holiday table. All brunches should have some type of bread and cookies, of course!
---
CAKES & CUPCAKES
I narrowed down my favorite cake recipes for this time of year which was not easy. I hope you find them amazing like I surely do.
---
PIES AND TARTS
Some traditional pies and some wonderful desserts that will be approved by your pickiest eaters.
---
NO-BAKE TREATS
Though many think these types of recipes are suited for more wintery holidays, I love them because they're SO incredibly easy to make and such a crowd-pleaser! A little homemade chocolate treat will add so much to your table.
---
DESSERTS
With the start of berries and stone fruit, this brunch table can have the easiest and best desserts, including icebox and dump cakes which I include here because they are best eaten in a bowl with a spoon.
---
Vanilla Custard Sauce
Also known as Crème Anglaise, this is a French light custard sauce. I had to add it here because it's so perfect for Spring, and so delicious!
Use it on top of pound cakes, pies, fruit, pancakes, or waffles. It can be made ahead and flavored with different extracts (coffee, lemon, orange) besides vanilla.
Crème Anglaise or French Custard Sauce: click to find the recipe with a step-by-step video!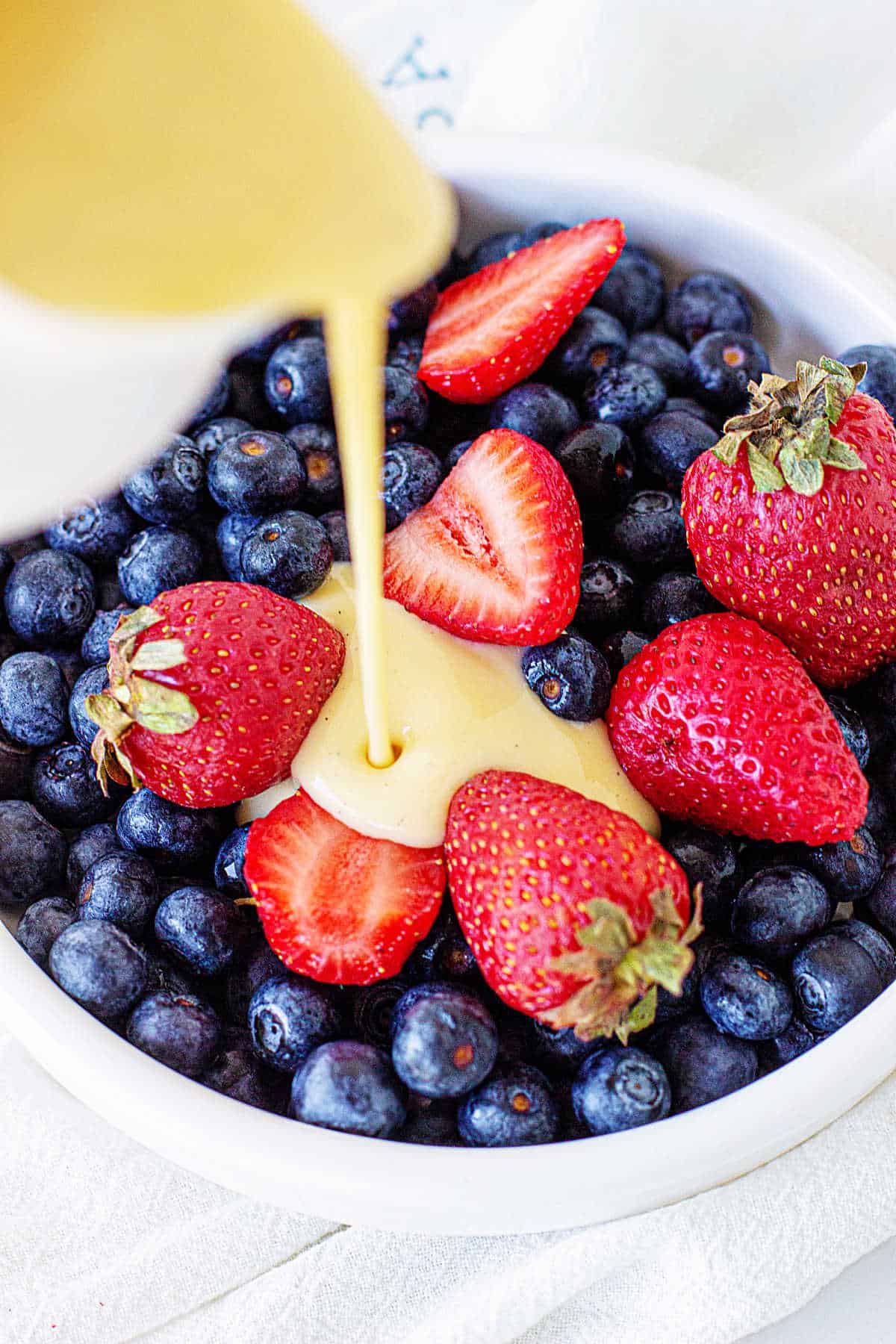 Our holiday is in October (I live in Buenos Aires) because that's when our spring happens. Right now it's all fall leaves and cool days.
Let me know in the comments below if you made this recipe and loved it and if you had issues so we can troubleshoot together. I love to hear what you think, always. Thanks for being here. It's much appreciated.
You might also consider subscribing to our FREE email series to Boost your Home Baking Skills! And our regular newsletter.
And let's connect via Facebook, Instagram, and Pinterest.